Morgan Freeman, the legendary actor known for his captivating performances and iconic deep voice, has become a source of inspiration for many. His voice has the power to captivate audiences and bring life to any narrative. Thanks to advancements in technology, it is now possible to generate a text-to-speech version of Morgan Freeman's voice using AI models. In this article, we will explore the fascinating world of Morgan Freeman text-to-speech and discuss the best tools and techniques to create your own custom voiceover resembling the legendary actor. Let's dive in!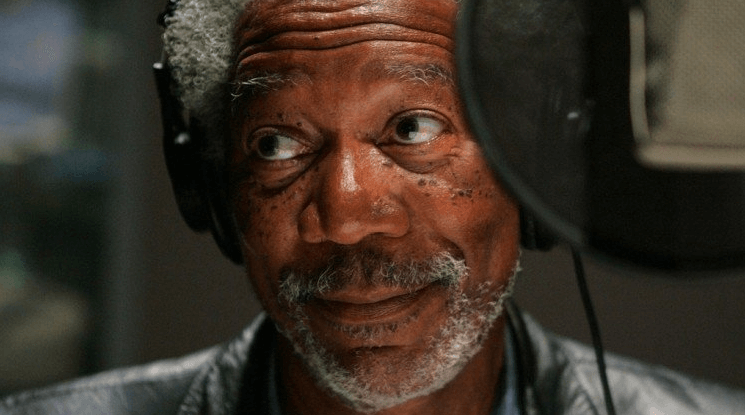 Table of Contents
Part 1. Why is Morgan Freeman's Voice So Popular?
Morgan Freeman's voice is often described as one of the most calming and exceptional voices in the movie industry. Its unique quality and soothing tone have a mesmerizing effect on listeners. Whether he is narrating a documentary, lending his voice to a character, or delivering powerful dialogues, Freeman's voice adds depth and resonance to any content. It's no wonder that many people aspire to generate voices that resemble his when creating their own narrations or voiceovers.
Part 2. Exploring Morgan Freeman Text-to-Speech Tools
With the rise of artificial intelligence, text-to-speech (TTS) technology has advanced significantly, allowing us to generate realistic versions of Morgan Freeman's voice. Let's explore some of the best tools available for creating your own Morgan Freeman text-to-speech experience.
iMyFone VoxBox: The Ultimate Morgan Freeman AI Voice Generator
To generate the voice of Morgan Freeman using a text-to-speech (TTS) AI generator, one of the best options available is iMyFone VoxBox. This AI voice generator offers a wide range of realistic voices, including Morgan Freeman's. VoxBox stands out as a reliable tool for creating high-quality voiceovers.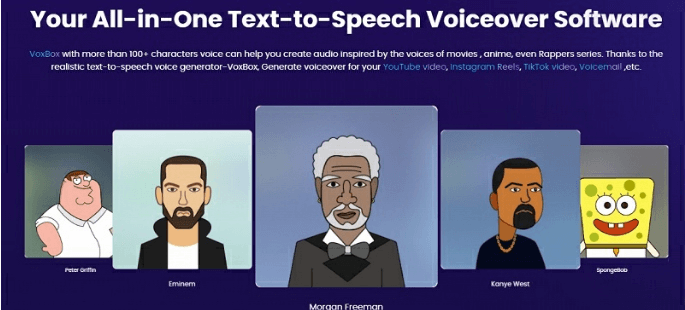 iMyFone VoxBox offers a range of features that enhance the voiceover creation process:
Over 3200 realistic voices, including popular ones like Trump and Kanye.
Support for more than 46 languages, enabling multilingual voice capabilities.
A wide selection of 100+ accents to add regional flair to your voiceovers.
The option to clone Morgan Freeman's voice, replicating his iconic tone and style.
Additional features like voice recording, text-to-speech, speech-to-text, and voice cloning.
Comprehensive audio management capabilities, including conversion, recording, editing, and trimming.
High-quality sound without compromising fidelity, ensuring exceptional audio recordings.
A safe, reliable, and user-friendly experience for all your voice-related endeavors.
To generate a Morgan Freeman AI voice with iMyFone VoxBox, follow these steps:
Step 1: Download and install iMyFone VoxBox on your computer.
Download for WindowsDownload for Mac
Step 2: Launch the software and choose the "Text-to-Speech" feature. Click on "Change Voice".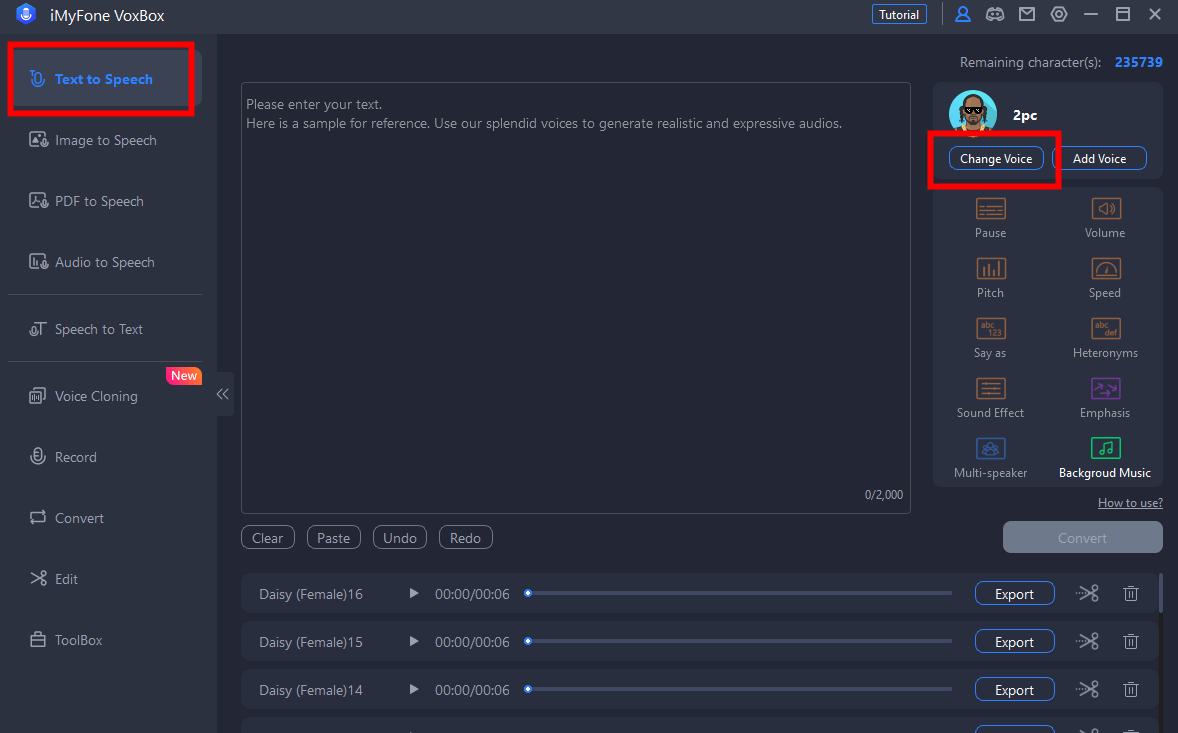 Step 3: Select the Morgan Freeman voice from the available options in the voice library.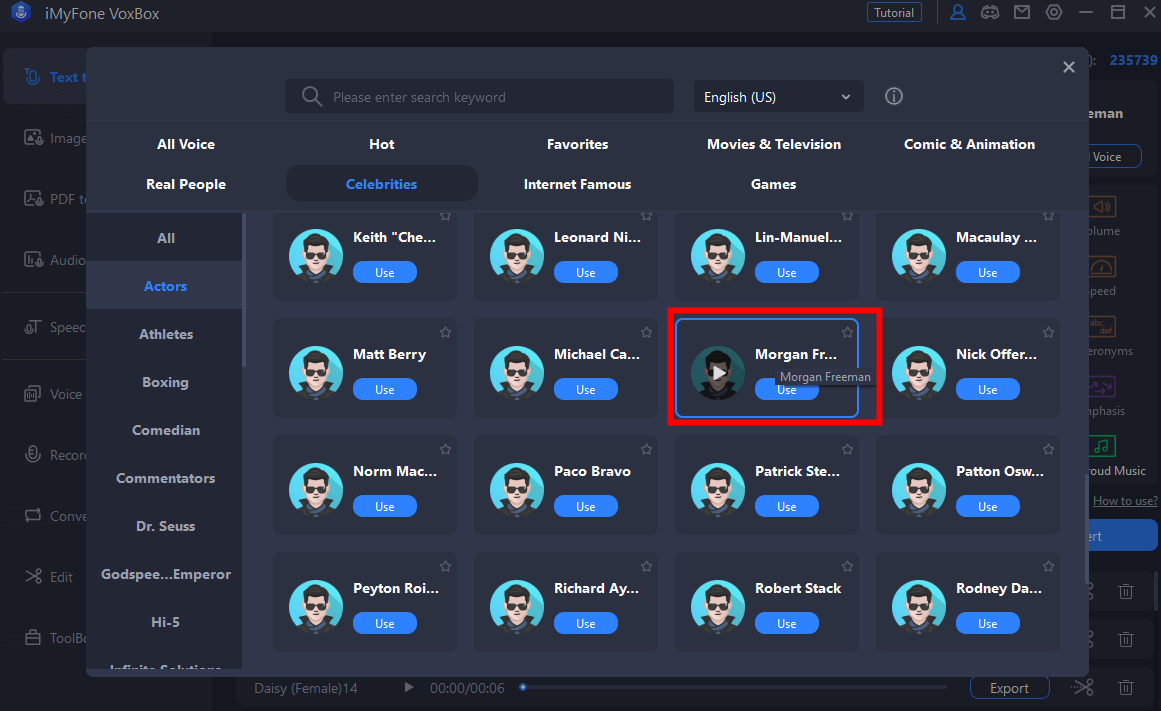 Step 4: Type your script into the text box and click on "Convert" to process and convert the text into audio. And you can preview the output before exporting it to your computer.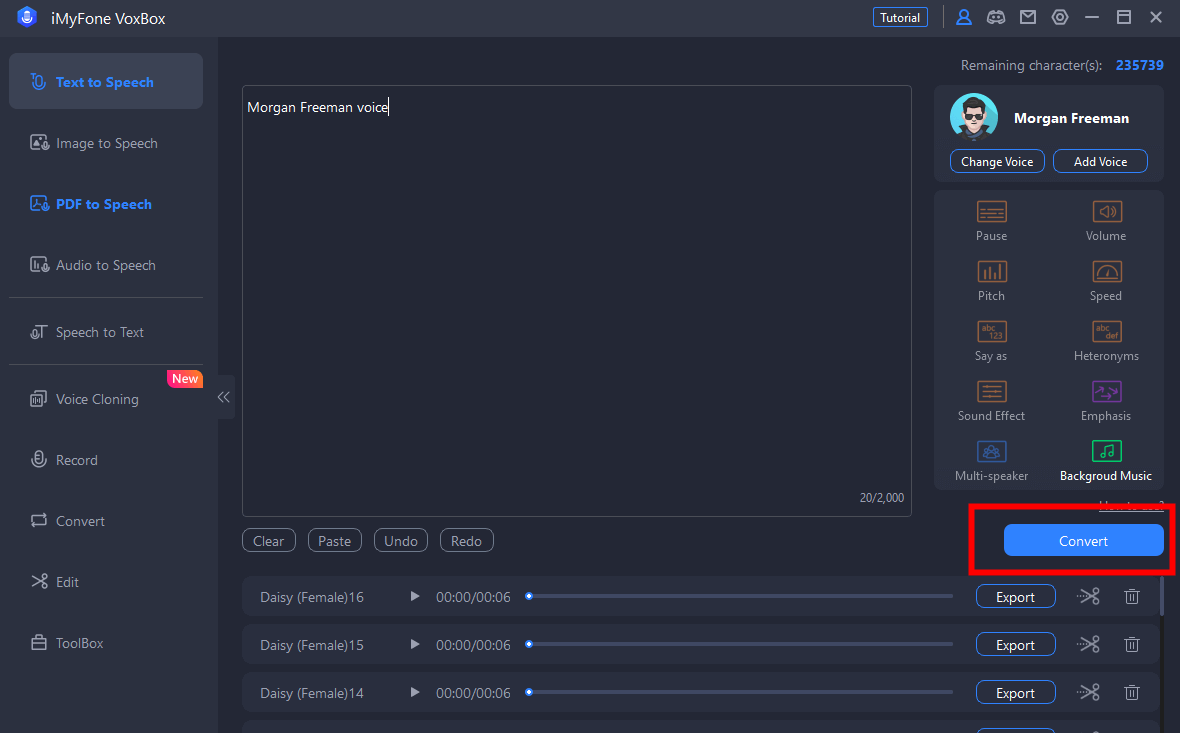 Other Free Online Tools for Morgan Freeman Text to Speech
If you're looking for alternative options, there are other tools available online for generating Morgan Freeman's voice. Websites like UberDuck.ai and FakeYou.com offer free text-to-speech services with the option to choose Morgan Freeman's voice. These platforms have an easy-to-use interface and can synthesize your custom text in a matter of seconds.Let's take a closer look at two popular options:
1.UberDuck.ai
UberDuck.ai is an online platform that offers a wide range of text-to-speech voices, including a voice similar to Morgan Freeman's. The platform allows you to enter your custom text and select the desired voice. You can choose from a variety of categories, such as movies, anime, and games, to find the closest match to Morgan Freeman's voice. UberDuck.ai also offers a free text-to-speech API for developers to integrate into their projects.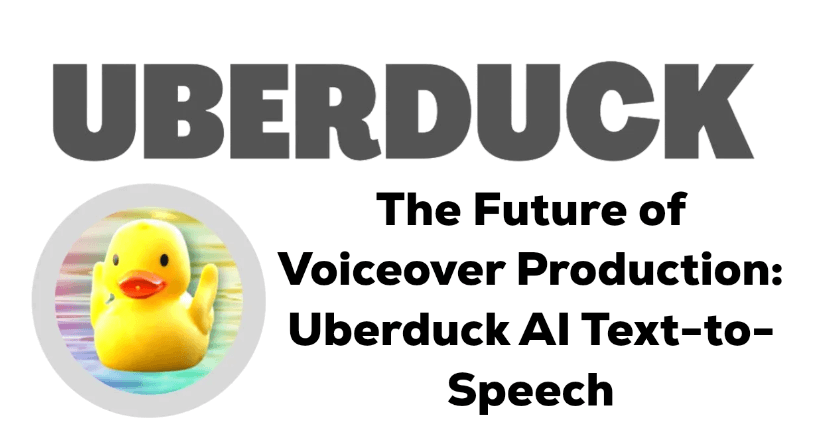 Manipulate famous voices
Automate voice-related tasks like audio production, video voiceovers, and AI-generated singing or rapping
Create clones of your own voice or famous voices
Generate personalized videos, music, and rap videos using cutting-edge AI technology
2.FakeYou.com
Another popular option for generating a Morgan Freeman-like voice is FakeYou.com. This free online tool offers an easy-to-use interface and the ability to synthesize custom text into speech. Unlike some other tools, FakeYou.com does not require any sign-up process, allowing you to generate text-to-speech voices quickly and conveniently.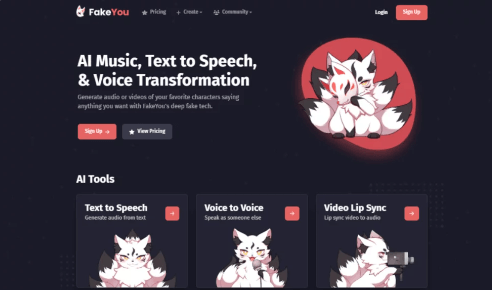 The platform offers over 2,400 voices to choose from
There is a "Real People" category with over 180 voices.
Users have the ability to customize the voice output by selecting different voices, accents, and languages
The narrations created using Fake You Text-to-Speech can be accessed online through permalink format or downloaded as WAV audio files.
Part 3. FAQs
Q1.Can I use the AI-generated Morgan Freeman voice for narration or voiceover projects?
Yes, you can use the AI-generated Morgan Freeman voice for personal projects such as narration, voiceovers, or even for fun purposes. However, it's important to respect copyright laws and use the voices responsibly and within the allowed scope.
Q2.Are Morgan Freeman AI Voices Available in Multiple Languages?
The availability of Morgan Freeman AI voices in multiple languages varies depending on the AI voice generator or platform. Some platforms like VoxBox and Fakeyou offer multiple language options, allowing you to generate Morgan Freeman-like voices in various languages.
Q3.Can I customize the generated voiceovers to suit different moods or characters?
Yes, some text-to-speech tools like VoxBox offer customization options for voiceovers. You can adjust settings like speed, tone, and emphasis to match the specific mood or character you want to portray.
Q4. Are there other celebrity voices available in text-to-speech technology?
Yes, along with Morgan Freeman, there are text-to-speech tools that offer a variety of celebrity voices. Some popular choices include voices resembling Barack Obama, Arnold Schwarzenegger, and Donald Trump, among others. However, it's essential to ensure that you have the necessary rights and permissions to use these voices in your projects.
Conclusion
Morgan Freeman's voice has captivated audiences for decades, and now you have the opportunity to harness the power of AI technology to create your own custom text-to-speech versions of his iconic voice. Whether you choose to use AI voice generators like iMyFone VoxBox or collaborate with voice actors on platforms, the possibilities are endless. So go ahead, unlock the potential of Morgan Freeman text-to-speech and elevate your projects with the mesmerizing sound of his voice.