Mickey Mouse, the lovable and iconic Disney character, has captured the hearts of people of all ages since his creation in 1928. One of the most distinctive aspects of Mickey Mouse is his high-pitched, cheerful voice. Over the years, various voice actors have lent their talents to bring Mickey Mouse to life, each adding their unique touch to the character's voice.
If you've ever wondered how to replicate that famous Mickey Mouse voice, you're in luck. There are several Mickey Mouse voice generators available that allow you to sound like the beloved character. In this article, we will explore the world of Mickey Mouse voice generators and guide you on how to bring the iconic voice to life.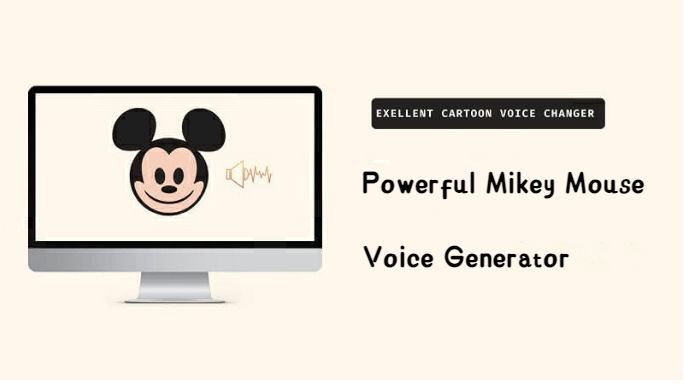 Part 1. Who Voiced Mickey Mouse?
Mickey Mouse has had a rich history of voice actors bringing him to life. It all started with Walt Disney himself, who voiced the character in the beginning, creating the iconic falsetto tone that instantly became recognizable. However, as the character evolved, so did the voice behind Mickey Mouse.
Over the years, several talented voice actors have taken on the role of Mickey Mouse. Jimmy MacDonald succeeded Walt Disney in 1947 and voiced Mickey for over three decades. In 1977, Wayne Allwine took over the role and continued to voice Mickey until his passing in 2009. Currently, Bret Iwan carries on the legacy of Mickey Mouse's voice, delighting audiences with his spirited and cheerful portrayal.
Part 2. How Many Voice Actors Voiced Mickey Mouse?
Throughout Mickey Mouse's long history, there have been four primary voice actors who have lent their talents to bring the character to life. Each voice actor has left their mark on the character, adding their unique flair to Mickey's iconic voice.
1. Walt Disney: Walt Disney was the original voice of Mickey Mouse, creating the character's distinct high-pitched voice that endeared him to audiences worldwide.
2. Jimmy MacDonald: After Walt Disney, Jimmy MacDonald took over the role of Mickey Mouse. He portrayed the character for over three decades, capturing his fun-loving and mischievous spirit.
3. Wayne Allwine: Wayne Allwine succeeded Jimmy MacDonald and voiced Mickey Mouse for over three decades. His portrayal added depth and charm to the character, making Mickey even more endearing.
4. Bret Iwan: Currently, Bret Iwan carries on the legacy of Mickey Mouse's voice. With his energetic and enthusiastic portrayal, he continues to delight audiences with Mickey's timeless charm.
Part 3. 4 Best Mickey Mouse Voice Generators Online
If you're looking to replicate Mickey Mouse's famous voice, there are several Mickey Mouse voice generators available online. These generators allow you to transform your voice into the cheerful and high-pitched tone of Mickey Mouse. Let's explore four of the best options:
1.VoxBox
One highly regarded application for Mickey Mouse text-to-speech services is VoxBox. It offers a variety of tones for generating Mickey Mouse TTS. With VoxBox, you can choose from various sets of Mickey Mouse AI voices and select the one that suits your preferences. Additionally, It provides a wide collection of voices from other fictional characters, creating a nostalgic experience. Here are some key features of VoxBox: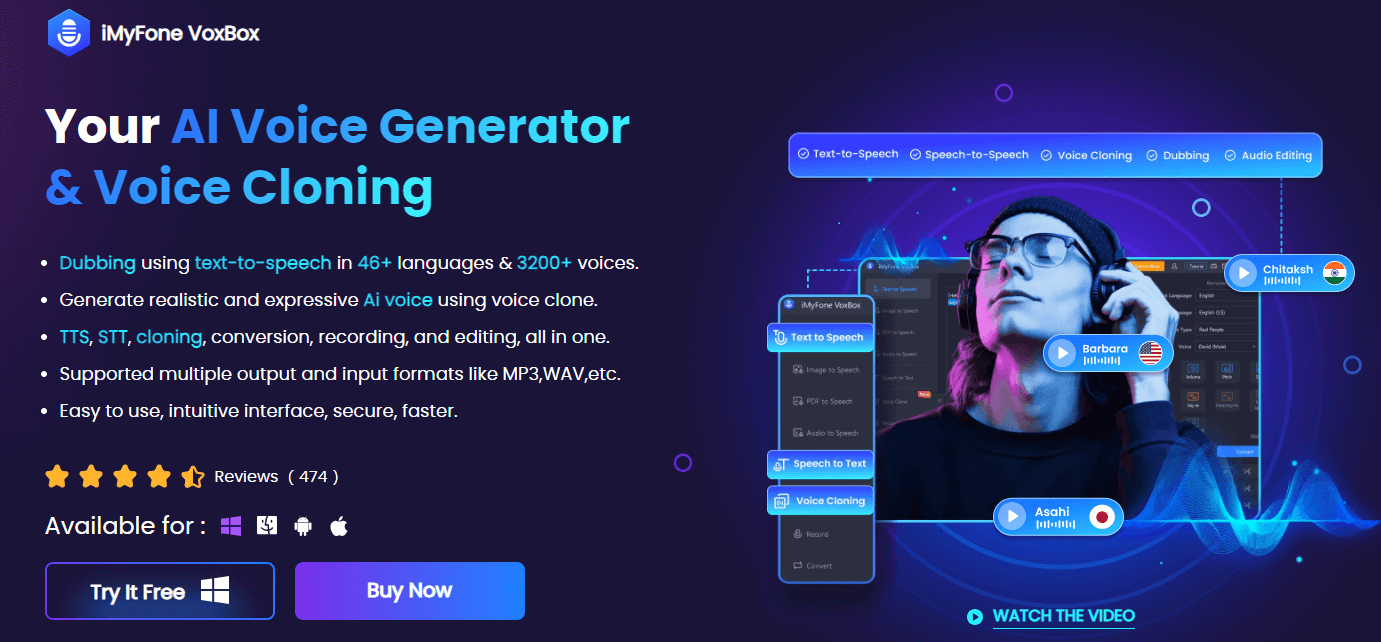 Vast Selection of Voices: In addition to Mickey Mouse, VoxBox offers a vast selection of other character voices. You can choose from over 3200 voices, including popular characters like SpongeBob, Kermit the Frog, Squidward, Garfield, Goku, Mario, and many more.
Speed and Volume Control: With VoxBox, you have control over the speed and volume of the generated voices. You can adjust these settings to match the desired pace and loudness for your content.
Multilingual Support: It VoxBox supports a wide range of languages, with over 46 languages available
Compatibility and Export: VoxBox supports exporting the generated audio in multiple formats, such as MP3 and WAV, giving you flexibility in using the generated voices in different applications.
Regular Updates: VoxBox continues to evolve and improve, with regular updates and additions to its voice library.
2.FakeYou
Another notable option for creating a Mickey Mouse voice is Voicechanger. This online platform offers a free real-time voice changer that includes a Mickey Mouse voice effect. With Voicechanger, you can modify your voice in real-time during voice calls or recordings. The platform allows you to adjust the pitch, speed, and add effects like echo and reverb.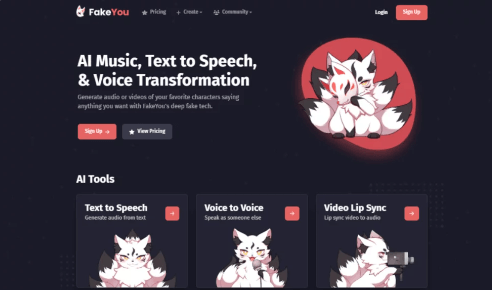 FakeYou offers a variety of voices, including the Mickey Mouse voice, as well as many other character voices from the fictional world.
The generated audio can be downloaded in popular formats such as MP3, WAV, and OGG.
Developers can integrate FakeYou's voices, including Mickey Mouse, into their applications using the provided API at a minimal cost.
3.15.ai
Among the options available, 15.ai is also a noteworthy platform for Mickey Mouse voice generation. It offers AI-generated voices, including the voice of Mickey Mouse. With 15.ai, you can create content that features the iconic sound of Mickey Mouse, adding a touch of familiarity and nostalgia to your projects.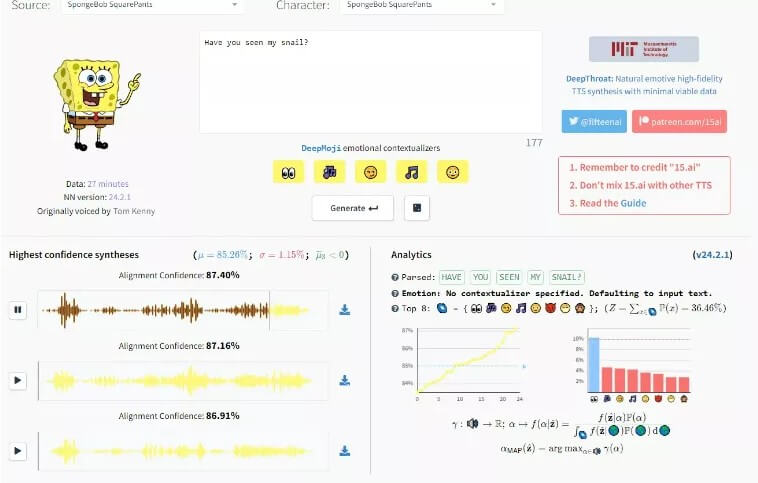 Natural and Realistic Voices.
The 15.ai website provides a user-friendly interface, making it easy to enter text and generate the desired voice.
15.ai offers a variety of voices, including popular characters like Mickey Mouse
4.Uberduck
Uberduck.ai is also a Mickey Mouse voice generator that deserves recognition. It offers text-to-speech conversion services, enabling you to generate Mickey Mouse AI voices. By inputting your text, you can obtain the enchanting voice of Mickey Mouse for your projects.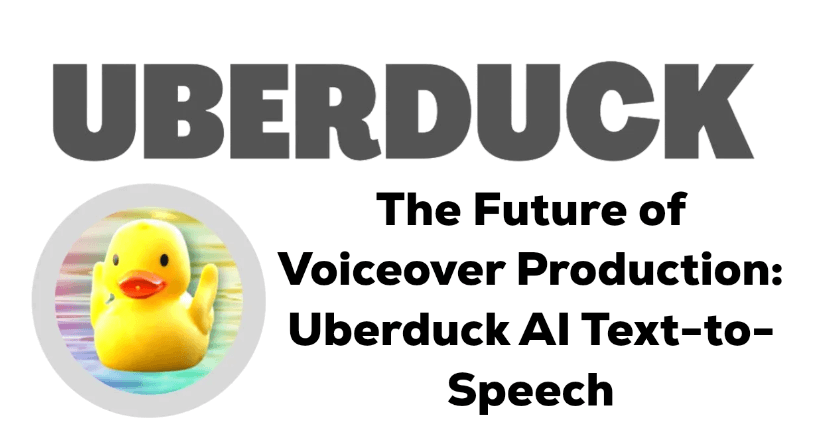 Uberduck provides access to a vast collection of voices, including celebrity voices and character voices like Mickey Mouse
It Uberduck allows you to convert speech from one voice to another.
Uberduck is available as a free AI voice tool.
You can upload your own reference audio to modify your recorded voice.
Part 4. Comparison of the 4 Mickey Mouse Voice Generators
To help you choose the best Mickey Mouse voice generator for your needs, let's compare the key features of the 4 generators mentioned above:
Comparison Table of Celebrity Text to Speech
| | VoxBox | Fakeyou | 15.ai | Uberduck |
| --- | --- | --- | --- | --- |
| Real-time Transformation | | | | |
| Multiple Voice Effects | Yes | Limited | Yes | No |
| Customization Options | Limited | | | |
| User-Friendly Interface | Yes | Yes | Yes | Yes |
| Price | $39.95/year | $7/Month | Free | $96/year |
Part 5. Is There Any Free Mickey Mouse Voice Generator Online?
Yes, there are free Mickey Mouse voice generators available online. Some of the options mentioned earlier, such as VoxBox and UberDuck, offer free access to their Mickey Mouse voice options. However, keep in mind that free versions may have limitations in terms of features or audio quality. If you're looking for more advanced customization options or higher-quality voice synthesis, you may need to consider paid options.
Part 6. How Do I Change My Voice to Mickey Mouse?
Changing your voice to resemble Mickey Mouse can be a fun and engaging process. To change your voice to Mickey Mouse using a voice generator like VoxBox, follow this step-by-step guide:
Step 1: Download Mickey Mouse voice generator app suitable for your device (PC). Follow the installation instructions to set it up on your computer..
Download for WindowsDownload for Mac
Step 2: Once the installation is complete, launch the VoxBox application on your PC. Select "Text to Speech" function, click "Change Voice".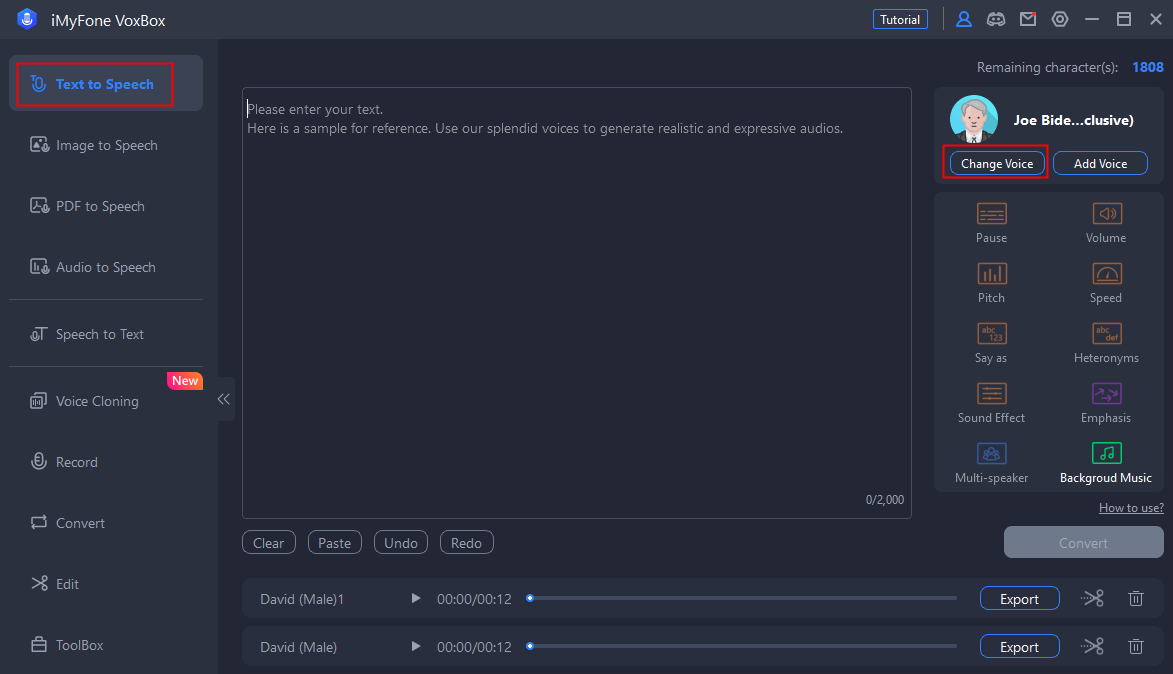 Step 3: Now, you will see a range of voices available in the voice library. Search for the Mickey Mouse voice in the search and click on "Use".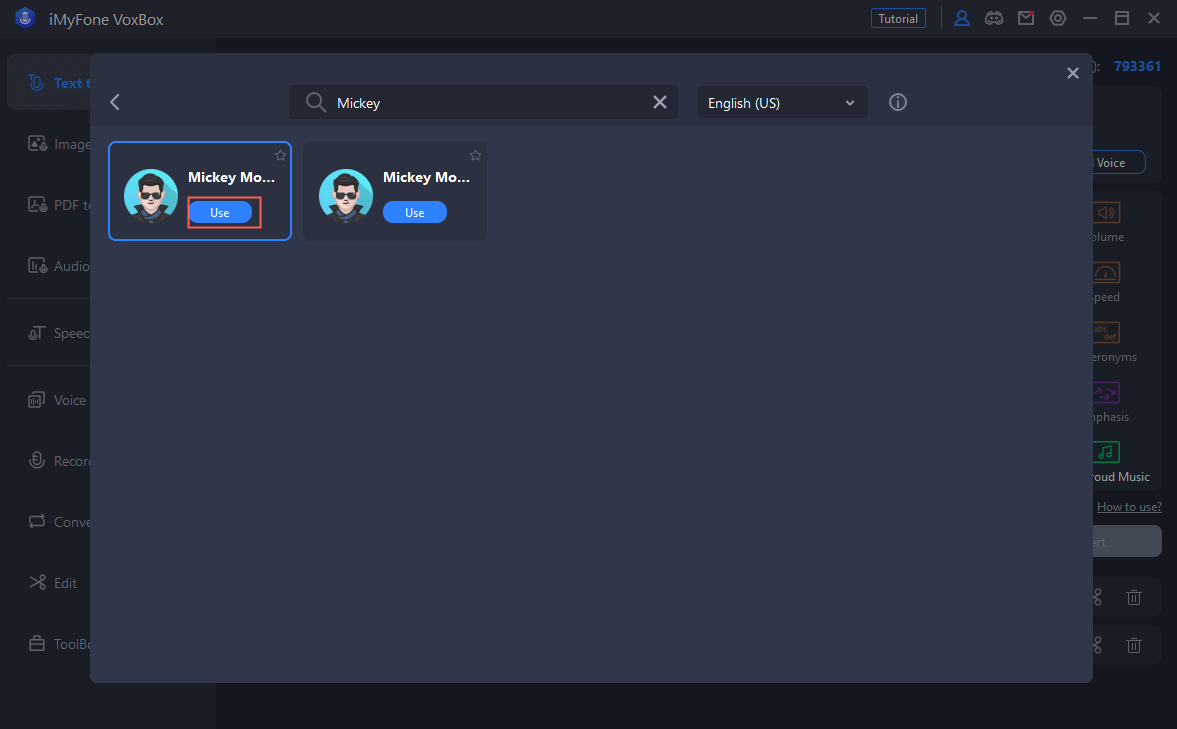 Step 4: Last, enter or paste the text that you want to convert into Mickey Mouse's voice. And you can adjust parameters like speed, volume, pitch, and emphasis to achieve the desired effect.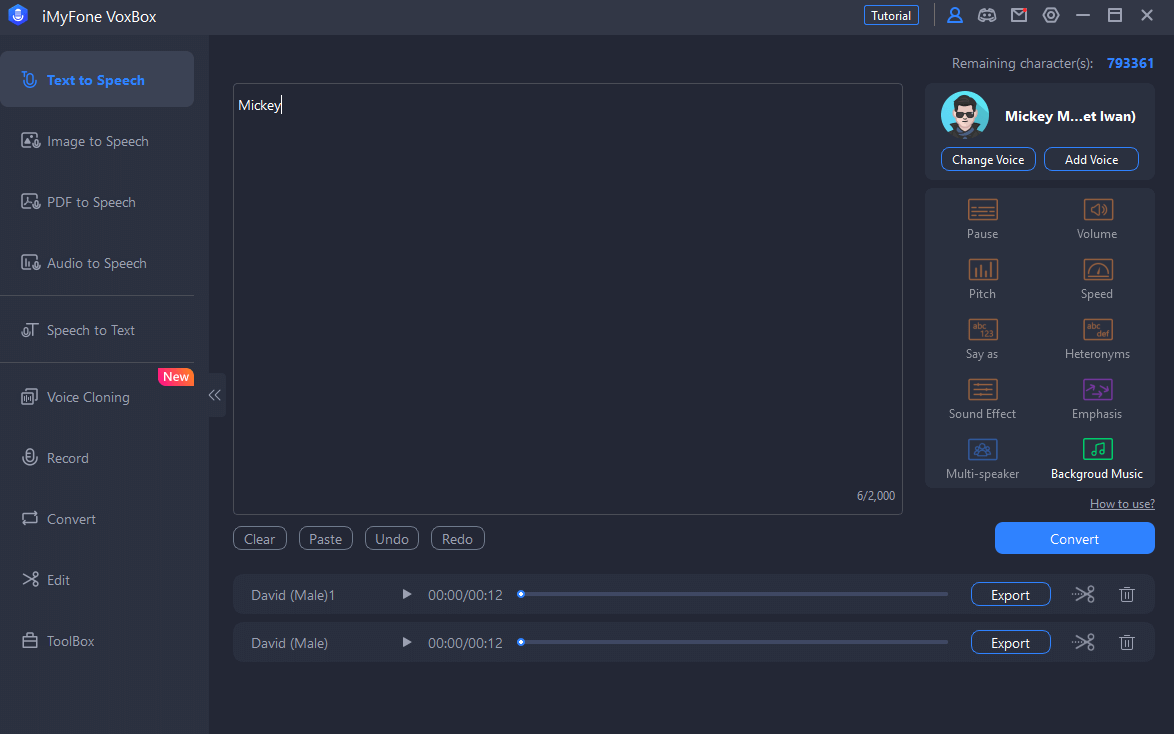 Bottom Line
The world of the Mickey Mouse voice generator offers an exciting opportunity to recreate the beloved character's iconic voice. Whether you're looking to have some fun, create voiceovers, or add a touch of Mickey Mouse to your conversations, these generators can help you achieve that. Explore the options, choose the best Mickey Mouse voice generator for your needs, and enjoy bringing the magic of Mickey Mouse to life with your own voice.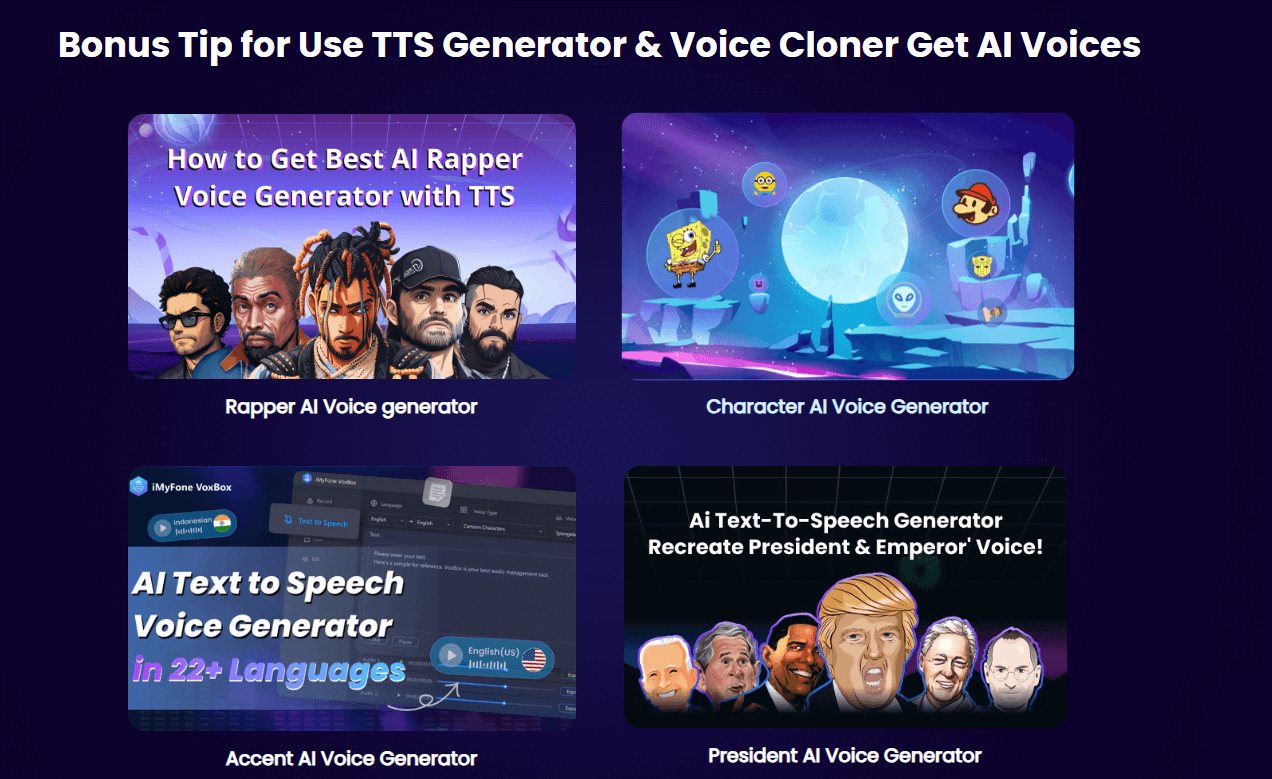 Download for WindowsDownload for Mac