In the world of audio content creation, character voice generators have become indispensable tools for bringing characters to life. These AI-powered tools allow content creators, animators, game developers, and filmmakers to generate realistic and captivating voices for their characters. From virtual assistants and animated characters to video game protagonists, the possibilities are endless. In this article, we will explore the top 5 AI voice generator for characters that can help you create compelling voices for your characters.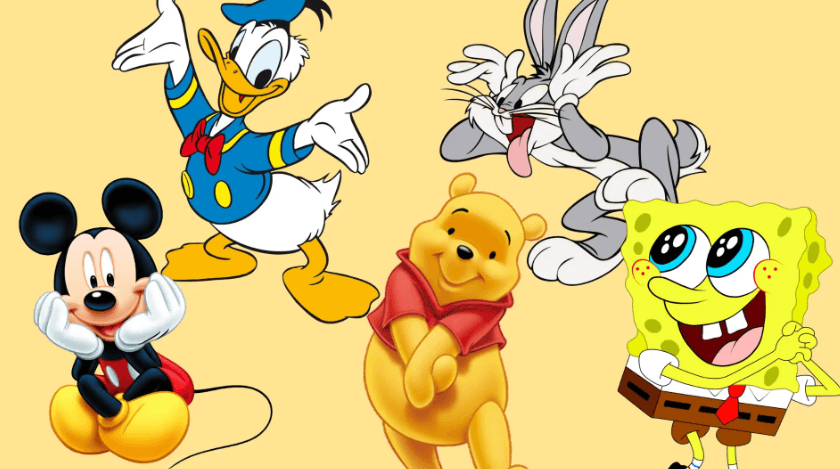 Table of Contents
What is a Character Voice Generator?
A Character Voice Generator is a cutting-edge software application designed to generate unique voices for different fictional characters. It utilizes artificial intelligence and machine learning algorithms to produce high-quality voiceovers that match the characteristics and traits of a particular character.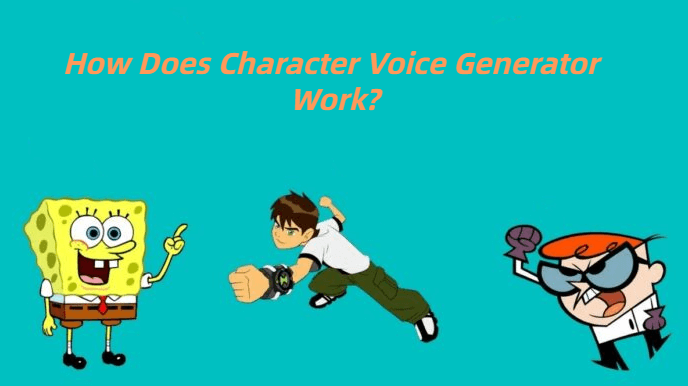 How does it work?
The Character Voice Generator employs a vast database of pre-recorded voices, carefully categorized based on various attributes such as age, gender, accent, and emotion. By inputting the desired parameters, users can select a voice type that best suits their character. The software then seamlessly combines and adjusts these voice elements to create a cohesive and engaging voiceover.
How Do You Make a Character's Voice?
Characters' voices are crafted through a technique called voice acting, where voice actors use various methods to breathe life into characters. These techniques include altering the pitch and tone of their voices, incorporating accents and dialects, and employing distinct speech patterns and rhythms. The goal is to create a unique and recognizable voice that embodies the essence of the character.
In addition to traditional voice acting, advancements in technology have paved the way for text-to-speech (TTS) and voice generators. These tools utilize artificial intelligence (AI) to generate speech that emulates specific characters or voice actors, offering users an opportunity to create characters voices effortlessly.
Top 4 Character Voice Generators Text to Speech
When it comes to character voice generators, there are several remarkable options available. Here are our top recommendations:
1.VoxBox Character Voice Generator
VoxBox stands out as one of the best AI character voice generators. It offers a wide range of voices, including famous characters, and delivers astonishingly realistic results. And you can even contribute your own voice models to support their open-source community.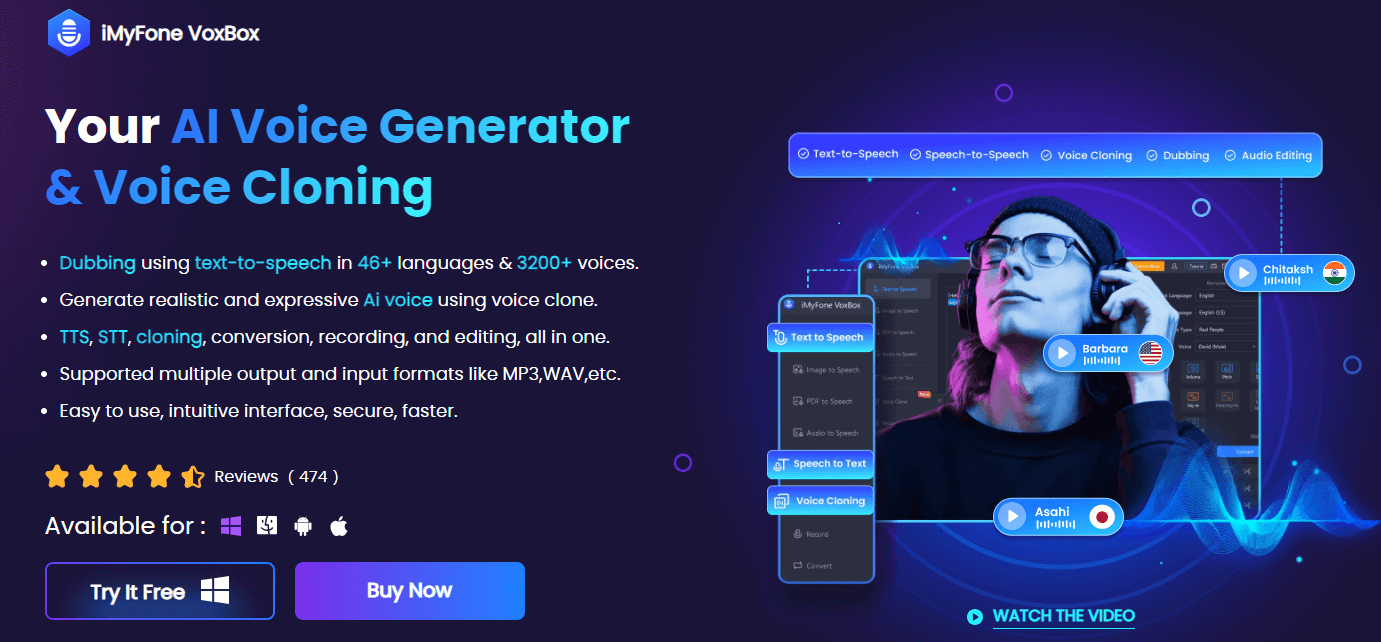 AI Text-to-Speech (TTS):VoxBox utilizes advanced AI technology to convert text into natural and realistic voiceovers. It supports various languages such as English, French, Spanish, and more .
Multiple Voices: VoxBox offers a diverse range of voices, including popular cartoon character voice and clebrity voice like Spongebob, Optimus Prime, Juice Wrld, and even Barack Obama.
Voice Cloning: With VoxBox, you can create dynamic and unique human voices through voice cloning. By analyzing given data, it can generate AI voice clones capable of exhibiting different emotions.
Audio Editing: VoxBox includes audio editing capabilities, allowing you to easily edit, delete, and merge audio files.
Real-time Recording: VoxBox not only supports regular daily audio recording but also allows recording of third-party platform music with the same effect.
4-Terminal Support: oxBox is compatible with both computer terminals (Windows and macOS) and mobile terminals (iOS and Android).
How to create cartoon character voice? Here are the steps to use VoxBox cartoon character voice generator:
Step 1: Download and install VoxBox character voice generator text to speech.
Step 2: In VoxBox, navigate to the "Text to Speech" section, Select "Change Voice".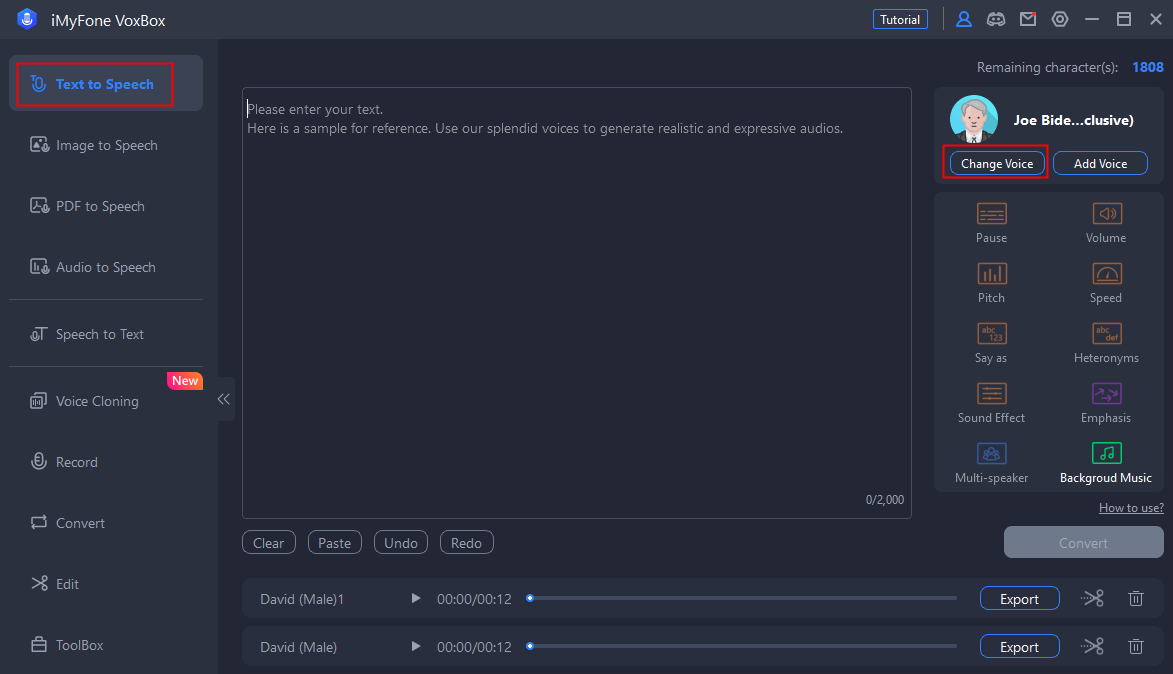 Step 3: Look for a list of available character voices or a search function where you can enter the name of the character voice you want to generate.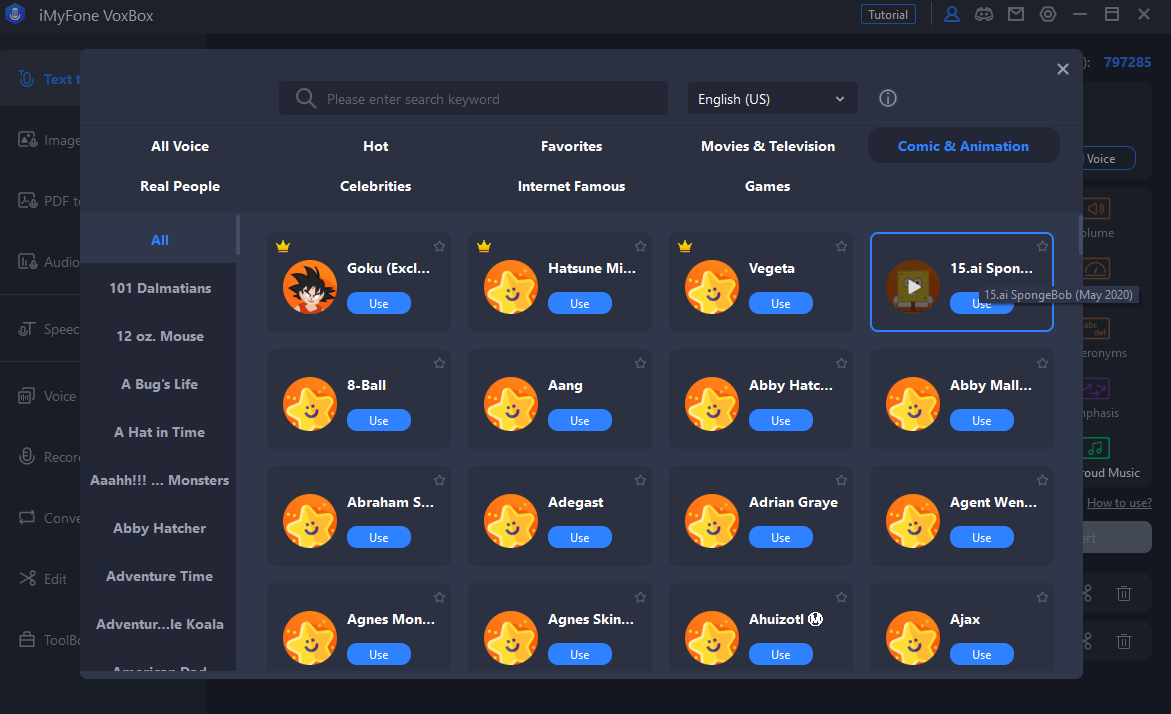 Step 4: Once you have selected the character voice, you may have the option to customize certain parameters such as pitch, speed, or emphasis to make the generated voice sound more unique or closer to your desired character.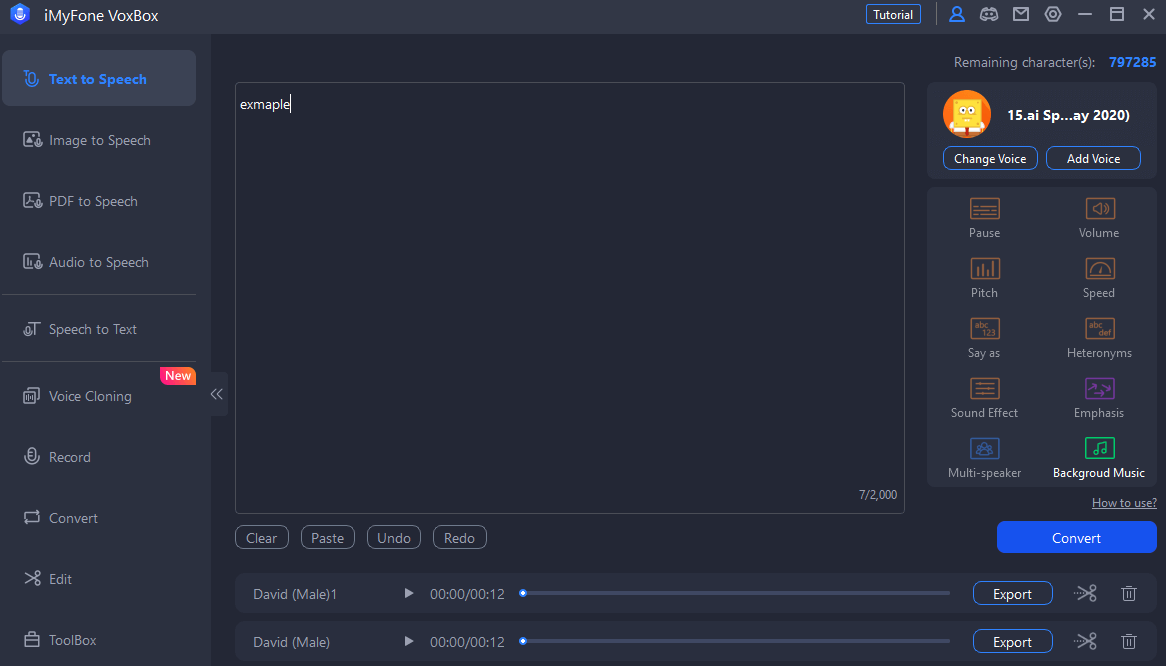 Try VoxBox fictional character voice generator for free now and unlock the potential of character voice generation!
Bonus Tip: Get Real-Time Voice Changer More Than VoxBox
Since VoxBox is a kind of text-to-speech generator, this app can't help you change your won voice to any voice effects you like. In this case, you need a smart voice changer -- CleVoice Voice Changer, It has the ability to instantly translate your speech into 800+ voice effects. You can alter your voice when streaming, gaming, and talking using CleVoice.
It's simple to make your voice sound like a cartoon character like Minion or Spongebob, or like a celebrity like Donald Trump.
Anyway, just try using CleVoice, you can find out more joys and fun for yourself!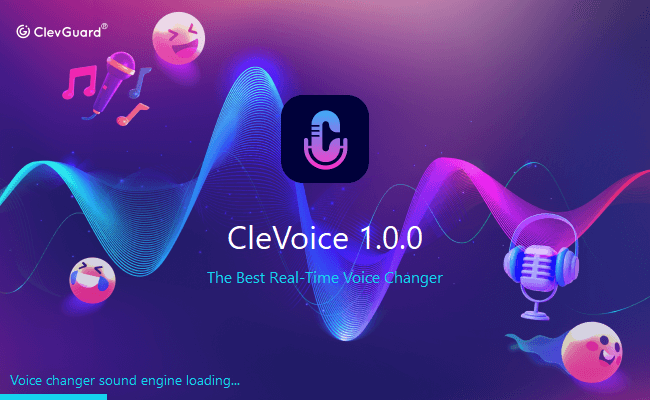 Try It Free
2.Lovo Character Voice Generator
Lovo is a popular character voice generator trusted by over 80,000 content creators worldwide. With Lovo, you can create lifelike voices for your characters, ranging from British-documentary accents to American salesperson voices. This tool utilizes advanced text-to-speech technology to generate voices that sound exactly like you, eliminating the need for expensive voice actors.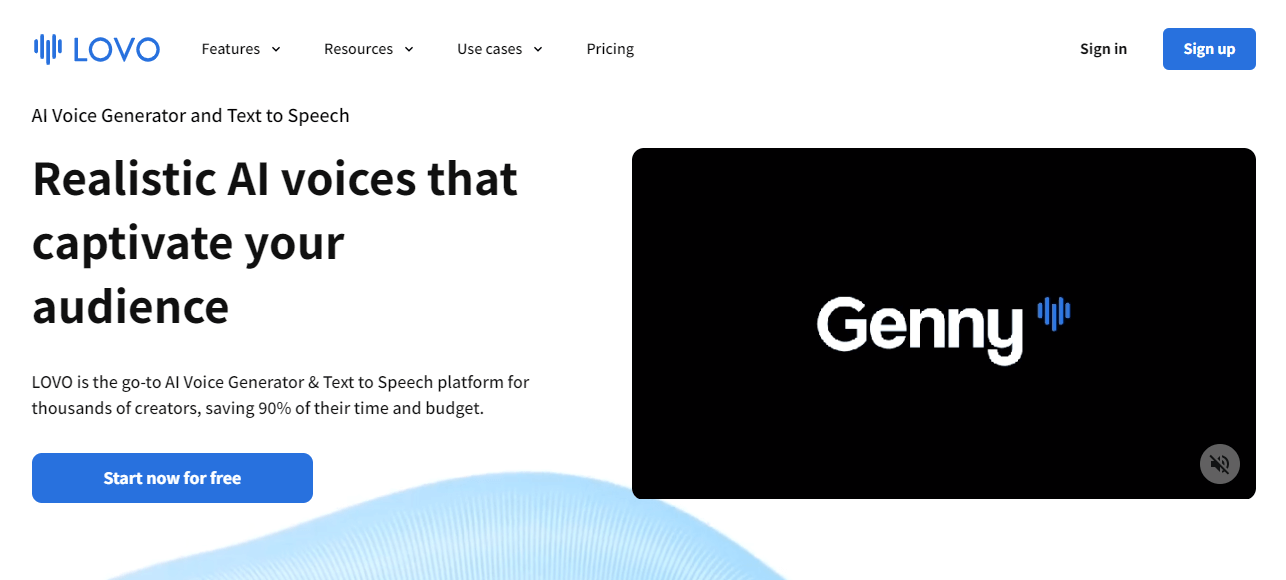 Features:

Wide range of voices to choose from.
Authentic and customizable voices to suit your needs.
Powerful audio editing tool (LOVO Studio) for seamless editing.

Pricing:

Free Plan available.
Basic: $19 per month.
Pro: $36 per month.
Pro +: $99 per month.
3.Resemble.ai Character Voice Generator
Resemble.ai empowers content creators to create human-like voices with just a few clicks. It combines human and synthetic voices to add a personal touch to your audio content. With flexible APIs for easy integration and the ability to create realistic 3D characters, Resemble.ai opens up a world of possibilities for character voice creation.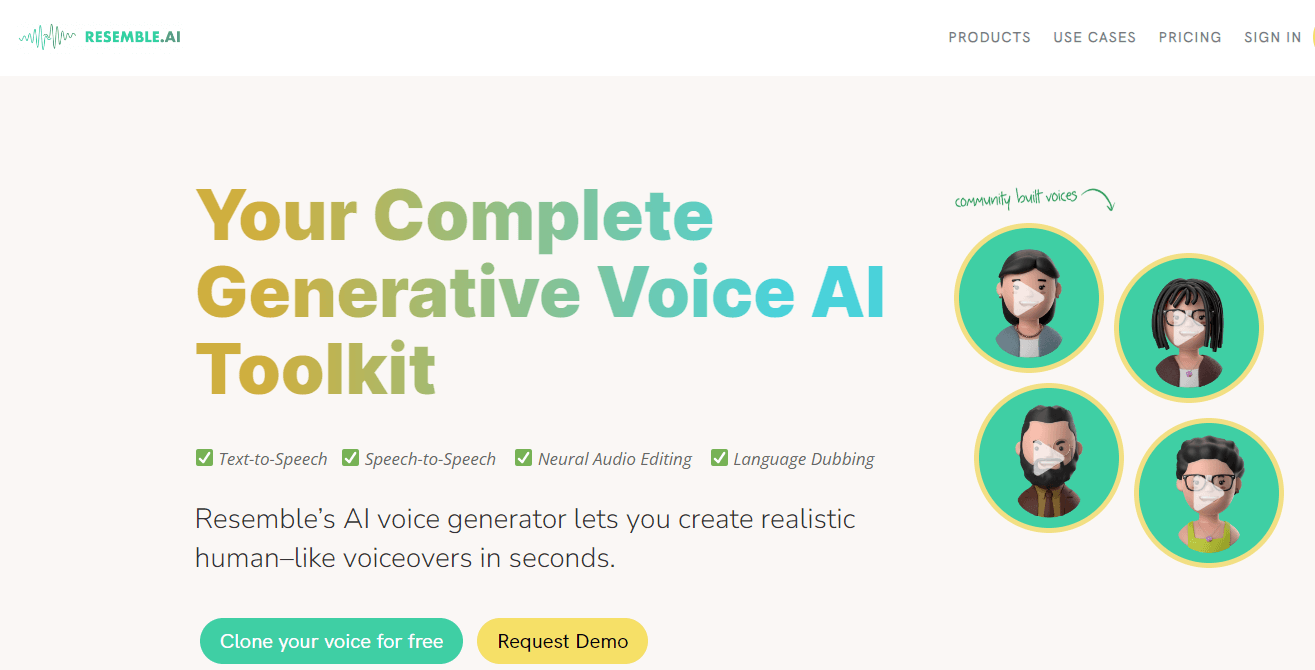 Features:

Flexible APIs for seamless integration into existing applications.
Blend of human and synthetic voices for a lifelike audio experience.

Pricing:

Basic: $0.006 per second of generated audio.
Pro: Contact their team for more information.
4.Murf.ai Character Voice Generator
Murf.ai stands out as an AI creation studio that utilizes real people's voices as a foundation to create human-like voices.It provides studio-quality voiceovers that can be used for various purposes, including professional presentations, YouTube videos, and customer support. With its vast library of voices and collaborative features, Murf.ai offers a comprehensive solution for adding a unique voice to your projects.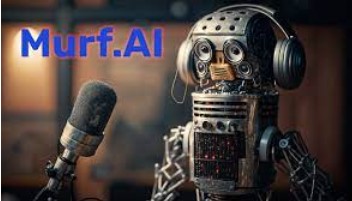 Features:

Murf Studio for creative control over your audio needs.
Collaboration features for seamless teamwork.
AI voices that capture the right tone and convey your message effectively.

Pricing:

Free Plan available.
Basic: $13 per month.
Pro: $26 per month.
Enterprise: $59 per month.
Conclusion
Choosing the right character voice generator is crucial for enhancing your characters' voices and making them memorable to your audience. The top 4 character voice generators mentioned in this article, VoxBox, Lovo, Resemble.ai, and Murf.ai, offer a wide range of features and voice options to suit various project requirements.Start exploring these character voice generators today and unleash your creativity!