Question: How mSpy Can Help Parents to Monitor Their Children?
There is a lot of inappropriate stuff online and kids are getting involved in inappropriate activities such as chatting, pornography, sexting, etc. So parents should use parental control apps to monitor your kids' phone.
After reading this mSpy reviews, you will know mSpy is an amazing app that helps monitor kids' online activity and it also have multiple feature such as location tracking, call recording, web history, access to media file of kid's phone, etc.
mSpy's Compatibility
mSpy is compatible with Android as well as iPhone. It works on all devices such as Samsung, LG, Huawei, Motorola, Xiaomi, etc. But it doesn't operate on the old version.
mSpy only supports the iOS version of 7 to 9.1. It is compatible with android devices with a version up to 4, and it does not support the models of android and iPhone purchased before 2010.
mSpy Features
Teen-ager mostly search for thing that may harmful for them. mSpy browsing history features give you the URL of that page so you may know what was your kid watching and it also give you the details about the last visit and number visits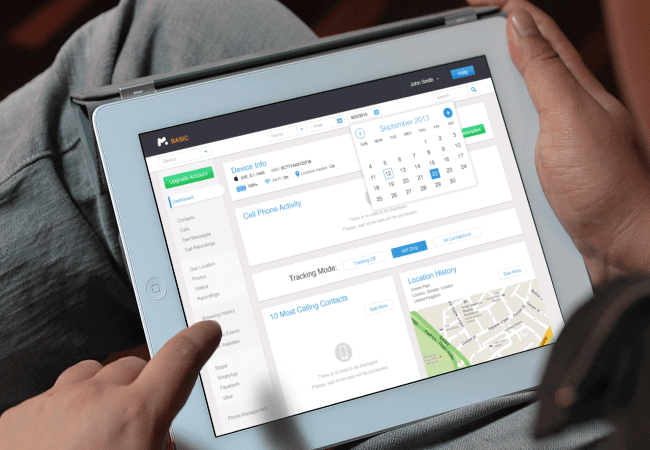 2. Monitor Social Media App
Using mSpy you can easily monitor any app currently working on target device. mSpy come up with screen recorder features through which you can easily track the social media activities of your target.
3. Block Websites and Applications
mSpy allows you to block the applications and websites which is harmful for your child. Provide the link of websites or Application you wish to block by clicking on block the app or website will no longer accessible to your target
5. GPS Locations
mSpy have updated GPS Location features that allow you to track the target location by clicking on the MAP View. It will give you the details of current location of your child or target phone by using Geo-Fencing you will get set radius for roaming and location restrictions.
What are the Requirements of Using mSpy?
mSpy parental control enables you to monitor your child's phone activity. Here are the requirements:
mSpy for Jailbroken iOS Devices
You should have the latest running iOS device such as iOS 6 to 8.4 or 9to 9.1.
The device should have an internet connection.
Your device must be jailbroken.
You need to access physically to install the mSpy.
mSpy for Non-Jailbroken iOS Devices
Capable for all iOS devices.
An iCloud account with Find My Phone activated.
You have to turn off the 2factor verification for Apple ID.
You need to turn on iCloud backup from settings.
An internet connection with the iOS.
mSpy for android
You must have Android 4.0 or the latest.
Must have an internet connection.
You should have access to the phone physically first to install the app.
If you would like to track instant messages on WhatsApp, Messenger, Skype and others, you should have a rooted phone.
How to Use mSpy Parental Control App
Step 1: Choose a subscription
Open the official website, after finish mSpy login, choose the subscription package that suits to your needs of your family the most. Fill within the billing information, after confirmation of payment, you will get a welcome email with your personal credentials.
Step 2: Install mspy on the target device
For Installation & Settings; Verify your email address Open the letter from mSpy customer support team and mSpy app download link. Once the app is downloaded, follow the above installation method to set up mSpy. It requires only 5 minutes.
Step 3: Begin monitoring
When app is completely installed, you can start your target device monitoring. You will see sent and received texts, read them individually, incoming and outgoing calls with complete contact details browsing history, installed apps and many other things.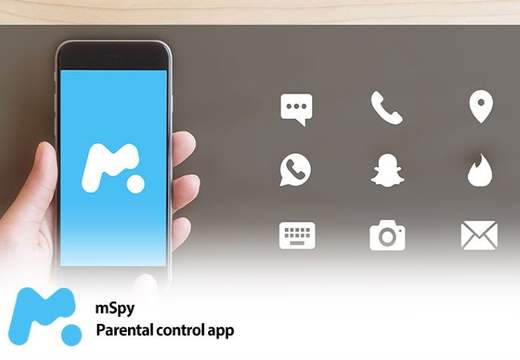 Plans and Pricing
Plans
Different mSpy plans offer different levels of features and functionality. The Starter plan is the most basic level, and The Pro plan offers more features such as daily reports, advanced logging, social media monitoring, live chat support, website screenshots, and much more.
Pricing
The pricing for mSpy plans varies depending on the level of feature included in the program. The Starter plan costs $18.89 per month, while the Pro plan costs $41.99/month, $23.56/quarter, and $9.91/year.
There is also a monthly subscription option that costs $48.99/ month, a 3months plan rated $27.99/month and a yearly plan costs11.66/month.
Pros and Cons
Undoubtedly, mSpy is one of the best monitoring apps for kids' activity, you can check mSpy app review on official site but few pros and cons are mentioned below.
Pros of mSpy
Keylogger: One of the best thing about mSpy is it key logger feature because this feature gives the complete details about what the kids type on their smartphone keypad. This amazing feature detects inappropriate words and sends a notification to parents. So this advanced feature helps parents to know what kind of chatting their kid is doing.
Advanced tracking: mSpy is best for tracking the location because it has more advanced Geo-Facing feature, which helps the parents track their kids' live location. Additionally, it also tells where the kids visited the whole day.
Cons of mSpy
Advanced features only available for rooted or jailbreak devices
One of the major cones of mSpy is that it offers smart and advanced features on rooted and jailbroken devices only. If you are using a non-broken jail iPhone or your android is not rooted, it will not give you access to advance features because it offers advanced features to only jailbreak devices or rooted devices.
No supporting data exporting of the target phone
People usually want to export daily or weekly reports from spyware for legal purposes, but they can't. For example, an office is using spyware to protect their data, so they want to export the weekly report to keep it in a record file, mSpy app is not giving option for exporting data. So people less preferred the mSpy app over other apps.
High price
People prefer other monitoring apps over mSpy because it is highly expensive. Its basic package costs $29.99 per month, and the basic package just includes few features, and it just allows to monitor a single device. On the other hand, the mSpy offers advanced features in the premium package, and people prefer the premium package over the basic one because of the feature, but its mSpy cost is $48.99 per month. It is expensive, and people can't purchase mSpy every month due to the mSpy cost.
mSpy Customer Reviews
"I liked the app so far, it does what it's supposed to. I'm deducting one star because the support takes a bit long to get back to you, even though they state that they are available 24/7". - Sarah B.
"The installation process for iPhones is not as easy as they describe and you would need the owner of the phone to cooperate. After several phone calls asking for help with setup, I did manage to finally get it to work but not sure yet if all that trouble was worth it."- Kevin B
"Had to re-install it because we got a new Samsung phone. The location tracking worked, but only if the target phone was being used or connected to wifi. We could see what was being typed in the texts with the keyboard, but not audio recordings."- Skapti D.
"I have been using this software for a few months now and it has been amazing! I was able to catch my cheating husband in the act and I am so glad that I found this software!" - Monica S.
Extra Bonus: Best Alternative of mSpy - KidsGuard Pro
Do you think mSpy is a bit expensive for you? Alright, according to experts' point of view, kidsGuard Pro is the best and reliable from all of the alternatives.
It is the safest monitoring app for kids because it is a secured app and doesn't steal any data from your phone. Parents trust the KidsGuard Pro for monitoring kids' online activities because this is kids-friendly app and multitasking.
It helps the parents to monitor online activities such as which app kids are using and which web page they are exploring how much time kids are spending on the internet.
Additionally, kidsGuard Pro for Android also tracks the SMS, calls social app chatting, etc., which aware the parents about their social activity. The major benefit of kidsGuard pro is that it aids the parents in tracking the live location of their kids. Because it contains advanced features of Geo-Fencing, no doubt kidsGuard pro is a perfect monitoring app with multiple advanced features at a low price.
How to Use KidsGuard Pro for Android?
Step 1: Create a KidsGuard Pro for Android Account
Click the "Sign Up" Button> Create a KidsGuard Pro for Android account with a valid email > purchase the service;

Step 2: Download and Install KidsGuard Pro App
Download the KidsGuard Pro App from the download link and set it up to the target device.

Step 3: Start Monitoring the Android Phone
Verify the setup, and we can start monitoring from any web connected devices at anytime anywhere we like, once the KidsGuard Pro for Android App is successfully set up.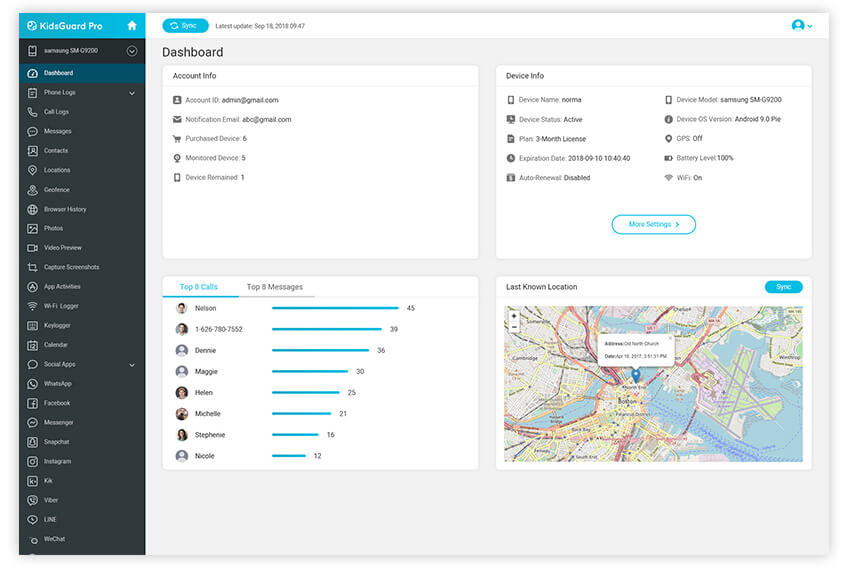 Should I Use Spyware for Monitoring Someone?
Spyware apps are effective monitoring apps for parents because these apps help in tracking kids' location via GPS navigation. These spyware apps are best for kids safety sometimes kids are stuck in the worst situations like curfew, heavy traffic rallies, etc.
In these situations, parents can know about their location via these spyware apps.Additionally Parents use spyware for monitoring the kid's screen activities. Because internet is not safe for kids if they are using internet, parents can protect them via spyware apps.
Businesses man can use this spyware to monitor the activities of employees, and it also aids in detecting unfaithful employees. The couples can use the spyware app to check their partner's online activity; they can record phone calls, SMS, and other social media activities. Spyware help them to know either their partner is cheating on them or not.
Conclusion
Spyware apps are the best monitoring apps for parents because they help parents save their kids from all the dark things. However, these spyware apps do not just help the parents but also beneficial for wives or husbands who want to monitor the daily activities of his or her partners. Additionally, the businessman who wants to protect their office data can uses this spyware for business benefits. kidsGuard pro is highly recommended monitor app.