Line app is extremely popular among kids and teens due to its wider variety of features and functionalities under one platform.
But is Line safe for kids?
Line app is not just an instant messaging and video calling app but also a social media app with timelines for sharing posts.
Your kid may already use Line app to chat with friends, make free video and voice calls, share posts on his timelines, and much more.
As parents, you should be aware of the risks involved in using Line app for kids. We will also illustrate how parents can keep their kids safe on Line app.
Is Line App Safe for Kids?
Unfortunately, Line app is not very safe for kids. There are various safety and security concerns for kids that parents should know about and take steps to avoid.
Cyberbullying

Kids and teens are prone to cyberbullying on any and all messaging and social media platforms, and Line app is no exception. Since kids can share posts on their timelines, friends and strangers can pass bullying comments.

Besides, in group chats, cyberbullying is a common occurrence. This can demotivate kids, push them to depression, be socially isolated and force them to take life-threatening steps.

Exposure to Adult Contents

There is no dearth of adult content on Line app. Adult content is shared on timelines and sent through messages. Exposure to such mature content at such young age can divert the minds of the kids and bring about behavioral changes. There is a lack of Line chat security to block adult content for kids to stop them from coming across them.

Addictions

Apart from chatting with friends and sharing posts, Line app lets kids create cool stickers and funky avatars. In fact, Line Play is a social network platform to create awesome avatars and show them off. Besides, there are social games available that make the kids stay glued to Line app all the time.

Naturally, an addiction grows in them, and they lose their concentrate on study and other essential activities. This can have adverse effects on their physical health, mental development, and behavior.

Child Predators

Child predators refer to those Line users who create fake profiles to lure kids into believing their fake personalities. Once they gain the trust of the targeted kids, they start to exploit the kids for sexual and monetary purposes.

They may ask kids to share their intimate photos, threaten them to share their parents' financial details, and likewise. Therefore, parents need to monitor their kid's Line account regularly to identify child predators and report them immediately.

Information Leak

Line app is completely free to use and it earns revenue by sharing user data with third parties who use them for targeted advertisement. However, users have the right to allow or deny Line app from sharing their private data.

But kids are not aware of this, and they give the app the permissions to share everything with third parties. Naturally, if those shared private data get breached by hackers, your kid's Line account and private messages and media files can be exposed.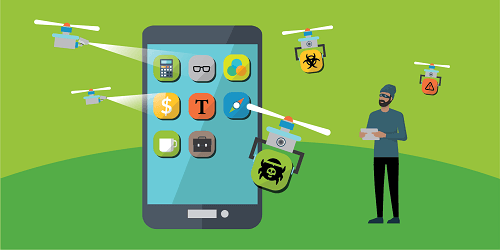 True Line Reviews from Parents
Line messenger app review is not very positive, especially the reviews coming from parents. Here is the list of some genuine reviews from parents posted on Play Store and App Store.
1. "My young daughter uses Line app to socialize with her friends in her free time and I found that people are sending explicit adult photos and asking her adult photos. The app should have parental control feature." – Parent of a 9-year old girl.
2. "Beware parents! Line app is full of child predators, cyberbullying and sexually harassing my kids constantly. I have made them stop using the app due to lack of safety features." – Parent of 8 and 10 years kids.
3. "My child is completely addicted to Line games. Most of the player base being adults on Line social games, conversations in public rooms are adult and mature, no one under 18 should be playing these games." - Parent of an 11-year old kid.
From the above reviews, it is very clear that parents are concerned about the safety of their kids while using Line app. The best solution to the concerns is using the parental control app and having constant communication with the kids to judge their state of mind and resolve their mental issues.
How to Keep Your Kids Safe on Line?
If your kid's friends are active on Line, you cannot stop your kid from accessing the app. Instead, you have to take steps to safeguard your kid while he uses the app.
Here is the list of steps to follow to ensure Line messenger security and privacy.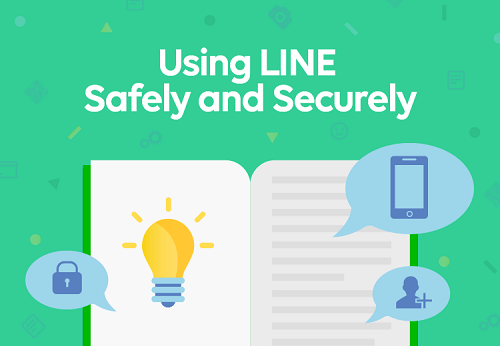 1. Using Parental Control App
You have already understood why parental monitoring is absolutely necessary when your kid uses Line app regularly. There are professional parental control apps available for monitoring your kid's phone activities remotely from your phone or computer.
We recommend you install KidsGuard Pro app on your kid's phone for complete remote monitoring and controlling. KidsGuard Pro app is available for both Android - KidsGuard Pro for Android and iPhone - KidsGuard Pro for iOS.
NOTE:
KidsGuard Pro parental control app supports Android and iOS devices. Here we will introduce KidsGuard Pro for Android in detail including its features and installation steps.
If your kid is an iOS user. You can click the "View Demo" button to know more features about KidsGuard Pro for iOS.
What You Can Do with KidsGuard Pro Parental Control App?
Here is the list of features of KidsGuard Pro for Android for complete monitoring and taking actions accordingly.
Monitor Social Media

You can not only check what your kid is doing on Line app but also on all other social media apps and instant messing apps installed on his phone.

This includes Facebook, WhatsApp, Instagram, Snapchat, Messenger Viber, QQ, WeChat, Telegram, and others. You can read the conversations along with media files such as photos and videos exchanged.

Track Location

Parents are always worried when their kids go out for essential activities like tuition, friend's home, and likewise. KidsGuard Pro allows parents to track their kid's location in real-time.

In fact, parents can also see the location history to find out if their kids went to places where they were not supposed to be.

Set Geofence

It is practically not possible for parents to keep an eye on their kid's location in real-time. Instead, they can set up a Geofence using KidsGuard Pro for Android so that every time their kid goes out of the virtual Geofence, their parents get Geofence alert and take prompt action to know why their kid is where he is not supposed to be.

View Browsing History

Apart from ensuring Line chat security, parents have to track their kid's online activities. KidsGuard Pro allows parents to view the browsing history of their kid's phone.

By analyzing the search history and the type of websites your kid has been visiting, you can easily come to a conclusion about what he is up to and his state of mind.

See Call Logs

KidsGuard Pro for Android is also a call log monitor. Parents can check the complete call log of their kid's phone. The call log includes the caller name and number, call type like incoming, outgoing, or missed, call date and time, and call duration.

This will help parents to understand if their kid is talking to strangers and take action accordingly. They can also check the contacts saved on their kid's phone.

Read Text Messages

Apart from Line chats and activities, parents can check the text messages sent or received in conversation format. In fact, hackers and scammers send phishing links through text messages.

Even kids prefer text messages when the internet connection is not available. By checking out the text conversations, you can conclude what your kid is up to and with whom he is keeping close contact.

Check Phone Files

Parents can check their kid's phone galleries to find out if they are taking inappropriate photos and videos. Similarly, they can check if their kid is receiving any intimate photos and videos through Line and other apps.

Besides, KidsGuard Pro for Android lets parents track app activities and calendars saved on their kid's phone.

Remote Control Phone

There are many smart kids who delete adult text conversations and intimate photos so that their parents cannot come across them while monitoring later.

That is why KidsGuard Pro for Android allows parents to get real-time remote control on their kid's phone from anywhere. They can take live screenshots, access the camera to check real-time movement as well as record calls to listen to their audio conversation.
How to Use KidsGuard Pro for Android to Protect Your Kids?
Here are the steps to install KidsGuard Pro for Android on your kid's phone and monitor his phone activities including Line app remotely.
Step 1. Create KidsGuard Pro Account
You can click the "Sign Up" button below to create an account for KidsGuard Pro with your email address. Choose a plan as per your suitability.
Then you will be redirected to My Products and Orders Management page. You can check out the Setup Guide option for all the necessary instructions before proceeding further.
Step 2. Deploy KidsGuard Pro for Android
Get physical access to your kid's phone. Open its web browser and visit www.clevguard.net and slide right to download KidsGuard Pro app's APK file.
After downloading the APK file, tap on it to install the app. After installation, open the app. Login with your KidsGuard Pro account's credentials. Give the necessary permissions when prompted.

Step 3. Start Remote Monitoring
Come back to your computer or phone. Visit KidsGuard Pro web portal and log into your account. Go to the Dashboard. You will see your kid's phone name on the Dashboard.
Go to Social Apps from the left menu and tap on Line to check out all the conversations and activities.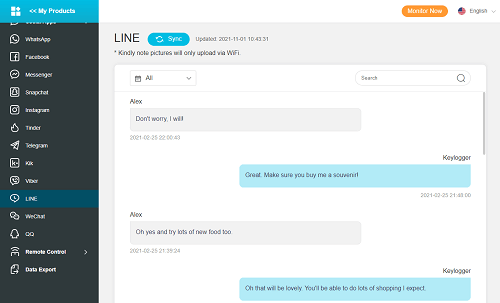 2. Set Privacy Settings
Even though the Line messenger app review is not very encouraging coming from parents, except using KidsGuard Pro parental control, at the same time, you can also set privacy settings to safeguard your kid.
a, Turn Off Public User ID
You should turn off Public User ID so that your profile turns private and no one except your friends can search your profile by your User ID. Here are the steps to follow:
Step 1. Open Line app.
Step 2. Tap on More tab.
Step 3. Tap on Settings icon.
Step 4. Tap on Profile option.
Step 5. Check off Public User ID.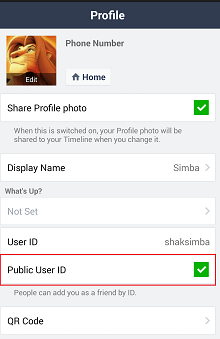 b, Turn on Passcode Lock
You should turn on passcode lock to protect your chat from being read by anyone in your absence or when your phone gets stolen or lost. Here are the steps to follow:
Step 1. Open Line app.
Step 2. Tap on More tab.
Step 3. Tap on Settings option.
Step 4. Tap on Privacy option.
Step 5. Turn on Passcode Lock.
Follow the on-screen instructions to set a password to prevent unauthorized access to your chats.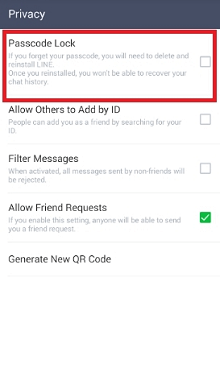 c, Filter Messages
When you turn on the Filter Messages option on the Line app, all the messages sent by strangers to you will get rejected automatically. Therefore, if strangers are sending inappropriate messages to your kid, they will not reach your kid. Here are the steps to follow:
Step 1. Open Line app.
Step 2. Tap on More tab.
Step 3. Tap on Settings option.
Step 4. Tap on Privacy option.
Step 5. Turn on Filter Messages Lock.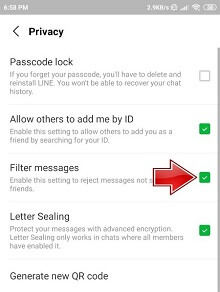 d, Turn on Letter Sealing
You should turn on the Letter Sealing feature as well as ask your friends to turn it on so that there could be end-to-end encryption. This will prevent others like hackers and third parties from reading your messages and thereby ensure Line chat security.
Here are the steps to follow:
Step 1. Open Line app.
Step 2. Tap on More tab.
Step 3. Tap on Settings option.
Step 4. Tap on Privacy option.
Step 5. Turn on Letter Sealing Lock.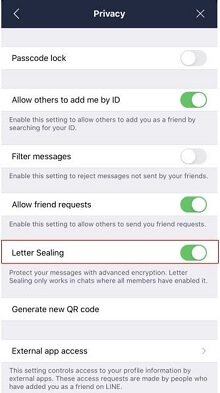 3. Teach and Have Open Conversation with Kids
Parents should have a very friendly relationship with their kids from an early age. This encourages the kids to share everything in their lives with their parents.
Here are the main points parents should teach their kids to avoid the online dangers originating while using social media and messaging apps like Line.
Dangers
Parents should make their kids aware of the dangers in the online world, especially Line messenger security concerns. Instead of strict orders, you should explain why talking to strangers should be avoided at all costs.
They should know how strangers scam people and hack their accounts and the aftereffects. Similarly, they should understand what cyberbullying is and what they should do when they are bullied.
Right and Wrong
You should teach your kids which things are appropriate and which things are inappropriate for their age. They should know which contents they can check and which contents are matured for them, and they should avoid at all costs.
You should teach them the steps to perform like blocking users on the Line app who are sending inappropriate texts and photos.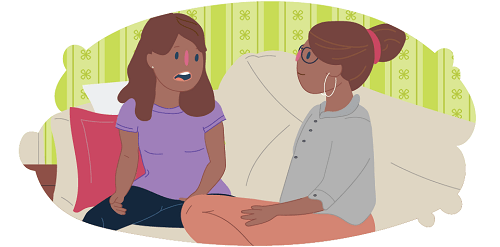 Responsibility
You should explain to your kid that you are giving him a smartphone so that he uses it responsibly and only for the tasks he is supposed to. You should disclose that you are going to monitor his phone activities remotely.
Explain how disappointed you would be if you find out that he used the phone or Line app irresponsibly for things he is not supposed to do like chatting with strangers, sending inappropriate texts and photos, not blocking strangers instantly, and likewise.
Open Conversation
Lastly, you can always encourage open conversations to find out what your kid did throughout the day starting from physical to online activities. Lack of proper conversations creates a gap in the parents-kids relationship.
When kids come across situations on Line app like cyberbullying, blackmailing, sexual harassment, they cannot confess their state of mind with their parents leading to depression and even suicide.
Verdict
The answer to the question "Is Line safe for kids?" is no. The app itself is feature-rich and fun to use for kids. But there are safety and privacy concerns whereby kids could be subject to cyberbullying and exposed to adult content and child predators.
That is why a parental monitoring and control app is absolutely mandatory. We recommend you opt for KidsGuard Pro for Android or iOS as applicable.