Before We Start
Are you worried that your kid will accidentally come across inappropriate content on the YouTube app? Do you suspect that your kid is secretly accessing mature videos on the YouTube app?
To address such a concerning issue by parents, Google has launched the YouTube Kids app where only those videos are available that are suitable for kids.
However, is YouTube Kids safe for your kid?
Indeed, YouTube Kids has various parental control features available to filter out inappropriate content. But still, it seems that people don't trust that YouTube Kids is 100% safe.
Well, in this article, we will discuss how safe is YouTube kids and how to ensure your kid's safety on YouTube Kids.
Table of Contents
Is YouTube Kids Safe?
There is no doubt that YouTube Kids is safer for kids than the YouTube app. However, it is not yet completely safe, and let's see the reasons:
Controversial Video Recommendations
Even though parents can restrict videos by age, there are many controversial videos that get recommended by YouTube Kids just because those videos have huge views and high engagement.
Some of these controversial videos have inappropriate content, such as harmful prank videos that negatively affect the mental state of the kids viewing them.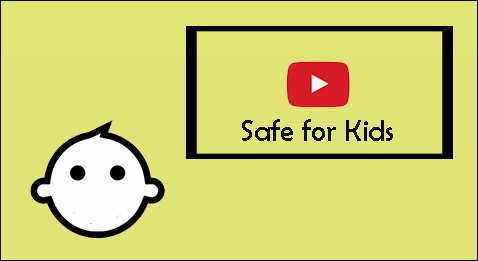 No Monitoring
There are certain YouTube channels that are extremely popular among kids. Their videos literally help to shape the habits of the kids as they are going through mental and physical development stages.
However, their videos are not monitored by the YouTube team, even though they get millions of views from kids across the world. Some of these videos prompt activities that are not scientific and even inappropriate from a psychological point of view.
Faulty Restrict Mode
Parents can use Restrict Mode to filter out inappropriate videos. But the mode is not customizable, and even with Restrict Mode on, there are always some indecent videos that pop-up here and there. For example, violent gaming videos and political content are not restricted.
Therefore, to answer the question, how safe is YouTube kids? We have to say that YouTube Kids is not very safe for kids. That is why parents have to take the initiative to keep their kids safe on the YouTube Kids app.
How to Keep My Kids Safe on YouTube Kids?
Here are several precautionary steps that you as parents have to take to ensure the safety of your kid while he accesses videos on YouTube Kids.
1. Use Parental Control App to Protect Kids on YouTube Kids
There are limited parental control options available on YouTube Kids app. It is unable to give full round protection for your kids.
Hence, you need to use the best third-party parental control apps to get more options to filter out inappropriate videos. KidsGuard Parental Control app is the best to ensure complete safety of your kids on YouTube Kids.
Key Features of KidsGuard
Block Inappropriate Webs:
With the web filter feature, you can block any websites like Youtube, and then your kids will be unable to access Youtube using the web browser. Furthermore, you may expressly ban any website by stating its URL
Block Apps:
You can monitor your child's use of YouTube and any other installed app. You can restrict your child's access to YouTube and other apps by blocking them. Also, you also limit the access time of individual apps as per your preference.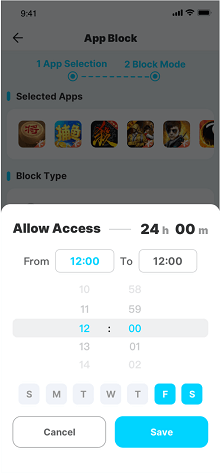 Filter Calls:
It's possible that your child might give his phone number to a stranger online, who would then contact and harass him. That's why KidsGuard lets you choose which contacts can call your child and, as a result, blocks all calls from anyone who isn't on the list.
Capture & Lock Screen:
KidsGuard allows you to monitor what your child is doing on his Android device and see whether he is accessing YouTube by taking real-time screenshots. You can even lock the screen so that your kid cannot use the device.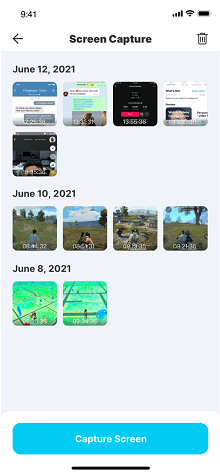 Track Real-Time Location:
With KidsGuard, you can track your kid's location at any where and any time. This is useful when your kid goes out alone and you want to make sure he is safe. Also, KidsGuard offers the Geofence feature, you can set the Geofence for your kid, if he is out of the area you set, it will send you instant alerts.
Activity Report:
On a daily, weekly, and monthly basis, KidsGuard provides activity reports on your child's phone activities. After reviewing the reports, you may opt to use parental control measures and track progress over time.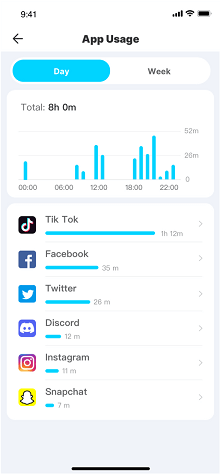 SafeGuard Your Kids in 4 Steps with KidsGuard
Here are the steps you have to follow to install KidsGuard app and start controlling child's device from your device.
Step 1. Install KidsGuard on Your Phone
Click the "Google Play" or "App Store" buttons below to install KidsGuard app on parent's device.
Step 2. Create a KidsGuard Account
Launch the app and create an account and log into the account on parent's phone.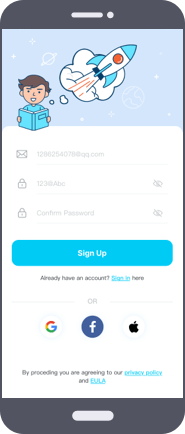 Step 3. Download KidsGuard Jr on Kid's Phone
Follow the instructions on parent's device, and then install KidsGuard Jr app on kid's devices.
Note: For now, the app supports only Android device on the kid's side.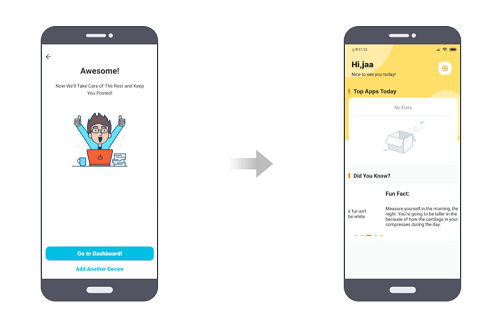 Step 4. Start Protecting Your Kid
After the installation is done on the kid's device. You can see the device information of your kids, and then you can start viewing your kid's phone activities remotely and protecting him.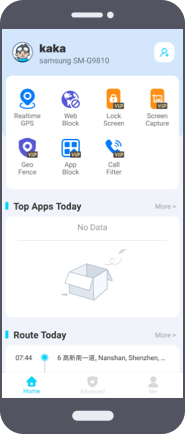 2. Set YouTube Kids Account and Settings
Even though YouTube Kids have limited control options, you should make the most of them for your kid's safety. Here are all the steps you need to take on how to keep your child safe on YouTube Kids.
a. Set a Timer
The timer in YouTube Kids helps parents to limit the screen time so that their kid does not waste valuable time watching videos. The timer shows an alert on the show when the limit is up and locks the app. Here are the steps to set a timer on YouTube Kids app.
Step 1: Tap on the Lock icon at the bottom corner of the app.
Step 2: Enter the custom passcode.
Step 3: From the pop-up options, tap on Timer option.
Step 4: Set the time limit using the slider bar.
Step 5: Finally, tap on Start Timer option.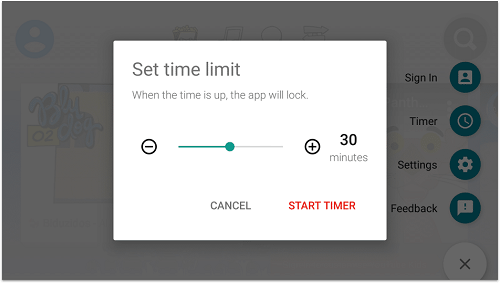 When the time limit is up, your kid will see a pop-up message "Time's Up!". The app will also get locked so that your kid cannot use it.
In order to unlock the app, you need to tap on the lock icon again, enter the passcode, and select the Exit Timer option.
b. Pause Watch History
YouTube Kids recommends videos to your kids based on the videos they have watched recently as well as the terms they have searched recently. It is quite possible that your kid has searched and watched inappropriate content intentionally or unintentionally.
You would not want YouTube Kids to recommend videos in the same category, and hence, you need to take the following steps to pause watch history.
Step 1: Tap on the Lock icon at the bottom corner of the app.
Step 2: Enter the custom passcode.
Step 3: From the pop-up options, tap on Settings option.
Step 4: Select your kid's profile and enter its password.
Step 5: You will see the option "Pause watch history". Toggle it On.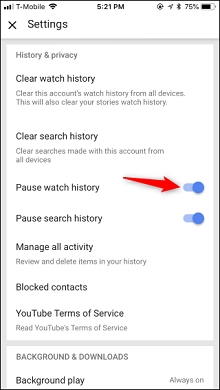 NOTE:
The disadvantage of this option is that you will not be able to monitor what your kid has been watching in your absence from the watch history anymore.
c. Turn off "Allow Searching"
It is better if you turn off the search option for your kid so that he cannot search anything inappropriate in your absence. You can turn it on when you are present. Here are the steps to follow.
Step 1: Tap on the Lock icon at the bottom corner of the app.
Step 2: Enter the custom passcode.
Step 3: From the pop-up options, tap on Settings option.
Step 4: Select your kid's profile and enter its password.
Step 5: You will see the option "Allow Searching" option. Toggle it Off.
Turning off Allow Searching option will restrict the viewing experience to a limited number of videos only.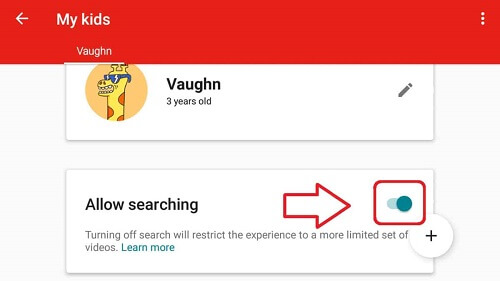 d. Report Inappropriate Videos
If you come across any inappropriate video on YouTube Kids, you should report it immediately so that the YouTube team can review it and block it for other kids as well. To report inappropriate videos, take the following steps.
Step 1: Open the inappropriate video you want to report.
Step 2: Tap on the three-dot icon at the top corner of the video.
Step 3: From the pop-up menu, tap on Report option.
Step 4: Select the reason for reporting, such as inappropriate visuals, audio, and likewise.
The YouTube team will review the video and take appropriate action.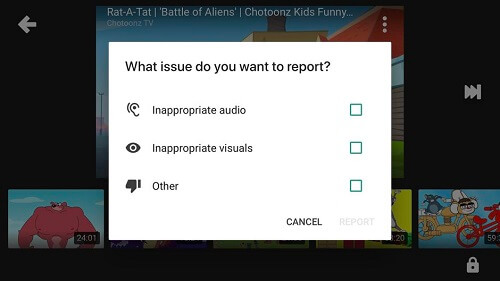 More Tips for Strengthening the Protection for Kids on Video Apps
Apart from installing the KidsGuard Parental Control app and setting all the parental control measures, you should take the following additional steps to protect your kids on video apps such as YouTube Kids.
1. Explain Kids about Parental Control Measures
It is essential for parents to explain to their kids about the parental control measures on video apps and why they are taking them. For example, limiting screen time helps in protecting their eyes as well as saving their time.
You should explain in a friendly tone such that the parental control measures do not look like extremely restrictive steps. This will help parents to maintain a healthy relationship with their kids.
2. Encourage Conversation about Internet Usage
Once you have a healthy relationship with your kid, like a friend, your kid will be in a place to discuss everything with you. Moreover, make it a habit for him to share with you everything he does on the internet on a daily basis from day one.
You should also initiate conversations to share what he has done throughout the day, including video watching activities.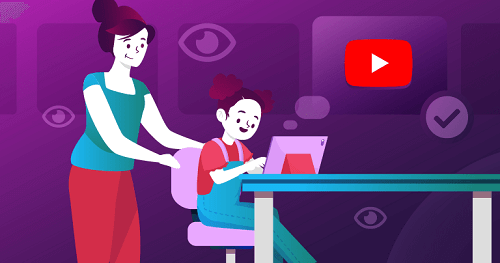 3. Teach Kids to Report Inappropriate Contents
It is very important for parents to make their kids understand about appropriate and inappropriate video content. Instead of asking them to skip inappropriate videos when they come across them, you should teach your kid to report such content.
Asking them to skip such content immediately will only make them get more intrigued about such content considering a child's psychology.
4. Watch Videos with Your Kids Together
The best way to ensure the safety of your kid while watching videos is to watch them together. This is how you can control what type of content your kid gets to watch; you can skip or report inappropriate content if you come across, and educate what to believe in a video and what to ignore.
FAQ about YouTube Kids
1. What Age is YouTube Kids for?
YouTube Kids is for kids of age 4 years and older and up to 12-13 years when you can impose parental controls. However, Common Sense Media recommends the YouTube Kids app for kids of age 7 years or more.
This is because YouTube Kids is not totally safe and there are chances of your kids coming across disturbing and inappropriate content.
2. What Can I do if My Kids See Disturbing Content?
The best way on how to make YouTube safe for kids is by supervising closely. It is better if you sit together with your kid to watch videos.
That is when you can block disturbing content and even report them to ban them from YouTube Kids. Moreover, teach your kid to block videos and report them when such videos have disturbing content.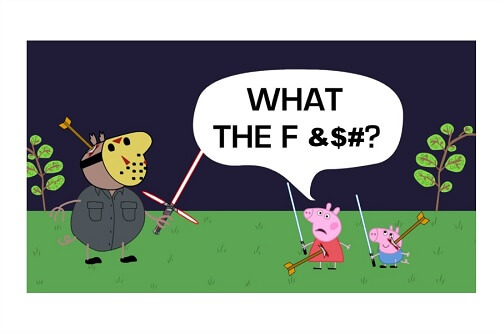 3. Are There Ads on YouTube Kids?
Yes, there are Ads on YouTube Kids. The ads can be full-screen video ads in between the currently playing videos. Besides, there can be sidebar and banner ads. Some of the ads are not appropriate for kids as they are quite misleading.
To remove ads from YouTube Kids app, you need to opt for a YouTube Premium membership.
4. Can I Set Content Filters on YouTube Kids?
There is no content filter available on YouTube Kids. However, you can limit videos based on your kid's age. If you set the age limit of 4 to 8 years, you will see more learning videos, while when you set the age limit of 8 to 12 years, you will see more unboxing and gaming videos along with educational videos.
5. Is YouTube Kids Free?
Yes, YouTube Kids is absolutely free. You can access online videos on the YouTube Kids app even without a YouTube account. However, if you use a YouTube account on YouTube Kids app, you can make changes to settings and get video recommendations based on your watch history and search terms.
Also, you can use YouTube Premium membership to watch videos on YouTube kids Ad-free and download videos which can be handy to download educational videos.
Conclusion
Hopefully, you have the answer to your question, 'Is YouTube for kids safe?' You have to ensure that your kid does not get exposed to inappropriate content regularly. It can negatively affect their mental development and physical habits.
You should use the parental control measures on YouTube Kids and have daily conversations regarding his internet usage. Most importantly, install the KidsGuard Parental Control app for ensuring the complete safety of your kids while watching videos online.