Catfishing refers to hiding your original identity and cheating others by creating fake profiles. The victims of catfishing often ask is catfishing illegal? Legal experts believe catfishing itself is not illegal as there is no prohibition in the law that bars adult social media users from creating fake profiles.
However, it has been observed that catfishing is the first step towards illegal activities like cyberbullying, deceiving, or online harassment. Most people think that using another person's personal information without his or her permission must be punishable.
Let's further explore what is catfishing, is it illegal to catfish someone, and how to protect kids from bad catfishing behaviors by KidsGuard Pro for Android.
Can't Wait to know how KidsGuard Pro for Android works? Click the "View Demo" Button below to see the real monitoring effects.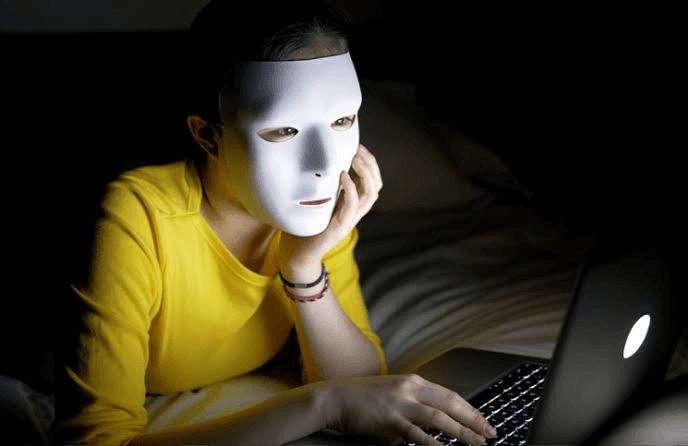 Check the following catalogue, and you will know the whole structure of this article.
Part 1: What is Catfishing?
Catfishing is an online activity in which social media users hide their identity and use the likeness of other users to cheat someone. People involved in this practice create fake profiles on different social networking websites and pretend to be someone else.
The burning question, however, is that is it illegal to catfish someone?
Although the impersonation of other people is not illegal, the activity practice becomes unauthorized by some specific activities of the instigator of catfishing.
For instance, fake profile users are often involved in the infringement of intellectual property, sexual violations, cyberbullying, defamation, and online harassment.
These actions could lead to legal ramifications and bring the person involved in catfishing before the law.
In addition to the above-mentioned actions, several other activities can also make catfishing illegal and punishable. Some of the offenses directly linked to catfishing are explained in part 2.
Part 2: When Will Catfishing Cause Illegal Events?
This part answers the question of why is catfishing a crime.
1. Seek Benefits with Other's Copyright and Trademarks
Copyrights violation is a serious offense in the law. If the instigators of catfishing use someone's company logo, corporate information, or copyrighted property for their own benefits, they are committing a crime and liable to punishment.
2. Do Fraud Activities with Fake Identity
If an individual impersonates someone by using the latter's personal information to cheat others and achieve his or her notorious aims, he or she is also punishable by the law.
3. Steal Others' Identity and Financial Information to Take their Property
The users' financial information is highly confidential and prone to be theft. The perpetrators of catfishing also illegally steal personal identity and financial information to purchase property or anything. This is a criminal offense and explains why is it a crime to catfish.
4. Cyberbullying and Online Harassment
If someone is trying to stalk, harass, or threaten you by getting your location or critical information from a fake profile, these are cyberbullying signs, which means that you are probably being cyberbullied and need to report to the police.
5. Lure Minors to Do Illegal Things by Unreal Identity
Some people involved in catfishing often lure minors to do illegal things by hiding their real identity. This is also a horrendous crime and must be reported.
While the above-mentioned offenses make catfishing illegal, the practice can also be used legally. Part 3 explains the legal uses of catfishing.
Part 3: How to Make Necessary Catfishing Legally?
1. Do You Know the Necessity of Catfishing?
Sometimes, it becomes necessary or inevitable to catfish.
For example, if you are suspicious that your girlfriend is cheating on you, you can create a fake profile and keep an eye on her social media activities without harming anyone.
Besides, instead of someone's real name or image in your profile, by using some random names and pictures that don't belong to anyone, you can also catfish to become a part of informative groups where you neither want to reveal your real identity nor want to have any notorious plans in your mind.
Since catfishing becomes illegal if you commit some offense with fake profiles, you can catfish legally by avoiding wrong acts. The next section explains how to do catfishing legally.
2. How to Catfish without Breaking the Law?
Here are several ways to catfish legally as follows:
2.1 Learn Laws about Cyber Crime
If you do not want to get concerned regarding the legality of catfishing, learn laws about cyber crime and understand which online activities are prohibited under the law. Then you can avoid indulging yourself in those activities to catfish legally.
2.2 Never Use Catfishing to Fringe on Others' Interests
Secondly, avoid illegal activities and use your catfish persona for authorized purposes only.
Never harass anyone online, don't blackmail others, and avoid using someone's personal information including pictures and names without his or her consent.
Similarly, avoid impersonating real people and do not treat kids ruthlessly.
If you have avoided all the behaviors that are not allowed in law, even if you are caught by mistake, you are also able to defend yourself by saying you didn't know catfishing was illegal to limit the punishments.
Since you have now learned a lot about catfishing, it's the time you understand how to protect your children from its harmful consequences, too.
Part 4: How to Avoid Catfishing Harms for Kids?
Well, a good way is to use KidsGuard Pro for Android, a monitoring App for parental controls.
1. KidsGuard Pro for Android Helps to Protect Kids from Catfishing
Minors and teenagers are highly vulnerable to catfishing and cyberbullying. You need to keep an eye on their online activities and monitor their smart phone usage.
For this purpose, use KidsGuard Pro for Android, an advanced Android monitoring App with advanced surveillance features. The software is 100% undetectable and allows you to remotely track all phone activities of your children without them knowing.
KidsGuard Pro for Android tells you how your kids are using social media and whom they are interacting with.
Once you find someone is catfishing your children, you can take prompt actions to avoid any loss and ensure their safety. Hence, you don't need to get worried about your children's online protection if you have installed KidsGuard Pro on their phones.
Want to learn how to use KidsGuard Pro for Android? It's very easy and explained in the next section.
2. How to Use KidsGuard Pro for Android
Step 1: Create Your Account
After you have decided to use KidsGuard Pro Android, you need to create an account. Click on the Monitor Now button as follows to directly set up your account by entering a valid email address and strong password.
Step 2: Choose Your Plan
Once the registration process is completed, select KidsGuard Pro for Android and choose your preferred pricing plan as per your monitoring requirements.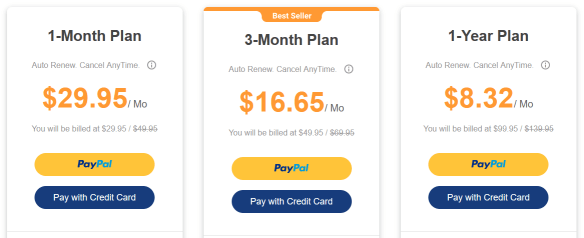 Step 3: Download and Install KidsGuard Pro for Android App
Visit the Orders Management and My Products page in the dashboard and click on the Setup Guide option to download and install the App.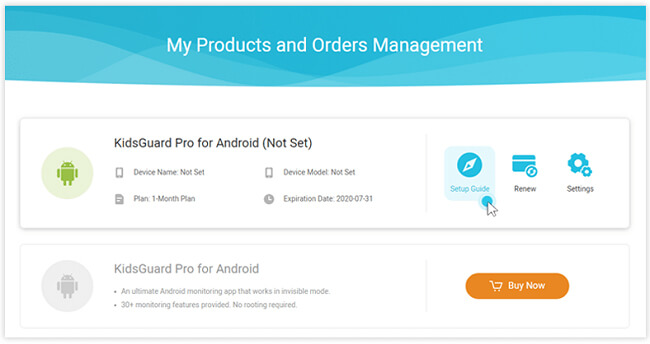 Step 4: Start to Monitor
Finally, log in to your account to verify the information about your chosen package, device name, and expiry date of your package. Complete the data synchronization process and start monitoring activities on the target phone.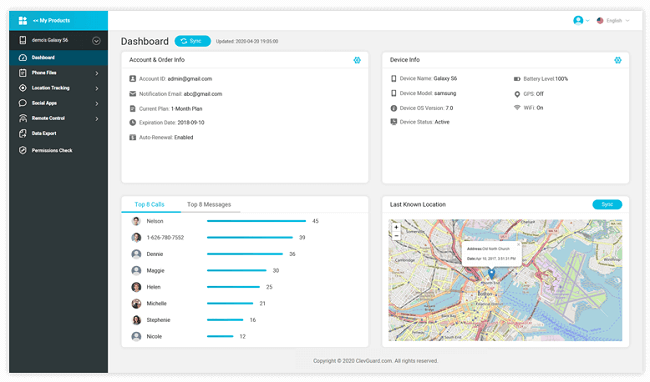 This way, you can monitor your kids' online activities without getting detected and save them from bad things that can be caused by catfishing, and get them far away from illegal catfishing behaviors.  
If you still have any questions regarding catfishing, the next section gives detailed answers.
Part 5: FAQs about Catfishing
1. Is It Illegal to Pretend to Be Someone Else Online?
No, no jurisdiction in the law makes it illegal for social media users to create fake user profiles and pretend to be someone else.
However, if they are involved in illegal activities such as cyberbullying, cheating, online harassment, or stealing intellectual property, concealing identity becomes a crime and is liable to punishment.
2. What Happens if You Catfish Someone?
It is okay if you catfish someone without any negative intentions. However, if you are catfishing with some notorious aims in your mind, you are committing a crime and must be punished by the law.
3. Is Catfishing a Mental Illness?
So far, there has been no credible evidence to show that catfishing is a mental illness. However, some introverted people who are scared of revealing their identity might sometimes catfish others by creating fake profiles on social media.
4. Why Would a Guy Catfish You?
There can be several reasons that prompt a guy to catfish somebody online.
A guy may catfish to make something clear under such conditions as that she could be his girlfriend but is cheating on him, or his best friend has an alleged relationship with his girlfriend.
Some guys also catfish to cheat others, ask for money, or simply for fun.
In the End
Catfishing is an online activity in which a person conceals his or her real identity and creates fake user profiles on different social networking websites.
While the practice itself is not illegal, some of the offenses committed by the perpetrators of catfishing make it unauthorized and punishable by the law.
Hence, all social media users must fully understand the safe use of the internet first to protect themselves from catfishing. Besides, keep an eye on the online activities of your children since they are easy targets of catfishing.
The best way to monitor your kid's phone is by using KidsGuard Pro for Android, a highly interactive and easy-to-use Android monitoring App with several advanced features.
KidsGuard Pro for Android allows parents to read their children's messages, social media usage, conversations, and contact list.
If they find someone is trying to catfish their kid, they can take prompt action without getting noticed. This way, parents can make sure their kids are safe while using the internet.
Want to Try KidsGuard Pro for Android now? Click the follow "Monitor Now" button, and start your Monitoring Journey!