There are several reasons why people may want to tap a cell phone. With the development of technology, cell phone tapping is no longer a privilege which is used by special agents and spies or law enforcement officials. Apps that support to tap a cell phone are readily available for download by the general public, and you don't even have to be tech-savvy in order to use them. If you want to know how to tap a cell phone for free, read the solutions given below in detail.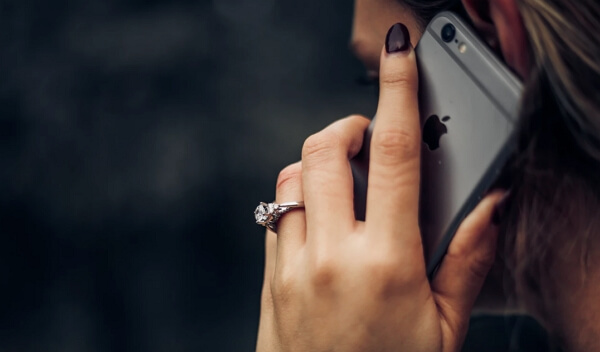 Can A Cell Phone be Tapped?
You may be wondering "Can I tap a cell phone?". Yes, a cell phone can be tapped easily!
Cell phone tapping is not as hard as it may look like. And once the cell phone is tapped, it will constantly record conversations on your phone. Previously, cell phone tapping is a technology which is majorly used by the law enforcement officials to monitor the activities of a cell phone and look for any kind of suspicious activity. They even tap the cell phone from the cell phone carrier.
They would know how to tap a cell phone with just the number and the technology used by them is a bit complex and it is not accessible for the general public to use it on an everyday basis. Only if the cell phone user is a suspected criminal, these services can be used.
However, for the daily spying for the general public, there are several spying apps specially developed. These spying apps adopt advanced techniques and let users tap any cell phone and know the daily activities on it. One such great app is called KidsGuard Pro. This is a much better alternative to the service which is provided by law enforcement officials since this service can be used on a daily basis with ease without any complications.
If you are eager to know how to tap a cell phone using KidsGuard Pro, we include the steps in the next part.
What is the Legit Way to Tap A Phone?
Whenever cell phone tapping is mentioned, most of the people think about installing call recorder apps to listening in on someone's calls, recording their conversations and other such things. However, tapping a phone to record phone calls is illegal. This is why this is done only by the government officials in serious scenarios wherein they need to catch a criminal and want to monitor their suspicious activities. So, what is the correct way in terms of how to tap other's mobile phone calls?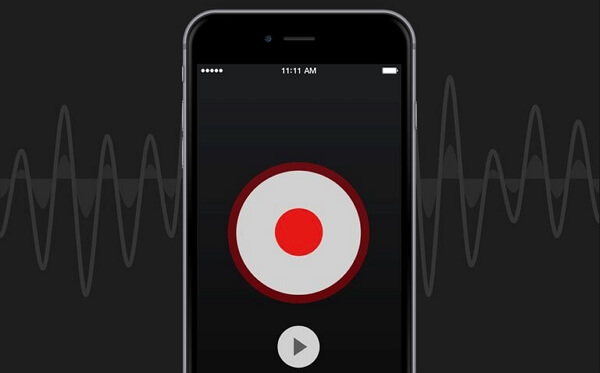 Being a legitimate spying app, KidsGuard Pro specially includes this feature for its users. This way you can be sure that you are using a legal way to spy on a phone without the target phone user getting to know their device is being tapped. This app is more useful for everyday phone monitoring requirements. If you are a parent, you can use the app to keep a check on your child's cell phone activities.
If you are an employer you can use it to monitor the phone activities of your employees during official hours, etc. This app offers a legitimate way to keep a check on your loved ones and ensure that they are safe and sound at all times.
What You Can Get from the KidsGuard Pro Spy App?
The major features of KidsGuard Pro spying app have been listed below along with the advantages of using it for cell phone spying. This explain why we recommend it for everyone.
Impressive Features of KidsGuard Pro
Record every incoming and outgoing calls, including call time, contact info and so on.

Allow you to check call history online, read someone's text messages, check browser history and more.

Monitor all the major social networking sites like Facebook, Instagram, WhatsApp, Snapchat, Tinder, etc.

Very easy to install and use. Does not require professional skills.

After getting installed, it goes incognito on the target phone. In other words, you can tap on a cell phone without knowing.

Any phone activity can be tracked remotely. You just log in with your own account and the data is there.
How to Use the Spy App to Tap Other's Phone?
As you can see from the above points, as for how to tap a cell phone remotely, KidsGuard Pro is the best option go for. Now let's take a closer look at the steps to use it.
Step 1: On KidsGuard Pro official website, sign up an account with your email address and pick up a pricing plan that works for you. After that, get the target device you want to tap and open www.clevguard.net to download this app.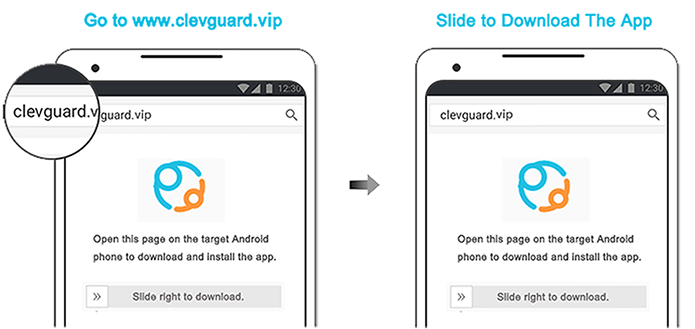 Step 2: While installing KidsGuard Pro app, you will asked to allow some necessary permission for this app to wrok. Please follow the onscreen prompts and complete the setup process. The app icon will soon disappear after you install it successfully.

Step 3: Now, use the login details to access KidsGuard Pro online dashboard from any other device to view the activities on the target cell phone. To listen to the phone conversations, go to Remote Control - Record Calls. You can listen to them online or download for further uses.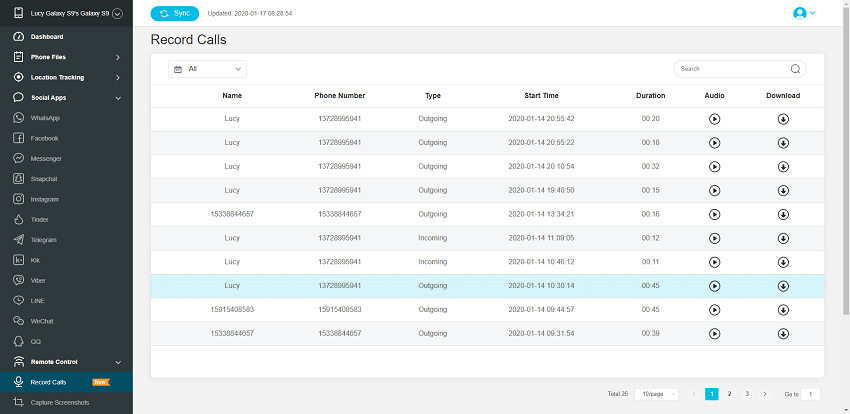 With just 3 steps only, you can use the KidsGuard Pro for tapping a phone. Since the app works in stealth mode, you don't have to worry about the possibility of being discovered.
How to Choose the Right App for Cell Phone Tapping?
Before knowing how to tap a cell phone for free, let's look at the many aspects which need to be considered before picking the right spying app to tap a phone. While there are several spying apps available for download on the internet, choosing the right app can be a hassle.
You would need to look into many aspects before picking the right phone tapping app to suit your purpose. Here are a few questions which should act as a checklist while figuring out how to tap a phone use 3rd part tools.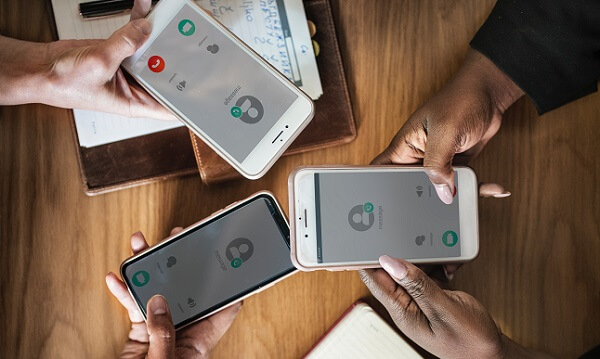 1. Is the app compatible with Android or iOS?
This entirely depends on the end-use. If the target cell phone is an Android phone, a phone spying app for iOS devices would be of no use. Same holds true when the options are reversed. Before buying a spying app, make sure that it runs smoothly on the OS of the target cell phone. All the apps specify the OS with which they are compatible. If not this, you can even make use of the trial version to check the functionality of the app on the particular OS before purchase.
2. Will this app work in stealth mode without others knowing?
The main idea behind cell phone tapping is monitoring the cell phone activities without the target cell phone user getting to know about it. We have seen many users asking online that how to tell if your phone is tapped. So, it is best that you choose an app which works in complete stealth mode on the target device so that the user does not have a clue about their cell phone activities being monitored.
3. Is the app reliable?
Many spying apps are hoaxes and just extract some important data from the target device. They do not even provide the listed features for phone tapping. If you do not want to land in such a situation, ensure that you research about the available spying apps and settle on the one which seems the most reliable.
4. Are the provided features powerful?
The most important part of tapping a cell phone is its features. Make sure that you go through the feature set of the different spying apps and choose something that suits your phone tapping need perfectly.
After comparing several spying apps available in the market, KidsGuard Pro seems to be the best choice and our recommendation. It satisfies all the above conditions perfectly and makes for the best spying app to monitor someone's cell phone activities. Many other webistes also give a vote to this app.

Cell Phone Tapping
Phone spying or tapping a phone no longer needs to be something which only the professionals can carry out. With the help of spying apps, phone activity monitoring has become a lot easier. The above guidelines would help you in choosing the right phone monitoring app. However, we recommend using KidsGuard Pro for this purpose as it is very effective in its performance being a powerful feature-rich app.
At last, there are some frequently asked questions we received recently.
Q1: How to tap a cell phone for free online?
Unfortunately, there is no way to tap a cell phone for free online. The technology of mobile phone tapping is very complicated, so don't expect a free service. If there is a website claiming that they can do it, then you have to be careful.
Q2: Can an iphone be tapped?
An iPhone cannot be tapped, because Apple has huge security precautions that make tapping phones impossible. If you really want to, let the professional people to do the professional thing.
Q3: Can law enforcement tap my phones without knowledge?
Normally, police cannot tap your phones. But if you are a suspect of criminal, then the police could obtain a wiretap order to listen in your phone calls.
If you have any other questions, please leave your comments below and we will reply to you as soon as possible.