Question:
How do I know if my phone is tapped? Is my phone being monitored? What should I do?
If you are worrying that your phone is tapped, there are many ways which can give you an idea about how to tell if your phone is being monitored. Some of them are listed below in this article. You can go through it. When you feel your phone is already attracted by malicious spyware, you can use ClevGuard Anti-spy app to scan your phone and view whether malicious spyware is on your phone.
7 Warning Signs that Your Phone is Tapped
Not a few people ask these questions "Is my phone being monitored? How can I know?" Well, if you want to know about how to tell if your phone is tapped by police or anyone else, here we introduce 7 signs your phone is tapped. Check for the signs below!
1. Noises Heard In The Background
While you are talking over the phone you may notice to hear distant noises in the background of the call. It may seem to be like a network issue or static which is again caused due to an improper network at most. But does it ever cross your mind that this could be because someone is actually tapping your phone and listening to all your private conversation.
This way you will know how to tell if your cell phone is tapped. You may even have hear other noises or sounds such of clicking, scratching or may be echoes. If you ever experience such noises that you need to consider is my phone spying on me.
2. Strange messages been delivered to your phone
One of the tapped phone signs is you received messages from unknown numbers or the numbers which you have never come across. These messages can be gibberish in a way it may be encoded or even coded messages which you are unable to read or understand. If you have received such messages there are high chances of your phone being tapped and someone is sitting and trying to listen to your conversations. This is another way on how to know if your phone is tapped or not.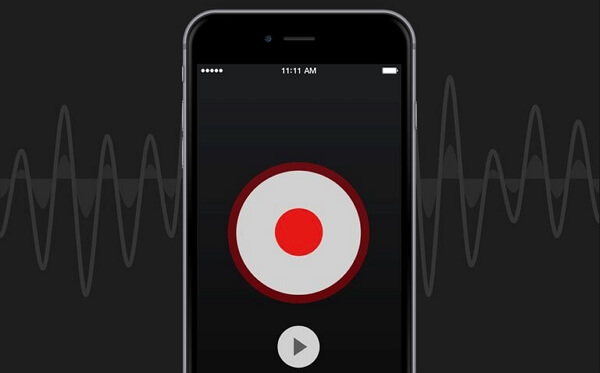 3. Strange Activities Happening In Your Phone
Another way to know whether your phone is tapped is that whether your smartphone is behaving strangely in a way that it is opening off unnecessary applications or even switching off by itself or it lights up in between or may be listening message alerts when there is no messages coming in and your phone is on silent are signs that there are heavy chances of your phone being tapped. Which will result in such actions of your phone.
4. Your Phone Battery Drains Out Quickly
The other way to know whether your phone is tapped or not will be that how quickly your battery drains out. Though it could happen due to a lot of reasons such as no proper battery backup or too many applications in the phone which needs constant usage to the battery, how high you phone brightness is or may be how frequently you use your phone. But even after you checked for all the issues causing the problem and have already resolved it still your phone battery drains soon, then it can be caused due to phone tapping.
5. Quick Rise In Battery Temperature
Usually, battery temperature can rise due to a lot of reason such as frequent use of phone on regular intervals and an excess number of apps on the phone. But even after looking into these matters and later resolving them still you face the same problem in the future then it surely is happening because someone is trying to tap your phone and listen to your conversations. This could be next reason on how to tell if phone is tapped.
6. Your Cell Phone Bills Are Rising
If there is a noticeable increase in the use of text or data in your phone, this may indicate that someone has hacked your phone. Any newly downloaded application can cause a sudden increase in data usage. In the same way, if your children use your mobile phone when you are not near them or not connected to Wi-Fi, this can another reason for the increase in data usage.
But without your knowledge, spyware for Android or iOS and other hateful applications can use your cellular data plan to complete their private businesses. Therefore, if you notice an unexpected increase in data activity on your phone bill and there is no good clarification, call your carrier for help.
7. Be wary of the Ads and Apps that You don't know
Sometimes we could forget what apps we installed in our phone because we may not use them for a long time. But it's important for us to know what exactly is on our phones and keep an eye on what apps you hadn't installed before for they may be malicious.
If you think your phone need to be jailbroken to install fake apps then you are wrong. On App Store, it has been found that there are several fake apps to present malicious apps to users. These ads could gather your data on the phone and install more malware. They could also create a link and trick you into clicking it and charge you for this. Remember do not open any unknown links to prevent being hacked.
Code To check if Your Phone is Monitored
How to tell if your phone is tapped – Code is the number to dial to see if your phone is tapped. This USSD code (unstructured supplementary service data), also called Feature Code or QuickCode, is a built-in feature of a smartphone. Users can get extra information related to security on their mobile phones through this feature.
Open your call dialer for dialing the code which is given below to get this feature. These are the codes to check if your phone is monitored, through which you can verify whether the phone is hacked or not and enable or disable various settings.
Code To Check If Any Redirection: *#62#
This code helps you to know if any redirection for calls and messages is enabled on your phone. By dialing this USSD code, you can know who is receiving your calls and text messages, etc., when your phone is out of access or switched off. To deactivate or delete this setting at once, you have to dial the ##62# code from your number.
Code To Check If Any Call Diversion: *#21#
This code is helpful for you to know if call diversion is enabled on your phone. By dialing this USSD code, you will see if someone else is receiving your messages and calls, etc., without letting you know. By dialing ##21#, you can clear all unconditional settings.
Code To Check If Call Forwarding: *#67#
With this USSD code, you will know the status of all messages and calls, etc., sent to other numbers when you reject the call or busy on another line. You can dial ##67# code from your number to clear this setting from your original number.
IMEI Check: *#06#
If your number is comprised, it is essential to know the IMEI to file a police complaint or take legal action. IMEI number is a unique code associated with your device. It's like the chassis number of your car.
By dialing this code on your phone, you will know the IMEI number. You will see two IMEI numbers if you have a dual sim device.
What To Do If Your Phone Is Tapped?
These are a few particular things to look for when your phone is being monitored or tapped.You can simply do this actions to make your phone impossible to track.
1. Check your phone for spyware
The ClevGuard is an anti-spyware tool for the security of mobile phone data. You can check spyware on your Android and keep safe your privacy security with this tool.
Press "Get it on Google Play" button to download and install the ClevGuard anti-spyware.
Open ClevGuard you can see "Scan", choose it to check whether is spyware on your phone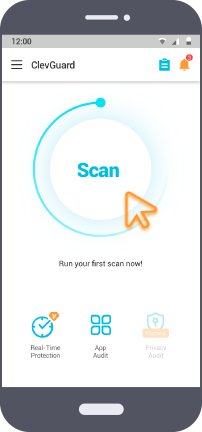 After scanning, Users can check suspicious applications in the list. You can click the "Fix" button to remove the spyware in a few seconds. If you cannot ensure the security of the app, you can also choose "Report" it. For the safe software, you can choose "Ignore" it.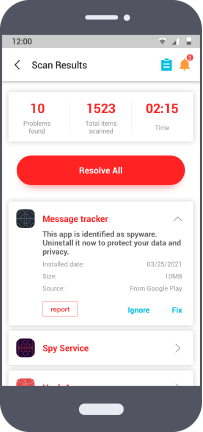 2. Check your phone for unsafe applications
Unsafe applications can be dangerous for your mobile device. These applications can harm your appliance in several ways. You have to secure your device, removing such applications. You can check unsafe applications by:
Go to the "Google Play Store" and click on the profile icon in the top right corner.
Click on "Play Protect".
Below the Play Protection certification,see your device is Play Protected certified or not.
3. Check your phone for unsecured source
Click on "Settings" and then go to the "Additional Settings"
After that, you should click on "Security and Privacy"
Uncheck the "Unknown Source" option
You can prevent installing Unverified apps from the Google Play store by Unchecking the "Unknown Source" option. Less trustworthy detective applications have minimum possibility against this method. Conversely, the top detective applications will neglect this sort of safety measure.
How to Protect Your Phone from Being Tapped?
There are few of the technique which will help you out to easily protect your phone from being tapped. It will also help you on how to tell if your phone is bugged or not.
Install anti-spyware software
The best method would be to always have an anti-spyware in your phone. It reduces the chances of your phone being tapped by a huge margin. It unsure the safety of the data as when as the calls you make and make sure that no one is able to know or listen to your conversations.
Clean and tidy page layout and easy to operate.
The speed of scanning is fast with only 1 to 3 minutes each time.
Good compatibility: available for Android 6.0 - 12.
There is no advertisement.
Legally upload to Google Play Store. Your privacy security is guaranteed, so you can rest assured to scan to use.
Provide real-time protection functions. Always protect your cell phone away from spyware attacks.
Remove all the spyware with one-click.
Switch off your phone when not in use
The first thing you can do to avoid wiretapping is that you can try to switch off your phone whenever not required. This prevents spies from spying or tapping your phone. It even avoids them from checking your messages and record the calls. Not only that a lot of the tapping malware won't let you switch off your phone so it even helps you to determine whether your phone is tapped or not.
Disable Bluetooth
It's better to disable your Bluetooth when it's not in use. It helps to reduce the chances of attracting any malware which are used to tap phones. You can't stop your Bluetooth by telling it the difference between the correct and wrong malware or spyware used by the tapper.One more thing you can do is to even disable your GPS it will make it difficult for them to look for your location.
Use strong passwords
Password is an initial step for defending your personal information or computer against any unauthorized access. With a strong password, your computer will be more secure from malicious software and hackers. You have to set a strong password for all accounts on your system.
Don't give your phone to a stranger
Someone can steal your precious data and install any harmful mobile application that can destroy your data and device. Therefore, you should never give your mobile phone to a stranger to avoid such difficulties.
Is It Legal to Tape a Phone Conversation?
Firstly, it is illegal to install a spy applications that in any way invades one's privacy by recording their calls or checking their text messages without the person's permission. Secondly, there are laws that state tapping or wiretapping a punishable offence and it could lead to potentially one year of jail along with a sum of compensation.
Thirdly, it even depends if the phone is being tapped due to an accurate reason then they need to get a court permission along with the consent of the person whose phone is been tapped along with the reason of such actions.
Conclusion
In the above article we have discussed how do you know if your phone is tapped or not. If you often use the Internet, or you already suspect your phone is spied, then we highly recommend download ClevGuard Anti-Spyware to check if your phone has been installed spyware while protecting your phone away from spy.