As an employer, you may have thought about whether monitoring the activities of your employees is considered as legal or not. This is because you may want to ensure that all your employees are efficiently working during the working hours without wasting any time and thereby hindering the overall productivity of your company.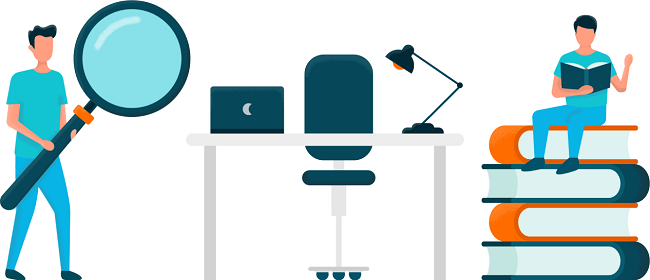 You can easily monitor the activities of your employees during working hours without their knowledge with the help of any activity monitoring software. The answer to the question of whether monitoring employees in the workplace is legal or not is more complicated than it may seem. This article will answer this query in the most detailed manner.
Table of Contents
1. What is Monitoring in the Workplace?
Monitoring in the workplace refers to the action of keeping a check on the activities and whereabouts of the employees. The most commonly used methods for employee monitoring include monitoring software, video surveillance, time clocks, biometric technology, and GPS systems.
For instance, when you use video surveillance as the method of employee monitoring, it can substantially improve productivity and security in the workplace. Even the shrinkage cost reduces when a thief gets caught on camera.
The main goal behind using employee monitoring systems is to keep a check on the productivity of the employees, prevent theft, and ensure that all the resources of the company are being used efficiently and appropriately.
Another category of employee monitoring tool is the attendance and time tool. This has the purpose of giving the exact time each employee spends at the workplace. This way each employee gets paid only for the amount of time they have worked.
Apart from such software and tools, you can also include the GPS surveillance if in case your business requires your employees to travel from one place to another regularly. The most easy way to do this would be to install such GPS surveillance software in your company vehicles.
2. It Is Illegal for Employers to Use Software Programs that Monitor Employees?
There are certain workplace privacy and employee monitoring laws that limit and allow certain actions when it comes to monitoring your employees. Learn more about this in this category and know how far you can go to monitor employees at the workplace.
2.1 Employee monitoring laws and regulations
ECPA or Electronic Communications Privacy Act of 1986 allows employers to monitor the written and verbal communication of their employees as long as the employers can produce a legitimate reason behind doing so.
Additional monitoring can be done by the employers if the employees give consent. However, the consent provision given by ECPA may seem a bit tricky as it also allows the employer to monitor the official as well as personal communication of their employees.
Additionally, the electronic communications can also be monitored by employers as per ECPA. Also, the video surveillance can be done at entrances and common areas but this is strictly prohibited in locker rooms and washrooms.
You can also monitor the activity on the computer systems of your employees. This includes internet browser activity, keystrokes, and almost every other activity on the computer system.
All the data and information of your employees need to be protected and any kind of data breach must be avoided as much as possible by implementing all the necessary privacy restrictions.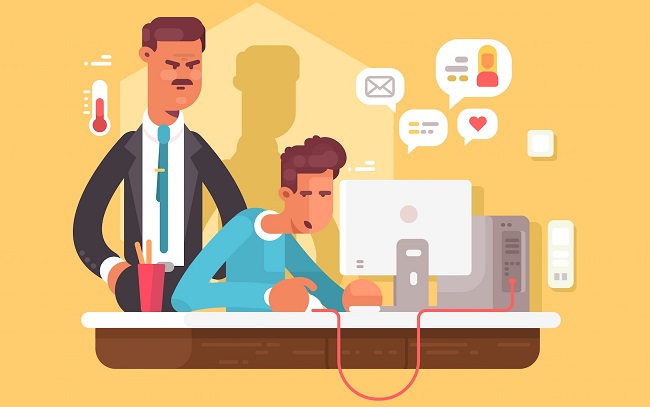 2.2 What does employers monitor employees in the workplace?
Employers monitor several activities of their employers to ensure work productivity. Here are a few essential things monitored by employers.
Communication
All chats from every communicating platform can be monitored by the employer. Such as from WhatsApp, Twitter, Facebook or Skype. This can be very useful when a certain crucial situation arises and you as an employer may have to look back on a conversation you had with an employee.
Location/GPS Tracking
Businesses that involve a lot of employees traveling on a daily basis may need to monitor the real-time location of their employees to ensure that they are visiting only those places that are officially acceptable.
Online Real-time activities
To keep an eye on the online activity can help the employers to reveal something, these activities can be browser search history or the online download history. This can make sure that they are not visiting inappropriate sites and wasting their time browsing unnecessary content online.
Computer activities
When a certain monitoring tool gets installed in the company's computers given to your employees, every activity from the keystrokes to time spent on the computer can be recorded and kept a close watch on. This is a great way to ensure employee productivity.
Attendance
With attendance surveillance systems, the entry and exit times along with the number of days attended by an employee can be easily kept track of. This way miscalculations regarding the monthly pay can be avoided to a great extent.
These are some of the most commonly monitored employee aspects by employers.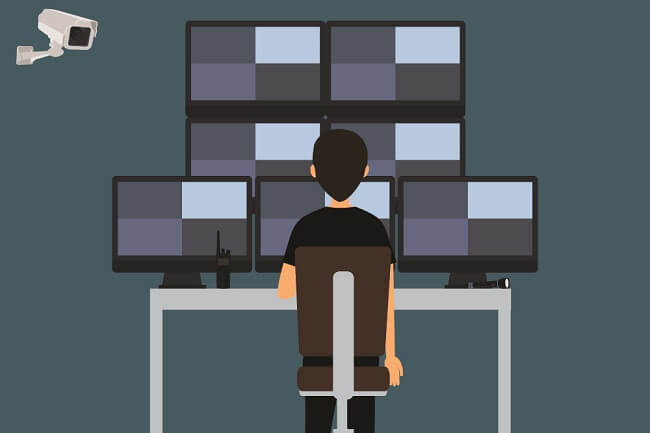 3. A Recommendation for Employee Monitoring Tool - 10 + Features
If you are looking for a good employee monitoring tool to installed on the computer systems which your employees use, you must try MoniVisor. This is an excellent tool which can be used by both employers and or anyone who want to keep a close watch on all the activities being carried out in the computer system. The most of the features mentioned in the last part are included.
Features of MoniVisor
Works in stealth mode

Allows remote computer activity monitoring with the online dashboard

Lets you keep a check on social media activities from WhatsApp, Twitter, Facebook, Instagram and Skype

Internet activity and browser history can be tracked with the specific URL

The received and sent emails can be checked, support Gmail, Yahoo and Outlook mail

Auto-screenshots of the computer screen can be taken, to track the real time activity

Every keystroke typed on the computer can be recorded.

The file operation activity and the print activity can be recorded too.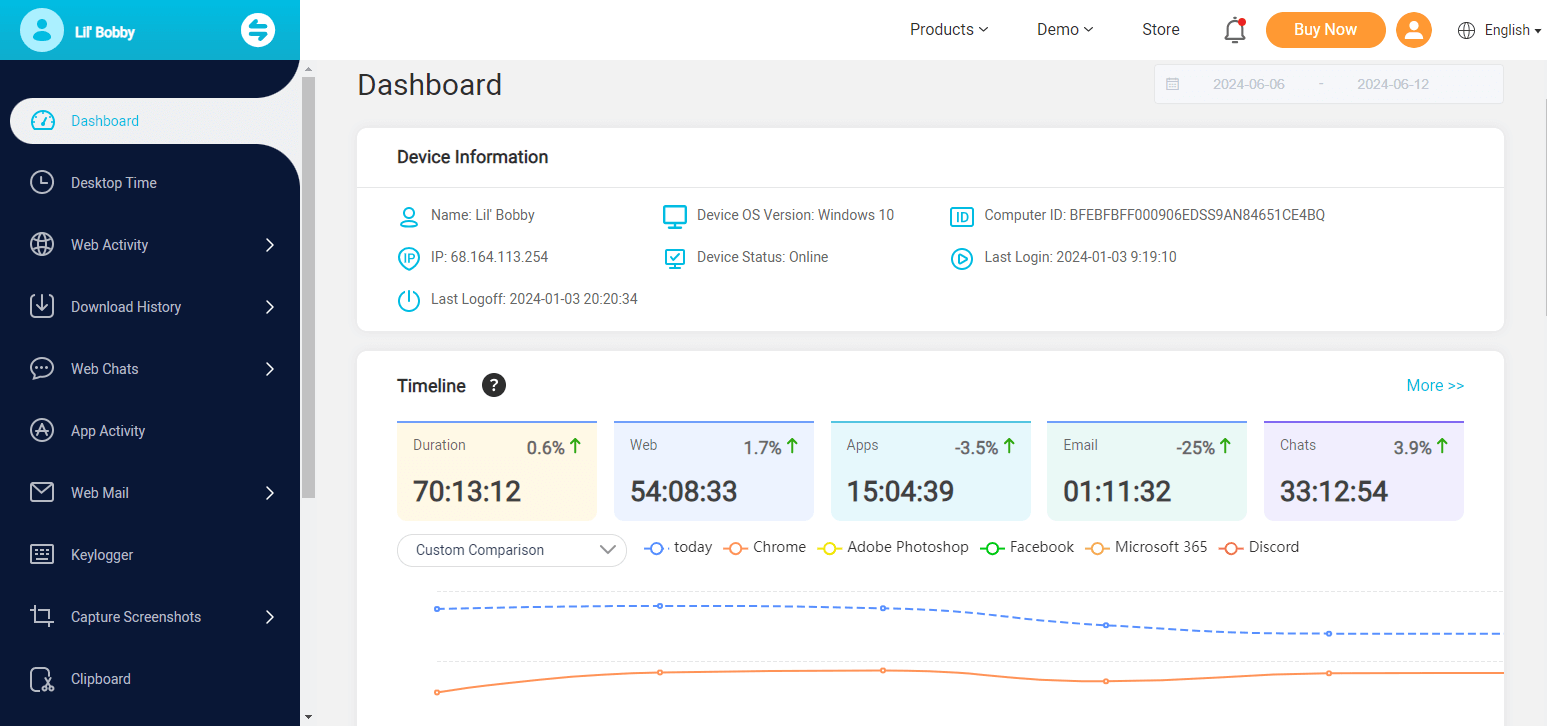 With such a varied set of useful activity monitoring features, MoniVisor is a highly recommended employee's computer activity monitoring tool. Now, let's explore the detailed using guide.
Step 1: Sign Up a free account for MoniVisor, and buy a plan for all the premium monitoring features.
At first, you should get a valid and licensed account for MoniVisor. This is the begin of your monitoring. You can just click the Monitor Now button below to get access to.
Step 2: Download and configure the app on target computer.
Now, you will get into the My Products and Order Management page, here you can get the detailed user guide for installation by click the Setup Guide option.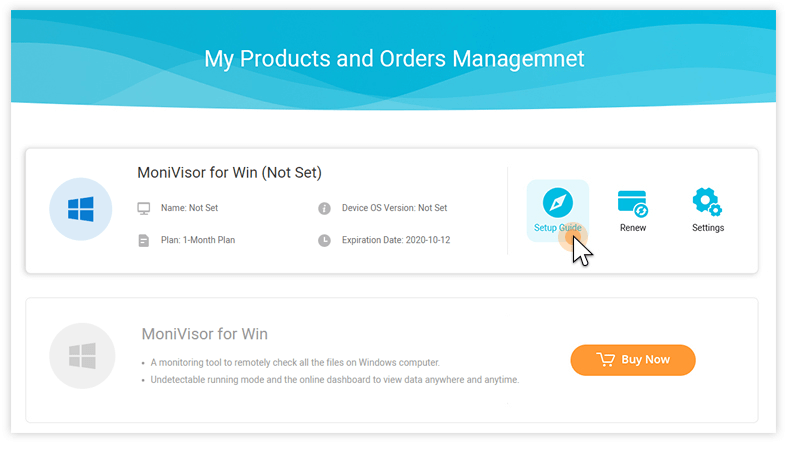 Step 3: Go to the website and login with your account to start monitoring on your own computer.
After the correct configuration, the app will run in a hidden mode in the target computer, now you can go to your own computer and login your account just created. Go to the online dashboard for data monitoring.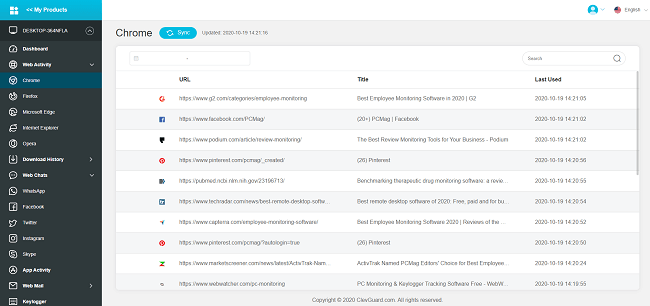 By here, the guide on how to monitor employees in the work place has been clarified. So easy to realize if you have a tool like MoniVisor, why not give it a try now? Or you can go to its fee demo to have a look of all the features first.