Question:
Is Facebook safe from hackers?
Do you know that around 150,000 Facebook accounts are getting hacked a day?
Shocked? But it is a fact. Worst, the personal data of these Facebook users are getting posted in low-level hacking forums daily.
Therefore, the questions arise, "how to make your Facebook safe from hackers"?
Well, if you leave it to the Facebook team to take care of security and privacy, you are in grave danger.
You need to do your part and take all the necessary steps including installing security apps for complete protection in order to safeguard your Facebook account and protect your privacy from hackers, just as the following catalogue shows:
Part 1: Is Facebook Safe from Hackers?
Unfortunately, Facebook is not safe from hackers. Even though Facebook has employed the most talented security experts and skilled developers, there are certain reasons why Facebook account hacking has become a common occurrence.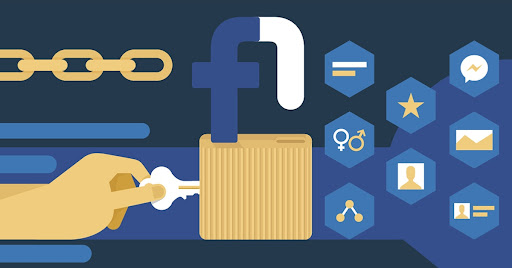 Data Sharing Policy
Facebook's policy of sharing the personal data of its users with advertisers, marketers, and other third-party organizations is flawed. Once any of these third-party databases get hacked, the personal data of Facebook users get exposed.
Too Much To Secure
Everything is integrated into the Facebook platform starting from social networking, messaging, advertisement, and gaming to marketplace, video streaming, and commercial pages to whatnot.
A single fault or bug in any of these gives hackers a backdoor to hack Facebook accounts of millions of users. For example, recently, a fault in access token and developer API led to a huge data breach.
Spyware
There are too many spyware apps that can secretly hack Facebook account to monitor phone activities and collect Facebook account credentials.
Besides, there are apps and websites where you might have logged in with Facebook, and if they are hacked, your Facebook data and even account can get hacked.
This does not mean you should stop using Facebook. Instead, you should learn to secure your privacy. Therefore, let us now focus on how to make my Facebook account secure from hackers.
Part 2: How to Make Your Facebook Safe from Hackers?
There are numerous ways your Facebook account can get hacked. Starting from Facebook data breaches and bugs in Facebook features exposing your personal data to hackers getting your Facebook account credentials through spyware and phishing pages, your Facebook account is not safe anymore.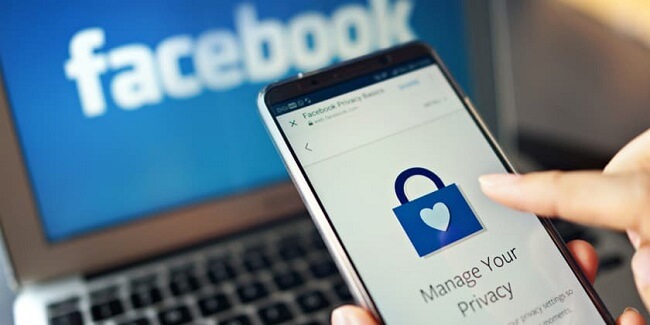 Therefore, it is time for you to take things into your own hands and do all that is necessary to protect yourself.
1. Protect Your Facebook from Hackers with ClevGuard [Most Effective Way]
Since there are numerous ways hackers can hack your Facebook account, you need an app that is versatile enough to provide you all-around protection.
ClevGuard is the most effective and feature-rich app in preventing hackers in their attempts and protecting your Facebook and your Android phone.
Key Features of ClevGuard:
Detect Spyware on Your Phone

Spyware can record your Facebook activities, including your username and password, when you log into your account. That is why it is essential to detect spyware presence on your phone.

ClevGuard lets you scan your phone thoroughly and find out spyware and malicious files and apps. You can also find any hidden spy app on your phone using ClevGuard app.

Delete Spyware Radically

The essential step on how to protect my Facebook account from being hacked is to delete spyware instantly.

ClevGuard app lets you detect spyware present on your phone and delete spyware found on your phone with a single tap. This will prevent hackers from getting your phone activities and data including online account credentials.

Protect Your Facebook in Real-Time

You should not only detect and delete spyware but also prevent spyware from getting downloaded on your phone. ClevGuard app provides real-time protection which alerts the users as soon as any suspicious apps or malicious files get downloaded on your phone.

Therefore, you can delete them instantly and protect your Facebook and perform different Facebook activities without getting spied.

Safeguard Your Phone Microphone and Camera from Being Hacked

Spyware installed on your phone allows the hackers to remotely access your phone's camera and microphone remotely. Therefore, they can monitor your real-time activities as well as listen to your conversations any time they want.

ClevGuard app sends you a notification as soon as any app starts using your phone camera or microphone suspiciously. Thereafter, you can effectively stop your phone from listening to you or taking pictures.

Check Email Breach

Your email address and password might have already got exposed in any data breach, and you may not even know it.

ClevGuard offers a unique feature through which you can find out if your email address and password were exposed in any major data breach in detail. The app also suggests steps to strengthen the security of your email account.

Clean Phone Junk Files

ClevGuard app lets you clean phone junk files entirely with a single tap. Moreover, you can delete junk files for selective apps regularly as per your requirements. There are certain junk files that contain sensitive information.

If hackers get access to them through spyware already present on your phone, they can extract the data and hack online accounts such as Facebook and even steal your identity.
How to Use ClevGuard to Protect Your Facebook from Hackers? - 3 Steps Only
Step 1. Download ClevGuard on Your Phone
Tap on the "Google Play" button below, it will skip to the ClevGuard download page, and then you can install ClevGuard on your phone.
Step 2. Scan Your Phone with ClevGuard
Open ClevGuard after the installation, and click "Scan" option. Wait for the scanning process, it will only take a few seconds to get over.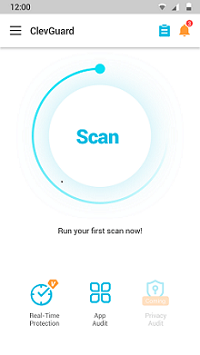 Step 3. Protect Your Facebook with ClevGuard
You will see the result containing all the suspicious apps and malicious files. Thereafter, tap on "Resolve All" button to remove all suspicious apps and files to protect your Facebook and phone privacy.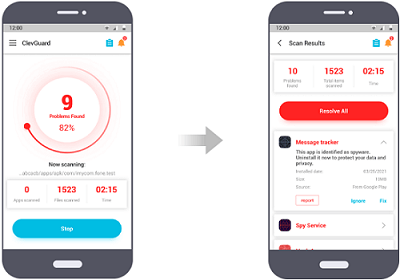 2. Use Two-Factor Authentication
One of the essential steps on how to make Facebook account safe is by turning on two-factor authentication on Facebook.
This is because even when someone gets your Facebook username and password, he cannot log in unless he gets the OTP that Facebook sends on your phone number every time you log into Facebook account.
Here are the steps to activate two-factor authentication.
Step 1: Go to Settings & Privacy by clicking on down-arrow icon at the top right corner.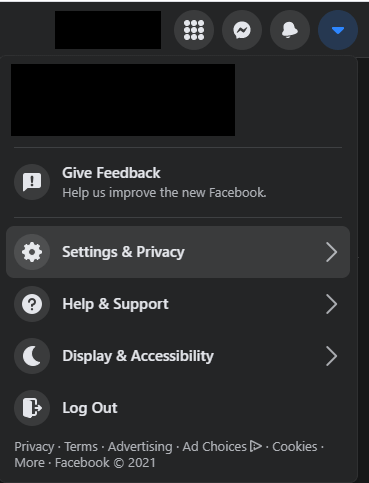 Step 2: Go to Settings option.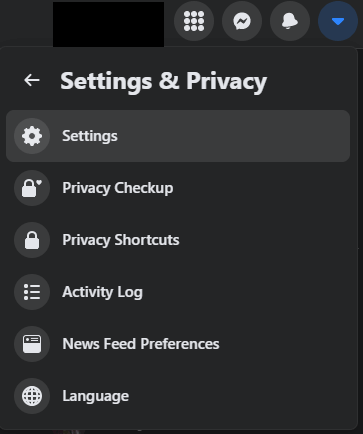 Step 3: Go to Security and Login tab.
Step 4: Go to use Two-factor Authentication option and click on Edit button.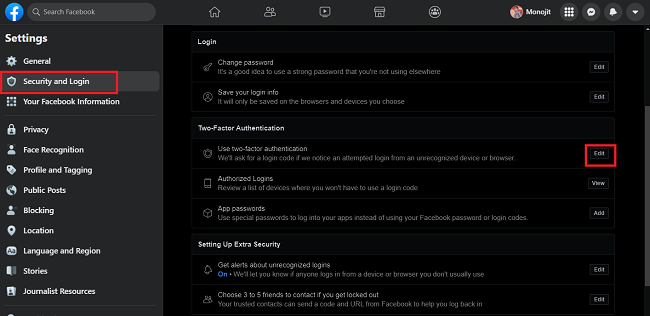 Step 5: On the next screen, you have to select one option for the security method such as OTP message or authentication app.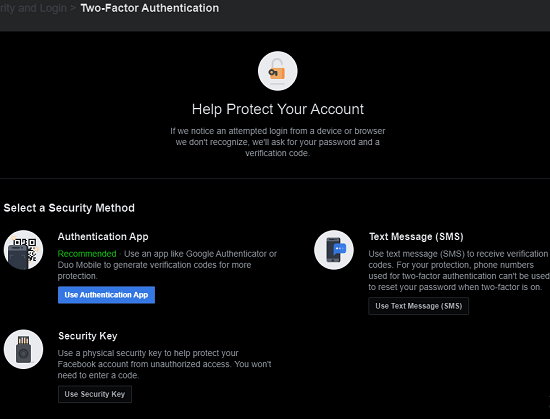 Follow the on-screen instruction and activate the process to secure your Facebook account.
3. Avoid Saving Passwords on Public Devices
When you access your Facebook account from any device that is not yours, you should not save your account's username and password when prompted while logging in. It is particularly applicable when you are using a public device such as cybercafé.
If you save them, any other person accessing the same device later, he can access your Facebook account and even extract username and password saved on the browser.
4. Don't Log into Other Services with Facebook
There are several apps and online services we use using 'Login via Facebook' option. Once you log into other services with Facebook, these services get the necessary permission to access different Facebook data including contact number and other personal data.
Once these services get hacked, your Facebook data will get leaked, and your account can also get hacked. Therefore, remember never to log into other services with Facebook. Always sign up with your email address and create an account to access the required service or app.
Hopefully, you have understood how to protect your Facebook from hackers. Now, let us move on to the topic of what to do when your Facebook account gets hacked.
Part 3: Extra Tips of What to Do Immediately if Your Facebook Account is Hacked?
1. Change Your Facebook Password Immediately
As soon as you detect that your Facebook account is hacked, you should change your Facebook password immediately. Make the new password strong and unique so that it is not easily decoded. Here are the steps to change Facebook account password.
If you are already logged into your Facebook account, you can follow the steps below:
Step 1: Go to Settings & Privacy by clicking on down-arrow icon at the top right corner.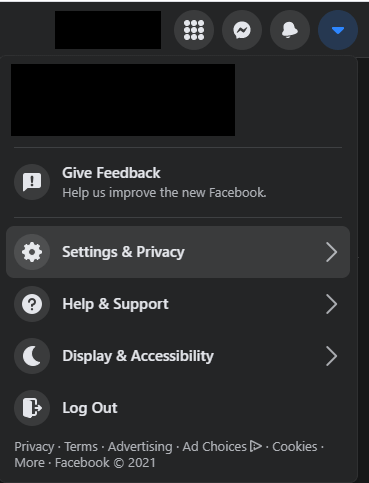 Step 2: Go to Settings option.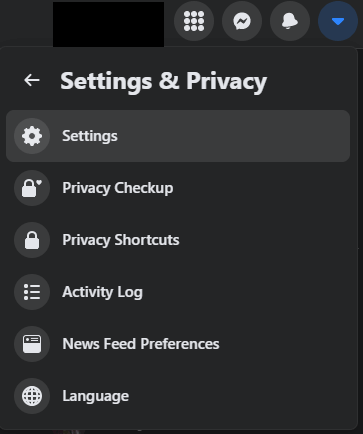 Step 3: Go to Security and Login tab.
Step 4: Go to Change Password option and click on Edit.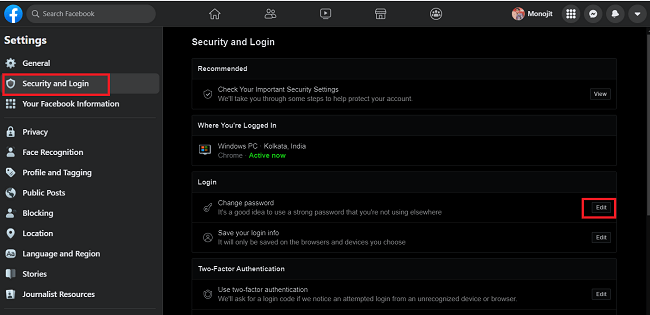 Step 5: Enter new password and re-type your new password.
Step 6: Click on Save Changes button.

If you are not logged into your account, and you cannot log in, click on Forgot Password option. Follow the on-screen instruction to reset and change the existing password.
2. Delete Suspicious Apps
You need to get rid of the suspicious and malicious apps installed on your phone immediately. Any of the installed suspicious apps could be responsible for your Facebook account getting hacked.
This is because there are certain malicious apps that spy on your phone activities and even record your keystrokes and send them to hackers for analyzing them and finding out login credentials. Use ClevGuard to detect and remove such spy apps instantly and easily on your phone.
3. Report Facebook Hack to Facebook
You should report immediately to Facebook when your Facebook account is hacked. This is because they can reverse the changes made on your account after getting hacked and help you recover your account so that you get the control back.
Visit Facebook Help and report about your hacked Facebook account. You have to follow the on-screen instruction and answer accurately to get the necessary steps to take for account recovery.
4. Inform Your Friends and Family Members
It is very common for wicked hackers to make embarrassing posts and send inappropriate messages to the friends present on the account they hacked. Your friends and even family members could get shocked by such messages.
Therefore, you should inform them as soon as possible to avoid any further unforeseen circumstances. Let them that your account is hacked and not trust any posts or messages they get from your hacked account.
Conclusion
Hopefully, you have found the unfortunate answer to your question, 'how safe is Facebook from hackers?'. Without any further ado, you should take the necessary steps to strengthen the security of your Facebook account.
We have also pointed out the steps to take when your Facebook account gets hacked. You should install the ClevGuard anti-spyware immediately to detect spyware and remove malicious files and apps. Moreover, you need to turn on real-time protection for complete protection.