Encrypt Facebook message is a secret feature in Facebook messenger that enables secret conversation between sender and the recipient. With the rising popularity of monitoring tools, the private conversation is a matter of serious concern for the people. Therein Facebook end-to-end encryption is more than a blessing to people who wants to protect their privacy.
Facebook encrypted message means all the conversation between the sender and an intended receiver is encrypted so that your conversation is not accessible by anyone. The encrypted message is also referred to as a secret conversation. If you want to know how to encrypt your Facebook message, keep reading, we will not only introduce the specific method to you, but also let you know how to protect your phone privacy.
Why Peoples Want to Encrypt Facebook Messages?
Different people have different reasons to encrypt Facebook messages, in this section, we'll walk you through the popular reasons why peoples want to encrypt Facebook messages.
Privacy Data Protection: Encrypted Facebook messages aid in data protection and protects our sensitive data. Law enforcement agencies always try to decrypt encrypted Facebook conversations in a bid to detect criminal activities. However, with encrypted secret messages, they won't be able to do that because they don't have an access to the key to decrypt the messages. As a result, encrypted data is so well-protected that even the Facebook technical staff cannot access that. That's why peoples prefer to encrypt Facebook messages specifically when sending attachments like photos or documents.
Partner Cheating: You may notice that your partner spends more time on Facebook than usual, but when you check his or her Facebook, you find nothing. As the secret conversation history mode deletes the messages automatically and is quite secure, it is popular with people who are cheating on their partners. Hence it's one of the main reasons why people use secret conversation. Hard to believe, right? But it's the truth. So, if you have suspicions about your partner, you have to find a way to view their secret conversation on Facebook.
How to Encrypt Facebook Messages?
Leveraging the power of Facebook Messenger's 'Secret Conversation' feature, you can enable encrypted conversation between you and an intended recipient. This means no one even Facebook will be able to eavesdrop on your communication. Secret conversations are available on both the iOS and an Android Messenger app. You can establish a secret conversation with someone or secure your existing conversation.
Below is the step-by-step procedure to encrypt Facebook messages:
1. Launch the Messenger app
Encrypted Facebook messages are only available on the Facebook messenger app for Android and iOS devices. You cannot download it from the Facebook mobile app or Facebook website.
2. Open the conversation you want to encrypt
You can convert any normal conversation into an encrypted conversation. But you cannot encrypt group messages.
On an iOS device, click on the 'secret' button in the top right corner while sending a message to enable encryption.

On Android device, you need to enable it after sending a message.
3. Open the conversation details
On an iOS device, you can do this by clicking on the person's name at the top of the screen and by clicking on the ⓘ button in the top right corner in Android device.
4. Select the secret conversation option
You'll then be prompted to enable secret conversation option in your device. You can send and receive secret messages from one device at a time. This means if you opt to keep the conversation secret, you'll have to access it from that device.
5. Start chatting with encrypted conversation feature
Once you enable a secret conversation on your device, your recipient should have to accept it. They must be using Messenger for Android or iOS as well. Once your recipient accept it, you entire conversation will then be encrypted.
6. Set a timer for your messages
Click on button in the time box to select a timer for the messages. This will automatically deletes a message after a certain time period after the recipient reads it. Thus, it provides an extra layer of security.
7. Identify encrypted messages
On your conversation list, secret messages contain a padlock icon next to the recipient's profile picture. Furthermore, instead of a blue background, private conversations have a black background.
How Does a Facebook Messenger End-to-End Encryption Work?
From a technical standpoint, end-to-end encryption means that your message will only be readable by your device and your intended recipient's device. When you initiate a secret conversation, an encryption key is created automatically and gets stored on both devices.
The recipient will only be able to read the message if the key on the device matches the key on the other device. It means you won't be able to access your secret message on the desktop computer or another device.
Furthermore, there are some drawbacks to the Facebook encrypted message feature. On top of that, nothing stops the other user from taking screenshots and sharing your messages with others. According to the Facebook official documentation, your secret conversation on Facebook will only be decrypted if someone reports a message. In this situation, the message will be decrypted and then forwarded to the Facebook abuse team.
The Downsides of Secret Communication
It is worth mentioning here that by turning the secret conversation ON, you can only communicate in this conversation thread using the device you had used to turn on the encryption feature. To be able to communicate with another person using the same device, you need to turn the encryption option ON in that particular device too.
Top Frequently Asked Questions of Secret Conversation
1. How to Delete Secret Conversation?
First of all, delete all the private or secret conversations at once then follow the following steps:
Open Messenger app.

Head over to your profile by clicking on profile picture at the top left corner of the screen.

Scroll down to click on the secret conversation option that comes with the white lock icon.

Finally, click on the delete all the secrete conversations option.
It is pertinent to know that this process won't delete messages on your friend's device.
2. Can Secret Conversations be Viewed?
Messages sent and received via secret conversation only appear on the device used to initiate the conversation. However, if someone is using a third party tool on your phone, they are able to view your secret conversations.
3. How to Keep Your Messages Secure?
As we mentioned before, there is a possibility that our secret conversations can be viewed if someone is using a third-party tool. If you want to 100% ensure the security of your Facebook conversation, we recommend using anti-spyware. Next, we will introduce one extra tip to you to keep your messages, even phone safe in real-time.
Bonus: Keep Your Facebook Messages Secure with ClevGuard Anti-Spyware
ClevGuard is an anti-spyware tool that protects your mobile phone from malicious activities. As our reliance on the internet for day-to-day activities increases, we become more prone to monitoring tools.
ClevGuard is an Android-based anti-spyware tool that doesn't only identify malicious files, but can also find hidden spy apps on Android phones. With this phenomenal anti-spyware tool, you can surf the internet and protect your phone privacy in a hassle-free way.
Key Features of ClevGuard
Scan All Apps in Quick Time: ClevGuard supports for quickly scanning all third-party applications installed on the phone.
Remote Spyware Completely: ClevGuard is built with cutting-edge technology that allows for thorough malware scans. The application ensures the safe and permanent eradication of spyware files without affecting your device or personal data, in addition to its superior detective abilities.
Real-Time Protection: ClevGuard comes with comprehensive detective technologies that guard you against modern hacker attacks and possible fraudulent actions in real-time, 24 hours a day, 7 days a week. ClevGuard ensures that you are protected at all times and in all places.
Easy to Use: ClevGuard features a clean, intuitive interface that is very beginner-friendly therefore, anyone with little to no technical knowledge can easily use it.
Competitive Price: We are offering the best anti-spyware software to our users at a very competitive price so they can protect their sensitive data from falling in the hands of perpetrators.
How to Keep Your Facebook Messages Secure with ClevGuard?
Step 1. Download and Install ClevGuard from Google Play Store
Click the "Google Play" below to download and install the ClevGuard anti-spy software on your phone from Google Play.
Step 2. Start Scanning Your Phone
Open ClevGuard, click "Scan" to check all the third party apps to find spyware on your phone.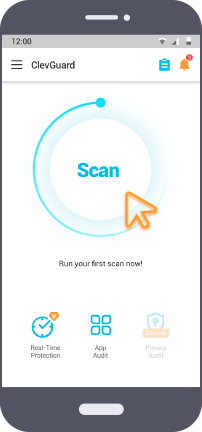 Step 3. Remove Spyware to Keep Your Facebook Messages Secure
All spy applications, infected files, and apps will be displayed on your screen after scanning, and spy apps will be removed in a matter of seconds.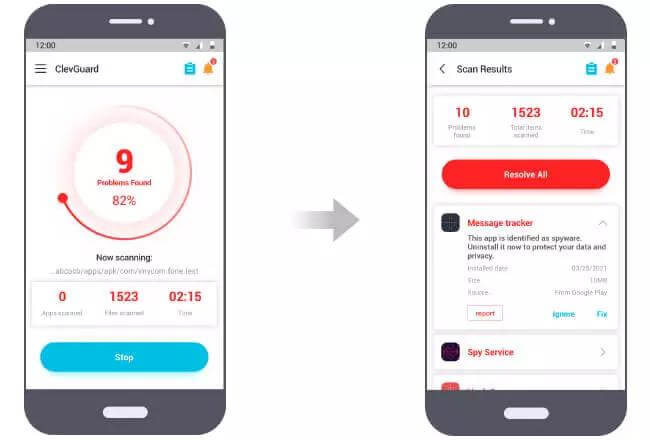 Conclusion
Encrypted Facebook messages are arguably a great feature of the messenger. With a rising concern of spying activities, human rights activists, politicians, NGO workers, government executives always remain prone to spying tools. In this situation, ClevGuard is more than a blessing for us to enable a secure online conversation. There has never been a great time than now to start exploring this anti-spyware tool otherwise nefarious actors will carry on their malpractices.