Before We Start
Do you know that Viber not only scans its user's phone contacts but also saves them on their servers?
Viber is an extremely popular calling and messaging app with over 800 million monthly active users.
However, there has been a significant rise in Viber hack attempts in the last few years. Is Viber safe for personal calls and private messages?
In this article, we will address the safety and privacy concerns regarding the Viber app. We will also suggest the top 10 steps you can follow to safeguard your privacy on the Viber app.
Is Viber App Safe?
There are various security and privacy settings available on Viber app to safeguard the users. In spite of all the safety measures, Viber app is still not completely safe.
Here are the major Viber security concerns that users face across the globe.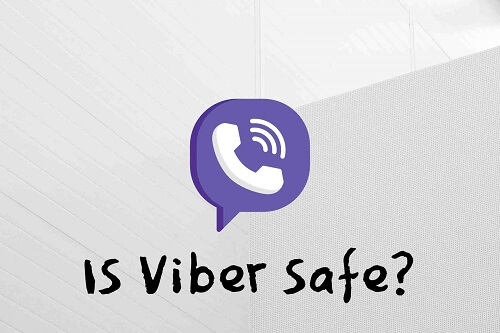 Viber Hack Attempts
One of the most common complaints regarding Viber app from its users is that they have received Viber verification link and code out of nowhere. Viber sends them only when a user activates Viber from a new device.
But in the above case, since the users are not changing their devices, hackers must be attempting to hack Viber accounts of these users.
Phishing and Spyware
It is easy for scammers to hack phone by sending phishing and spyware links through Viber chat to any targeted user. Once the user opens the link and thinks of the web page as legitimate, he is likely to give personal and sensitive data which will go directly to scammers.
Sometimes, opening these dangerous links can make spyware get downloaded on your device in the background and let scammers spy on your phone activities to get online account credentials, intimate photos, and financial details.
Information Leak
There is end-to-end encryption in all interactions on Viber. However, the company makes money by selling user data to third parties for targeted advertisement just like every other messaging app company.
Hacking these sensitive data from third parties' servers is not extremely difficult for hackers. Once these user data get exposed on public forums, there is always a risk of accounts getting hacked, identity theft, and whatnot.
Therefore, the answer to the question "Is Viber safe for privacy?" is negative. The users have to take steps themselves to make sure your Viber account and chats stay private and secure.
How to Make Sure Your Viber Private? - 10 Tips
Since there are privacy concerns regarding Viber app, you have to take steps to ensure your safety and security while using the app. There is no point in opting for other popular messaging and calling apps because they also have the same issues.
Therefore, we are listing down the top 10 steps to eliminate Viber security risk.
Tip 1. Keep Your Viber Private with Powerful App
The best way to protect your Viber from hackers and scammers is by using a powerful security app. We recommend you install ClevGuard Anti-Spy app on your phone to eliminate all the threats and get complete protection.
[3 Step] Secure Your Viber Private with ClevGuard
Step 1. Install ClevGuard App
Click "Google Play" button below, then you will be led to the Google Play Store and download ClevGuard directly.
Step 2. Scan Your Phone
Open ClevGuard, tap on Scan option. Wait for the app to scan your phone to detect threats for Viber app.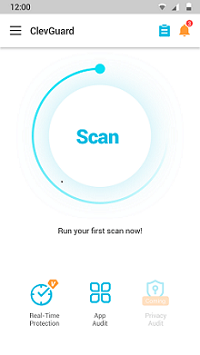 Step 3. Protect Your Viber and Phone with ClevGuard
Once scanning is over, you will see all the security threats on your phone. Tap on "Fix All" button to resolve all the issues to secure your Viber account.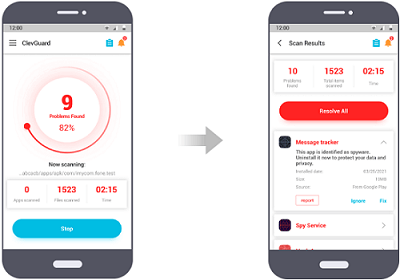 Also, you can turn on Real-Time Protection. This will prevent hackers and scammers from hacking your Viber account and spying on your Viber activities.
How Can ClevGuard Protect Your Viber Account?
Here are all the features of ClevGuard app that will provide complete protection and privacy for your Viber account.
Find Out Threats for Your Viber App

ClevGuard Anti-Spy app scans your phone thoroughly to find out the hidden spyware that poses threats to Viber app privacy. You can review all the threats and fix them all at once to eliminate all the privacy and security issues.

Protect Your Viber and Phone in Real-Time

Prevention is always recommended rather than detecting at a later stage. With the real-time protection of ClevGuard app, you can prevent security and privacy threats from invading your Viber account. The app monitors your phone and alerts you as soon as it detects any spyware or malicious file getting downloaded.

Check Email Breach

You should always protect your email address with which you have opened all your online accounts including Viber account.

With the email breach check feature of the ClevGuard app, you can detect if your email address and password have been leaked in any major data breach without you knowing about it. The app also recommends steps to strengthen the security of your email account.

Protect Your Phone Microphone and Camera

The answer to "Is Viber secret chat safe?" is yes, as long as no one is spying on your Viber chat messages. There could be some spy apps present on your phone that can give hackers live access to your phone camera and microphone.

ClevGuard Spyware Remover app alerts the users as soon as it detects any app accessing your phone camera or microphone secretly.

Clear Your Phone Junk Files

ClevGuard app allows users to clean phone junk files including residual data, cache data, and likewise. These junk files can slow down your phone and block storage space unnecessarily. You can wipe your phone junk file instantly with a single tap.

Tip 2. Turn On Viber-Screen Lock

If you are using a computer to use Viber desktop app for chatting and video calling, you can turn on Viber-screen lock. This lock is useful when there are multiple persons using the same desktop computer to access their individual Viber accounts. The lock prevents others from viewing your chats and hence, your Viber security and privacy stay intact.

Here are the steps to follow:

Step 1: Open Viber Desktop app.

Step 2: Go to More option by clicking on the three-dot icon at the top-left corner.

Step 3: Go to Settings option.

Step 4: Go to Privacy & Security option.

Step 5: Toggle on "Turn Viber-screen lock ON" option.

Step 6: Set the password and click on Done.

Tip 3. Restrict People From Adding You To Groups

There are different types of groups available on Viber. Some of these groups may not be appropriate for your age and some groups are run by hackers and scammers to trap Viber users.

There could be times when people add you to random Viber group chats. You have to power to decide who can add you to Viber group chats.

Here are the steps to control:

Step 1: Go to More option from three-dot at the bottom-right corner.

Step 2: Go to Settings option.

Step 3: Go to Privacy option.

Step 4: Tap on Control who can add you to groups.

Step 5: From the pop-up menu, select My Contacts instead of Anyone for more Viber app privacy.

Tip 4. Turn On Hidden Chats

There are always some chats that are private and intimate and they need an extra layer of security and privacy. That is why Viber introduced Hidden Chats feature whereby such chats are kept secret in a different section of Viber and can only be access by a PIN code.

Is Viber secret chat safe? The answer is definitely yes as they cannot be seen on the chat list by anyone. Here are the steps to activate Hidden Chats feature on Viber app.

Step 1: Go to More option from three-dot icon at the bottom-right corner.

Step 2: Go to Settings option.

Step 3: Go to Privacy option.

Step 4: Tap on Hidden Chats option. Follow the on-screen instructions and set a PIN code to access hidden chats.

To hide any chat, tap and hold the chat and from the pop-up menu, select Hide Chat option.

To access hidden chats, search the chat by the person's name and tap on the chat. You will be asked to enter PIN code after which the chat will become available.

Tip 5. Change Your Online and Seen Status

If you want more Viber app privacy, you should not let others know when you have seen their messages and if you are online of Viber.

This is some people annoyingly start messaging when they find someone is online or read their last message. Here are the steps to change your Viber online and seen status.

Step 1: Tap on three-dot icon at the bottom right corner.

Step 2: Go to Settings option.

Step 3: Go to Privacy option.

Step 4: Toggle off Share Online Status and Send Seen Status option.

Tip 6. Get More Privacy With Disappearing Messages

Disappearing messages are the ones that self-destruct themselves in the set time. The receiver of the disappearing messages cannot take screenshots of them for future reference.

Once the messages disappear, they are gone from the chat forever. Start using Disappearing Messages for sending sensitive information.

Here are the steps to follow –

Step 1: Open a chat with someone to send a self-destruct, disappearing message.

Step 2: Tap on the three-dot at the bottom right corner.

Step 3: Select "A self-destruct timer" option.

Step 4: Select the time such as 10s, 1m, 1hr as per requirement.

Step 5: Thereafter, type the message and hit Send.

Tip 7. Spam Checker

There are some spammers who continuously send adult photos, phishing links, spyware download links, and fake reward claims.

To protect yourself from getting such spam messages from unknown contacts, you can enable auto spam checker on Viber app. This auto spam checker feature filters out the messages and let you know if they are safe to open.

Step 1: Tap on three-dot icon at the bottom right corner.

Step 2: Go to Settings option.

Step 3: Go to Privacy option.

Step 4: Turn on Auto Spam Check option.

Tip 8. Beware Of Fake Viber Official Messages

There are many scammers and hackers who send messages to random Viber users imitating Viber official account. They ask for personal details and send panic messages to force the users to give in.

You should be aware that Viber never asks personal details including authentication and verification code. Moreover, if Viber ever sends you a message, it should come from Blue verified badge Viber Official account.  

Tip 9. Report Spam In Communities

Viber communities are a safe platform for connecting with people across the globe. Communities are also useful in keeping up with the latest news and following celebrities and teams.

You can report inappropriate messages within communities as spam. Upon reporting, Viber team will review and remove the community or members promptly.

Here are the steps to follow –

Step 1: Open Viber desktop app.

Step 2: Go to the community whose inappropriate message you want to report.

Step 3: Right-click on that message.

Step 4: Click on Report option.

Step 5: You have to select the reason why the message is inappropriate.

Tip 10. Update Viber App Regularly

As soon as you get a notification that an updated version of Viber app is available, you should take the update immediately. In the new updates, the company fixes Viber security risk in the previous version of the app through which hackers could have got access to user accounts and data.

Apart from security fixes and patches, the company may also introduce new security features which can enhance security and privacy to a greater extent. Therefore, update Viber app as soon as possible.

Conclusion

The definite answer to the question "Is Viber safe from security and privacy perspectives?" is no. The app has various safety and privacy settings, but they are not enough to prevent hackers and scammers from violating your Viber account security.

We have stated all the important steps you should take to eliminate all the Viber security risks. Moreover, we recommend you install ClevGuard Anti-Spy app for complete protection for your Viber account.