Question:Is mSpy Detectable?
The attractive feature of mSpy is that it is difficult for a user to detect whether mSpy exists on his or her mobile phone, because this tool is hidden from them by default.
This article will help you a lot if this problem bothers you. We will discuss the steps of how to detect mSpy on Android in the following.
How to Detect mSpy on an Android Phone?
To catch mSpy on an Android phone, please read the following ways.
Way 1. Use ClevGuard Anti-spyware to Detect and Remove mSpy
An mSpy can be detected on Android by using ClevGuard anti-spyware. It is very easy to detect and remove spyware by utilizing this app.
You just have to do one click, and the mSpy present in your phone will show on the screen and seemed. Below are the steps to detect and remove any spy from your phone.
Step 1.

Download ClevGuard anti-spyware by click Get it on Google Play Store button below.
Step 2.
After installation, open ClevGuard and tap on Scan button, now ClevGuard will begin to scan your phone files. It will detect all the abnormal activities in your phone in a few seconds.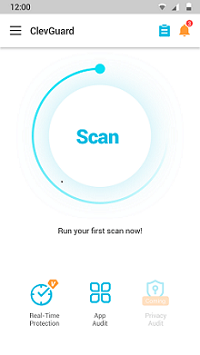 Step 3.
Then it will show you scan results, if there is mSpy exist in your phone, it will be detected and presented in the resulted list, you can choose
Resolve All
to remove all malicious apps or only click
Fix
to remove mSpy app from your phone.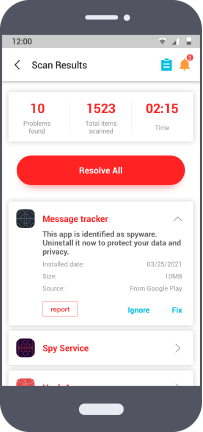 Way 2. Manually Find and Remove mSpy
In order to remove mSpy on your phone, it is necessary to know if mSpy can be detected on Android or not.
The easiest way to tell if mSpy is installed on your phone is to go to the Google Play Store and click on the option Play Protect. It will automatically stop the harmful devices not to install on your phone.
And also, it will show you or give notification of the mSpy app that is installed on your device. If there is any problem with this option, you can also disable the update service in your mobile phone settings.
It will show you if you have any spyware installed on your phone. You can also remove spyware through settings.
Go on the device administration option in your security and disable the update service option. But this option is not available on every phone.
If you don't find this option, search the app manager in settings and find an update service. Install this app to remove all spyware from your phone.
Or click on the three lines present in your Google play store. Click on the play protect, if any app shows there, uninstall it.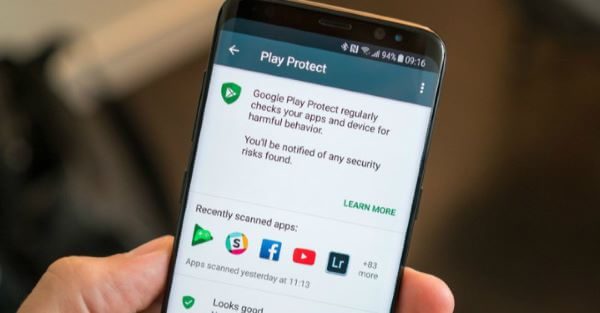 Part 2. Can a Hacker be Noticed If I Uninstall mSpy?
Yes, a hacker will get notified if you remove the mSpy app from your phone.
And if he didn't get notified, he will eventually know that you have removed mSpy from your phone when he/she may not see what you are doing on your phone.
How to Prevent Future Attacks?
To prevent a future attack, user can see and use the real-time option in ClevGuard. This option will let you detect and remove any spyware at any time.
You can open this app time after time and scan that if your phone has again installed any spyware or not.
Can I stop location tracking of mSpy?
Yes, you can stop location tracking on mSpy by using spoof or by other location spoofy app.
Deceive the Location to Prevent mSpy Location Tracking
You have to download a spoofy location tool in order to know how to detect mSpy and to deceive your real-time location tracking.
These types of devices are specifically designed to change your area to any other. In this way, mSpy can know your site, but it will be a fake one.
This spoofing app will help you deceive someone so that he/she may see all your mobile activities, but when it comes to GPS location, they will visit a fake site.
For Android users, you can download a GPS emulator to fake your location. To do this, you have to search the developer option in your mobile settings and then select the Mock Location app.
After doing that, choose GPS emulator. Then type the location which you want to show and then click the red GPS button to green.
When your GPS icon turns green, you will know that the GPS emulator has started working on your device.
Related Read: How to Prevent Phishing Attacks? - Best 10 Ways in 2021
Dangers of mSpy Android Monitoring
No one wants that someone should monitor their mobile. After gaining answers to the questions of Is mSpy detectable? A person should know what some side effects that mSpy will cause during mobile monitoring are.
Spy on Your Chats
mSpy has a feature that can show all your discussions to the person spying on you. Whether it may be an msg received or sent or text or image, a person can see all the text activities of your phone.
This option is suitable only for parental use, but if any person in an organization uses this option, it may leak important msgs or images that a person doesn't want to share.
And if the spied msgs contain emails or passwords of your bank account, it may cause serious issues.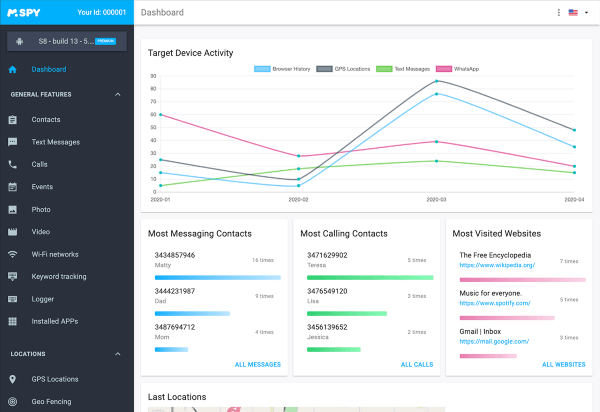 View your Browser History
This mSpy app will let the person who spying on you know all the activities you are doing on the internet, whether simple surfing or watching anything.
Everything will appear in history i.e. website bookmark, keyword alert, or browser history.
Recording your Calls
The person mostly talks informally in calls, so anyone who has access to your calls information, whether incoming or outgoing, may threaten your privacy.
And if a person records your phone calls, he or she can use it timely to blackmail you.
View all Social Media Content
The person can spy on all the social media content of their targeted person. It can be a very safe app with two-factor authentication or any other kind of privacy security.
By using mSpy, a person can view, record, and capture anything you do on your mobile. So, if you are video calling with anyone or Snap chatting, you are at a very high risk of getting exposed.
The pictures you share on social media, the msgs you send on Instagram, or the snaps you send to your friends or colleagues, this app may become the biggest problem in this modern world and it is necessary to be aware of how to detect mSpy on Android.
Conclusion
An app has pros and cons in spying on any device, but you have to be ready for every situation.
It will be a helpful app for parents to watch their children and remove the bad stuff from their accounts. On the contrary, if any person from the workplace or any friend uses this app on anyone, it negatively affects their private information.
If a person comes in a situation when he or she wants to get the answers to the questions like Is mSpy detectable on Android? You can read the aforementioned content to get the answer.
Everyone should know the answers to this questions to keep the security of your phone.