Snapchat is one of the widely used social media platforms in the world. It is a photo and video-sharing app that will automatically delete messages sent in one-on-one chat after both snap chatters have seen messages and left the conversation. It is easy to see Snapchat chat history if you have saved messages.
However, what if not? You would need to take the assistance of a 3rd-party tool to see those past Snapchat messages again. So, those who are wondering "can you see chat history on Snapchat?", do not get an answer.
No worries!! This post is going to help you learn how to see Snapchat conversation that is deleted, saved, or unsaved as well as check someone's Snapchat chat history. So, keep reading.
Way 1: See Saved Snapchat Conversation History on Snapchat
As mentioned before also, the easiest way to see past Snapchat conversations is if you have saved them. Otherwise, turn to Way 2 to see unsaved or deleted Snapchat chat history.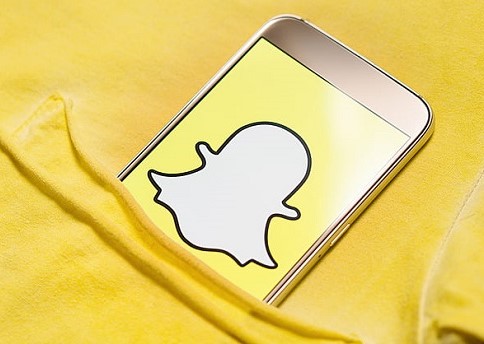 Below is the quick guide on how to see saved chat history on Snapchat:
To commence the process, you need to first open the Snapchat app on your phone.

After that, locate the user or contact with who you had a chat that you would like to view.

You'll see the saved messages highlighted in grey. The saved messages will stay in both your as well as other contacts' Snapchat account until you stop saving them.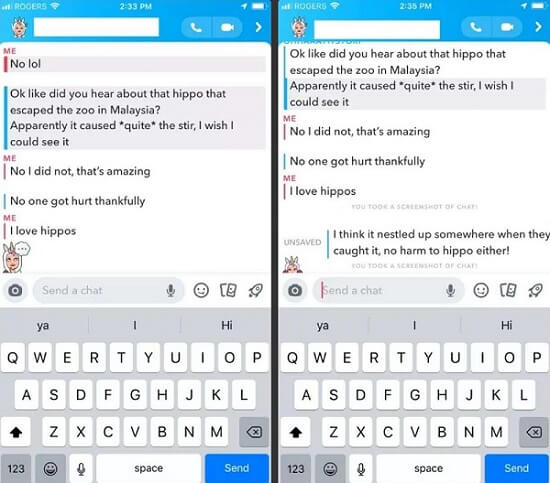 Even if you delete or clear the conversation history, the saved messages aren't going to delete. In order to get back saved Snapchat messages, you have to begin a new conversation with that contact. You'll see that the saved messages will be shown again.
This is how to see past Snapchat conversations if you have saved them. No worries!! If you have deleted or not saved messages, continue reading to learn how to see unsaved or delete Snapchat conversation history.
Way 2: See Unsaved/Deleted/Other's Snapchat Conversation History on Snapchat
As we mentioned before, you need to rely on a third-party tool when it comes to viewing unsaved or deleted Snapchat conversation history.
For that, we highly recommend KidsGuard Pro for Android that's known as the best Snapchat chat history viewer out there.
KidsGuard Pro for Android - Best Snapchat Chat History Viewer
With the assistance of KidsGuard Pro for Android, you can see all of the Snapchat conversation histories including both deleted and unsaved.
What makes it even greater is that it can even help you read someone's Snapchat messages. This feature of the software makes it very handy for parents who are curious to see their kid's Snapchat activities.
Moreover, it is very easy to use even for beginners as it requires no kind of technical skills. It has many other monitoring features making this program an ultimate monitoring solution for parents to ensure their kid's safety.
Are you ready to try KidsGuard Pro for Android to learn how to see conversation history on Snapchat? If so, then follow the below step-by-step guide.
Step 1. Click the "Sign Up" button below to set up a valid account first, and then choose a license to unlock all advanced monitoring features.
Step 2. Once getting a plan, you will be moved to My Products page to begin the setup process. For that, you need to tap on the Setup Guide button and then follow the onscreen instructions to complete the important configurations on the target device.

Step 3. After you complete the app installation as well as configuration successfully on the target device, make sure to verify the setup procedure. After that, you can navigate to your KidsGuard Pro dashboard where you can see all the activities of the target Android phone.
To see Snapchat messages, navigate to the "Social Apps" tab and then choose "Snapchat". Here, you'll see all of the Snapchat messages including unsaved and deleted.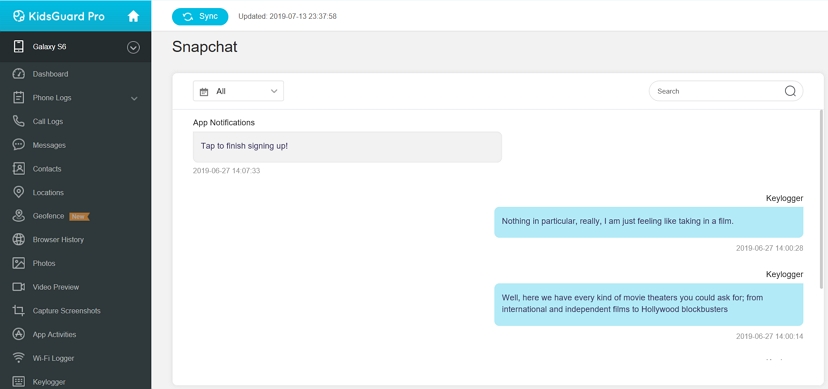 Advantages of KidsGuard Pro for Android
The key advantages of KidsGuard Pro for Android include:
Allows you to view deleted and unsaved Snapchat messages.

Avoids saving Snapchat messages manually and it just syncs conversation history onto the online dashboard.

Allows you to check someone's Snapchat conversation history with ease.

Updates monitored Snapchat messages in real-time.

Support monitoring other social media as well including WhatsApp, Facebook Messenger, Tinder, Instagram, Telegram, and much more.
It's worth mentioning here that many rely on KidsGuard Pro for Android when it comes to monitoring others' social activities. The tool has a free demo, so give it a try and know yourself.
Conclusion
That's it. This post concerning how to see Snapchat chat history has covered all you need to know. Seeing Snapchat messages is pretty easy if you have saved them.
With tools like KidsGuard Pro for Android, seeing unsaved, deleted or someone's Snapchat messages is not a trouble anymore. What's more, there are many scenarios when you find yourself in the need of monitoring someone's social activities. That's when you don't have to worry as KidsGuard Pro for Android is always here to help you.