Question:
How to record WhatsApp call secretly?
I want to know what my childs are talking about on their phones and to whom. As well as from whom they are getting endless calls.
People loves WhatsApp because of its free calling feature that lets you make a voice or video call to any of your contact in the address book for free. But one of the major problem people face in this feature is that it can't record WhatsApp calls by default in your phone.
Still wonder about the question "Can whatsapp call be recorded?" Of course Yes! To make sure that your child, lover or employee is not in contact with a predator, you can take the privilege of a powerful WhatsApp call recorder - KidsGuard for WhatsApp. It's a secure app that is easily used with a few clicks. What's more, the develop team behind the app has been featured by multiple media outlets around the world.

If you use KidsGuard for WhatsApp, you won't have to worry about being found out. As it is a small, hidden, and runs without using much phone's battery, making it a super stealthy monitoring solution.
Next we will show you the detailed steps of how to record both WhatsApp audio and video calls on Android phone. You will get a great help from this post.
Part 1. How to Record WhatsApp Calls Secretly on Android?
Being able to record WhatsApp calls on someone else's phone, you would need three things to get started with KidsGuard for WhatsApp app.
Get your hands in the target smartphone for once.

Get a license from KidsGuard for WhatsApp call recorder.

5 minutes of time to install the app.
Steps to Record WhatsApp Call Secretly
Step 1: Create an account and buy a license that suits your need. After that, you will be directed to the My Products page where you can check out a detailed setup guide and find the app download link.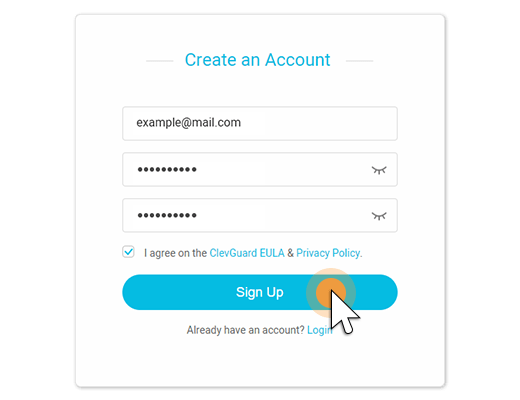 Step 2: You have to download and install the app on your target Android phone by visiting www.installapk.net, and grant permissions for it according to the on-screen prompts.

Step 3: After the installation, you can go back to KidsGuard WhatsApp official website and verify your setup. Then you will enter an online control panel where you can listen to and download the WhatsApp call recordings from your target Android smartphone.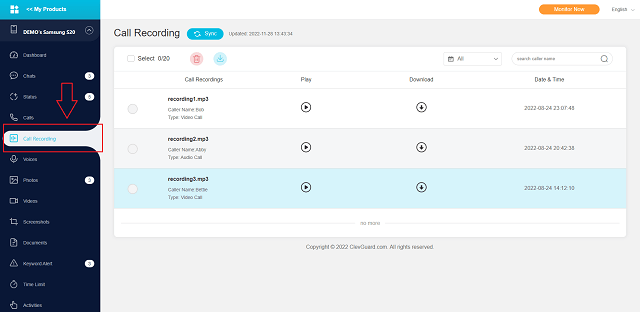 That's it! As soon as the target person makes a WhatsApp video/voice call on their smartphone, the app will start recording automatically and secretly.
We hope through this short text guide you can fully see how powerful KidsGuard WhatsApp is. But there is so much more than just capturing calls! Stay tuned for further features in the specialized WhatsApp monitoring solution.
Read all incoming, outgoing and deleted chat messages on the person's WhatsApp.

Keep disappearing WhatsApp messages as long as you can without read receipts.

Check every photos, videos and documents shared on WhatsApp.

View WhatsApp contact info including displaying pictures, names, and much more.

You are allowed to customize the data uploading setting and export everything you need.

It is available at a pocket-friendly price just as much as you do for a coffee.
If you are searching for how to record WhatsApp calls, I don't think you will find anything better than KidsGuard WhatsApp anywhere.
Part 2. What is WhatsApp Call Recording
Here are a few questions about recording WhatsApp calls. And they will help you to understand the app more, which will give you an insight into what your kids are doing on WhatsApp.
Q1. Can I record someone's WhatsApp calls while being truly hidden?
It works completely invisible in the background. The app icon will self-destruct from home screen and rename in settings. So it is impossible to detect.
Q2. Can I record a WhatsApp call on iPhone?
KidsGuard WhatsApp call recording feature is only available on target Android devices now.
Q3. Can I know more details about the call?
Definitely yes! With this app, you can know who your target is talking with, date and time, duration of the call, call type and so much more.
Q4. Can I record a video call? How to record WhatsApp call?
Yes, you can. KidsGuard for WhatsApp is capable of recording a WhatsApp video call with microphone, so you can listen to what they're chatting.
Q5. Can I hear the voices from two sides of a WhatsApp call?
This program takes advantage of the microphone to record WhatsApp voice/video calls, so you may not hear the voice of the receiver unless the loudspeaker is enabled.
Q6. Does it offer a free trial?
I'm afraid not. You can try KidsGuard for WhatsApp free demo to experience all the advanced features before purchase, which is exactly as the real app.
Q7. What can I do with KidsGuard for WhatsApp?
This app offers 20+ features in one package. Apart from call recordings, you can read WhatsApp chats, photos, videos, status, documents, and capture live screenshot, etc.
Part 3. Conclusion
With KidsGuard for WhatsApp call recorder, you'll find our solution on how to record WhatsApp calls secretly easy to implement. You can start reading someone's WhatsApp chats and a lot more in one package. Do not hesitate to run for it!