Question: What are the benefits of using family calendar and organizer Apps?
To attend a family gathering and perform all duties regarding your loved ones, a family calendar app or an organizer can ease your job.
On a hectic day, you might forget your wife's birthday or marriage anniversary, in a worse scenario, you might miss your kids' doctor appointments. That's where calendars and organizers come in handy.
There are different types of calendars, ranging from shared calendar apps, kids' sports calendars, paper calendars to be hung on the wall or fridge to be viewed daily.
These calendars help you organize your life and meet all commitments on time. In this blog post, we will give you an inside scoop about the best family calendar app.
8 best Calendar & Organizer Apps
After thorough research, we have compiled a list of the best calendars and organizers apps. Let's dive into details.
1. Cozi Family Organizer
Cozi family organizer is on top of our list because every family member can access it through the app. Another benefit of this app is that you can not only access this organizer from your mobile phone but other devices as well such as PC and laptop.
This family organizer allows you to make a grocery list, to-do lists, and menu plans, etc. The plus feature is that it offers printable calendars. Also, you can share your lists with other family members. Further, a reminder option for email and notes is also available.
Another amazing feature of this app is that it has skills integration with Alexa. You can add new products to your shopping lists by telling Alexa.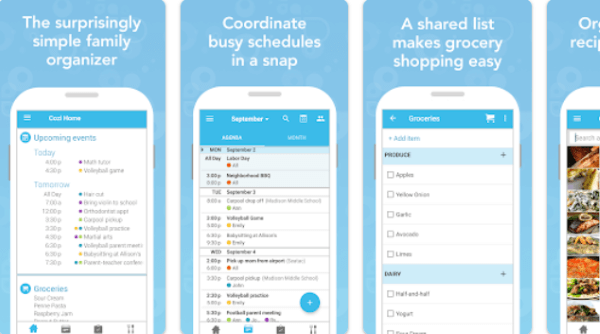 Pros:
Easily allow to make a to-do list and share with family members.
Sign in with other organizers and e-calendars.
Supports multiple calendars for all family members.
Can easily set up recurring events.
Color-coded calendar.
Free trial available.
Cons:
Printing options are limited.
Does not contain an in-app chat.
The free version contains ads.
2. Home Family organizer
This app provides a gamified approach to helping parents track their children's schoolwork. Parents can assign daily tasks, allocate points and provide encouragement as needed.
A good way to get your family members involved in helping around the house is to schedule and assign chores or tasks that need to be completed at specific points in time. Create a family goal-setting app and make sure everyone can see by using a calendar of all scheduled events for the whole month.
This will allow everybody in the household to know when tasks around the house should be done. Chores or tasks can then be assigned out based on skills such as being able to vacuum, wash dishes, etc.
The calendar allows for reminders so that family members can easily see what tasks they have been assigned so as not to forget what needs doing!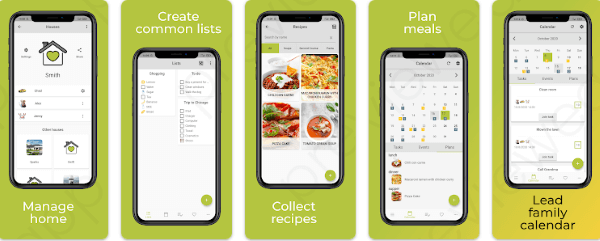 Pros:
It provides information for all family activities.
It manages family tasks, assignments.
Organize the day-to-day activities.
Track family members' task progress and send reminders.
It is free.
Email support is available.
Cons:
No live customer support.
3. Google family calendar
Your family group can be best expressed in a calendar. This family calendar is automatically generated, and all the members can view, edit, and contribute to it because of the availability of Google Calendar anywhere.
Birthdays and anniversaries are easily remembered, though you can use color-coding to help you identify each member of the family group.
When a member leaves the group, he or she no longer has access to the family calendar; moreover, if you remove the group all members will not be able to access calendars.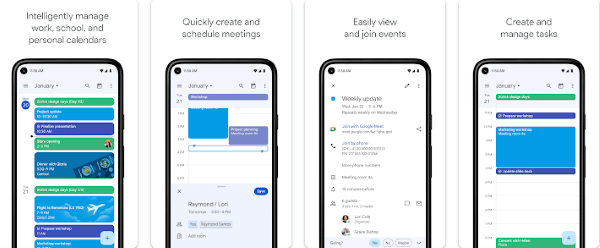 Pros:
You can add up to 5 family members.
It tracks all your family activities.
It allows color-coding to identify every member of the family group.
Related Read: Best 5 Internet Filter Apps: Website Blockers to Protect Your Family
4. FamCal
Can't stop checking your smartphone even when you're sitting down at the dinner table with family and friends? FamCal is another option worth trying out.
Do you count the number of times you've checked your phone within an hour to see if it's time for a break yet?
Well, there's no need to worry about that any longer. The app helps you manage everything from contacts and messaging to reminders, notes and planning as well as social media such as Pinterest, Facebook, and Twitter.
Even after taking a much-needed rest from your laptop or tablet, just reach for this small device in your pocket instead because it will remind you of upcoming deadlines whether they are important business meetings or school assignments.
Besides that, the colorful interface guarantees lots of fun too!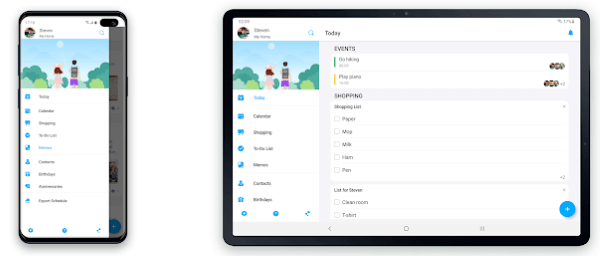 Pros:
Set widgets and change their style.
Allows you to exchange attachments, photos, and maps, etc.
Free trial.
It is synchronized with Google Calendar.
Cons:
Irritating pop-ups on the screen.
You can't change the assigned colors.
5: Flayk:
Flayk Family Organizer promises to make your hectic lifestyle a little bit easier by being an app that will give you a central area to keep track of everything your family needs.
With Flayk, you can be sure that you are getting the most personalized experience on the market while still being able to rely on the customer service and service guarantee provided to all users.
This app helps to better track your family's overall performance. It provides you with customizable features including your kids' progress in school and upcoming activities as well as reminders for taking care of other things like family business or one of your hobbies.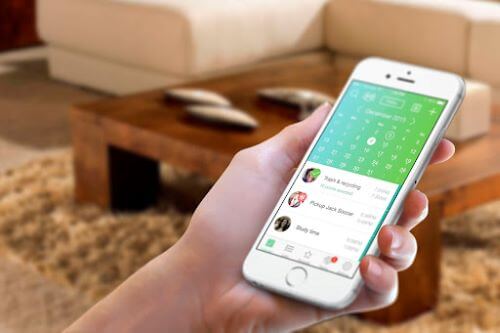 Pros:
Contain additional features for events organization for multiple families.
Offers a reward system tasks done by family members.
Recognizes the uniqueness and diversity of every family.
Contain a Collaborative to-do list.
6. Hub:
Hub is a great app for families, as it helps you keep track of what's going on in your household even if everyone isn't gathered at home. The homepage looks like a newsletter and lets the family know what each person has been up to recently.
Moreover, Hub can help you and other family members coordinate your schedule by reminding you all of any upcoming appointments, holidays, etc.
You can also use Hub to organize an event/gathering because it has tools to help remind each group member about their specific tasks via the shared shopping lists and to-do lists.
The app has a free version and the Hub Gold subscription option with more features like unlimited sharing, syncing with other calendars, recurring events, and tasks, etc.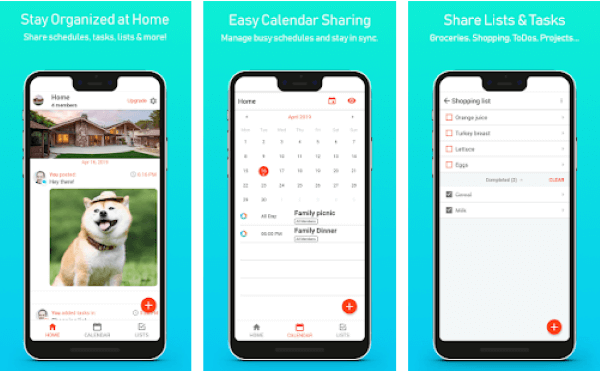 Pros:
Updates you on family events or appointments.
Manage your grocery shopping and household chores.
Allows you to share or post photos and text on the home screen.
Cons:
The free plan has limited features.
7. Family matters
Family matters is a full-featured family app. It has all the features you would need for organizing your family- shopping lists, to-do lists, real-time location sharing, family chats, and more.
To help share important dates with the rest of your family, you can add them straight to your calendar. This feature is a fun way to get everyone together so that you can make plans and bond over shared interests.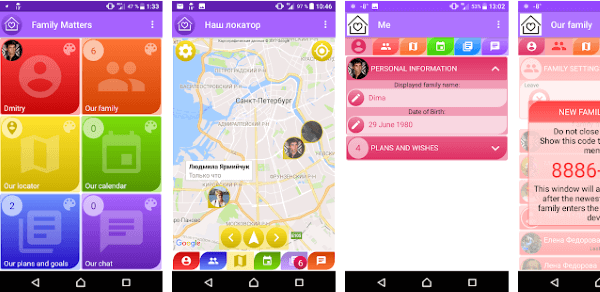 Pros:
The Personal wishes feature allows you to add your desires to the list.
Creates Shopping lists and to-do lists.
Allow real-time location sharing of family members.
Support family chats for close connection.
Cons:
The operative language is confusing for some users.
8. Family wall
Family Wall is a very popular app that allows families to stay in touch. It's great for letting the family know where you are, and it alerts the family when a child arrives or leaves a designated location.
With this app, parents can share photos and videos, schedule event reminders, send private messages to spouses, and communicate as a group or one-on-one with their children. Businesses need an efficient way to keep clients up to date about upcoming events so this could be an effective addition to your business' marketing strategy.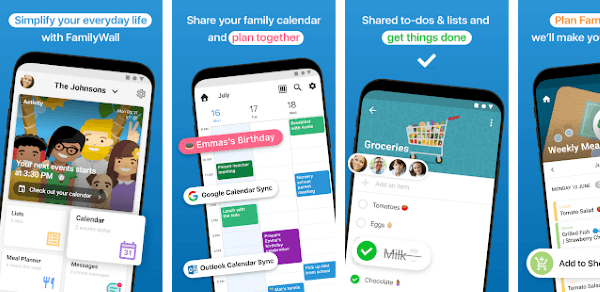 Pros:
It assures your privacy and security.
It is Ad-free.
Track real-time location and get safe zone alerts.
Cons:
Does not contain a task manager.
Bonus: KidsGuard Pro for Android Family Tracking App
A family tracking app will provide you with the peace of mind you need to protect your family and their well-being.
Families who use a loved one's location during an emergency can respond faster in case they are not at home or have lost their direction because this information allows them to track exactly where they are going.
KidsGuard Pro for Android is incredibly useful for many parents who want to keep track of their children 24/7. It allows you to do this with technologies like its built-in GPS locating features or Wi-Fi location tracking technology that lets you see your child's real-time whereabouts via its phone app.
You can set up a virtual boundary or 'fence' around an area, and the app will notify you when they either enter or exit those boundaries.
With the App and these features, you can locate and keep track of your kid with an alarm that alerts you once he goes past a pre-defined area.
Using Steps of KidsGuard Pro Family Tracking App
Step 1.
Click
Monitor Now
button below and skip to KidsGuard Pro's website to sign up an account. And then login to your account. Select a plan that fix your needs.
Step 2.
Go to
My Products
page, find the product you want to use and then click
Setup Guide
button,follow the instruction to download KidsGuard Pro for Android onto target phone. This step only needs to take 3-5 minutes.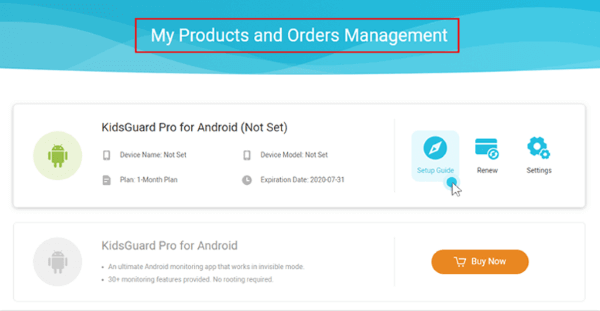 Step 3.
After setting, open the KidsGuard Pro dashboard, you can view target phone's activities here. Including real-time location,location history, social media apps activity,etc.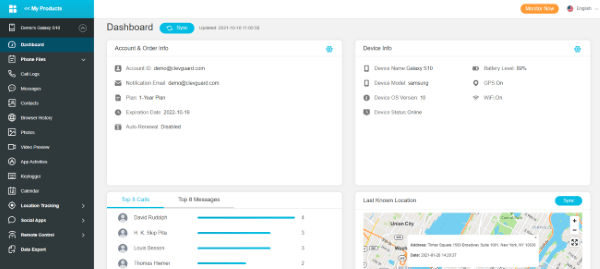 Conclusion
Family calendars and organizers keep your family organized and connected. If your family has a busy schedule and needs a calendar app to keep track of work events, tasks, gatherings, birthdays, and family vacations, the best family calendar can help in all these.
Use family and lifestyle organizer apps as well as carpooling apps for school kids to make sure you always know where your family is and what they are up to. By making good use of these types of apps, one can be reassured that he or she will never miss a special moment with the rest of his or her family.