Question: What is Online Tutoring Job?
Tutoring is one of the most popular career choices for teens. Tutoring jobs for teens is a great source to make money from the comfort of their homes. Tutoring around the world is a multi-billion dollar business.
The online tutoring industry is no different. People need help with math, English, and other subjects. Students help students learn. And you get paid for it. What could be better?
This blog focuses on the best five online tutoring jobs for teens.
Best 5 Online Tutoring Jobs for Teens
It's no secret that getting a job as a tutor is tough. However, there are a few online jobs that might be perfect for teens who want to teach online and just need a little bit of experience and knowledge.
1. Magic Ears
If you are Canadian or American, MagicEars is a good job for a beginner online tutor. You can earn between $20 and $26 per hour.
MagicEars is an online tutoring company that provides interactive lessons for children. They provide ESL classes, math tutoring, and other subjects such as science and history.
Though the classes are tailored for children, you do need to be at least 18 years old to apply for this job.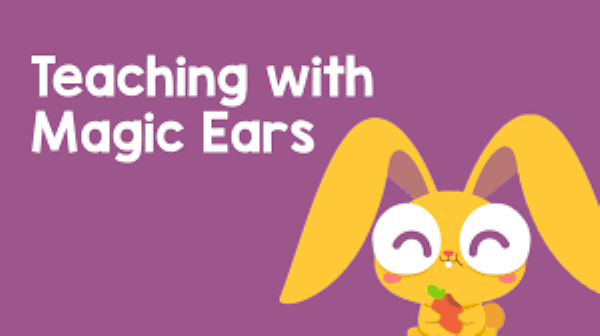 Advantages:
Signing up for this website is very easy.
Pay is high even for beginners.
Regulations and cancelation terms are not strict.
Easy to find a job.
Disadvantages:
There is a time zone issue, as it is designed for Chinese students.
Late response from the website due to heavy traffic on the website.
2. Chegg Tutors
Chegg Tutors provide services to various levels of students and are an excellent choice for online tutors. They offer a wide variety of topics, available in every subject from middle school through college and even into professional career options.
If you're currently attending a university as a teacher's assistant or somewhere else YOU CAN succeed in their learning process.
If you have the experience, you can apply online as a tutor, if you're studying at an accredited institution that supports and doesn't frown upon independent study and freelance work by students then you can receive credit for your work with Chegg Tutors and gain some useful skills and experience in the process.
You'll typically be paid $20 per hour (paid weekly via PayPal).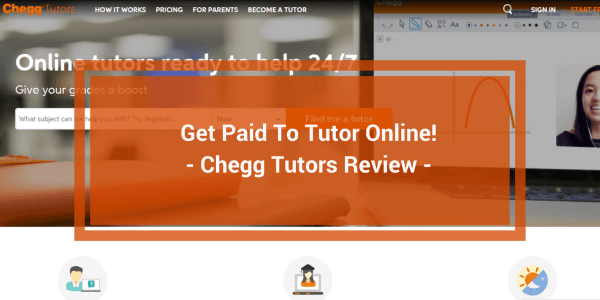 Advantages:
Tutoring of all levels is offered by Chegg Tutors. This online tutoring platform caters to a wide variety of students, including middle school, high school, college, and professional ones.
Students who are looking for homework help in any of these areas can connect to them via Skype video options while they share the computer screen with their tutor to answer any questions they may have.
Disadvantages:
This website pays less as compared to others.
3. VIPKid
VIPKid was created to provide Chinese students with the opportunity to learn things like math and science from expert American teachers.
With VIPKID, you can make some extra cash by teaching English as long as you're an eligible United States or Canadian citizen.
You should have at least one year of teaching experience to impress VIPKID team members during the interview process - which does require an application and a video demo if you're not referred by someone who already works for the company.
VIPKid is a leading American education brand that provides students in China with the opportunity to study English.
Grades range from 4 through 12 and the platform offers teachers of all experience levels opportunities to work part-time in their chosen fields.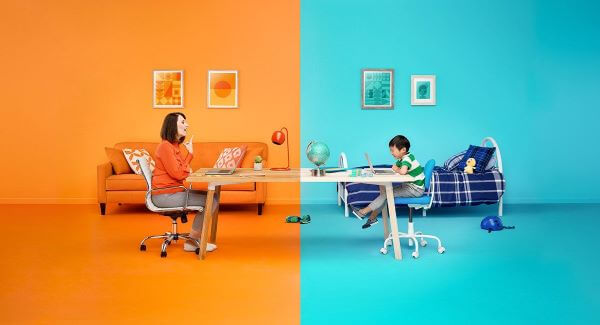 Advantages:
Pay is very good as compared to other websites.
Lots of jobs opportunities are available.
Bonuses are available for more work.
Disadvantages:
The signup and interview process are tough.
4. Brainfuse
Brainfuse has a long record of being able to provide the best tutoring for teens over the internet. Their system was designed to be used in places where the Internet connection isn't the best - such as areas where school children can benefit from support even when they have no access to libraries.
The Brainfuse system is built to adapt so that it doesn't need strong connections or interruptions, but instead, it can be used while you're on a computer or tablet with issues connecting.
Brainfuse offers both scheduled and on-demand services at competitive prices, meaning there are people available to help without a long waiting period.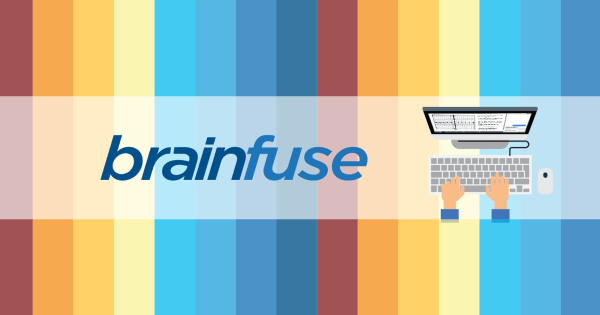 Advantages:
Not only do they help students in K-12 but they also assist higher education students as well as people who are seeking career advice such as writing resumes and feeling prepared for an interview.
Offer both scheduled and on-demand services.
Can work with a weak internet connection.
Disadvantages:
They hire only experienced people.
Hiring is based on a resume instead of an interview.
5. Geekly Hub
The simple premise here is that you'll be matched with a tutor based on your area of study and then you will know for sure the tutor's background will be relevant to the completion of your homework.
What we like about GeeklyHub is that it does employ those who are qualified and knowledgeable.
For example, if you need help with a math problem, they will have someone on hand who knows math. If you have an essay to write, they're going to match you with a native English speaker who is experienced in essay writing as well.
Students love this service because they get responsible, knowledgeable tutors.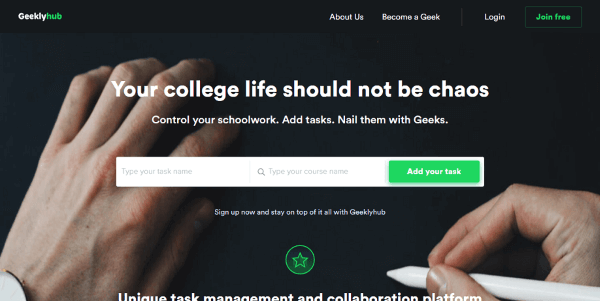 Advantages:
This on-demand tutoring app connects students and tutors through an intuitive matching system that instantly connects them with relevant requests.
Payment is good, the average tutor earns more than $20 an hour.
Disadvantages:
Might be difficult to earn if your subject is not in demand.
Why Do You Need To Get An Online Tutoring Job?
The online tutoring market is growing. This is a new phenomenon in the education sector, and many are hesitant to get involved in it.
Let us explore the reasons why you need to get an online tutoring job.
Spread knowledge and gain knowledge
Every good student should have the ability to teach what they have learned in class.
If you teach others what you have learned your knowledge will increase and it will remain in your memory for the long term. Besides spreading knowledge you can learn from others.
Gain real-life experience
Another reason to do online tutoring is to gain real-life experience.
By sitting at home and doing nothing you can't get the confidence to face real-life worse scenarios. It will polish your leadership skills and communication skills.
Earn money and be independent
Being dependent on your parent is the hardest thing. If it is difficult for your parents to pay for your studies and other basic facilities, online tutoring will rescue you.
You will not only release your parents' burden but also can provide them as well by teaching online. It will give a sense of pride and confidence.
Also, you can some extra money to pursue higher studies.
Related Read: The 5 Best Online Parenting Classes
What Equipment Do I Need for Online Tutoring?
Online tutoring is becoming increasingly popular as more and more people recognize its benefits. While online tutoring is convenient and cost-effective, it does depend on having the right equipment to run it effectively.
Internet connection and PC
For online tutoring, two main pieces of equipment are required for every tutor that is a stable internet connection and a laptop or PC.
If you have these basic facilities at home, then you can be a tutor. However, some extra equipment will help ease your journey of online teaching.
A couple of extra pieces of equipment would include things like:
A light ring:
Your face will be visible to your students if you have a light ring that sheds enough light besides having your camera turned on. Your students will be satisfied with your bright presence.
Microphones:
Microphones are not mandatory however if you use them you will be better understand what your students are enquiring about. Also, you will be audible to your students, which ultimately will enhance your teaching effectiveness.
Screen recording software:
Screen recording software will assess you to record your online lectures in case some students need them later. It will be a bonus for your student who missed your lectures in case of internet or gadget problems.
How to Become a Qualified Online Tutor?
Online tutoring jobs are becoming very popular among university students, professionals, and even stay-at-home parents looking for additional income.
If you are looking for a part-time job and can dedicate about four to five hours a week, an online tutoring job might be a good option for you.
Captivate your students' attention:
Individuals, as well as organizations, have been using online tutors to aid their academic progress.
Even though you are hired to teach basic concepts, you need to ensure that you can captivate your student's attention and make them work hard to get what they want.
Passion for teaching:
To do online tutoring you need to have a passion for teaching. If you love teaching others it will be easier for you to become a good teacher.
Good communication skills:
Secondly, good communication skill is important for teaching. To teach others and convey your thoughts effectively effective communication skills are mandatory.
Your academic qualification:
Your CGPA should be around 3 or above. Strong math skills and comprehension ability can make you a successful tutor.
Flexible working hours:
Your flexible working hours can bring more students to your profile. If you are available for 3 or more consecutive hours, more students will join you and it ultimately leads to your success.
5 Tips to Keep Your Teens Safe When They are looking for Online Tutoring Jobs
Tutoring jobs for teens are an excellent source of an extra penny for college students. Because it allows them to work from the comfort of home and save money and time from a commute.
However, most of the students fall prey to fraud because of a lack of experience and knowledge.
Keep an eye on their online activities
To keep your kids safe from any kind of online fraud in name of online tutoring, you should keep an eye on your kids' social media use.

By keeping alert-full you can save your teen from bullying or being exploited by predators.

Keep them safe with KidsGuard Pro for Android

To keep an eye on their social media activities you will need a handy application that does the job wonderfully. For that reason, you can install KidsGuard Pro for Android which will track all social media apps on your kids' phones.

How to Use KidsGuard Pro for Android to monitor your child?

Step 1.

Click Monitor Now button below and skip to KidsGuard Pro's webiste, use a valid email address to sign up an account.

Step 2.

After registration, log into your account and go to My Products page, tap on Setup Guide button, follow the instruction to download KidsGuard Pro for Android onto target phone. This step only needs to take 3-5 minutes. Further more, the icon of this app will disappear from home screen of target phone when setting is finish.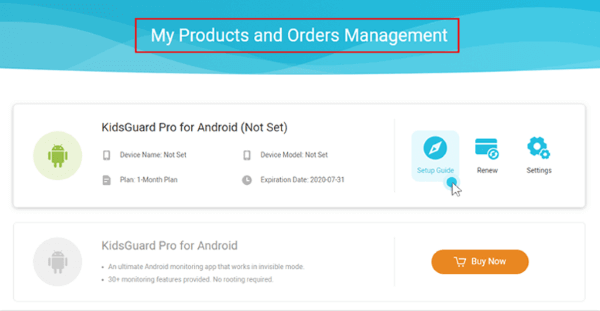 Step 3.

After installation, you can view target phone's activities from dashboard easily. Such as calls, text messages,social media apps,etc. You will get access to all social media applications of your kid, access their files, read their conversation and images. Thus, KidsGuard Pro can make you alert before any danger comes towards your kids' way.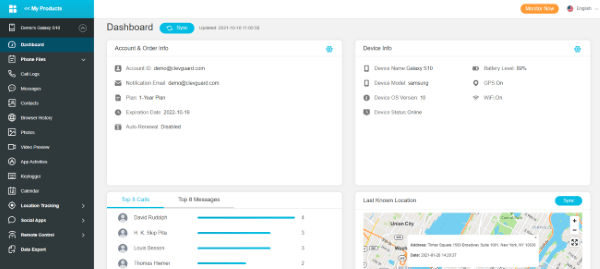 Be Active on Social Media
To protect your kids from online dangers, parents need to know what types of the harm their kids may face.
And for that parent need to be active on social media so that they become aware of social media harms. Only that way they can properly guide and protect their teens.
Effective communication with kids
After knowing the flaws of the online world, parents need to communicate with their kids.
Parents should be able to better explain the risks and dangers that students can face while being online. Effective communication can save your kids.
Keep devices in the Open
To keep an eye on your kids' social media involvement, it is suggested that to keep their computers, laptop, or mobile phone in an open area so that it is easy for them to have a glance at their activities.
Conclusion
Online tutoring is a growing industry, with a variety of options available. Technology is rapidly changing, allowing for more and more collaboration between students and tutors to take place.
This makes online tutoring a great resource for students though there are risks involved. I hope in the above article you got detailed information in order to save your kids from any kind of exploitation.