Question: Why Kidslox Parental Control App Benefits?
Nowadays, the big problem for parents is that their kids are spending most of their time on mobile phones and parents are helpless in this.
So, to overcome this issue with technology an app has been developed by which you can manage the screen time for kids plus restrict the device not to show the websites you want your child to show.
This Kidslox review will let know more about it.
Part 1. Kidslox Advanced Features
Content Blocking
By using this app, parents can block and filter the device to show results according to the details set. This will let your child not able to see the websites you have blocked and can safe your child from bad things.
Child Mode
Child mode and the lockdown will let you able to control the device and set up the boundaries for your kid's usage.
Screen Time
This application allows you to set the daily screen time for your child to watch the screen for that limited time.
Schedule
You can select the time and make a proper schedule when your child will be able to use the applications. This will let your child only using the device for the time you want him to.
Location
By using this Kidslox, parents anywhere and anytime can watch their children's location as they are busy in their daily routine and can't spend the whole day with children so they can get relax by watching their location all the time that where are and where they should be.
Childproofing
The most important thing is that this application will not work if deleted from kid's phone. So, to overcome this issue parents are given the facility to lock it and set a password on it so that kids can't delete it.
Part 2. Pros and Cons of Kidslox
As we have already discussed in detail its features, all of these are the benefits and as compared to other applications this application is missing some important features that a parental control app must have.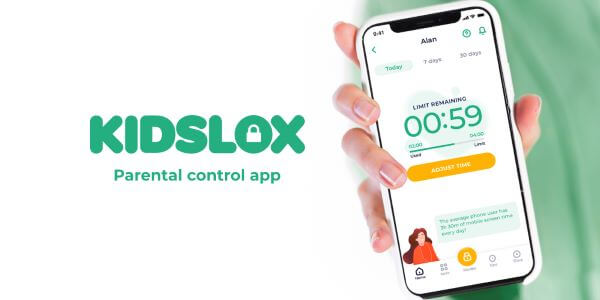 Pros
When screen time limit exceeds, parents get a notification on their phone so that they may as their child to stop using it anymore.
This app has proved itself perfect in the way that with screen time parents can set time limit for addictive apps and games. Not only the applications but this feature is helpful in controlling the time limit for device also.
Filtering content feature helps you to safe your child watching inappropriate and adult content like pornography, alcoholism, violence etc. This can safe their childhood from destroying.
By using this app, parents can watch the current location and the history of places they have visited. This makes parents to be aware of their kids' activities that where they are going and at what time.
Using Kidslox, parents can block the adult gaming and other games that involve online chatting to safe their kids from cyber threat and scams.
Cons
Kidslox does not provide the search history of kids for parents to monitor.
It does not allow the parents to check the call and messages of their kid's phone and even no previous call record is able to be watched. Using this app, parents can also not watch the pictures and videos being downloaded in kid's phone.
Part 3. Kidslox Pricing
As far as the pricing is concerned, Kidslox provides very affordable pricing and for an ease of its users, different payment plans have been provided depending upon the time period.
The cost of one month package is $7.99. To enjoy its features for 6 months the price is $39.99. It costs $59.99 for annual package and the last one for lifetime package is costs the total of $99.99.
Part 4. How to Install and Set up Kidslox?
If you want to download the app, you can get the link from the official website of kidslox, otherwise you can also manually search on the Google Store or the App store and you can easily get it over there.
Download the application from the relevant store you want.
It is a very user friendly app. Installing steps are very easy and simple. To start three days trial version, you need to select the option for 3 days trial.
Then provide your user name and confirm the password.
Sign up with your Gmail or any other I.D.
Then set up a code to prevent your child access it.
After providing all these details, you will get a notification that you have been successfully registered and then you will be able to enjoy its 3 days trial version with its limited features.
Now, if you want to use its paid version, obviously it provides a number of features for a time being you have selected and paid for.
NOTE:
For paid version, you will have to select the payment method and after payment clearance you will be able to enjoy its features.
Part 5. How to Remove Kidslox?
It is very important for you to cancel the subscription otherwise you will be automatically charged for the next month.
For Android:
To cancel the subscription on Android phone, you need to first open Google play store and click on the menu and select the "subscription" tab.
Then choose the Parental Control App – Kidslox and cancel the subscription by pressing "Cancel Subscription" button.
For iPhone:
You need to go to settings app and click on "Subscription" tab if available otherwise open Apple Id and look out for "Subscription" tab there.
Then select the Parental Control App you want to cancel and after selecting it, just cancel the subscription.
Part 6. KidsGuard Pro for Android Vs. Kidslox
If we compare these two parental control apps, we will realize that the features provided by the Kidslox are very less as compared to the KidsGuard Pro. It provides a number features to its users. Some of the comparison are done below for better understanding.
Monitor Social Media Apps
Kidslox does not provides facility to parents to watch their kid's activities on social media.
As compared to this KidsGuard provides the parents a dashboard where they can get the details of social media apps installed in kids' device.
And also, parents can watch what they are sharing and receiving on their accounts like pictures, videos and chatting even also.
Both the applications provide the facility to check the current location to parents of their children but as compared to the Kidslox, this facility is more accurate and precise by the KidsGuard Pro for Android.
Real-time location tracking facility by the KidsGuard Pro is provided while Kidslox can only share the current location and the history.
Tracking Income & Outcome Calls
Kidslox app has a disadvantage that it does not track the messages and calls of the children for their parents while KidsGuard Pro is the best choice for this as it provides all the possible facilities like incoming and outgoing call record.
Not only the call record but also the voice talk is also being recorded by the KidsGuard Pro so that parents must know what their children are talking about and with whom.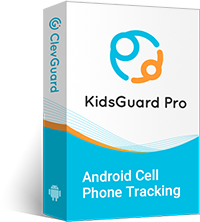 KidsGuard Pro for Android Features
Track cell phone location in real time and view location history
Check all incoming and outgoing calls & SMS
Spy on social media apps like WhatsApp, Instagram, Snapchat, Facebook, Viber, WeChat and more
Remotely access the files on the target phone, like contacts, photos, call logs, etc.
Part 7. Final Verdict
From all above discussion, we have discussed all the advanced features of parental control app Kidslox, so there are a lot of essential elements and features that are missing and should must be the part of it.
Although it is a good app for parental control but as compared to other applications this application must add on more features for parents to keep an eye on their children's activities from different factors like their social media activities, chatting and call records.
The basic purpose of parents to use such applications is safe their children from each and every side parents can through these latest technologies.