People want to spy on someone for different reasons. For example, a boss wants to monitor employees' activities and their competitor's activities to make sure no one will harm their business.
Moreover, most couples intend to monitor their partner's activities; parents remain worried for their kid's safety because this new environment is not safe for all.
So, these spy watches are the best options. The specialty of these spy watches are hidden cameras because they can record videos and take pictures to know all about their daily activity.
In this article, we presented the best 5 spy watches with hidden cameras that can help you to spy on anyone.
Table of Contents
Best 5 Spy Watches with Hidden Camera
1. The BINRRIO surveillance watch
The BINRRIO surveillance watch is a fantastic spy watch to keep on your wrist. It gives a video record at 1080p HD quality along with a good and clear recorded Audio.
BINRRIO surveillance watch has a long-lasting battery life which can last for up to 5 hours.
Additionally, it takes a while to be ultimately charged, but its usage time is all worth it. You can insert a memory card with 32 GB capacity.
This is the maximum storage capacity of the watch. Up to 10 hours of videos can be saved on the card.
Furthermore, the watch also has a very modern look. It has a digital watch dial with a dark-colored design.
Surrounding the watch face are the functioning buttons of the watch. This camera watch has a simple side button that can turn on the sound and start recording as well.
Its USB port allows you to dock the spy watch camera and withdraw any video that it may have taken.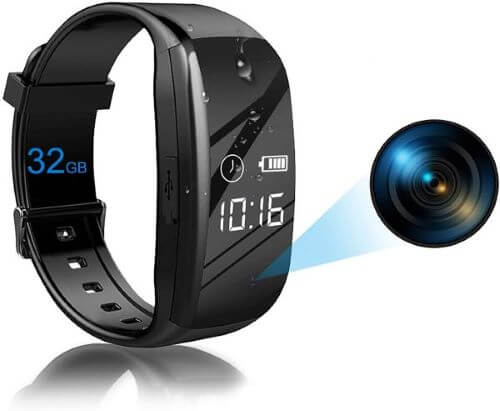 Pros
Great battery timing.
Stylish design.
Enough storage spaces.
Great battery timing.
Cons
Does include advanced spying feature.
2. The Keqi smart Watch Camera
The Keqi smart Watch Camera is the best hidden camera watch on the market. Its Full 1080P HD video recording provides clear videos and images.
It also supports memory cards with storage of almost 32 GB. This watch also features a motion detection system which proves very beneficial in some instances where you will be moving around, and the camera will start recording your own movements.
This feature can be turned on and off according to your own will.
In addition, The Keqi smart Watch Camera has a very sleek design. Its look definitely makes it stand out. The camera lens is also incorporated into the design of the watch.
Its functioning is also very easy, with just three buttons placed along the edges of the watch. They provide these basic functions such as the Time button, reset button, Functioning button.
Moreover, this fantastic video camera watch also has a USB port which is present between the function button and the reset button on the right side of the watch.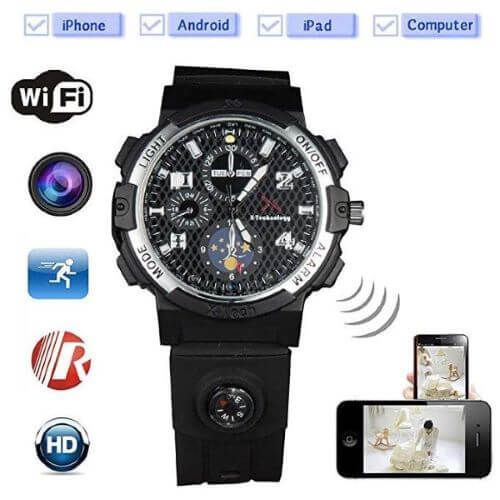 Pros
Easy to use.
Supports 32 GB card.
Records high resolution videos.
Cons
Battery timing is not good.
Related Read: Sprint's Kids Watch - Parents Check Children Activities Remotely
3. The LTmade a hidden watch camera
The LT-made hidden wrist watch camera is another unique and famous watch that you must try. It offers the best video and audio quality.
Audio recordings are very clear and distinct. The watch doesn't contain any built-in storage, and it can support TF cards with up to 32GB memory capacity. Older videos are automatically deleted when it runs out of space.
Besides, This smart watch has many advanced features, and the user can easily take advantage. The watch has a video mode, photo mode, IR mode, and record mode.
Switching between the modes may feel different since you need to press down on the A and C keys and rely on LED indicator lights. But once you get complete command over its features, then you are good to go.
The watch consists of a simple black digital face. The camera and indicator lights are present at the watch face.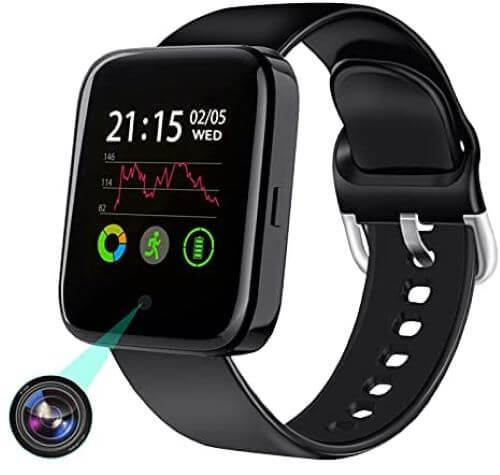 Pros
Contains LED light indicator.
Provides high quality videos.
Records clear voice.
Cons
Does not include connectivity features.
4. Letown spy camera watch
This one is the best spy camera watch. It comes in the top list because of its high-end features and whooping memory space.
Letdown spy camera watch has HD video recording capability with its 1080P camera. It contains 5 layers of lens and has a wide aperture to protect the camera from any kind of damage.
In addition, it also consists of a noise reduction chip to ensure high-quality videos. The camera is well hidden in the watch and hints at a red heart on starting the video.
The red heart looks really impressive and just like a fancy decoration, and it alerts you once the recording begins.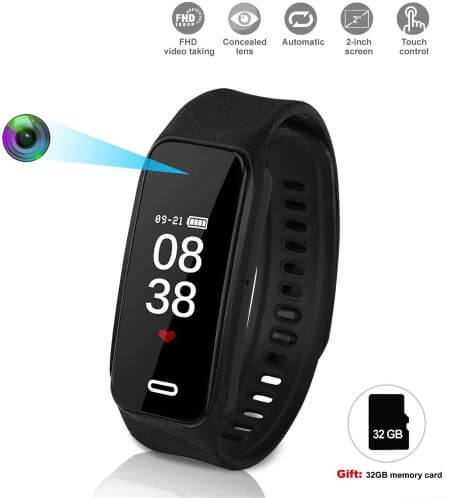 Pros
Mini size, lightweight watch.
128 GB expandable memory.
Great battery timing.
High quality video and audio.
Cons
Not sturdy.
Memory card not included in product.
5. LFHMLF Spy Security Camera Loop Video Recorder
LFHMLF Spy Security Camera Loop Video Recorder is a stylish and smart spying watch.
This metallic wrist watch camera has unbeatable spying features such as a digital screen, various dials, a high-quality camera lens at the bottom of the screen, etc.
This high-quality lens camera provides up to 1080p video. Additionally, it takes pictures of the surroundings with 2 megapixels.
This spying watch supports an 8GB card for storing videos. This spying watch includes different buttons to perform different functions like taking a photo, recording video, setting time, etc.
This is the best watch and is highly recommended for spying on someone.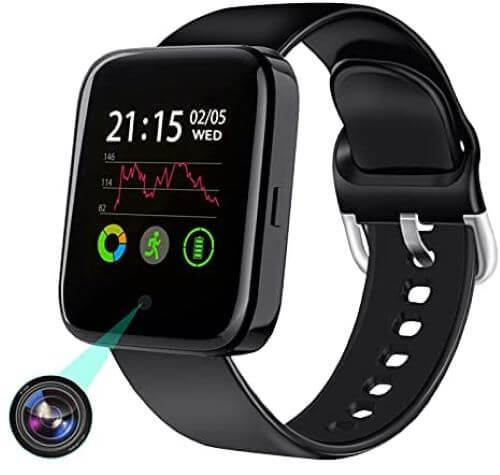 Pros
Easy to carry.
Budget friendly.
Provides high-quality HD video.
Smart and elegant design.
Camera is undetectable.
Cons
Battery timing is too short.
Low storage space.
What Factors Do I Need to Consider When Buying a Spy Watch?
As you know, multiple brands have introduced their intelligent spy camera watches. That's why people get confused while choosing the best spy camera watches.
You have to consider various things before purchasing a spy watch for yourself. A spy watch should be light in the white, non-noticeable camera, HD video recording, larger space, memory to safe video.
Additionally, spy smartwatches should be easy to use. According to experts, the watch should include a remote-control camera. So before purchasing, make sure your spy watches have all these features.
Bonus: How to Spy on Someone through Their Phone Camera?
There are different spying tools or gadgets available in the market. Still, one is a more reliable tool that monitors the activities of the target person perfectly.
Spying on Someone with KidsGuard Pro for Android
KidsGuard Pro is an advanced app that is compatible with Android 2.1 and above. It enables you to spy on anyone in silent mode.
People love KidsGuard Pro because it is an undetectable app that works smoothly and provides you with a comprehensive daily activity report.
KidsGuard has the best features like screen capturing or screen recording, which records the targeted person's real-time screen and all kinds of activities.
Additionally, you can remotely control the rear camera of the targeted phone. Turning the camera on helps you take pictures of the surroundings of the target phone, which allows you to know about someone's company and location.
Other features of KidsGuard Pro for Android
KidsGuard Pro has more advanced features for tracking like Geo-fencing, GPS, location history. Additionally, by using these features, you can track the real-time location of the targeted person.
It would help you to reach a spot to catch the person red-handed. KidsGuard Pro provides you access to the personal inbox of the targeted person.
You can also see call logs, media files, social media accounts, browser activities, apps, visited sites, and many more things.
Using steps of KidsGuard Pro for Android
KidsGuard pro is an intuitive app. Just spend 5 minutes and get your monitoring app. Here are steps to use KidsGuard Pro.
Step 1.
Click
Monitor Now
button below and go to KidsGuard Pro's website. Then click on Sign up button and create your account. Choose a plan of your choice.
Step 2.
Next, go to the
Order Management
page and see the
Setup guide
, tap on it and follow instructions to download the app.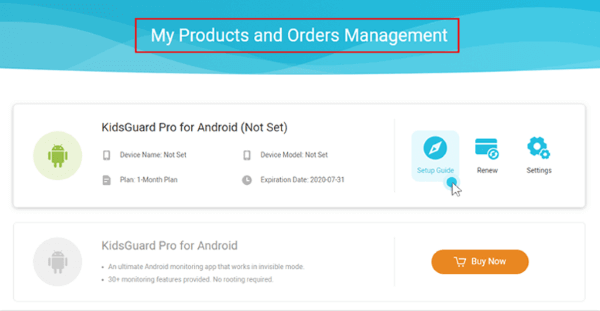 Step 3.
Install the app and do proper setting of account. Now you can monitor targeted phone activity on your online KidsGuard Pro dashboard.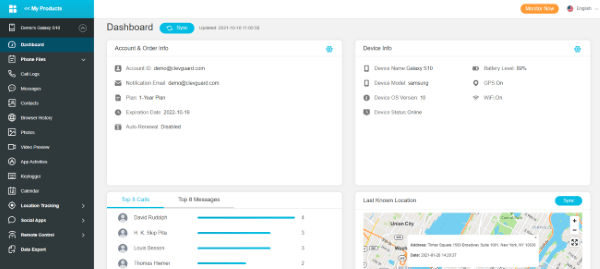 Conclusion
Smart spying camera watches are available worldwide, but these watches have a few drawbacks, and many of them don't work properly because their battery timing is not good.
Additionally, these apps just take video, pictures, and a few shows real-time location. But they don't have other important features like monitoring calls ، SMS, web history, apps control, etc.
People should use the KidsGuard Pro because it includes all features, like social app monitoring, SMS and call history, web history, real-time location, etc.