Q: Why You Need Email Monitoring?
Email monitoring is necessary to safeguard your business from any adverse events that may arise as a result of harmful behavior on the part of your employees or external assaults such as phishing and spam.
Employees' emails sent or received using company-provided email accounts are often not considered private. Employers have the legal right to monitor these emails in the company's best interests.
We go through email monitoring in-depth in this piece, including its legality and considerations to bear in mind while drafting an email monitoring policy.
Part 1. Importance of Email Monitoring
Email monitoring provides several advantages for your data security strategy, as well as productivity, compliance, and legal concerns. Today, we'll look at the security advantages of email monitoring. Here are some important aspects of company email monitoring.
Keep track of professional Emails
You may guarantee that an employee is effectively spending business time by keeping track of their professional emails. Checking internal email communication among your employees will also help you gain insight into general workplace conditions. This may aid in the proper evaluation of corporate policy.
Saves for external dangers
Spam/malicious sender emails may include dangers such as phishing assaults, malware infection, social engineering schemes, and more. Suspicious communications may be thoroughly examined by monitoring incoming emails, allowing a possible danger to be controlled in time.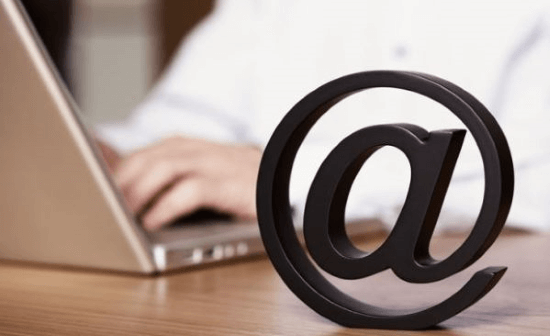 Save company's private credentials
Employees are often entrusted with sensitive company information, such as trade secrets, financial information, and so on. You can discover a possible attack early and avert harm if workplace emails are routinely monitored.
Related Read: Check Out 7 Best Email Monitoring Software of 2022 Here!
Part 2. Effective Way to Monitor Someone's Emails - MoniVisor for Wins
There are much software available in the market that is meant for email monitoring but all these do not function as they are committed or they are so complicated to use that a non-professional person can never use it.
Other than that their cost is too high that no one wants to pay such a massive amount for this task. Now we will let you know about a very reasonable software that will solve all your issues with very little cost.
MoniVisor for Windows is the best solution for email monitoring. Now let's have a look at what MoniVisor is and how it helps monitor emails.
About Monivisor
It is an email monitoring software used on Windows and is considered the first choice for employees' email monitoring. It supports more than 20 features. It is invisible on the target computer and the targeted person will never realize that someone is monitoring his emails.
Using MoniVisor, the user can easily monitor all the relevant data from an online Dashboard at any time. It also facilitates screen capturing which helps us as a clue. MoniVisor supports the main browsers that include Chrome, Opera, Internet Explorer, Firefox, and Microsoft Edge.
Internet and download history
It can keep a record of all the internet surfing history you've generated.
Using MoniVisor, you can examine the visited page on your computer.
You can get the exact visiting time.
Using MoniVisor, you can check out the whole download history that has been made, as well as the file storage location.
You can easily open the visited page without having access to the target computer.
Keystrokes
Everything entered on the keyboard of the target computer is visible.
Even deleted keystrokes and those entered in incognito browsing mode are also visible.
Check the timestamps for all key-logging activities.
Printer Files
Another interesting feature of MoniVisor is that it also provides the data of printed documents.
Without any hassle, you may see the name of the printed document, the page number, and even the file location.
Know whether or if your employee printed any private documents.
If necessary, check the precise printing date and time to assist you in discovering the truth.
How to Set up MoniVisor for Windows?
Step 1.
Firstly, you need to sign up an account, Click
Monitor Now
button below and skip to KidsGuard Pro's website, use a valid email address for registration.
Step 2.
After registration, log into your account and pick a plan which suitable for your needs. Go to
My Products
page, tap on
Setup Guide
button in the product's page and follow the instruction to download Monivisor onto target device, this step only needs to take 5 minutes. After downloading, this app will be hidden.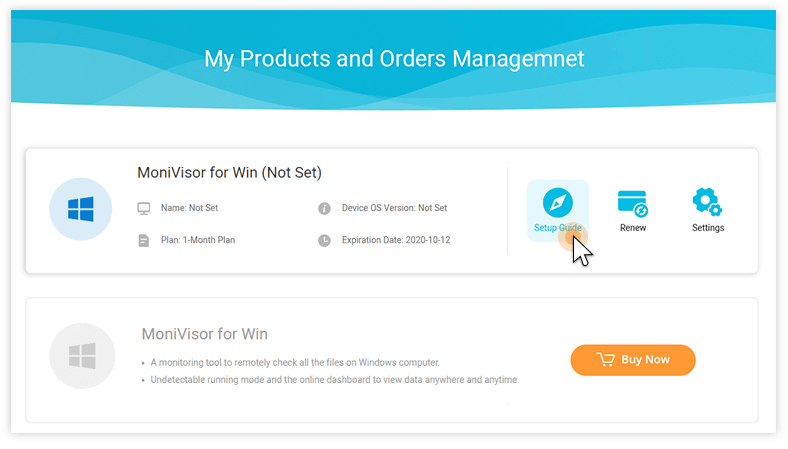 Step 3.
After setting, you can start monitor target device's activities easily from dashbaord.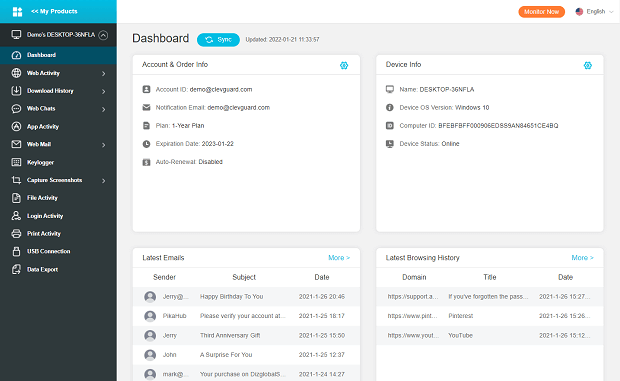 Part 3. Other Ways to Monitor Emails
There are many other ways than the MoniVisor for monitoring workplace emails. Here few are described:
Yesware
Yesware may easily be classified as a "sales" tool, particularly because it touts itself as "Email for Salespeople," yet it could be useful to more than just salespeople.
It allows you to examine the volume, open rates, reply rates, click-through rates (CTRs), and pageviews of your sent emails. It also has several useful tools to help with the sales process, such as email automation and SalesForce connection.
Mailstrom
Mailstrom exists to assist workers to find out what their inbox looks like right now—and then clear it up—while tools like EmailAnalytics are focused on big-picture data. After connecting with your email account, Mailstrom will analyze your inbox and suggest emails to discard those it believes aren't useful.
You may then filter messages based on topic, sender, time, and size to eliminate emails that are only inconvenient and bring no actual value to your work. Here's how to restore lost emails in Gmail if you mistakenly erased one.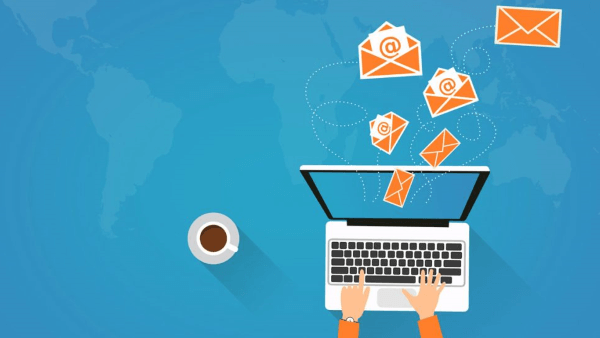 EmailAnalytics
EmailAnalytics, our product, is one of the most complete on this list. EmailAnalytics interacts with Gmail and G Suite to enable you to monitor all of your workers' (as well as your own) email accounts, as well as give dynamic data graphics and frequent reports so you can delve into the metrics and identify where the issues are.
You'll be able to see how many emails your workers send and receive, who their top senders and receivers are, what their busiest days of the week and times of day are, and how long their email threads are on average. Your communication snafus and productivity issues will stand out like sore fingers with it.
Mimecast Secure Email Gateway
All incoming emails are scanned for malicious URLs, infected attachments, and other malware penetration strategies via the Mimecast Secure Email Gateway.
It's also capable of detecting spam, phishing schemes, and imposters. Mimecast has a live threat intelligence database based on records of prior assaults encountered by all of its clients, which the gateway consults as it analyses each incoming email.
Part 4. Why You Should Choose MoniVisor for Wins?
There are many reasons to choose MiniVisor for monitoring emails. Here are a few described:
You may use MoniVisor to automatically snap screenshots of the target computer screen to see whether your workers are working or talking with pals.
MoniVisor enables you to track down untrustworthy workers who sent business material to private emails for personal benefit using this software.
You can monitor your employee's social media chats to find if any employee is harassing any junior employee.
It enables to view the time-wasting and inappropriate activities being done on the computer during office hours.
Part 5. Final Words
In this article, we have discussed why we need to monitor the emails of our employees in the office and the importance of email in the workplace. It keeps you safe from big troubles and scams that can be implemented under your negligence if you do not properly monitor the emails of employees.
Then we discussed its importance and some tools and software that help monitor emails. From the above discussion, we have concluded that MoniVisor is the best tool that can be used for this purpose. Its above-mentioned features have proved it to be the best choice.