Question: Can I open an email account for my child?
The world has been facing a pandemic for the last two years and this pandemic has turned most of the business and education online. This thing has made parents curious about their kid's daily learning and activities.
Email for kids has become a necessary element for their online learning and activities. Google allows kids above 13 to have their accounts by attaching the parent's account with them so that parents are free from the security concerns and can check their kid's account properly.
Parents can open a kid's email account for their security purpose and learning also, so let's have a view on some aspects related to kids' email accounts.
Part 1. What is the Appropriate Age for a Child to Have an Email Account?
A standard age requirement for email is said to be 13 or above but it may vary differently depending upon the country's policy. Kids are innocent so they must have to be made secure from the sharks online looking for their prey and an email account is a personal credential.
So it needs not be shared with anyone. Email is used as a personal identity online so if someone uses your account can harm anyone with your name. Similarly, there are many other incidents held around us that keep us conscious to check for the right age our kids should have an email account with high supervision.
Part 2. Top 3 Great Email Providers for Kids
1. ZillaMail
ZillaMail is an email service provider that is famous and more recommended for kids' email accounts due to its unique security features that parents can use to keep their kids safe while having an email account for their routine use.
Using this email provider parents can watch all the activities kids do using their email addresses. ZillaMail is developed keeping in mind the rules of the Child Online Privacy Act. Parents can set filters for the contacts to be added and they complete grip on their kids email accounts.
ZillaMail also enables kids to read mail loudly as many people are not able to read the mail due to certain reasons.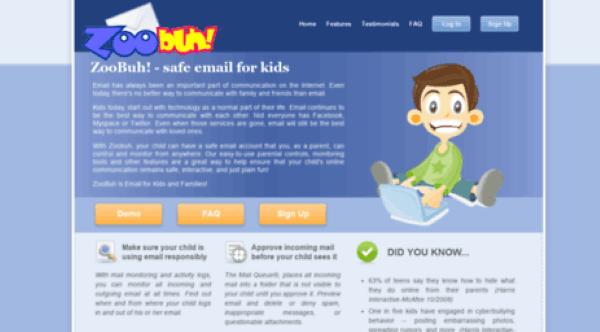 2. KidsEmail
KidsEmail is also one of the best email service providers with its main focus on kids' email accounts with their maximum security. Time limitations, parent blind carbon copies, and the option to block out photos and certain sorts of files are among the advanced filters and parental controls available on the site.
Another great feature is the ability to separate between adolescent and child accounts, which allows parents to give their children greater independence as they become older. You'll be able to see who is trying to contact your youngster this way. You also have the option of allowing people that deserve approval through or continuing to prohibit them.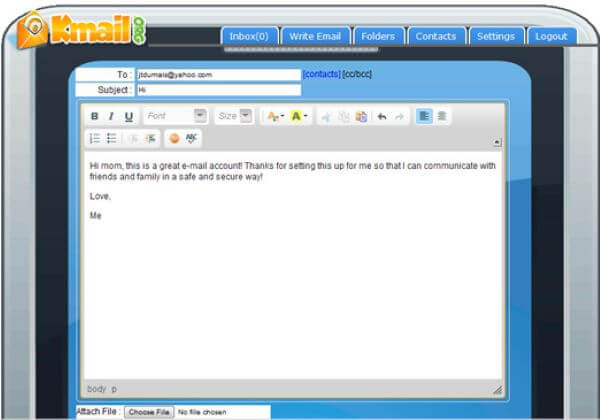 3. ZooBuh
ZooBuh is a web-based email service for parents searching for an alternative to Gmail for their children. ZooBuh's website is bright and inviting to children. It's simple email software. This makes it ideal for children who can type but are still learning the fundamentals of internet communication.
For youngsters to send and receive an email, parents may create a list of allowed contacts. Specific senders may be blocked using this tool. Limit the days and hours when your youngster may check their email. Editing the profanity filter enables you to add more unwanted words.
Parents may choose to ban all attachments or certain attachment types. I understand that many of you are seeking for non-Google email choices for your children. ZooBuh is another worth noting because of its parental restrictions and kid-friendly UI.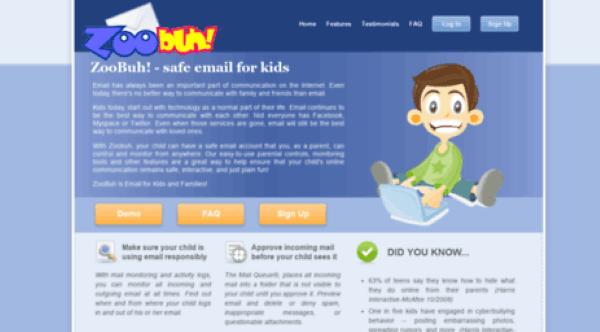 Related Read: Check Out 7 Best Email Monitoring Software of 2022 Here!
Part 3. What Should Parents Remember When Setting Up an E-mail Account for Child?
There are many things to be kept in mind while setting up an email account for your child.
Age
Age is considered the most essential element to be kept in mind while creating an email or your child. Kids of different ages have different features of email usage. So, it is important to know how old do you need to have an email?
Security
Make sure your child's password has a combination of capital letters, digits, and unusual characters. Turn on two-factor authentication for even more security. This may aid in preventing hackers from gaining access to their accounts.
Privacy
Make sure your youngster doesn't include any potentially identifiable information while helping them establish their username.
This may contain information such as their school mascot, birth year, or full name. Keeping your child's user name generic will assist outsiders to acquire important information about them.
Friendly terms with Strangers
Families are most concerned about this since a Gmail account enables children to email, chat, and video chat with others. This is particularly true for children who play online games and may interact with other children.
They may wish to shift the topic to a different platform. Make a rule that says "no email or chat communications with individuals you don't know in real life."
Scammers
Although Gmail does a decent job at screening out phishing emails, some may still get through. Discuss how these sorts of emails are intended to fool individuals into disclosing personal information such as social security numbers, birthdates, and credit card numbers with your children.
If possible, show them an example from your account. Then explain that businesses strive to entice customers by offering freebies. When you click through, these emails often include viruses and other harmful software that may harm your computer.
Part 4. How Can Parents Monitor an Email Account?
When we talk about monitoring an email account, it would be inappropriate to ignore the MoniVisor for Windows. Free safe email accounts for a child can be operated using this software.
About MoniVisor for Windows
MoniVisor supports over 20 functionalities, including reading WhatsApp messages, intercepting Gmail, and screen recording, among others.
On the target machine, the operating mode is completely undetectable.
Checking monitored data via the internet dashboard at any time and from anywhere.
Supported are real-time data synchronization and a fantastic data exporting function.
MoniVisor enables parents to monitor all emails sent or received using a web-based email platform. It can monitor the contents without having the target's account info. It can remotely check the data synced in real-time.
MoniVisor enables parents to watch all the emails so that they can get complete knowledge that what is going on. Similarly, companies can use it to check if their employees are loyal or not.
Sometimes they leak out the confidential documents of the company so you can monitor them easily using MoniVisor. On MoniVisor, parents can set intervals after which screenshots can be automatically taken off the target screen.
How to set up MoniVisor?
Step 1.
Click
Monitor Now
button below and skip to ClevGuard's website. Use a valid email address to sign up an account.
Step 2.
Log in to your account and choose a suitbale plan which fits your needs. And then go to
My Products
page,click
Setup Guide
button in the product box and follow the
instruction
to download MoniVisor onto target computer.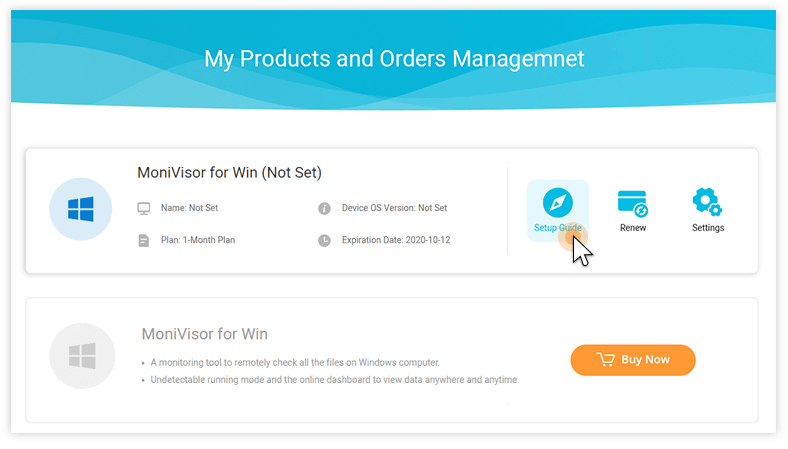 Step 3.
After setting, you can start to monitor target computer without his/her knowing on dashboard.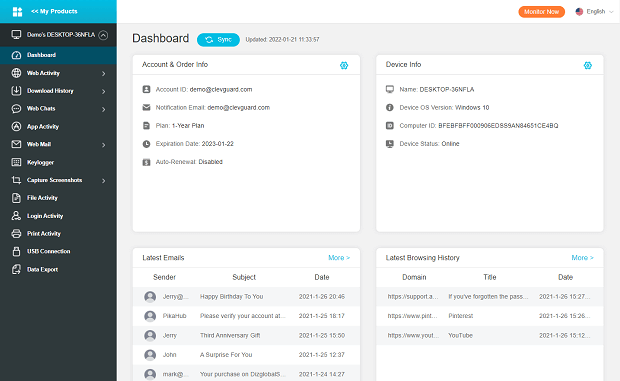 Part 5. Conclusion
In this article, we have discussed the age factor of kids that is suitable for them to have an email account, and then we discussed the second option that includes the precautionary measures that if in any case, we have to create the account, then what things should be kept in mind while creating the email address for kids.
Many dangers are around our kids when they are using email accounts which may include their privacy and many other factors. We also discussed the MoniVisor that is used to monitor the email of kids to keep an eye on their activities.