2021 was a challenging year to live. The fundamental way of living has changed so drastically. We are also adopting new cultures and new values to lead our lives. Remote working is the new norm in the world affected by the pandemic. The management and the workforce had a tough time adjusting to work-from-home routines and productivity. A common and most pressing question in the corporate world is how to know if remote employees are working?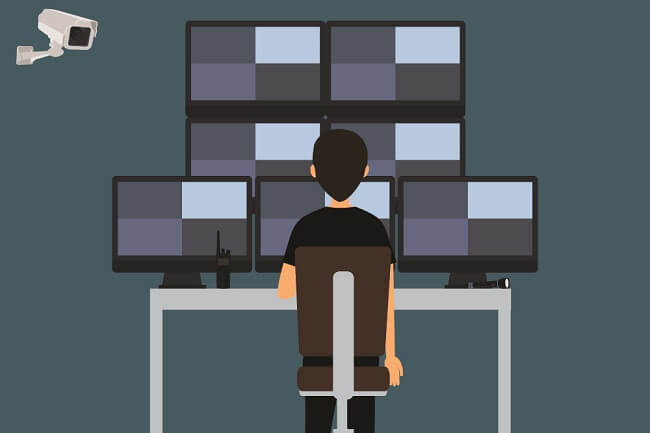 It is rather difficult for companies to measure their employees' productivity and guarantee that they are using working hours efficiently and effectively. But as they say, necessity is the mother of invention; new technological advances and research have produced new solutions to cope with this issue. New tools and software are available in the market to answer how to manage a remote employee.
Table of Contents
1. Pros and Cons of Employee Monitoring
Trusting employees is essential for keeping the company environment and work culture positive. However, monitoring the productivity and efficiency of workers is equally crucial. Therefore, it is necessary that the monitoring of performance is carried out without invading the workers' privacy.
Now, let us discuss the pros and cons of employee monitoring.
Pros of employee monitoring are:
Increases safety of employees and resources.

Better time management and utilization.

Ensures that rules are followed properly.

Customer relationship and treatment improves tremendously because employees are aware of monitoring.
On the other side, the cons of the employee monitoring are:
Employees may feel their privacy is invaded.

Data security is a concern as the extra may lend in wrong hands.

Recording is not time intensive but the actually tracking and scrutiny takes time and money.

Employees may feel employers do not trust them thus, the engagement with company suffers.
2. The Best Tool to Help You to Monitor Your Remote Employees
If you wonder how to know if remote employees are working, then MoniVisor - Employee monitoring tool is your best bet. It is comprehensive, feature-packed, and cost-efficient software. MoniVisor helps monitor the performance and time management of remote employees, but it also helps the employees keep focused on their work.

ClevGuard MoniVisor
The Ultimate Employee Monitoring Tool for You.
Sign Up Free
With MoniVisor, employers can:
1. Emails Monitoring
Personal email communication can affect an employee's productivity and company profitability. It can cause wasted time and focus issues as well. Apart from this, companies may want to monitor emails to check on if there is confidential files leaking in the workplace. MoniVisor allows you to monitor email exchanges through web-based email programs like Gmail, Outlook, Yahoo, etc.

2. Instant Web Messages Tracking
People use instant messengers more than email for non-official communication. MoniVisor can monitor all web-based instant messages. This includes tracking all the message contents, send and receive timestamps, and also all the shared media files like images and videos. The platform can be WhatsApp, Facebook, Twitter and Skype.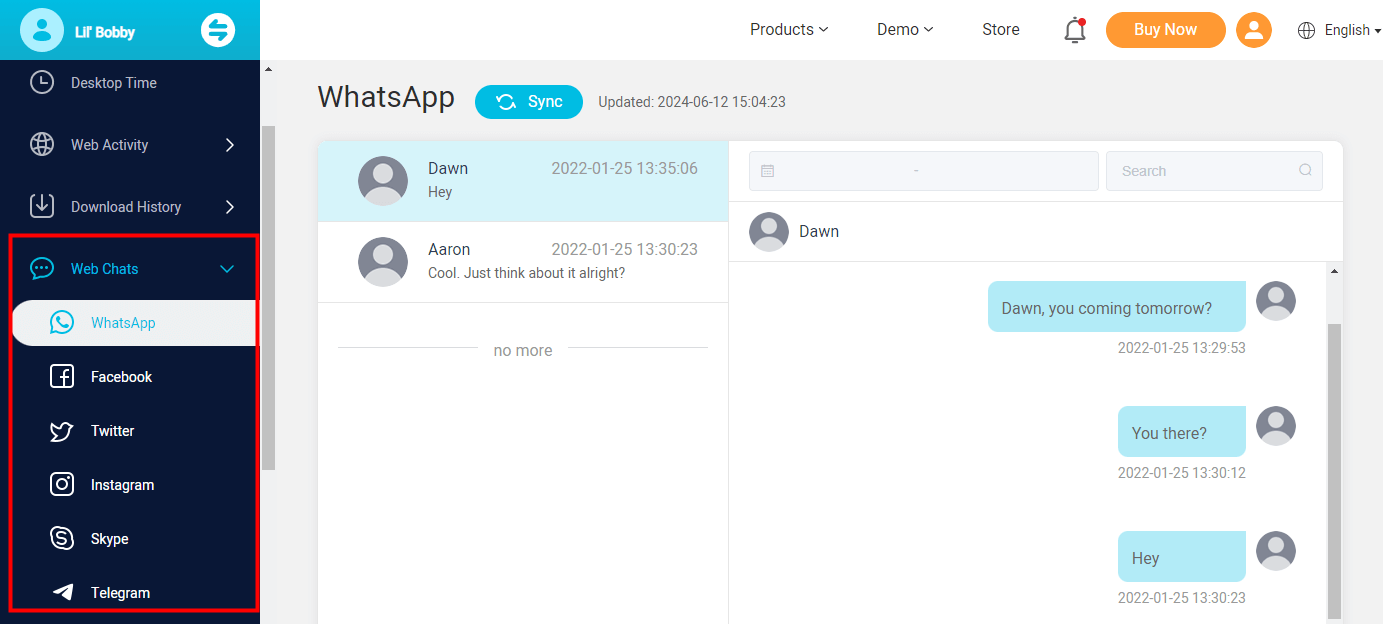 3. Web Search History & Download History Tracking
You would not appreciate it if your employees are using their work hours to watch YouTube videos or playing games. MoniVisor helps you to keep a check on your employee's internet activity along with periodic screenshots to give you a complete picture.
All the browser search history can be recorded and you can even open the pages in your own computer. Amazing! It support the browsers like Chrome, Opera, Microsoft Edge and Firefox.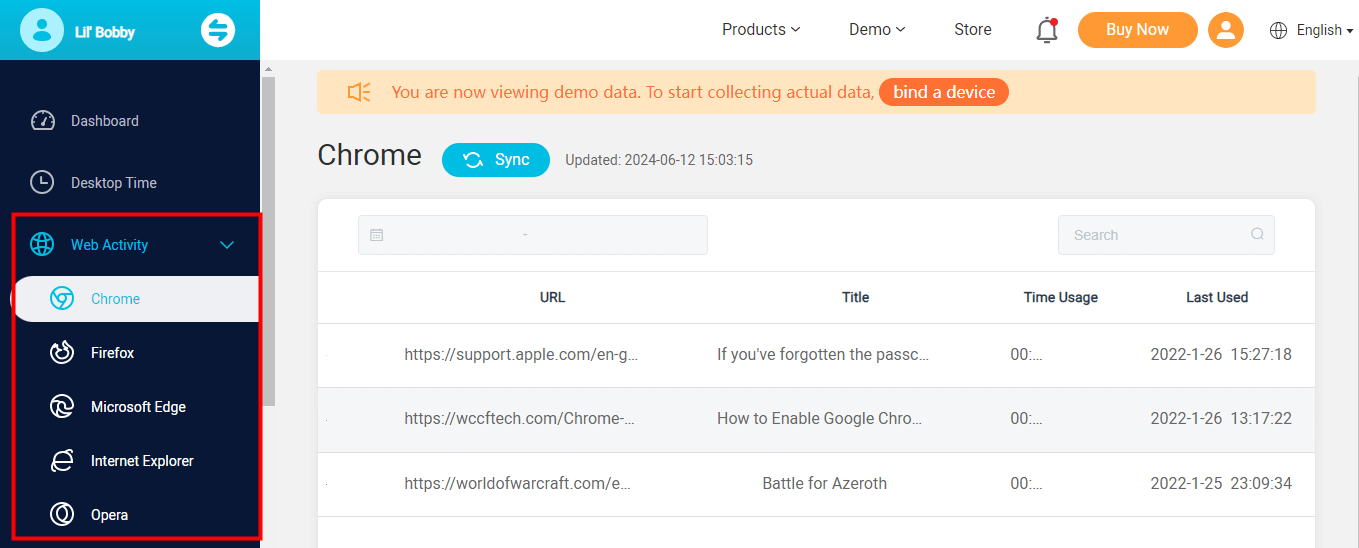 4. Keyboard Recording
MoniVisor windows keystroke logger is a software-based solution to capture every key pressed on your employee's computer. This feature solves your problem of "how do I make sure my employees work at home" and assists you in protecting your confidential corporate data. You can collect evidence of data theft or breach of a legal contract using this feature.

5. All App Activity Tracking
MoniVisor?is a comprehensive employee monitoring software and the perfect solution to the question. You can monitor the usage of all applications and activity through this feature-packed software. This record precisely informs you about your employees' activities and how much time they spend on which apps. This can be regard as the perfect solution for you to know if employees are working or not.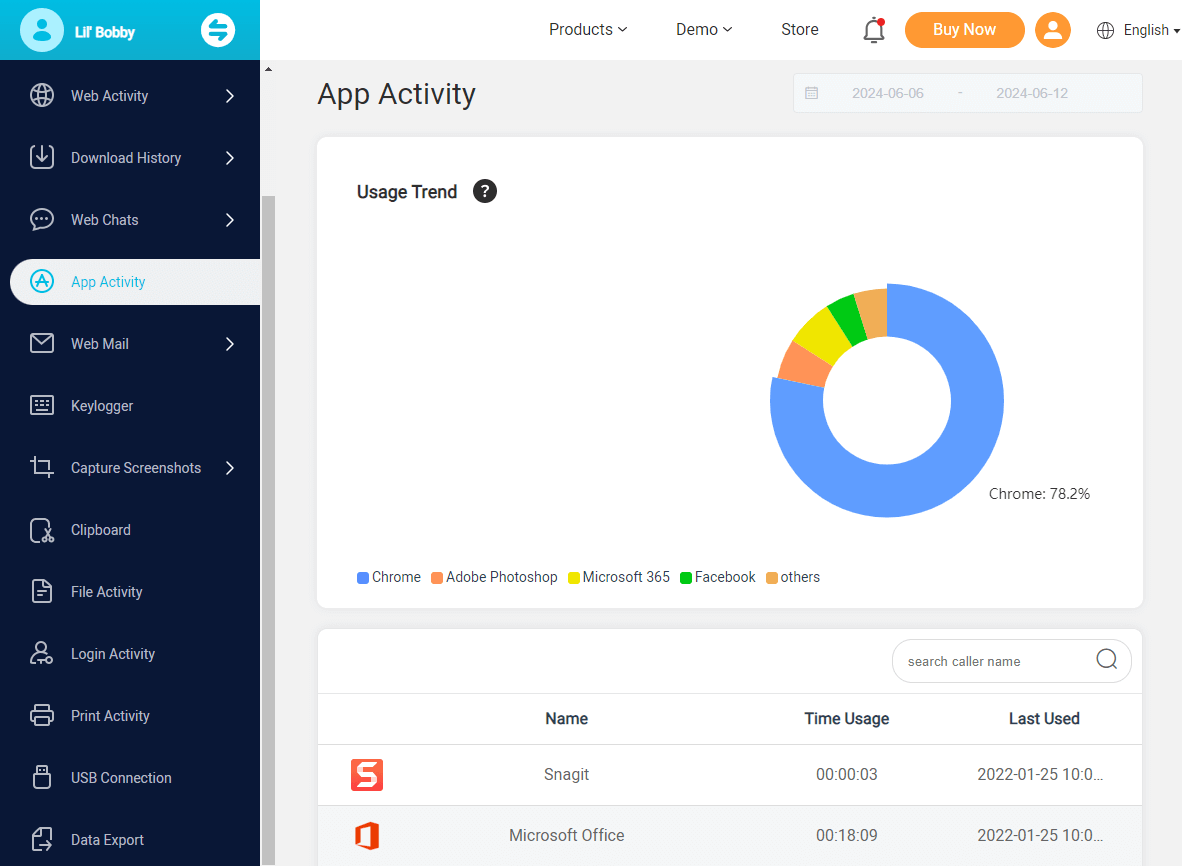 6. Login Activity Tracking
MoniVisor is a comprehensive remote employee monitoring tool. Thus it provides much more than the general features about how to manage a remote employee. MoniVisor's login activity tracking helps you to know the login on and login off time of your remote employees. This can be a good reference for you to know the remote employee's attendance.
And also ensure secure logins to critical resources of your company. These resources may include critical servers, workstations, and network devices.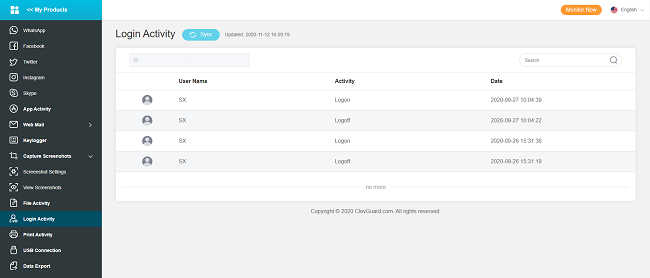 7. Computer Print Activity Tracking
Computer print activity tracking helps you monitor, audit, and control the use and efficiency of printer usage in your organization. You can easily monitor the paper usage and the documents printed on each printer. It not only includes the resources you want to secure but also the confidential documentation of your organization. Computer print activity tracking allows you to see which employee is printing what documents.
8. Real-time Screen Monitoring
Real-time screen monitoring gives you a record of screenshots of the target computer. This feature captures the screenshots of the target computer after a specified interval. Once you have the history of screenshots, you can precisely find out what activity is going on.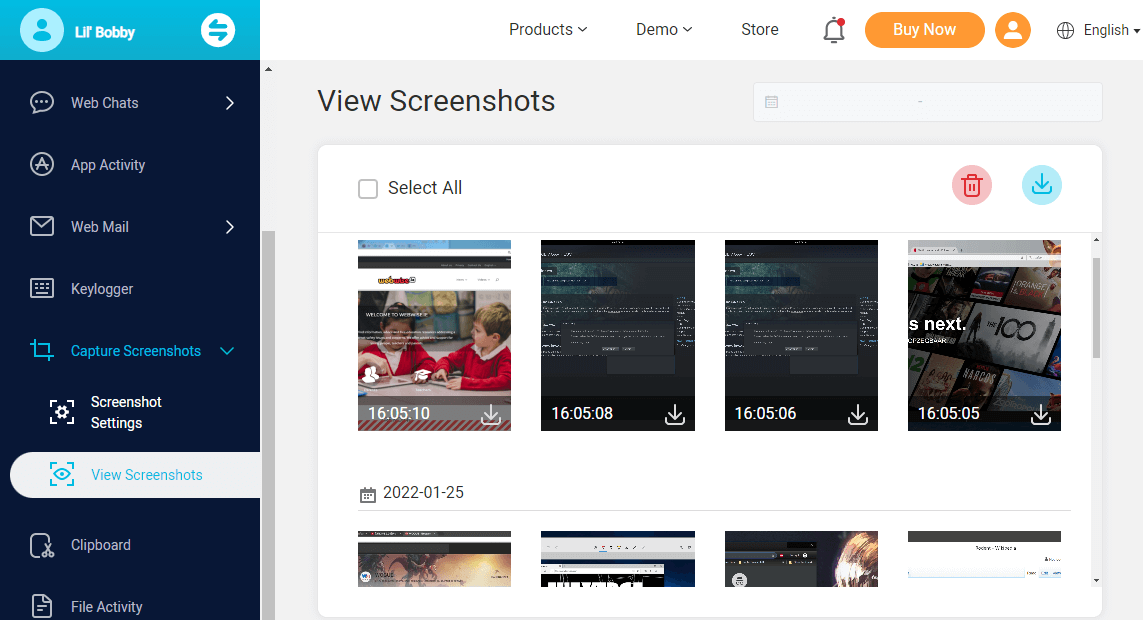 3. How to Use MoniVisor for Employee Monitoring
After the detailed introduction of its wonderful employee monitoring features, you may wondering if its complicated to use this software or not. I should tell you, its super easy and it will spend about 5 minutes from you to install and configure this tool on your employee's computer.
Now, let's check it!
Step 1. Sign up for a valid account
Sign up for an active account on MoniVisor website or just click the Monitor Now button below. Review the available plans and purchase one according to your requirements.
Step 2. Installation?and configuration
MoniVisor website has a page "My Product and Orders Management" where you will find a detailed guide to install and configure your software after the successful purchase.

Step 3. Install Chrome Extension?on target computer
Chrome extension allows monitoring employees' social media chats and emails. So we strongly recommend you to install the extension for more monitoring features.
Step 4. Start Monitoring on your own computer
When all setup on target's computer, you should go back to your own computer for remote monitoring. Your dashboard contains all the details and settings to monitor your employees. You can see the tabs at the left hand side panel.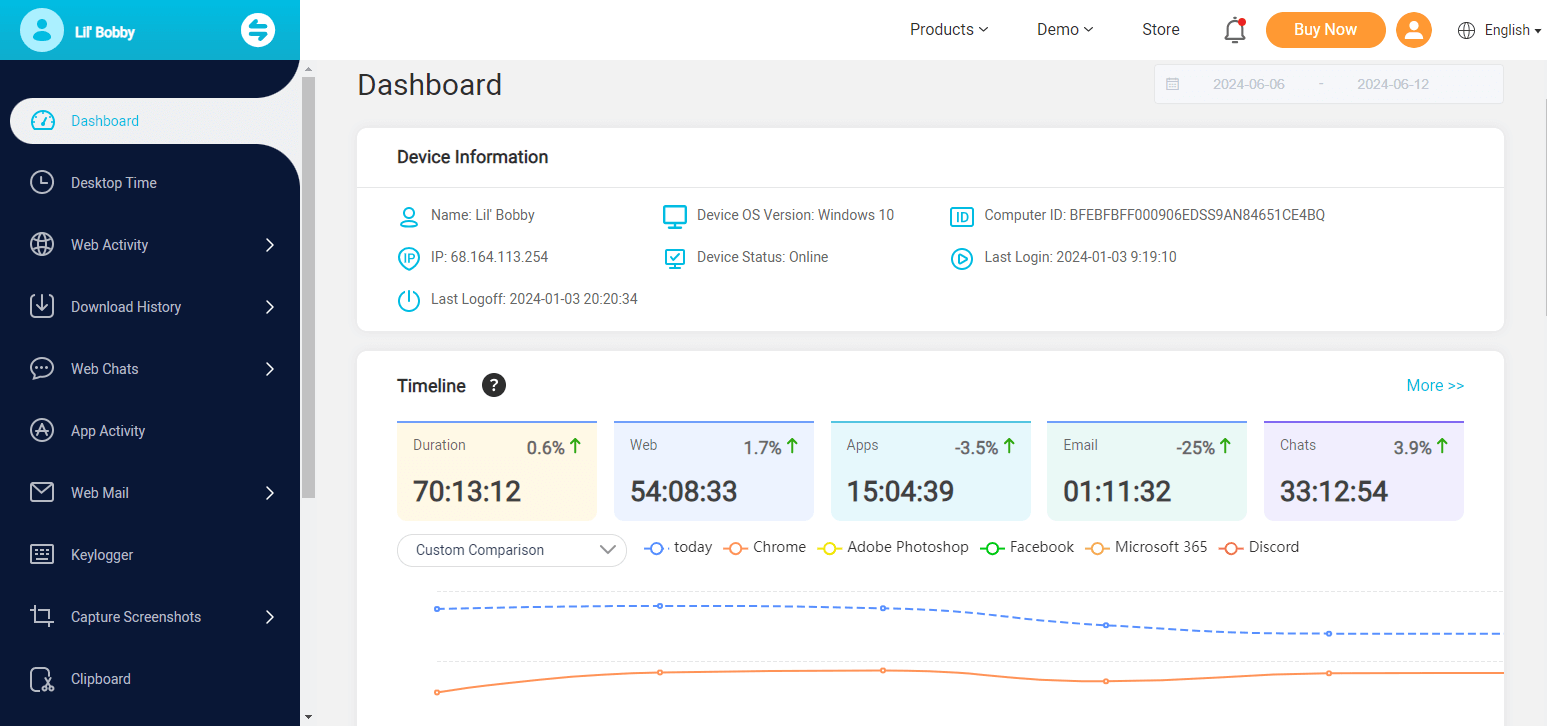 4. How to Manage A Remote Employee - 6 Tips
The corporate management is gradually outlining their framework to transition to a more structured remote working culture successfully. Following these guidelines immensely help you figure out "how to know if remote employees are working"?
Set the expectations early. Nothing is more devastating for the performance of any employee than vague or late expectations. It is like leaving them in a no-man land without a map. It is essential to state and convey the expected outcomes and the deadlines clearly while starting the task.

Involve the team in the complete process. If you ask me one tip on how to manage a remote employee?successfully, I would say, involve your workforce in the whole process from conception to design to implementation. This ensures they own the work and get involved with full enthusiasm. Also, they are fully aware of the deliverables and timelines that provide a firm foundation for implementation. It communicates trust and value to people.

Communicate. Communication is not a one-sided affair. Be open to communicating your expectations and needs. Be receptive to the feedback from your workforce. It is pivotal to know their concerns and opinions to get them engaged with the company.

Have shared activities. These activities should not be limited to work. You may have a lunch hour, gaming time, or just a chit chat to engage the employees with each other in a less formal yet productive manner. How do I make sure my employees work at home? Get them engaged with peers and organization. Everyone gives his best to what he owns and loves.

Track the progress. Since you cannot see them working physically, develop a process to track that the work is being done as per the directions. You may ask them to fill a chart every day about the tasks assigned, the job done, and the milestones met. Transparent and open communication leaves less room for deceit and mistrust.

Use tracking software. Always make sure that your employees feel trusted and valued. Keep yourself informed and supported through accurate information. Since remote working is here to stay, this is prime time to grab the tools to help how to manage a remote employee. How do I make sure my employees work at home? A remote employee tracking software supports both the employees and management to cut down unproductive and time-killing activities.
Remote working is a recent phenomenon, and the world is still trying to learn how to deal with it. "How do I make sure my employees work at home?" and "how to manage a remote employee?" are highly pressing questions. A correctly laid out company culture and communication framework and remote employee tracking software are great ways to ensure maximum productivity.