Question: What is Netflix Party?
Netflix Party is a web chrome extension that is used for watching together with friends and loved ones.
In Netflix party chrome extensions, you can watch together and discuss the shows in the same way as you did before in real meetings.
Netflix Party is not a product of Netflix, neither Netflix is the creator. It is only used through Google Chrome and it is a third-party add-on to Netflix that makes it less reliable.
Why Use Netflix Party?
Netflix Party is a web extension that offers you to watch your favorite shows such as HBO, Disney Plus, and Netflix with your favorite people.
It does not only provide the facility to watch together but also allows you to chat at the same time and review the show.
Due to the coronavirus pandemic, everything got shut down. You cannot visit a theater and cinema halls with friends anymore. Dining out and watching together became risky due to the deadly virus.
Netflix party extension has eased the severe lack of socializing during the reality of the coronavirus pandemic and reduces the risk of meeting in person.
Watching TV and chatting is an alternative way to hang out with friends virtually during the pandemic. Being quarantined miles away you, can meet your friends virtually through Netflix chrome extensions.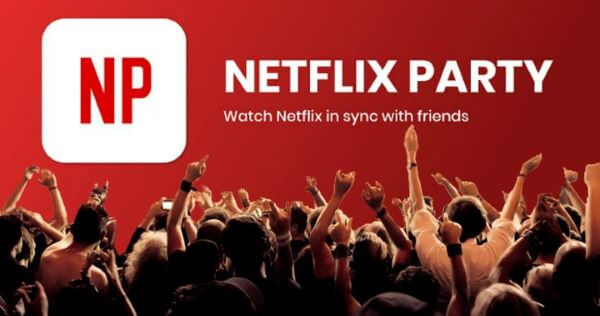 How to Use Netflix Party?
To enjoy a Netflix party, first, you and your friends log in to your Netflix accounts. Select a show to watch and Netflix Party will sync the playback across your accounts.
You all will be watching the same show at the same time from your separate accounts. Netflix Party extension provides the facility of a chat function on one side of the screen. So you and your friends can share and discuss in real-time.
To host a Netflix Party, first, download the Netflix chrome extension. A window will pop up on your screen instructing you to "Create a Netflix Party".
Choose a show and start the video. You can choose total control over the playback of video, or keep it open to everyone. Click on "Start the party".
To invite friends, another window will appear on your screen with a link. Click "Copy URL" and share it with your friends.
To join a Netflix Party hosted by someone else, you can click on the shared link and start enjoying the show.
Is Netflix Party Safe?
Netflix party is neither the creation of Netflix nor it is hosted by Netflix. Therefore, it is not a reliable source of entertainment. It is vulnerable to many threats. Let's discuss.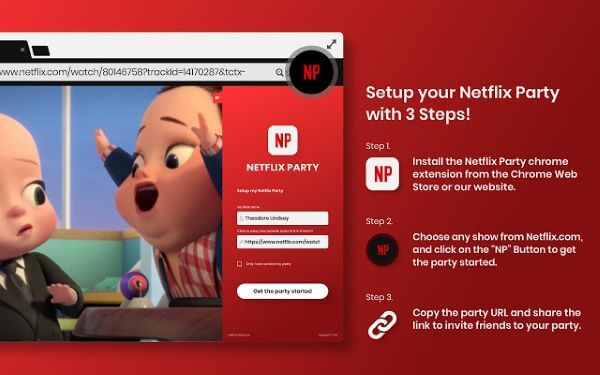 Lead to potential cybercriminals
Since it allows link sharing with others, anyone can join the links. To ensure the safety of your accounts, only share links with close friends and avoid potential cybercriminals.
Open random links
Most of the viewers have reported Netflix Party sessions lead to mysterious links such as Daily Motion videos and some random Wikileaks footage. Therefore, you need to reconsider Netflix party use if your children are using Netflix Party as these WikiLeaks videos might not be appropriate for their age.
Strangers can join
While watching sessions when using Netflix Party, some strangers might join your links and can cause a threat to your safety and security as one of the users has reported that during a live session, an unidentified number joined without its permission and send them threatening texts using Netflix Party's chat feature.
May expose your child to unsupervised content
Netflix Party's mentioned that it is suitable for children over 13 years of age. It is not appropriate for those below 13 years of age. Therefore you need to supervise what your kid watches on Netflix through Netflix's parental controls.
Parents' Reviews of Netflix Party
Let's discuss some reviews from parents about the Netflix party.
Inappropriate language
Netflix party movies contain vulgar language and get indulge in inappropriate behavior. Most parents have shown concern about the behavior change in their kids after watching frequently Netflix parties.
Cyber-bullying
As Netflix party can easily be joined by elders as well as kids. Anyone out of the group can join your party. Kids are not properly monitored while being online. Exposure to cyberbullying is reported by most parents.
Inappropriate content
Drinking, smoking, and nudes are parts of these shows and programs. While watching shows, kids are exposed to nude pictures in one of these watch parties. They may get indulge in drug abuse and smoking as they watch their heroes doing these acts in movies.
Scariness
Some friends share links to horror movies with their friends and make them watch too. All people don't enjoy horrors movies. So it may have a negative influence on their minds.
One of the parents has complained about her daughter's nightmares after watching horror movies with her friends.
Also, obscure and vulgar scenes in some movies might become a nightmare for weaker kids for so long.
How to Stay Safe on Netflix Party?
You can your kids' safe at Netflix party in different ways. Let's discuss.
1. Use a parental control app
To ensure the safety of your kids on the Netflix party is to use parental control apps. These third-party apps work in stealth mode and allow you to track target user data.
You will not only get information about their whereabouts but also you will be able to monitor their social media applications and chat box etc.
The most effective and useful app is KidsGuard. It is the best parental control tool. Through KidsGuard you can limit kids' screen time and control their online activities through a single dashboard.
3. Enforce Netflix safety measures setting
Monitor what your kids watch on Netflix's party and whether it's appropriate or not. By setting Netflix privacy measures, your kid won't be able to access what you won't allow them. Also, it will prevent strangers from sending any extension URL or joining their party without your consent.
4. Enforce guidance
Protect your kids from the embarrassments of cyberbullying and other violent acts by setting guidelines ahead of time. Kids should be trained enough to not watch any program in absence of a guardian or a parent.
What KidsGuard Can Do for Your Kids?
Web and App block
KidsGuard allows parents to manage their kid's device usage. It allows parents to block inappropriate websites and content.
You can easily block those apps and webs (Netflix party chrome extension etc) that can harm your kid's mental stability.
You can create a safe environment for your kids by Blocking inappropriate games and websites. Thus your kids will visit child-friendly websites more and automatically be prohibited from viewing harmful content.
Capture or lock screen
For more ultimate monitoring, KidsGuard has introduced another feature of capturing and locking the screen. You can view their screen and capture it to know their activities on their gadget.
Further, you can lock their screen in case of need. It is only possible when you have a subscription to the KidsGuard app on your kid's phone as well in your laptop or computer.
Real-time GPS Tracking
KidsGuard has an amazing feature of geofencing. You can easily set virtual boundaries for your kids to keep them safe from any danger.
Whenever your kids get ahead of geofence you will get an alarm and thus you will inform them on time in case they get in danger. The instant alerts and location history will keep your kids in the safe zone.
Call filter
KidsGuard has another interesting feature of call alerts. You can prevent messy and harassment calls from scammers by logging into the KidsGuard app. With the help of the KidsGuard app, your kids will be safe from every kind of stranger's phone call.
How to Set up KidsGuard Parental Control App?
Step 1.
Click diownload button below to install KidsGuard from Google Play Store or App Store.
Step 2.
After installtion ,open KidsGuard and sign up an account, go to dashboard page and tap on
Bind Now
button.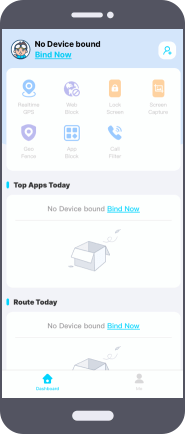 Step 3.
Copy the Url in the Setup instruction and send it to kid's phone. Open the Url in kid's Android phone to download KidsGuard Jr. After setting, you can start to manage your kid's device on your own phone.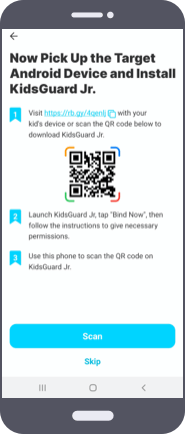 Conclusion
Netflix Party extension is not an official version or creation of the original Netflix. Rather it is a chrome extension that allows users to watch together and chat with each other. Netflix party allows users to share links and watch together. It has a privacy concern for young kids.
Thus, kids might get exposed to inappropriate content and misled. So to protect your kids from harassers and cyberbullying, it is suggested to use KidsGuard. It will allow you to monitor your kid's online activities so that to prevent your kids from indulging in bad behaviors.