iPhone and Android phones have different features and at many points, it is difficult for both users to communicate with each other.
Both mobile phones provide unique features to the users and they enjoy the benefit in their way. When it comes to location sharing between android and iPhone one may think it is difficult.
But surprisingly, there is an availability of several apps to share locations between iPhone and Android.
How to Share Location between iPhone and Android?
When it comes to iPhone and android one question arises is can iphone share location with android? The answer to this question is clearly yes, and there are different options and applications present that make this communication and sharing fast and super easy.
1. Google maps
The first way of sharing location between iPhone and android phone is through Google maps. For this, both users that want to share location must have Google maps. Download Google Maps from the play store and install it on your devices.
Before location sharing, you must have a google account. If you don't have a Google account make an account upload your profile picture and share the location by logging in.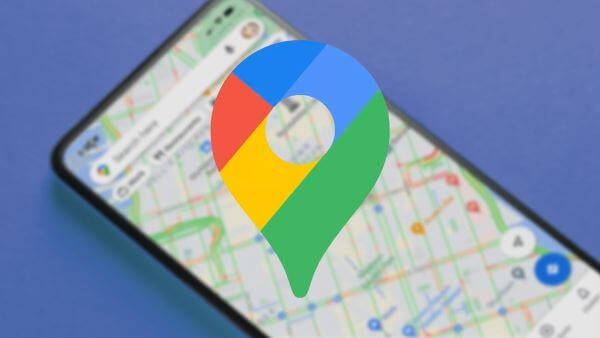 Steps to use Google maps
After installing, open the application and allow the location sharing option while using the application.
Synchronize your account contact with Google maps.
You can check your current location by clicking on the blue area present at the bottom of the application.
Click on the blue location dots to view more options. After clicking the menu bar will appear with one icon "share your location".
You can share the location with the targeted person for a specific period or until you turn it off.
After completing all the setup issues you can share your location with the person provided you must have the Gmail address of the targeted person.
Sharing location through iPhone and android has the same steps except one. In iPhone, you have to share the location link to the android user to track your location accurately.
2. KidsGuard location tracking app
Parents are constantly worried about their children's activities, especially if you are a working parent. You cannot keep a constant watch on children's outdoor activities.
In this regard, KidsGuard Parental control app helps you a lot in tracking the real place of your child. You can use this app to track your children.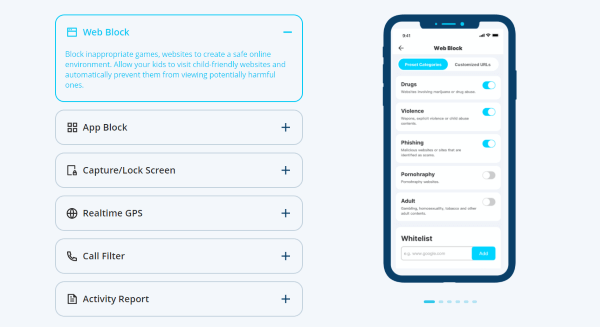 NOTE:
You may use this application both on iPhone and Android phones but your children must use an android phone.
Features of KidsGuard
Accurate positioning.
Set screen time limit.
Block unwanted websites and apps.
Build contact whitelist for kid's phone.
How to set up KidsGuard?
Download KidsGuard from Google Play Store or App Store. After installation, open it and sign up an account.
Click bind button within KidsGuard, then copy the URL in the setup guide and send to kid's phone.
Open the URL in a browser of kid's phone and download KidsGuard Jr onto kid's phone. After correct setting, you can begin to track kid's location on your device.
3. Life360
If you are looking to keep a travel record and share the location between you and your family then you may find the Life360 application very helpful.
You can track your family, share location, geo-fencing, and most unique "panic" features. After clicking this location is shared with given emails, and your family may contact you in an emergency.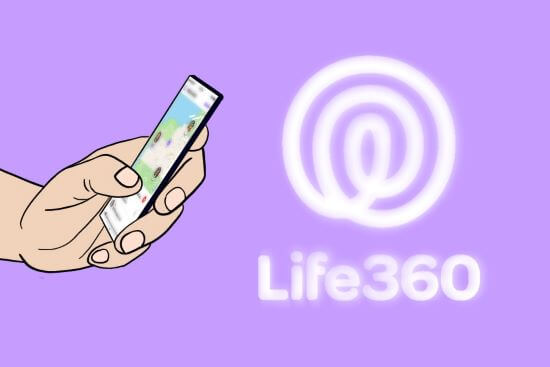 Steps to use Life360:
Open play store both in android and iPhones and search for life360 family tracking app. Click download and install it on your device.
After installing open the application, enter your mobile number, and set a specific password for your account. The addition of a profile picture is optional and entirely depends on you.
After signing up a bar will appear reading "create a new app". Then the option of "find me" will appear and your home map will appear on your screen.
Further, you will be asked do you want to invite other people to find you, if you click yes, a code will be generated.
You can share this code with your family members and loved ones.
The sender and receiver both have a life360 app with a valid phone number.
After adding all the members, your life360 application notifies you of the location of all your family members. You can also select geofencing and you will be notified when your family members leave or exit the place.
Extra Tips to Share Location
In addition to the above-mentioned applications, there are certain questions still present in the mind of iPhone users.
Can you share location between iPhone and android? With yes there are a few apps that make this sharing easy.
1. Share location on iPhone with "Find my app"
This Find my application allows you to share your location from iPhone, iPod, and iPad. You can enjoy finding my iPhone and finding my friends all features in one single application.
Steps to use Find my app:
Download and install the application on your device.
Open the application and click on the people con in the application.
Open your location and then click on start sharing your current location.
Enter the name or phone number of the person you want to share your location with.
Select the time for location sharing and click on Ok.
NOTE:
You may also name the location of your own or your friends. To edit the name and location name open the application and press on "me" button. Here scroll down and edit the location name. You can add your home, office, or school name.
2. Share Location on Android with someone who doesn't have a Google Account
If you want to share your location through Google maps with a person who does not have hold any Google account then that person will not appear in the contact list of your Google maps.
For this open the app contacts and look for the "more" icon. Click on copy to clipboard, and press bar alongside your profile picture.
A link will appear on your screen and you can copy it. After this, you can paste it anywhere and send it via email, message, or other application.
Can I Track Someone's Phone without His/Her Knowing?
Under some special circumstances, we may want to track someone's location without knowing it. For example, spouses and children.
This can be done by various spy apps. One of the most famous applications for tracking without any notification is KidsGuard Pro for Android.
You can take advantage of the inbuilt GPS or Wi-Fi location tracking technology to track the real-time locations. You can also set up a geo-fence and get alerts when target user enters or exits the virtual boundary.
How to set up KidsGuard Pro for Android?
Step 1.
Click
Monitor Now
button and sign up an account for KidsGuard Pro's usage.
Step 2.
After registration, select a plan which fixs your needs. And then go to
My Products
page , clik on
Setup Guide
button and follow the instruction to finish KidsGuard Pro's setting. This step only needs to take 3-5 minutes.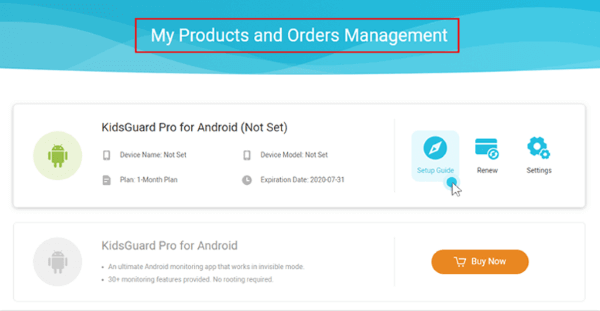 Step 3.
After setting, the icon of this app will be disappear from home screen of target phone, it is 100% undetectable. Now you can monitor target phone's real time location through dashboard on your own device.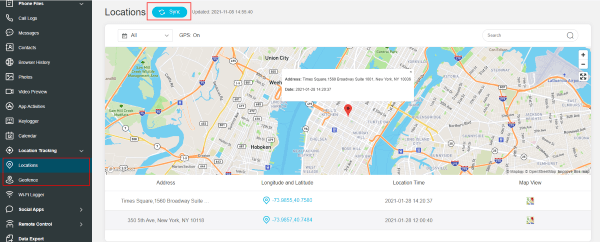 Conclusion
The problem saying how to share location between iPhone and Android is easy and non-complicated nowadays. This sharing is useful as you keep yourself aware about your young one activity that becomes difficult for working and busy parent.
This plays a vital role in keeping your kid safe from the bad effects of society. We have provided you with many ways and how these ways can be useful for you is sharing location have also been discussed. These applications are the reason that you can sager your location with a single click.