Question: Why do kids always lose their motivation to do homework?
Often parents blame their children's poor grades on laziness, defiance, and ingratitude, but there are deeper underlying factors that tend to contribute to a lack of motivation in studying.
As parents, we have an obligation to guide our kids through the difficulties they'll face in life. Here are some significant reasons that kids lose interest in studies.
Such as the purpose of the study is not clear to them, an uncomfortable learning environment, a boring teaching methodology, their interest has turned into obsession, the subject is too challenging or too easy, stress due to too many extracurricular activities.
In this article, we will discuss how to motivate child to do homework.
5 Effective Methods to Motivate Child to Do Homework
Students spent an entire day in classes, so they feel difficulty doing their homework. Factors, like attention and motivation issues or poor time management skills, can also lead to students struggling with completing their assignments. Here is how to get motivated to do homework.
1. Appreciation and encouragement
You can help your child or student with schoolwork by showing them encouragement and appreciation for their hard work.
A compliment, a high five, or words of praise are all simple but effective forms of homework motivation that can help boost your children's drive to do well in the future.
This works especially well if you offer rewards when tasks are completed, like taking them out to the store or spoiling them with a special treat.
It's important to recognize children when they do things correctly, so give them your praise. Use that positive reinforcement as motivation to keep up the good work. Pinup their impressive test scores in front of their workspace or room for extra encouragement.
2. Don't fight, talk benefits of homework
Some kids indeed hate doing homework. But parents often don't realize that fighting with your child about it could lead them to dislike or become frustrated with doing homework even more.
You might want to reconsider what you're telling your son or daughter about homework when you initiate a calm and rational dialogue about the benefits of studying at home.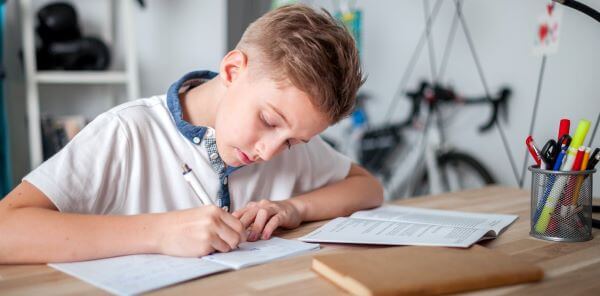 3. Breakdown the homework by making the right plan
When it comes to doing homework, both parent and child need to develop a good plan in order to effectively address the amount of work. If there is too much work for one night, the child can be overwhelmed by it all at once.
In cases like this, it might help for the child and their parent or guardian to brainstorm what areas of homework will take precedence first. You can even assign a time frame in which each area will be done.
Depending on how well this works out for your son or daughter, you can include them when creating a long-term plan for finishing all of the required assignments for school. That way kids will never lose motivation.
4. Homework-friendly environment
Homework time can be fun if you make it that way. Being in a good mood with kids will help your child enjoy the learning experience.
Having a dedicated space for children to do homework will help them stay on topic and focus on specific subjects as well as enjoy learning.
It's important to keep bedtime low by making sure your kids are doing their homework with bright daylight and lights, so they learn how to do assignments well over time. Make sure there is a desk to sit at, and all of the resources your child needs throughout their assignments.
5. Give kids a break after school
As a parent, you want your kids to do well in school so they need to have the motivation when doing their homework and the best way to make sure that happens is by avoiding burnout.
After a few hectic hours at school, students can get stressed out if they are not given time to rest and recuperate after school until it's time for them to finish up their homework.
Taking this small break before they start work will give them time to relax before getting started on another challenging task.
The Importance of Homework
Homework is a great addition to the education that children get in school. Its role is to reinforce the concepts that are being covered in class and allow students the chance to study, practice, and better understand the subject material.
Exercising one's brain on homework after school can help improve a child's overall learning as well as encourage positive study habits and time management skills. Here I have jotted down some key benefits of homework.
Discipline of Practice
Time Management Skills
Communication Network
Revision Discipline
Using Learning Materials
For Parents - Become a Good Example of Your Child
As a parent, you know the benefits of leading by example. As Ralph Waldo Emerson once said, "What you speak so loudly, I can't hear what you are saying".
So make sure that you emphasize the importance of your children learning about responsibility and caring for others not just for themselves but for each other and their community by following in your footsteps as a charitable person who always has their eye on something bigger than achievement or personal gain.
Here are some tips to become a good example for your child.
Be generous with your time and money.
Compliment others sincerely.
Don't say negative things about yourself.
Apologize when you've made a mistake.
Celebrate the successes of others.
Be excited and passionate about life.
Tips: How to Control Your Child's Phone Usage?
Nowadays cell phones are the main cause that demotivates students toward their studies. They love to play online games and stalk their friend on their social media.
Phone addiction makes students irresponsible towards their studies as they waste their time on entertainment.
To control phone usage, KidsGuard is recommended to all those struggling parents. With only one app, you can manage your child's phone activities and bring them back to their homework.
Features of KidsGuard Parental Control App
If your kids are misusing their phones, you can use KidsGuard to keep them on track. Here are some of mind blowing features of KidsGuard.
Track GPS location
If your kids are going for group studies with friends or going to the library but you are not sure of their whereabouts. That's where KidsGuard built-in GPS and Wi-Fi location tracking technology tracks their phone's real-time location so you can be informed about the whereabouts of your children.
Set up Geofence
You can also set up a geofence for your kids if they escape their homework and doge you. With KidsGuard you can get alerts when somebody has left a specific location, or when they've entered one which you've set as "home" for example.
Safe your kids online
KidsGuard helps parents prevent inappropriate content from reaching their children's eyes by limiting the amount of time your children can be online, monitoring what sites they visit, as well as blocking out websites and applications in case your child somehow views it by mistake.
Take secret photos
Sometimes kids make an excuse of accomplishing homework while taking help from their phones. In fact, they are doing something else. In that case, the KidsGuard Pro app allows you to take secret photos. This software enables users to remotely capture images through a target phone's front or back camera without being detected.
Simple Steps to Use of KidsGuard
Step 1. Install KidsGuard
Click download button below to download KidsGuard from Google Play Store or App Store. And then sign up an account.
Step 2. Follow the instruction to finish setting
After registration, login to your account and go to dashboard. Click Bind Now button here and copy the Url in the setup instruction, send the Url to kid's device.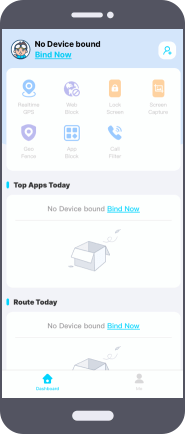 Step 3. Start manage your child's phone
Now open the Url in kid's phone to download and install KidsGuard Jr. After successful installation and setting, you can start to manage your child's phone on dashboard.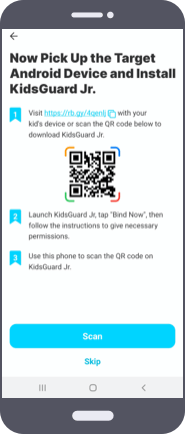 Conclusion
Understanding why homework is important helps improve both homework motivation and productivity in young children. It also makes parents aware of the role they can play in supporting them. By intrinsic and extrinsic motivation and helping your kids to make the right plan for completing homework can motivate students in a better way. As cell phones may hinder studies, you can encourage your kids to use them positively for instance they may take the help of computers and cell phones in their home works. Further, KidsGuard is a bonus for all those struggling parents to ensure their kids do their homework instead of wasting time playing games and posting stuff on social media.