The technological advancements in today's world are very fascinating and kids get drawn to these developments. Though these advancements have been very useful in many ways, it opens up a world of unwanted and inappropriate content and it can be very dangerous for the kids. Therefore, it has become very important that the kids are protected from this unwanted scenario.
Here are a few best free parental control apps which can be easily downloaded and put to use for free. These applications help the parents in monitoring their kids' activity and protecting them from dangerous situations.
Top 10 Cell Phone Parental Control Apps
KidsGuard is one of the best parental control apps for cell-phone, using which you can keep a track and monitor all of your kid's activities.
By using this you can easily read the phone logs, messages, call logs and contacts. Once you install this on your kid's cellular device, you can monitor and make sure that your kid is not accessing any unwanted content on the browser. The browser history can also be checked. It also comes with location tracking as well.
These days, there are several social media applications which introduce us to a world full of strangers. Young minds can easily get convinced to talk to these people and this may result in cyber bullying and other such cyber crimes. This can be easily avoided by using parental control applications such as KidsGuard Pro.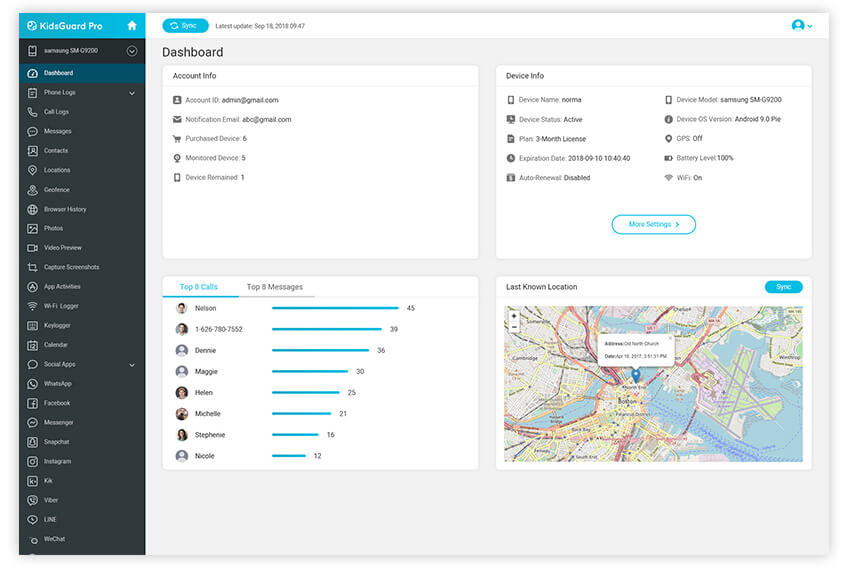 Pros

Can easily access all the information and data sent and received by your kid.
Supports several social application monitoring like WhatsApp, Viber, WeChat etc.
Provides real-time location tracking.
Installation is very quick and easy.
Deleted messages can also be tracked.
Very user-friendly interface.
Affordable pricing.
Cons

There is no free trial available.
Notice
Even though there is no free trial version, now you can have a 30% off discount to enjoy all the premium features. Quickly to enjoy the best price for your need.
2. Kaspersky Safe Kids
Kaspersky Safe Kids is compatible with both iOS as well as Android devices. It has a variety of excellent features. The basic version of this application is available for download for free, including features like online content filtering, app usage control and screen time management.
The premium version of this application includes all the previously mentioned features and more. With the premium version you can enjoy features like child locator, battery tracker, social network monitoring, mobile contact screening and real-time alerts.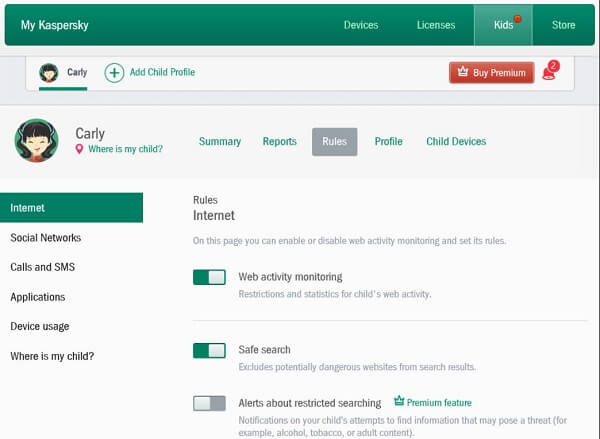 Pros

This application shows extensive alert functionalities.
Cons

The version available for iOS devices is not as efficient as that of the Android version.
It makes the target device very slow especially the iOS device.
The features included in the free version are very limited.
3. FamilyTime
FamilyTime application is available in two versions out of which the basic one can be downloaded online for free. It provides the striking feature of emergency assistance which is very useful in unlikely situations. The screen time restrictions can be put to use to limit your kids' access to their device. This application also has features like geo-fencing and real-time location tracking.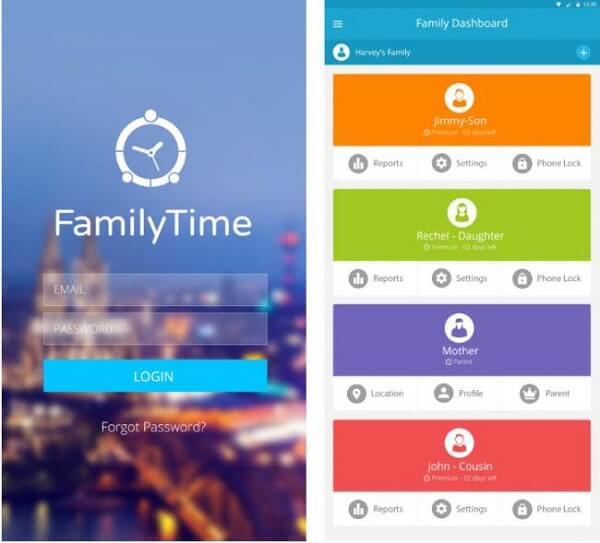 Pros

Has the unique feature of alerting the parents in an emergency situation.
Cons

This application does not provide the browser history.
Many important features are absent in the free basic version.
4. Net Nanny
With the help of Net Nanny you can monitor your child's phone activity and protect them from unwanted problems easily.
Using this you can filter the internet content, block pornography, set time limits, mask profanity, receive regular reports and alerts on your phone regarding your child's activities and do much more. You can monitor all these remotely. The different profiles can be customized according to your wish. There is also a exclusive Family Pass available for both Android and iOS devices.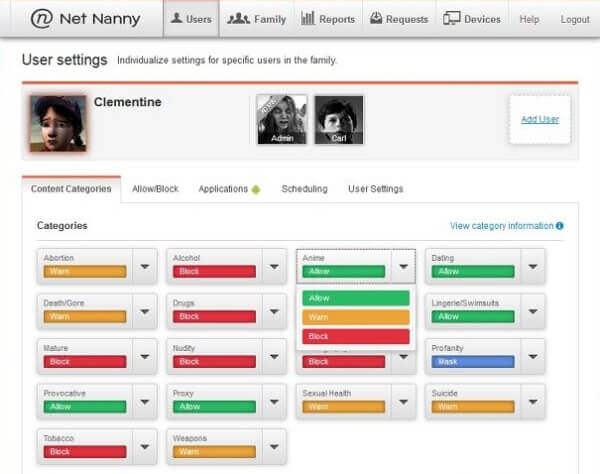 Pros

Features the attribute of advance web filtering for multiple categories.
Cons

Through this application, the location of your child cannot be monitored.
Offers only the trial version for free which is for a very short duration of time.
5. Boomerang
Through Boomerang parental control application you can set time restrictions for the internet usage. This time restriction can be different on different days of the week and hence is very flexible. There are several applications on your kid's phone which are used for educational purposes; you can selectively choose not to put restrictions on such applications. All the searches made in YouTube on the target device can be monitored by you. You can even completely block the usage of any application which you find not suitable for your kid.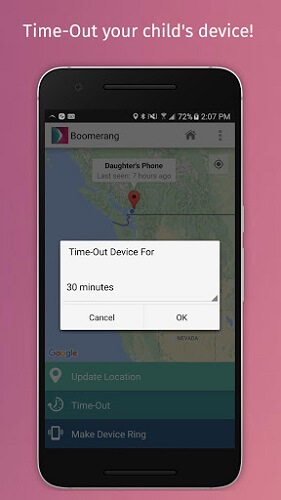 Pros

Has the feature of automatically including safe search when your child is accessing the internet.
Cons

The trial version is available for only a short span of time.
It shows some limitations when used on iOS devices.
6. Locategy
With the help of Locategy you can locate your child and also protect them from involving in some unwanted internet activity.
With just a click of a button you can get to know where your child is. The phone usage report on the target device is sent regularly to the parent. Time limit can be set on individual application use. Whenever you child enters a non-familiar location, you will be notified and alerted on your device. The history of all the location to which your child has gone can also be accessed using this application. Parents can use their own smartphones and monitor their kid's activity remotely, the best part is that multiple parent devices can be set up.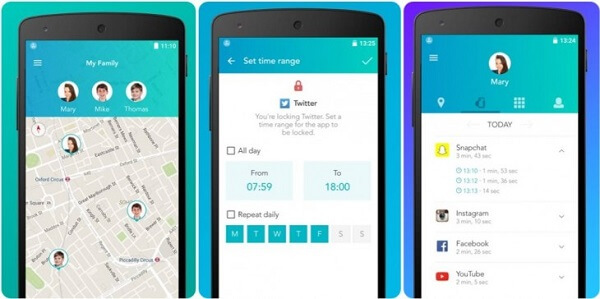 Pros

The iOS version of this application is very well designed.
The location tracking by this device is very accurate.
Cons

You cannot block any calls or SMS using this application.
You cannot monitor your child's social media activity.
Web filtering fails to function effectively in all browsers.
7. Mobicip
This parental control application is very famous as it has a wide range of devices with which it is compatible. With the help of Mobicip you can block any website to be accessed through the browser, block any application which does not seem suitable for your child, set screen time restrictions, and accurately get the real-time location of your kid and many other things.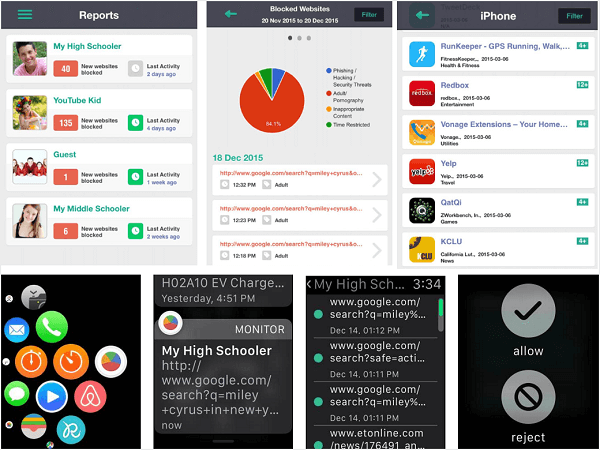 Pros

Is compatible with a lot of devices.
Cons

The trial version is free but it can be used only for a limited amount of time.
The customer support for this application is pretty weak.
8. Pumpic
By using Pumpic you can easily keep a track of the text messages on your child's phone. You can track the web search history and get alerted whenever any site with explicit content is being accessed by your child. A number of social media applications can be monitored with the help of this application which includes WhatsApp, Skype, FaceBook, Kik, Viber etc.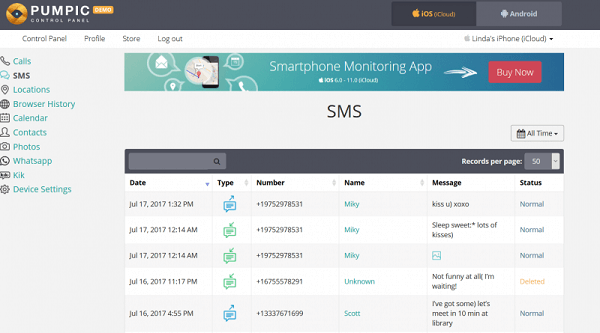 Pros

It has attractive multiple features which are very effective in helping the parents track their child's activity.
Cons

Once this is installed on the target device it becomes slower and starts lagging in screen response.
Only the trial version is available for free.
9. ESET Parental Control
One of the best features of this application is that it allows your kid to navigate back home with the help of online services. You can monitor all the online activities of your kid and even block the access to some of the activities which you feel is inappropriate. With the help of ESET Parental Control application you can easily check your child's location at any time remotely.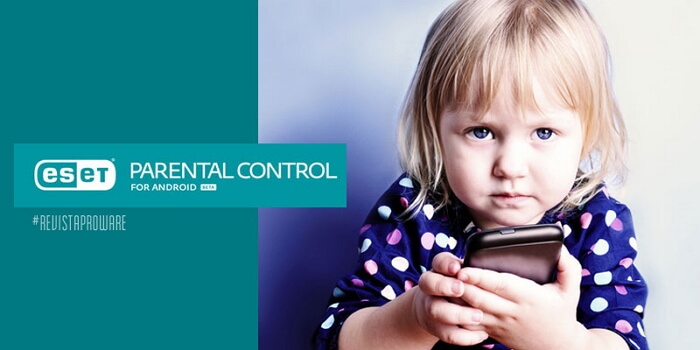 Pros

User-friendly interface and easy to use.
Cons

There is no way that you can hide the use of this application on the target device.
The trial version is only for a limited period of time.
10. Bark
If you want to monitor your kid's online activity on cell phone, Bark is a viable option. It is capable of monitoring messages, mails, YouTube and 20+ social media platforms. You will be notified with automated alerts and expert advice when it comes to adult content, depression, cyber bullying and predators etc. It comes with a 7 day free trial and 9$ per month thereafter.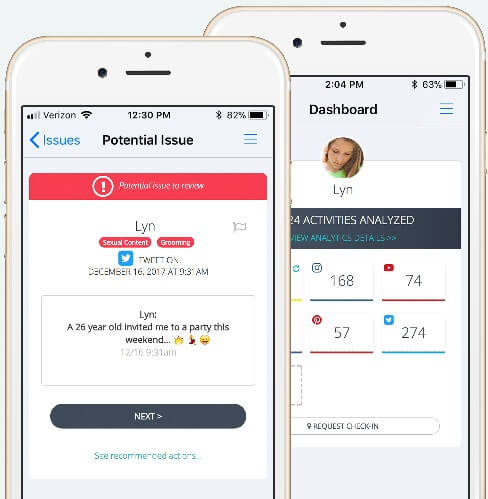 Pros

Offers expert advice.
Offers privacy and is less intrusive.
24/7 monitoring.
Cons

It doesn't come with the option to limit phone usage.
Personalization is limited.
In the End
Installing a parental control application is very essential for the protection of your child. Choose any one out of these ten top free parental control apps for Android phones as well as iPhones which can be easily downloaded online. Out of all the parental control applications mentioned in this article, KidsGuard Pro is the best one as it has several attractive attributes which ensures effective monitoring of your kid's online presence and hence it is highly recommended.