Before We Start
Is Net Nanny parental control app the best app for monitoring your kid's phone activities? Does the app have all the necessary parental control and monitoring features? Should I buy Net Nanny or look for a better alternative?
Net Nanny is one of the popular parental control apps that work on all platforms starting from Android and iOS to Windows and macOS.
The questions mentioned in the "Before We Start" are some of the general questions that arise in the mind of people who are looking to purchase a parental control app.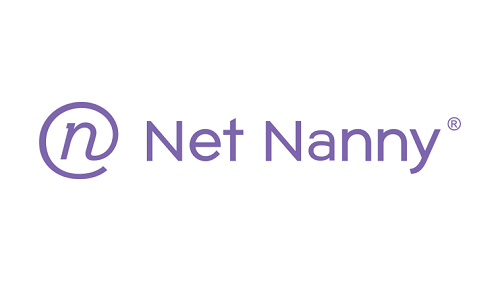 That is why we are here with a complete Net Nanny review. We will discuss all the different features of Net Nanny, how much it is going to cost you, and most importantly, provide you with the verdict if it is really worth purchasing. Also, we will list its alternatives for your reference, so you can have more choices.
What are the Features of Net Nanny?
Here is the complete Net Nanny app review of the features help parents to monitor and control their kid's phone remotely.
Block Webs/Apps: You can block any website by mentioning its URL specifically. Furthermore, the content filter settings can be used to automatically block websites with improper material. You can also monitor the applications your child uses on a regular basis and disable apps that are inappropriate for them.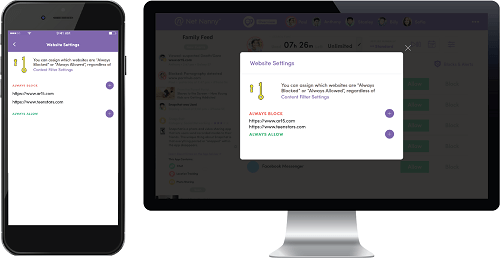 Manage Screen Time: Parents can set the screen time for their kid's phone so that they do not waste valuable time. Therefore, your kid can access the phone only for the set specific hours and not beyond them.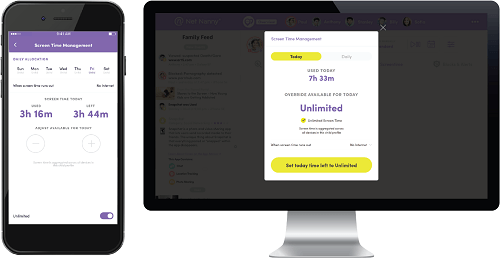 Filter Content: Net Nanny comes with certain web content filters that parents can turn on so that any website with such content is blocked automatically. Not just that, Net Nanny blocks porn websites in real-time.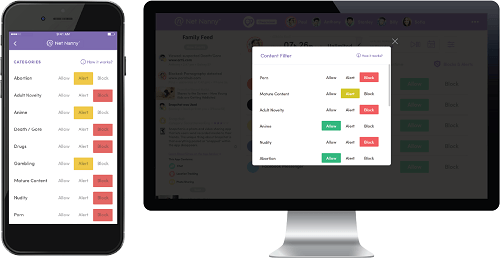 Track Location: Net Nanny lets parents track their kid's location in real-time from their device remotely. Besides, parents can check their kid's location history to know where he has been in the recent past.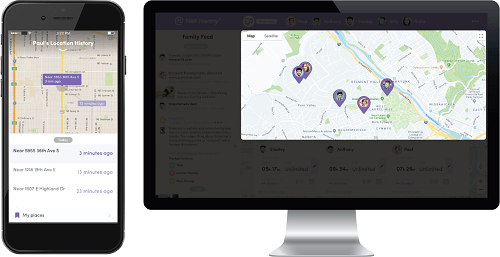 Alerts and Reports: Parents can set up certain alerts that will get triggered based on their kid's online activities, and Net Nanny will notify the parents on their device instantly. Besides, the app generates detailed reports for parents to review and understand about their kid's online activities.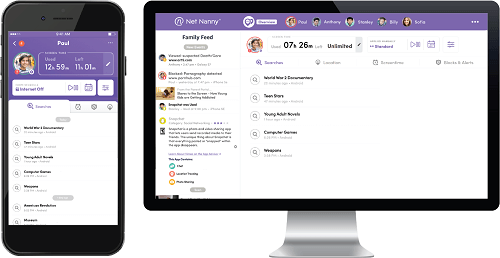 What's the Price of Net Nanny?
The pricing of Net Nanny parental control app is quite different from the rest of the parental control apps. This is because the pricing varies based on the number of connected devices instead of different operating systems.
Below is the complete pricing chart of Net Nanny app:
| | One Device (Desktop Computer) | 5 Devices (Computer + Mobile) | 20 Devices (Computer + Mobile) |
| --- | --- | --- | --- |
| Yearly Price | $39.99 | $54.99 | $89.99 |
| Price Per Device (On Average) | $39.99 | $11 | $4.5 |
| Compatibility | Windows and macOS | Windows, macOS, iOS, Android, and Kindle Fire | Windows, macOS, iOS, Android, and Kindle Fire |
As far as the compatibility of Net Nanny app goes, it works on Android smartphones and tablets, iPhones and iPads, Windows computers, Kindle Fire tablets, and Macs.
However, if the device is too old or it has older operating systems, the app may not function smoothly.
What's The Rating of Net Nanny?
Even though Net Nanny has most of the necessary features for remote parental control and monitoring, Net Nanny review from genuine users is poor. On App Store, the app is rated 3.2 out of 5, and on Play Store, the app is rated 2.5 out of 5.
The online reviews on different platforms posted by genuine buyers are also disappointing. This clearly confirms that Net Nanny has a huge scope for improvement so that it can satisfy its users and customers.
Is Net Nanny Worth Choosing?
Now the main question arises, "Is Net Nanny good enough for parents to purchase?" Well, after a thorough review of Net Nanny, we can say that there are distinct advantages as well as disadvantages. Let us first go through them before giving our review.
Advantages
Family Feed: When you are tracking multiple devices, you can check the Family Feed to understand the activities on the connected devices in real-time. It saves a lot of time by providing a quick view.
YouTube Monitoring: This is an exclusive feature whereby parents can see the videos that their kid has seen on YouTube. Therefore, parents can rest assured that their kid is not watching inappropriate videos.
Reports: The reports generated by Net Nanny app are quite detailed for parents to understand every aspect of their kid's online activities easily.
Compatibility: It runs on all platforms, and there is no need to purchase different plans for different devices as you can purchase in a bundle.
Disadvantages
The app does not stay hidden on the target phone and hence, the target person can always uninstall it.
Users have to manually turn on SafeSearch feature on Google app for the web filters to work which is confusing and uncalled for.
Social media monitoring is poor on Net Nanny. In today's time, proper social media monitoring is a must.
There is no feature of setting Geofence to get alerts when the target device crosses the virtual fence.
There is no setting available to limit individual app's screen time.
Customer satisfaction is not properly taken care of, and that is why the ratings are so low on all app platforms. There are complaints about the app crashing and concerns about user data privacy.
The customer support team is not active and not readily available for help.
Clearly, Net Nanny problems outweigh the advantages. This is because the disadvantages are more relevant, while the advantages are common in many parental control apps.
It is nowhere close to being the best parental control app. It is good enough, but there are better alternatives available with more relevant features for remote parental monitoring and control.
How to Set Up Net Nanny?
Here are all the steps you need to follow to set up Net Nanny on your and your kid's device perfectly.
Step 1: On your (parent) device, visit Play Store or App Store and install Net Nanny Parental Control app.
Step 2: Create an account with a valid email address, username and password.
Step 3: On child's device, visit install.netnanny.com and download Net Nanny child app.
Step 4: Log in with your Net Nanny account credentials and create the basic profile for your child with name, gender, and age.
Step 5: Go to Google app and turn on SafeSearch feature as per the instructions shown on the screen of the app.
Thereafter, you can start monitoring your kid's phone activities on your(parent) device.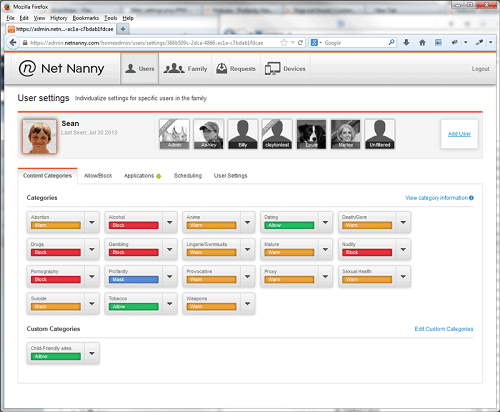 Is There Any Alternative to Net Nanny?
There are many alternatives to Net Nanny available in the market. However, if you are looking to purchase a parental control app that has all the basic as well as exclusive advanced features such as real-time remote monitoring of all phone activities, we recommend KidsGuard Pro parental control apps.
KidsGuard Pro is available for Android as well as iOS. The pricing is very competitive, and monitoring and controlling your kid's phone through KidsGuard Pro is very intuitive for parents of any age to use effortlessly.
Comparison of Net Nanny and KidsGuard Pro
Here is a complete overview of the differences between Net Nanny and KidsGuard Pro. Please note that all the features we have discussed for Net Nanny parental control app are available on KidsGuard Pro. The following chart represents the additional features you get with KidsGuard Pro.
| | KidsGuard Pro | Net Nanny |
| --- | --- | --- |
| Sheath Mode | Available | Not Available |
| Call Log and Text Message Monitoring | Available | Not Available |
| Geofence | Available | Not Available |
| Phone Gallery Monitoring | Available | Not Available |
| Social Media Monitoring | Advanced | Very Basic |
| YouTube Monitoring | Not Available | Available |
| Real-Time Control | Available (live surrounding, call recording, and screenshot) | Not Available |
| Customer Support Team | Available 24/7 | Not Readily Available |
As you can see, some of these features are absolutely necessary for parental monitoring and control. Unfortunately, they are absent on Net Nanny app which is why we prefer KidsGuard Pro over Net Nanny.
NOTE:
Here we will take KidsGuard Pro for Android as an example, also introduce it in detail including its features and installation steps. If your target person is an iOS user. You can click the "View Demo" button to know more features about KidsGuard Pro for iOS.
Why KidsGuard Pro is the Best Alternative?
Here are all the features and advantages of KidsGuard Pro that makes it the best alternative to Net Nanny and any parental control app.
Full Protection for Kids: KidsGuard Pro offers all the basic and advanced features for parents to safeguard their kid when they give their kid a smartphone for educational purposes.
Social Media: Parents can track what their kids are going on all the installed social media apps. Starting from social media conversations and activities to the time duration spent on each social media app, parents can check everything remotely and take action accordingly.
Location Tracking & Geofence: You can do live location tracking as well as check the location history. Most importantly, you can set Geo fence to get instant alerts whenever your kid crosses the fence.
Phone Files: You can check all the photos and videos on the phone's gallery. This includes all the photos taken by the camera as well as the ones downloaded from apps and browsers.

KidsGuard Pro for Android
The Ultimate Android Monitoring App for You.
Sign up free
Browser History: You can check the browser history of the target phone so that you can understand what the target person is surfing on the internet. Accordingly, you can block certain websites if they are inappropriate.
Calls and Text Messages: You can check the call log of the target phone with complete details such as caller name, number, call duration, call type, date and time. Similarly, you can check the text messages sent and received in proper format.
Remote Control: If the target device is an Android device, you can do live remote control. This means you can capture live screenshots, view the surround with the target phone's camera as well as record phone calls.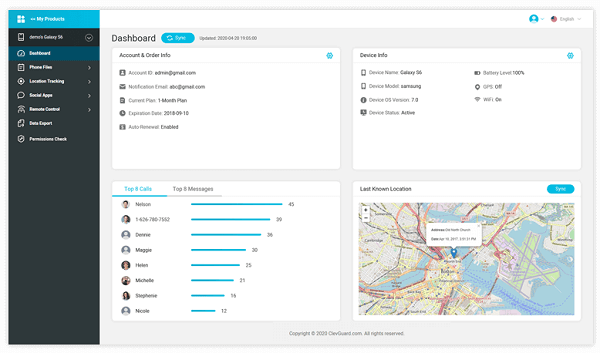 100% Undetectable: Once you install KidsGuard Pro on the target phone, it goes into sheath mode so that the app does not appear on the home screen of the phone. Therefore, the target person will not be aware that the app is installed on his phone and hence, the app stays hidden and undetectable. That is why you can track the target phone remotely without the target person knowing.
Timely Customer support: The customer support team is available 24 hours a day throughout the year. The best part is that you can email your issue for quick resolution of the problem.
Real Time Data Syncing: KidsGuard Pro does real-time data syncing of the data from the target phone with the data stored on its server through Wi-Fi as well as mobile internet. Therefore, you can get the latest data to monitor all the time. This is really significant because other parental monitor apps delay data syncing which is inconvenient.
User Privacy Protection: The data recorded from the target phone is encrypted so that there is no risk of data breach. User privacy and data protection have been given priority to keep the system free from virus, spyware, and hacking attempts.
No Root or Jailbreak: There is no need to root the target Android phone or jailbreak the target iOS device to get the parental control app to work perfectly. All you need to do is install the app on the target phone and allow the necessary app permission so that you can do remote tracking.
Final Verdict
There are some crucial Net Nanny problems that the company needs to address so that the customers are satisfied with the produsct. The app lacks many important parental control features which are readily available on competitors' apps.
We recommend you opt for KidsGuard Pro parental control app as it is a complete parental monitoring and control app with all the basic and advanced features and functionalities.