Facebook is one of the most used and popular social media websites in the world. The website goes through a terrific amount of personal information on a daily basis so, the developers made the security incredibly strong.
So, if you are wondering how to see someone's private messages on Facebook; you have to do it via a professional monitoring app. These apps are specifically designed for the said task. But we are here to discuss the best app for Facebook monitoring and the app is detailed below.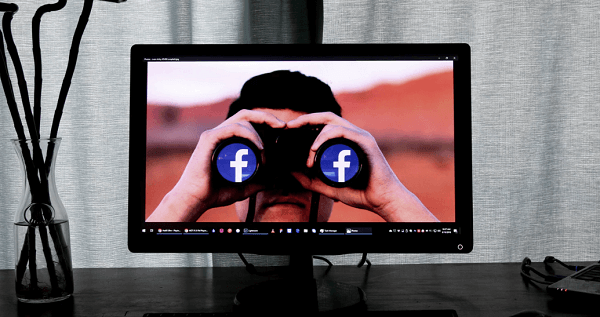 Part 1:Third-party Tool Make It Possible to See Someone's Private Message on Facebook
You will find several names if you just search by "how to see someone's Facebook messages", on the internet. This will be a long list but there is no way you can be sure that those apps are safe to use and even efficient enough to complete the task skillfully.
But don't worry, we are here and we know exactly what you are looking for. An app that is safe to use, within your budget and successfully monitors the Facebook page. Well, the best app that fills all these criteria is called KidsGuard Pro. It is an amazing app and there are advantages of using an app of such caliber.
It can remotely monitor the private message on Facebook in detail: Operating KidsGuard Pro is very simple. Just install the app on the target device and launch it. The app will work anonymously in the background, collecting all the information. You will be able to access that info. From your own device using the app's web portal.
It can view all the Facebook contacts of others: The web portal of KidsGuard is very detailed and efficient and you will be able to access the Facebook of the target person. So, all of their Facebook contacts will also be visible to you.
It can screenshot the Facebook screen in real-time: Using the screenshot feature of KidsGuard Pro you will be able to take screenshots of that Facebook page in real-time.
It can access all the photos and videos on Facebook chat: One of KidsGuard Pro's basic feature includes access to all the photos and videos of the target device. So, you will have access to photos and videos downloaded from Facebook but you will also have direct access to photos and videos of Facebook Chat as the app provides unwarranted access to that social media website as well.
It can locate the Facebook user in real-time: As one of the best location tracking app, KidsGuard Pro is also capable of tracking the location of that Facebook user in real-time using its state of the art GPS technology.
These are a few of the advantages to look forward to if you are to use KidsGuard Pro in order to monitor someone else's Facebook page. If this is still not enough to convince you then have a detailed look into the Facebook page monitoring procedure with KidsGuard Pro.
Here's How to Look at Someone's Private Facebook Messages:
Step 1: So, in order to use KidsGuard Pro you have to go to their website first, and register an account.
Step 2: Now, you have to get hold of the target device and download KidsGuard Pro Assistant there.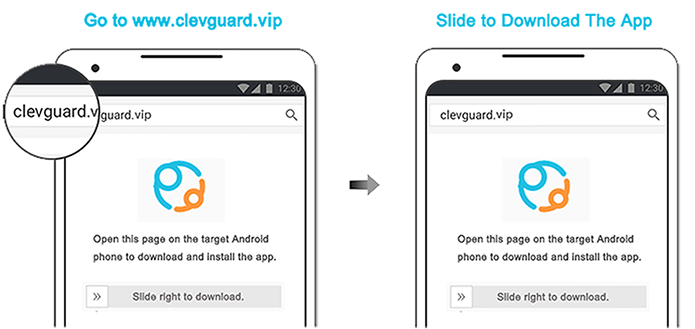 Step 3: Now, just tap on the downloaded APK file to initiate the installation. Follow the on-screen prompts in order to complete the installation.

Step 4: After you have finished installing the app on the target device, you will be redirected to their web control panel. Where all the collected data are stored for you.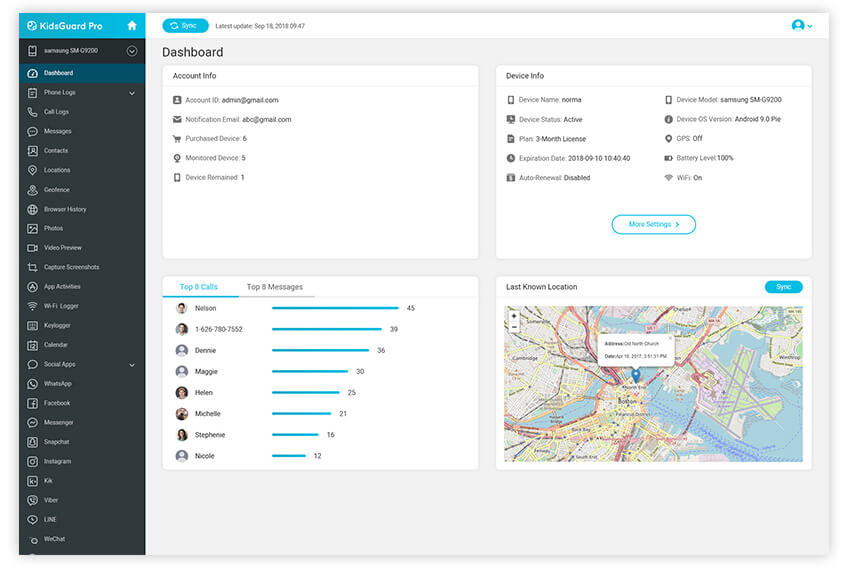 Now, you will be able to view any type of data or check phone activity from the dashboard.
Part 2: Other 5 Tools Can Also Help in Viewing Someone's Facebook Private Messages
Although, KidsGuard Pro is an excellent app for Facebook monitoring that does not mean that it is the only app on the market. We have compiled a list of 5 individual apps that would be more than helpful for monitoring Facebook
1. Qustodio
Qustodio is a very well-known name and it has a comprehensive list of features that makes it one of the best apps for Facebook monitoring. Introduced as a parental control app, Qustodio is capable of blocking vulgar web content. However, the app is also known for its capability to monitor social media activity.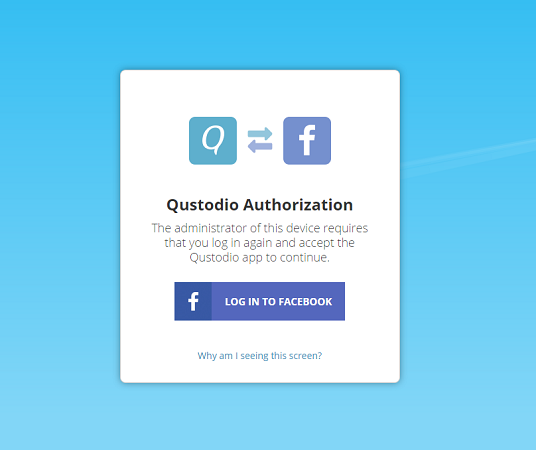 What does it lacks:
Does not have the capability to work in stealth mode.

Cannot take screenshot of Facebook.

Incompatible with most of the antivirus.
2. Bark
Bark is another giant name among parental control apps. It has a very comprehensive list of features that awed the users all over the globe. This app has a very influential social media monitoring capabilities, it tracks more than 24 sites including Facebook. The services provided by Bark are ideal and affordable.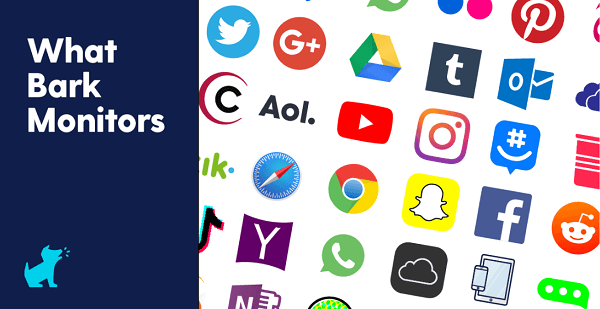 What does it lacks:
Falls short when it comes to stealth monitoring.

The monitoring has to be consensual there is no way around it.

Also lacks personalization.
3. XNSPY
Another excellent offering to the list of parental control apps. It has strong features and that too at an affordable price. As the name suggests, the app is known for its strong device monitoring capabilities that helps you with Facebook activity as well as message tracking.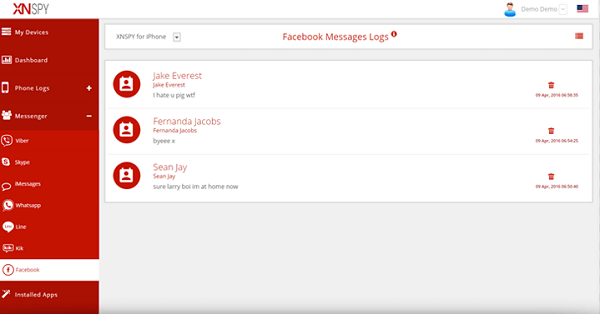 What does it lacks:
Has some performance issue reported by users.

Need to jailbreak or root your device to get some features enabled.

Has been reported to lag a bit while tracking location.
4. Spyzie
Spyzie is a great monitoring app and it is well-known for its monitoring features. The app is available for iOS and Android devices and it can effectively monitor the target device. The app has a great number of features and known for its excellent tracking capabilities but it is a bit on the expensive side.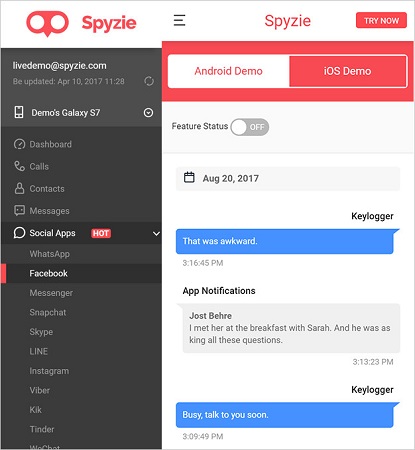 What does it lacks:
Expensive when compared to other similar apps.

Need to have a rooted or jailbroken device to get all its features.

There are some reports on laggy performance and below par response time.
5. WebWatcher
WebWatcher is a good app for monitoring social media apps and websites. The app works on multiple devices and it can monitor Facebook, WhatsApp, Snapchat, Kik, Viber, and even dating websites like Tinder.
What does it lacks:
Not easy to install on the target device.

Not intuitive interface.

One of the most expensive apps that you can go for.
Summary
So, if you were wondering how to see private photos on Facebook, it should be cleared for you. Facebook is a secured social media website and it is impossible to look into some else's account. You will need the help of professional programs. Although more than a few apps with similar portfolios are available online we have provided you with our line up. It consists of 5 apps, even with their strengths and weaknesses they are excellent but we still do prefer using KidsGuard Pro. It is a genuine app that provides a strong and satisfying performance.