Question: Can I Check My Blood Pressure with My Phone?
No, you can only monitor your blood pressure with your mobile phone. However, high blood pressure is a chronic disease, so it is important to monitor your blood pressure.
Latest technology makes it easier to monitor your blood pressure at home with the help of blood pressure monitoring apps. Various apps include incredible features which help to monitor blood pressure and provide comprehensive reports.
In this article, we will compare the best 5 blood pressure app for android and iPhone and help you choose the best one.
Top 5 Blood Pressure Monitoring Apps
1. Blood pressure watch
Blood pressure watch is the best blood pressure app to keep track of your BP level on your smartphone. This app is able to gather, track and analyze the user's BP. In addition to BP, it can also keep track of your pulse rate and weight.
Moreover, it can also send you reminder notifications for the BP checkup. You can also share all the data through drop box, email or Google Drive.
Blood pressure watch App also provides statistics and analysis. It also enables you to manage the BP records for family members as well as friends.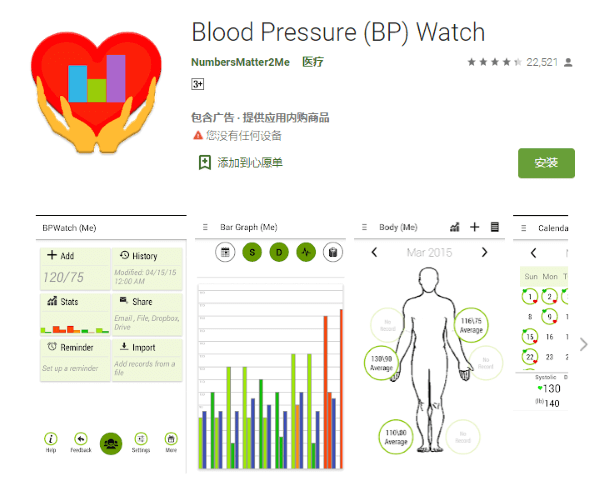 How to use it?
Download the blood pressure watch app on your device.
To start the app, Accept the user license agreement, now your account is active.
Do basic settings, set date, add weight, then tap on add button, and add your systolic and diastolic pressure, pulse rate, and your posture.
You can check health history by clicking on the history button, now click on the calendar, and add the date.
Tap on the state, to check statics, if you import your report by clicking on the import button.
Pros
User-friendly app.
Just takes two minutes to create an account.
Users Can create multiple accounts on it.
It includes a reminder option.
Users can easily share reports by email, google drive and drop box file.
Cons
Too many ads in the free version.
User can't access the old data in new phone.
Also Read: Best 10 Child GPS Tracking Bracelets
2. Smart BP
Smart BP is an app to check your blood pressure level, and it is a very easy way to measure BP. This app has unique features like automatically calculating Weight, BMI, or pulse rate.
Moreover, this app is very helpful in maintaining overall health because it gives an accurate measure of heart muscle working.
The measurement data is recorded and stored on the dashboard. So, there is no need to worry about losing or even forgetting.
In addition, Smart BP is helping in treatment decisions, follow up checkups, good advice about healthy lifestyle etc. in addition, statistics sent through email can aid in this regard.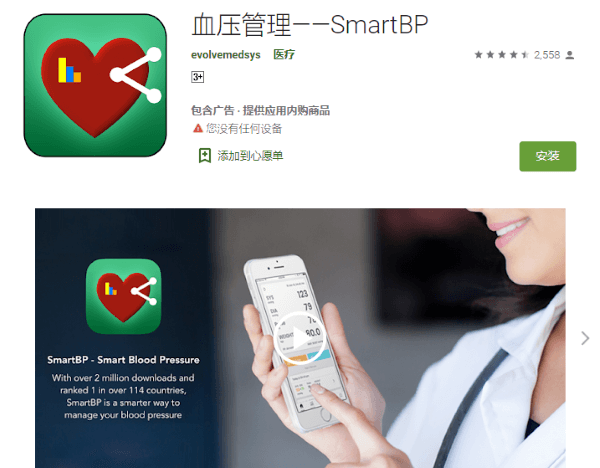 How to use it?
Download the app from google play store or apple play store.
Install the app, and open it, now click agree to the user license.
Set time and date; add your systolic and diastolic pressure.
Put your pulse rate and current weight.
After adding all information, click on done. Now you can monitor your daily blood pressure.
To check weekly record, click the insight button. If you want to import your report, click on the history.
Now go to the top right corner, tap on the share button and export your report.
You can share this file in more than three formats pdf, CSV, pdf and SMS.
Pros
Easy to use.
The paid version is budget-friendly.
The dashboard is user friendly, and people can easily check their progress.
Records systolic, diastolic blood pressure, weight, and pulse rate.
Automatically calculate your BMI.
It includes an option for private notes for the user.
Exports files in different formats.
Cons
The free version has limited features.
3. Blood pressure log
The blood pressure log app allows you to send your medical information and reports to doctors. This app keeps track of everything going on the whole day, e.g. from waking up to bedtime. With the help of a pressure log, you can collect and analyze your measurements, e.g. weight or pulse rate.
Moreover, if you are taking any medication, you can add to know how it interacts with other supplements and what changes it brings to the body. It can also tell about the related side effects.
This app gives minor details like whether bloody urine was due to too much exertion at the office or home, reaction due to certain food etc.
This will guide us about how to live a healthy life. In short, this app is an all-rounder. This can track your blood pressure, total steps taken in a day and weight loss/gain etc. This app will guide you about how to live a healthy life.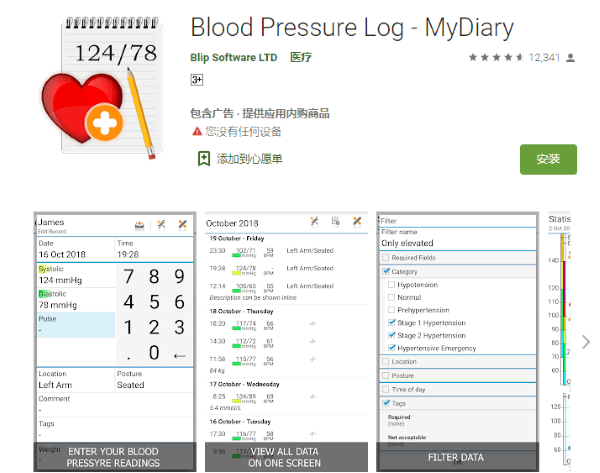 How to use it?
Register your account on bpresso.com. You can register via email address, Google account, or Facebook.
Now register through a google account, accept the terms and policies of bpresso.com.
Your account is successfully registered, go to the top left corner add your systolic and diastolic pressure.
Add your pulse rate, the position of the arm, save the setting, click on the drug option and add medicine you are taking nowadays.
You can add weight, any physical activity, and lab test results.
If you want to check the daily date, click on the right corner and check the weekly pressure chart.
Pros
Simple app with latest features.
Track blood pressure weight and pulse rate.
Users can add medicine and lab test results.
Free registration on bypsso.com.
Automatic back up option.
Cons
Too many ads in the free version.
No-tag feature.
Related Read: 5 Best Sleep Tracking Apps for Android in 2021
4. Cardio journal
The cardio journal is the best app to keep track of blood pressure. This app is also able to separate the night and day measurements.
However, it is not satisfactory enough to measure the blood pressure only one time. It is very crucial to observe the changes over a time.
In one day, you must measure your BP two times because morning and evening results are different. The cardio journal app has amazing features. You can also get notifications to remind you to take the measurements.
This app provides you with the chance to consult a doctor, but it is better to consult a real doctor. Everybody can easily learn how to lower blood pressure and check the history and statistics.
There are very nice heart indicators that tell whether it is normal, above the Normal or below the normal level.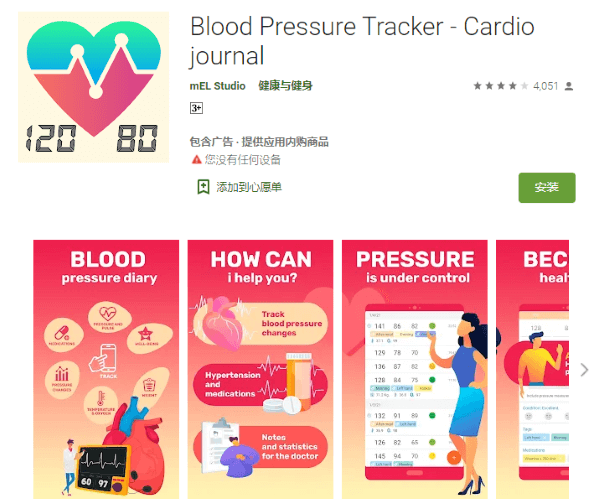 How to use it?
Download and install it on your device. To create an account, add your email address and create a password.
Your account is active now. Add your blood pressure and medicine name and timing.
If you want to consult a doctor, click on the icon named "specialist" and contact the doctor via telegram, Facebook, Viber or VK.
Click on the plot bottom to see the daily or weekly report.
Pros
This app is very easy to use.
It's a free blood pressure app.
Users can add a reminder.
Users can contact to doctor in an emergency.
Cons
No multiple people option.
It doesn't track weight.
No option to change the password.
Users can't delete accounts permanently.
5. Blood pressure tracker
Blood pressure tracker enables you to measure blood pressure and Heart rate. This app automatically records the systolic and diastolic pressure and heart rate.
This app is very convenient and records all the important data. It also analyzes the result. On the basis of this analysis, you, with the help of your doctor, can make the schedule of medication intake and dosage.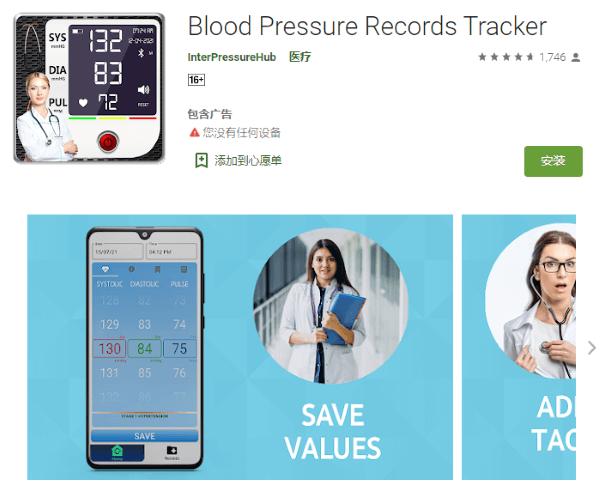 How to use?
Download app, install it on your phone.
Create an account with an email address, do some basic settings.
Click on calendar to choose date, add your diastolic and systolic pressure, add your pulse rate.
Click on record to check the complete history with date and time.
Click on the line chart button to check the blood pressure trends.
Pros
Records systolic and diastolic blood pressure and heart rate.
It measures the changes in blood pressure and heart rate over a time period.
Saves the data in the text file so that it can be copied to the PC.
This app Saves the data as a CSV file for backup.
Cons
The paid version is expensive as compared to other apps.
users Can't download the report on the free version.
What Should I Look for a Blood Pressure App for My Phone?
While choosing the best blood pressure monitoring app, you should focus on its features. Always use an app which is easy to use, shows accurate results, shows comprehensive reports and reminds you to take your medicine.
According to experts, choose the app that shares your report directly with your doctor.
Additionally, you should choose an app that allows you to download your daily or weekly report.
The best app should include a health advice feature because, by this feature, you can get notifications of tips and advice from experts.
What is the Best App for Blood Pressure & Why?
If you are willing to download the best Blood pressure monitoring app. In that case, the blood pressure watch app is perfect for you.
This app works smartly to record blood pressure, collect data, analyze it, and export your blood pressure report in nanoseconds.
Additionally, it monitors your weight. A user can create an account of a family member on this app to track their blood pressure and other health issues.
You can get a weekly or monthly comprehensive report of progress. So, blood pressure monitoring apps are worth installing on your smartphone.

KidsGuard Pro for Android
The Ultimate Android Monitoring App for You.
Sign up free
Final Thoughts
High Blood pressure is a deadly disease, so it's important to check your blood pressure regularly and maintain it accordingly. However, recording blood pressure is not an easy task, and older adults can't monitor blood pressure manually.
The latest technology enables you to control your data with different features like statistics, measurements analysis and graphs all in one place. So, you can check your blood pressure with apps such as smart BP, blood pressure log, blood pressure watch, Cardio journal.
All apps are easy to use; people of any age can use these apps without any difficulty. These also tell us about the effects of high and low values on the treatment.