Question: What is mobile internet filter?
Mobile internet filter is technology that prevent the kids from watching inappropriate content on the internet.
In some latest mobile devices, website blocking feature is installed built-in but needs to be activate and some devices need external sources for this purpose.
Parents use Mobile internet filters to block the websites on their kid's mobile phone to avoid them watching adult contents and other websites that are dangerous for children.
Best 5 Internet Filter Apps
Several apps have been developed for internet filter service but keeping in mind the parental control concern and the reviews by the users, here we will explain 5 best internet filter apps for you:
1. KidsGuard
KidsGuard is a best parental tool that ensures the safety of children and the activities on their devices. KidsGuard provides free service for the blocking of the websites that are not suitable for kids to watch on the internet.
Web Filter and App Blocker
KidsGuard provide you the function of blocking the websites and applications to prevent your child from watching adult content and safe them from wasting time and scamming sites that can breach their privacy.
Call Filter
KidsGuard allow parents to filter calls on their kid's device and can allow and block certain people to call them so that kids can remain safe from harassment and different kind of threats.
Geo-Fencing and Real-time Location
KidsGuard enable parents to track their kids anytime whenever they are out to home and can check whether they are at right location or not.
Parents can also add some locations where they have restricted their kids to go and if they still go there, parents will get a notification on their connected device that they have reached there, so parents can take action against it whatever they want.
Pros of KidsGuard
KidsGuard's web guard feature has no charges and can be used without any charges.
The interface of KidsGuard is very much user friendly.
KidsGuard provides call filter feature also in addition to the web filter.
It is an authorized app and anyone can use it confidently with no risk of harm or breach of privacy.
It provides 30 days money back guarantee if you are not satisfied with its services.
Using Steps of KidsGuard
The using steps of KidsGuard are very easy as it provides a very user friendly interface to its users.
Step 1.
Click diownload button below to install KidsGuard from Google Play Store or App Store.
Step 2.
After installtion ,open KidsGuard and sign up an account, go to dashboard page and tap on
Bind Now
button.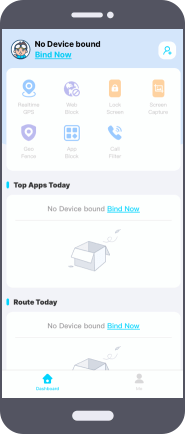 Step 3.
Copy the Url in the Setup instruction and send it to kid's phone. Open the Url in kid's Android phone to download KidsGuard Jr. After setting, you can start to block unwanted websites on your own device.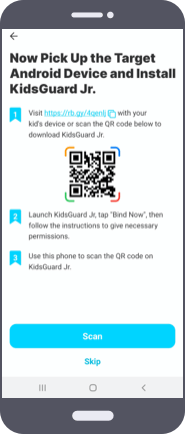 2. Qustodio
Qustodio is a parental control app that helps a lot in keeping an eye on children and ensuring the security of children while using mobile phone and internet services.
This app is not only used by families but also can be used by schools to keep children safe from any scam and make them stuck to only their relevant websites and applications that they are concerned and blocking all other websites.
Most of the schools have allowed a very little access to the kids while using computer with the help of such kind of applications. To use this service, you have to pay for its charges.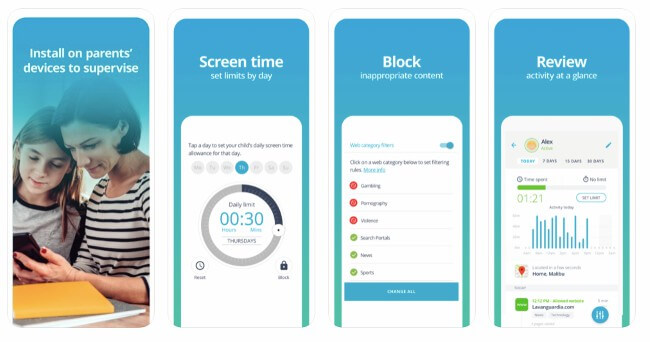 3. Famisafe
Famisafe is a very famous app and has also been awarded to be one of the best parental monitoring app. Its important part is that it requires no jail breaking.
Most of the sites seems to be very clear and authentic but actually they are not and they try to get the personal information of the user.
Famisafe helps to block such websites that are not suitable for kids to use according to its conditions. It provides a number of features like geo-fencing, suspicious photo and text detection, YouTube monitoring and location history etc.
It has monthly, quarterly and annual packages for its subscription.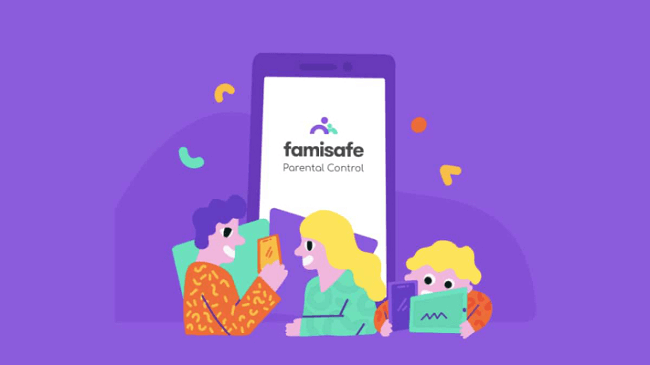 4. Net Nanny
Net nanny is a good and famous parental app. It helps parents to keep an eye on kid's activities online on their devices. It can be used to set kid filter to restrain them from watching adult content.
Such apps have proved very helpful for parents to restrict kids without any problem even when they are not beside them.
Although it is a good app but still if we compare it with other apps the new will realize that it lacks many parental helpful features and it is also quite expensive as compared to other applications.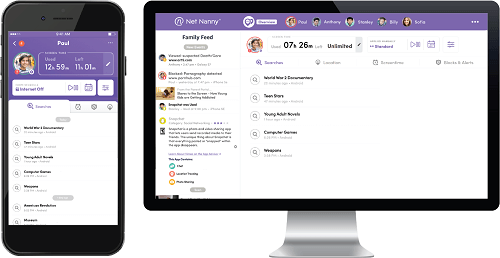 5. Bark
Bark is also considered one of the best parental monitoring apps for monitoring social media applications by parents on their kid's phone.
As the trend is of social media and calls and chats are mostly done on social media applications.
So, parents are facilitated to watch the social media activities of their kids. Bark also allows parents to filter internet websites on their kid's devices.
This application is somehow not preferred because it does not provide all the necessary features required for a best parental app. It big disadvantage is that it does not block the websites completely but just for a time being.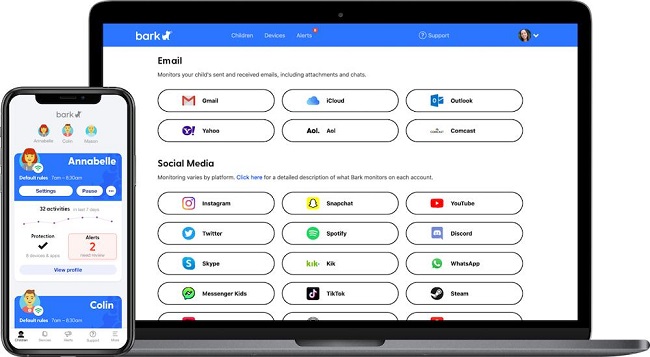 Why We Need Internet Filters?
As internet is a world wide web and it contains data of every kind and every age. But it is important many times to restrict searches on internet depending upon the need and age of someone.
For example, at little age, children should not be aware of bad deeds of society, they should not watch the adult contents, violence etc.
So, to restrict them from such things to be watched on the internet, parents use internet filters to block such applications and websites on their kid's devices so that they cannot watch them. It is also said to be the kid's filter.
Related Read: [100% Work] 2 Best Ways to Monitor Your Childs' iPhone
How to Choose the Best Internet Filter for Your Family?
It is quite simple to choose the best internet filter for your family, just have a deep search on features of different applications and also what you need, then you can easily get the answer that what to choose.
After above discussion we must recommend you to choose KidsGuard app. It is a free internet filter. The reason behind this is that its website blocking feature is free to use and the interface is user-friendly.
Moreover, you can enjoy a number of features under a single app. It has the best features required for parental control and the cost for it is so reasonable that everyone can afford it.
Final Verdict
From all above discussion we came to know that what is internet filter and for what purpose they are used. We also discussed a number of app that are used as a phone filters for internet.
Different applications are available in the market and all have unique features and prices. We can choose any of them depending upon our need but still there are some applications that are having more interesting features with very prices, all depends upon how much we are aware of them.
This article will help you a lot in understanding what you need and what is the best choice for you.