Question: What is Sharenting?
Sharenting is a term globally used for parents sharing content about their kids on social media.
It is an internationally widespread phenomenon where parents share their children's photos, videos, and other personal stuff on social media platforms.
Parents share everything about their kids out of love but it turns out to be a privacy breach to their kids' personal life.
Most of the children have accused their parents of sharing their images on different social media platforms without their consent. Too much personal information can risk their safety, privacy, self-image, and social life.
How Dangerous is Sharenting?
Although parents share posts about kids out of pride or love for them it can cause harm to their kids. Sharing their first words, adorable faces and half naked photos on social media is a fun activity.
But once they grow up and become more conscious, your kids may not like it. In bad scenarios, they can feel sad and miserable about what you have posted about them.
Although their reaction might not be adverse however there is a high chance of disliking it. Also, you should know that oversharing is not only a danger to your children; it is a violation of their rights to privacy.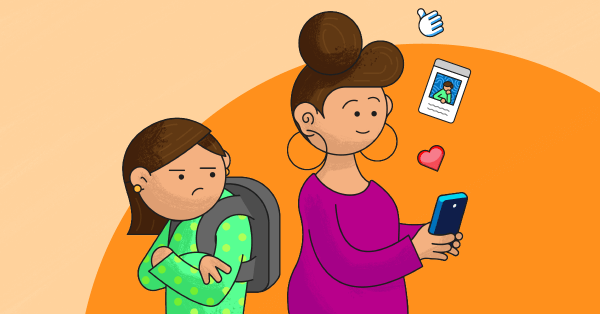 Sharenting can be dangerous for your kids for several reasons. Dangers of Sharenting include:
Privacy breach
Oversharing your kids' photos on social media can disturb their privacy. Most of the kids are annoyed about their privacy breach once they grew up.
By oversharing your kids' photos and personal life Such as the child's full name, age, school name, you are exposing your kids' life to bullies and stalkers on the internet.
People sitting far and viewing your images and personal information can easily stalk you and bully you for any reason. You're giving them access to your information by overly sharing information.
Fall prey to predator
Since all of your data is easily accessible, social predators can easily fraud your kids. They can exploit them or mislead them very easily.
By oversharing kinds of stuff about your children's lives, you are giving access to potential predators.
Misuse of your content
Some bad people can use your content for sexual reasons. Pedophiles edit and exploit your innocent kids' photos and maybe use them as sexual content.
Emotional turmoil in your kids
Sharenting can affect your children's emotions. Sometimes kids don't like your posts about them and when they grew up, it can disturb them emotionally.
Also, you are violating their rights by not asking their permission. Thus, it can lead to consequences in the future.
Safe Ways to Post Your Child's Pictures Online
Before sharing anything on social media, ask yourself; Where can I post this? What are the privacy policies of that platform? Who's able to see my content? Am I taking my kids' rights into account?
If you're careful, you'll find a balance and you won't be a victim of the dangerous phenomenon that is oversharing your children's lives on social media. Remember that it's all in your hands.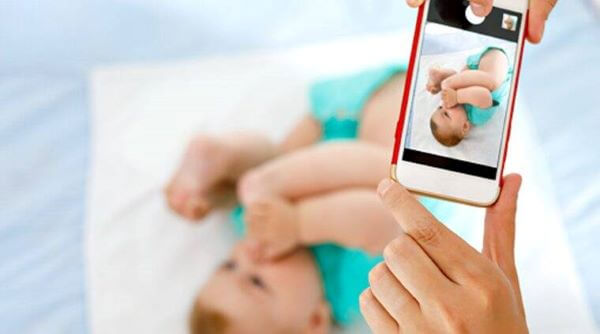 By making your accounts personal
If you want to keep your kids safe and protected from evil eyes, then you need to share your kids' photos on those social media platforms which is restricted.
It means that only trusted people can see and view your content and nobody outside your friends' circle can access them.
Ask permission
To keep their privacy intact you need to ask your kids permission whether you can share their photos or not. If a kid can understand his rights, then their consent is necessary.
If they refrain you from sharing a particular photo or any photos of them at all, you need to respect their decision.
To make it a fun activity, ask your kid to pick out pictures they like and ask them where they would like it posted.
Check Your Privacy Settings
It is advisable to follow the privacy setting on all social media platforms whether it is Facebook, Instagram, or Twitter.
The privacy concerns will keep aware of who can see, save your post or repost your content.
Family and friends who are following your account can re-post your photos. You can ask them to not save or use your kids' photos without your permission.
You also should remind them that it's important to ask your permission before saving or sharing any photos of your child.
Related Read: How to Protect Your Kids from Dangerous Social Media Apps?
How to Stop the Addiction of Sharenting?
Sharing every single detail about your kids might get you addicted. Later on, this addiction might lead to serious situations.
Sometimes the situation might get out of hand. If you have shared many posts and it's becoming difficult to control, it might become a problem for you. In such a case you can ask the help of a professional.
Try to find a balance between sharing and oversharing. Don't share unnecessary posts. Before sharing anything learn the privacy policy of that platform and your viewers.
Stop notifications and check your phone for seeing who viewed your content. That way you can overcome addiction.
Block social media apps with KidsGuard
Another convenient way to overcome sharing addiction is installing a third-party app such as KidsGuard.
Through KidsGuard you can easily block certain unnecessary apps. If you want to curb the feeling of sharing posts on social media platforms, you can block these apps through KidsGuard to seek protection.
Features of KidsGuard
Web Block
App Block
Capture/Lock Screen
Realtime GPS & Geofence
Call Filter
Activity Report
How to Set up KidsGuard Parental Control App?
Step 1.
Click the button below to download KidsGuard from Google Play Store or App Store. And then please sign up an account for yourself.
Step 2.
Open KidsGuard, tap on
Bind Now
button on the dashboard. Copy the URL in setup guide and send it to your kids' phone.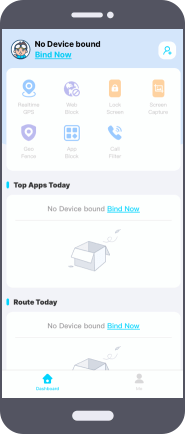 Step 3.
Open the Url in your kids' phone, finish the installtion of KidsGuard Jr. After installation and setting, you can start to manage your kids's device.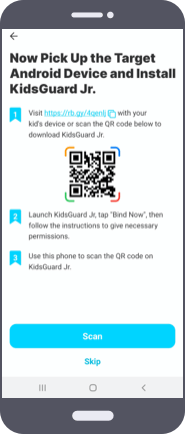 How to Teach Your Kids About Online Privacy?
The use of social platforms is very common but it doesn't make it less harmful. Here is how you can teach your kids about online privacy.
Be Aware of What to Share
The foremost step parents need to understand is to be aware of what to share on social media. The healthy use of the internet and social media platforms can avoid the risk.
Parents can make their kids understand what to share and what to keep personal.
Sharing their personal information such as their full name and their whereabouts can put their lives and mental health at risk. Molesters can easily approach them.
Social Media Presence
If your kid is aware of what to share, it is easier to teach them about online relationships. Make your kids aware of the differences between digital and real life.
Empower them to say no when an online friend wants to meet them alone in real life. Remind them that sending any type of explicit photos or sexting is illegal, and the information they send out can remain in the digital world forever.
Cyber Safety
Although Social media is an essential part of our lives it does not mean that to overshare information. Oversharing your photos and other information can make them an easy target so have a cyber-safety in case of any inconvenience.
Using strong passwords on mobile devices and other social media apps can reduce the risk.
Many parents are savvy on the Internet. They don't follow online privacy tips themselves. Ensure you're a good mentor for your kids by guarding your privacy.
Conclusion
Sharing your kids' happy faces, achievements, first words and first steps are amazing but later when they grew up, your kids might have reservations over their photos. Thus, oversharing their photos can put your kids' life at risk.
To avoid future consequences, parents need to share photos as minimum as possible. Avoid leaking too much information about kids such as their age, full name, grade, and naked photos.
To do this, use the privacy policies of all social media platforms, seek your kids' permission, hide their personal information and make your kids aware of the useful use of the internet. Also, you can use the KidsGuard for blocking such unnecessary applications.