Thanks to the technology that has made possible for parents to track their child's activities and even their real time location anytime and get relaxed even far away from them.
GPS Tracking bracelet for Child is one of the best technologies introduced to track kids all time by the parents.
These bracelets also sometimes help you track your health and some more interesting features depending upon their prices.
Best 10 Wearable GPS Tracking Bracelets
There are several tracking bracelets being introduced in market and they are also updated with new models by introducing latest features.
Similarly, their prices also vary with their features and technology. These GPS bracelet for kids have been proved to be the best parental control devices as it provides an ease to parents to look up their children far away from them all day, either in school or anywhere else.
These bracelets show real time location of children to parents and in case a child is lost by this tracking device parents can easily reach their child where ever he is.
Now, let's discuss a number of bracelets with their unique features.
1. Wonbo GPS Tracking Kids Smart Watch
Using Wonbo Kids SmartWatches you parents can easily track their children's GPS location by using its app on their device. It provides a very precise location of kids to parents by the application. Its amazing thing is that it is available for both Android and IOS users.
Price
Its price is very much low as compared to its features. It only costs for $22.99.
Features
It has amazing features for both parents and kids. Parents can not only track the location of their kids but also track their health through this device. You can use geo-fencing feature by this device. It supports two-way calling. For its attractiveness, it is available in different colors.
Pros
It is durable because it is manufactured with silicon.
It has SOS button for emergency calls.
Cons
Kids can use it for calling purpose and waste their time.
It supports only a micro sim card.
Related Read: iTouch Smart Watch Reviews
2. Diggro DB-10 Smart Bracelet
Diggro DB-10 is a smart bracelet to help you keep track of your exercise. It also records the air pressure, altitude, record time, speed etc. Its unique features make it liked by both the kids and elders also.
Price
Its price is $39.99 on Amazon and its weight is around 1 pound.
Features
It has many unique features. It can measure temperature, air pressure etc. It can track GPS location of Kids if parents want to.
It has real-time heart rate monitor feature to see the heart beat any time. It is also waterproof. It can be at stand by for 20 days if charged only for half an hour.
Pros
Its battery is quite good.
It shows you the notification if you missed any call or message on your phone.
Cons
It will not sow you the GPS location, if you will damage the GPS antenna.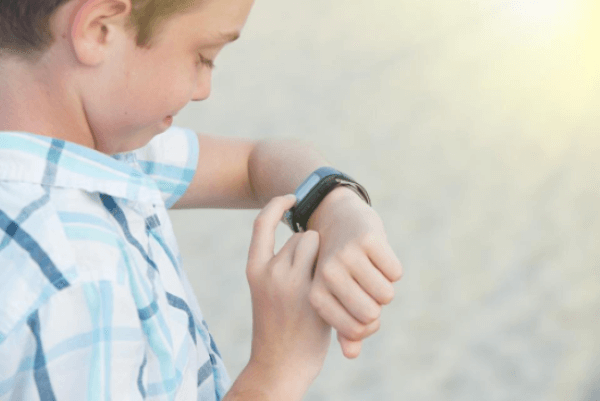 3. Pingko Pedometer Activity Tracker
This bracelet is more recommended due to its attractive look. It is so beautiful that you can even gift it to your family member on any occasion.
It is waterproof and helps in tracking the exercises also with its accurate GPS feature.
Price
Its price is $26.99 and its weight is 3.52 ounces.
Features
It can be used as an alarm, for messaging, camera and play music. It not tracks the GPS location but also helps to track the multiple exercises.
It is very simple to use and helpful in tracking the location of kids by the parents. As it has camera feature so kids can also take pictures from this and share to their parents when they are far from them.
Pros
It is so attractive, easy to use and inexpensive.
It has IP67 waterproof, so you can even wear it into the pool.
Cons
It does not have Bluetooth feature.
4. Coolead Fitness Tracker
This bracelet has its unique look that it can be wear by any gender due to its sleek design and a number of colors available in it. It is also suitable for all age groups.
Price
Its price is $24.99 and its weight is 23 gram.
Features
As it can record the heart beat so, it is perfectly suitable for elder family members. It keeps you aware of the daily activities and physical exercises.
Kids and youngsters can also enjoy its music service for bands. It also has alarm feature and a wireless camera feature. It can track the real-time location of kids by parents.
Pros
If you just misplace it, you can easily track it.
It also enables parents and kids to contact each other.
Cons
As it has a number of features, so it becomes complicated for people who have less technical knowledge.
5. Kids Water Proof Smart Watch GPS Tracker
Its amazing features and accurate results have proved it to be one of the best GPS tracking bracelets for kids.
It has remote control camera and voice recorder service. This is a super-quality dustproof and waterproof device and this the reason it is costly as compared to above devices above discussed.
Prices
Its price is $49.99 and weight of this device is 2.12 ounces.
Features
This smart bracelet has some unique features than the other smart watches. For the child's safety, it provides remote control camera and voice recorder service.
It provides service to parents and kids to call each other when needed. It also has SOS button service.
Pros
It is of good quality and cannot be destroyed so easily.
Parents can know exact location of their child using its GPS tracker.
Cons
It is not compatible with AT&T, Sprint and Verizon.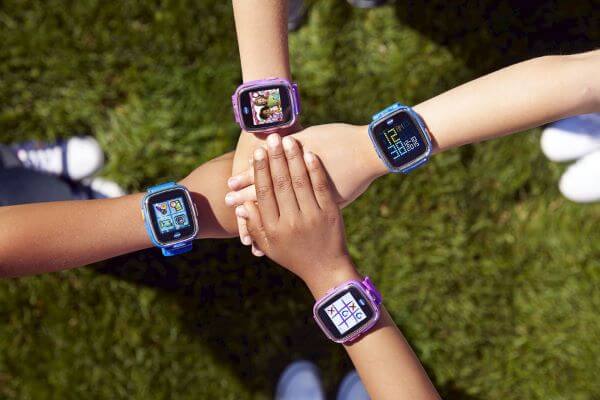 6. Kids Smart Watch Phone GPS Tracker
This watch is used as a kids fitness tracker with GPS. It is perfect for children who are engaged in different sports activities because it has a fitness tracker to track the levels of activities.
It also has the ability to remain fine in water for three hours as it is water proof. It allows the user to take pictures by its camera.
Price
Its price is $30.89 and it weighs 1.76 ounces.
Features
It is famous and accepted for its best fitness tracker to track the daily exercises. It also has classroom mode or do not disturb mode not to disturb your kid when studying.
Parents can easily control it though the app in their phone. Kids can also use this device to capture the moments they want to through its camera.
Pros
It provides a high dimension screen with 1.44 inches display.
It perfect for playing games.
Cons
You need to buy a compatible sim card to run most of its features.
7. iCool Live Waterproof IP67 Kids Smart Watch
iCool Live Waterproof Kids Smart Watch is one of the best GPS Tracker for kids as it provides accurate results of location of child either outdoor or in swimming pool.
It has attractive themes to attract its users. This device is used by kids to play games, send messages and make calls to their loved ones.
Price
The price of this device is $49.97 and it weighs 0.76 ounces.
Features
It has some common features as other smart bracelets have but also have some unique features that makes it different form others. Its attractive themes attract the kids more.
Kids can play games on it and make calls to their parents in case of any kind of emergency.
Pros
It can be wear during swimming to show exact location of kid.
It also owns the SOS service.
Cons
Like some other devices, it also does not supports Sprint, Verizon and AT&T network.
8. Fitbit Versa Smart watch
This is the most expensive GPS tracking device discussed till yet. Its price is high because of its outstanding features as others do not have.
Due to its multi usage, this device is used by people of all ages. It can also be used a health tracker device due to its several features related to the health.
Price
The price of Fitbit Versa Smart watch is $199.90 and it weighs 12 ounces.
Features
This device has amazing features as it can track the heart beat and daily activities. It can also manage the sleep time and stages without any problem of the battery.
Using its GPS tracker, parents can get the precise and exact location of their child. It works as a music player and can store songs up to 300+.
Pros
You can use the NFC chip to make cashless payments.
It is multi used and by all ages.
Cons
Only Android mobile users can get quick messages from this device.
9. AGKupel Fitness Tracker
AGKupel fitness tracker is another device to track the daily activities and you can easily create your exercise log on it.
It owns a latest HR sensor to monitor the accurate heart rate and due to this reason can be used by person of any age especially older people.
Price
Its price is $28.88 and it weighs 3.2 ounces.
Features
Like other devices the main feature of this device is to track the GPS location of kids for parents and their health-related measures like heart-beat.
Likely, it is also water proof with its feature IP68 and is easy to use on daily basis.
Pros
It is very easy to use.
It owns latest HR sensor.
Cons
It lacks many features as per its cost.
10. Fitness Tracker, Activity Tracker Fitness Watch
Like all above discussed device, this device also owns its fitness tracker to track the health. It supports both Android and IOS devices.
This device can be used by parents for their children as their assistant or guide. It can even let the parents know the footsteps their child has moved.
Price
The price of this device is $32.99 and it weighs 3.52 ounces.
Features
Its most interesting feature is that it cannot only show the real time location of child but also the footsteps their child has moved.
This device can be used to set reminders to keep the track of messages, alarms and calls, It also notifies if the battery of your device is getting low.
Pros
It supports both the Android and the iOS.
Its features are must more worthy than its cost.
Cons
In start it give some challenges to the user to understand it properly.
Best GPS Tracking App which Can Download onto Kid's Phone
KidsGuard Pro for Android
After reading a lot and experience and reading reviews, I came to a conclusion that the Best GPS tracker for kids is the KidsGuard Pro for Android.
As it is quiet affordable and authorized with zero security and privacy risk. The features of KidsGuard Pro for Android are really above all.
Parents can easily track GPS location of Kids, view their location history, geo-fencing and even track their Wi-Fi. Other than that, parents can also watch all the activities of kid's phone like their browsing history, call logs, contacts, photos, videos and even the social media applications.
Parents can also record phone calls of their kids, capture screenshots and can take secret photos too. All these amazing features are outstanding and much helpful in keeping an eye on your child.
How to Set up KidsGuard Pro for Android
Step 1.
Click
Monitor Now
button below to sign up a KidsGuard Pro account.
Step 2.
After registration,log into your account and go to
My Products
page, click on
Setup guide
button and following the instruction to download KidsGuard Pro for Android onto target phone. This step only needs to take 3-5 minutes.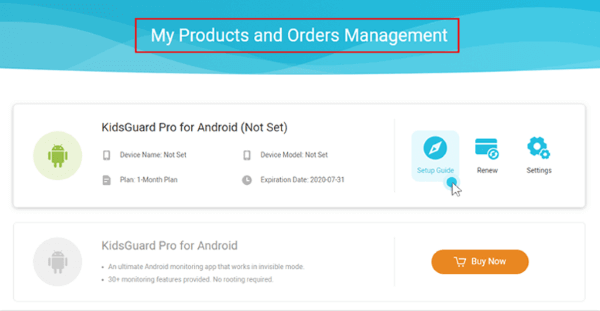 Step 3.
After correct setting, the icon of this app will be disappear from the home screen of target phone. It's 100% undetectable. Now you can start to check target phone's real-time location and location history on dashboard. You can even check social media apps activities, call logs, etc.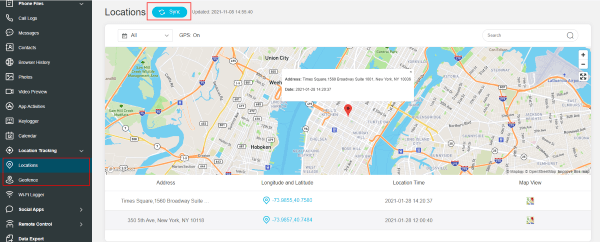 Conclusion
From all above discussed things, we can conclude that the most common feature of several GPS tracking devices is to track GPS location and mostly the devices are also used to track the health like exercise activities, heart rate.
Due to these features these are almost useful for people of any age. But, some are made for only specific purpose. Additionally, some other features are also added to make a specific device different from other devices.
Some are designed attractive. We should choose the one with no security risk and the best suitable with more features we need.