Most of the people who have never used an iPhone or iPad have this thing in mind that downloading and accessing the files on iPad is just simple as they do on Android, PC, or Mac.
But in reality, it is wrong. iPad has its way to download and access the downloaded file.
In this article, we will discuss how to find downloads on iPad and we will also discuss why we need to find the downloaded files not only on our phones but on our kid's iPad.
How to Access the Files app on iPad?
Using the Files app to access the downloaded files is the easiest way and simple too. This method involves a few steps:
Step 1.
Swap down your finger on your home screen and in the search bar type "Files". The files folder will appear.
Step 2.
In this folder, at the bottom of the screen you will see the "Browse" option, and clicking on it will show you a new screen ad there you will see "On My iPad".
Step 3.
Then you will select the "Locations" tab and finally you will be able to see the folder where all the downloaded files will appear. Most people use the name "Downloads" but if you want you can also change its name.
Another interesting thing is that if you want to save the downloaded file to any other folder you want, you can simply change the settings and select a folder where you want to access that specific file you are going to download.
This can only be done before you start the downloading of the file but there is also a possible way for it, after downloading you can also move it and can make a copy to any other folder you want to.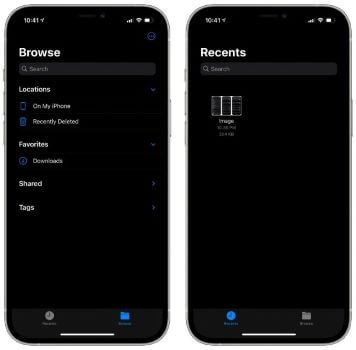 How to Access the Downloads Folder on iPad?
Finding a downloaded file on iPhone or iPad is not that easy and simple as compared to other operating systems. If we are searching for the question that how to find downloaded files on iPad then you need not worry anymore.
We are going to tell you about it and after reading this, there will be no need to search out anymore. The downloading and saving of your downloaded files are unique and quite complicated. This is the reason almost all new iPad users face his problem once but reading this article they will be able to find their downloaded files.
There are many methods to download files on iPad. You can use iCloud to save your downloaded files and Google Drive directly to download them. On the main menu, you will find the folder named "Files", if not available you can also search it out and easily find it.
After opening this folder, you will find the "On my iPad" option if you are using an iPad and the "On My iPhone" option if you are using iPhone.
It's dependent upon what device you are using. After you tab on the option available, you will find a folder named "Downloads". In this folder, you will get all the files you have downloaded.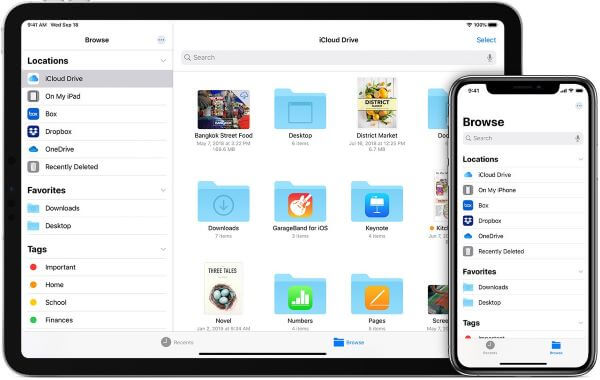 Extra tips
1. How to Access the Files of Someone's iPhone or iPad?
KidsGuard Pro for iOS is a parental control app that helps parents to watch their activities on their iOS devices. This application enables parents to realize what their kids are doing and then parents can guide them accordingly about the pros and cons of their usage.
Watch Social Media Applications
Its feature of monitoring social apps lets the parents able to watch their kid's activities do on social media. The time they spent, the people they contact, and even what photos, videos, and documents they have shared with them information can be get by using KidsGuard Pro for iOS.
Monitor Multimedia Files
It also enables parents to check any kind of media files available on their kid's phone on the matter it is a photo, video, document, a movie, a song, or even a drama serial.
Text Files
Using KidsGuard Pro for iOS makes parents able even to view their text messages to whom they have been on chatting and what they have talked about.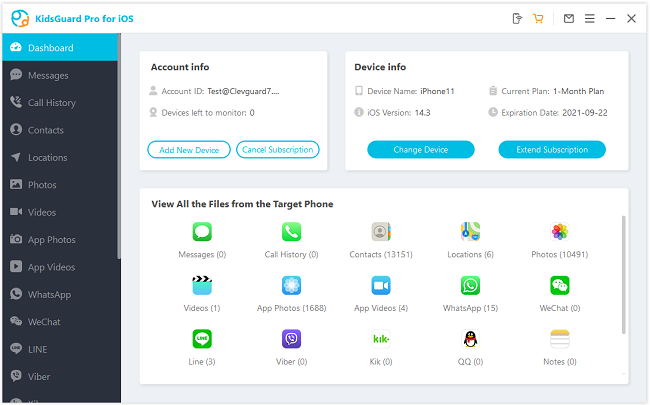 2. How to Find Downloaded Music on iPhone or iPad?
Finding the downloaded music on the iPad is very easy to get if you know how to find it. You first need to open the Music app available on your iPad or the iPhone.
After opening it, you will look for the 'library' tab, and under this tab, you will find all the music files you have in your iPad through any source and it may be the copied music from any external source or the downloaded one from the internet available under "downloaded" tab.
You can also search for the selected file you are looking for in the search bar and enjoy the music by playing it.
3. How to Find Downloaded Apps on iPhone or iPad?
It is very obvious that anyone having an iPad or iPhone needs to download files and everyone using the iPad needs applications according to their needs like kids want to download gaming apps.
Social media apps similarly businessmen need to download several banking apps and other relevant applications. All these apps are saved in a single folder after they are downloaded.
So, most people think that where are my downloads on my iPad? You will get all the downloaded apps in your App library that you will get from your Home Screen. Open the "App Library" and you will find all the apps in alphabetic order.
4. How to View Available Storage of iPhone or iPad?
It is a necessary factor to manage your mobile devices also as it affects a lot on the device's working.
So, the most important thing to keep in mind is to check the storage capacity of your device as this factor is checked on a very prior basis even when we go to the market to buy a new iPhone or iPad.
The same is the case while using the iPad, you need to check what amount of data you can save more on your device as it affects the speed of your device.
To check your device storage, you just need to go to the "Settings" tab. Here you will select "General" and then "Device Storage". You will get the results of total storage and the left storage.
FAQs
Q1. Why there is no downloads folder on my device?
The file manager app is not available on most devices and this is the main reason mostly we don't find the download folder on our devices.
We need to download specific apps to get the downloaded folders especially in iPhones and iPad where the downloads folder is needed to be searched out first.
Q2. Where are my downloads?
On iPad or iPhone, your downloaded files are available in the "Downloads" folder which is available in the "On My iPad" tab in the File Manager folder.
Q3. How do I find downloaded photos on my iPhone?
We often download photos from the internet and need to view them offline. Just Go to the "Library" there you will find all the downloaded photos arranged according to days, weeks and months.
This app is not only for parents but also it can be used by anyone who wants to know about any other person but the necessary thing is that you must have one accessible on that target phone to connect it with your device.
Related Read: [Guide] How to Use Guided Access On iPhone And iPad?
Conclusion
Hopefully, we all are clear now about how to find downloads on iPhone or the iPad. It is a little bit confusing but if you have practiced once then it will become very easy for you and I am sure that you are also clear with finding the apps, photos, and music files also.
We have also explained to you the best method even to watch files on other's iPhones or iPad using the KidsGuard Pro for iOS. This is one of the best applications ever experienced and its price is so minor related to its amazing features we have already discussed in this article.