People tend to pursue their fulfillment in spirit, which hots up many entertainment tool in today's digital word. Therefore, there are lots of voice changer tool come to our sight, such as ghostface voice changer, ghostface text to speech generator . A ghostface voice changer refers to a tool or software that is designed to modify or alter a person's voice to sound like a ghost or other supernatural entity.
It can be used for various purposes, such as creating spooky sound effects for Halloween events, Scream AI movie, enhancing storytelling experiences, or adding an eerie element to audio productions like podcasts or videos.
This article is right here to introduce top 6 ghostface voice changers online for PC, available for both Window and Mac, which can give you a wonderful experience with various good-quality voice-change effects of ghost.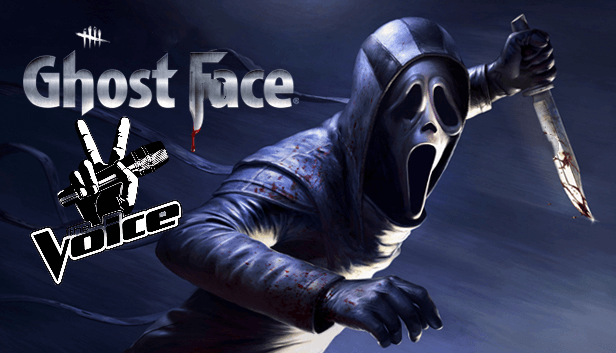 Table of Contents
Is There An Actual Ghostface Voice Changer?
Of couse, there is a goshtface voice changer available that specifically aim to mimic the voice of Ghostface, a character from the "Scream AI" movie franchise. . If you are looking for a great ghostface voice changer, you must come to the right place. The following will introduce top 6 real-time Ghost face voice changers, you can definitely pick your perferred one.
Video Guide About How Do You Sound Like Ghostface via Voice Changer for Ghostface
How Do You Make A Ghostface Voice Like Scream Movie?
There are many ghostface voice changer tools to change your voice sound like Scream AI movie.
In order to make your voice sound like a ghostface voice, if you need the help from a good ghostface voice changer. This chapter is right here to outline top 6 ghostface voice changers online for PC.
1. CleVoice -- 100% Free Ghostface Voice Changer
When is comes to the best ghostface voice changer, CleVoice must come first, since CleVoice is an one-in-a-million free voice changer online, available for Win & Mac. This Ghostface voice changer enjoys an abundant number of scream and scary voice filters, allowing you to get a fulfilled ghostface voice effects.
CleVoice is the smartest real-time voice changer, which can change your voice to various scary voice effects instantly without any restrictions. If you want to make a prank with your friend, CleVoice ghostfacevoice changer should be a nice choice for you.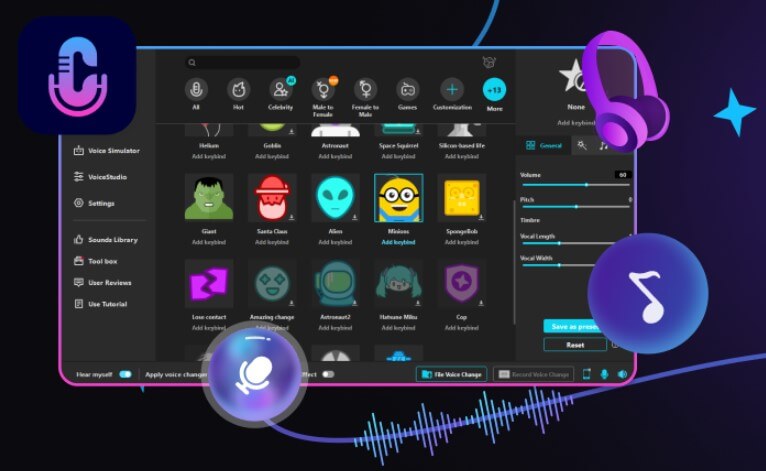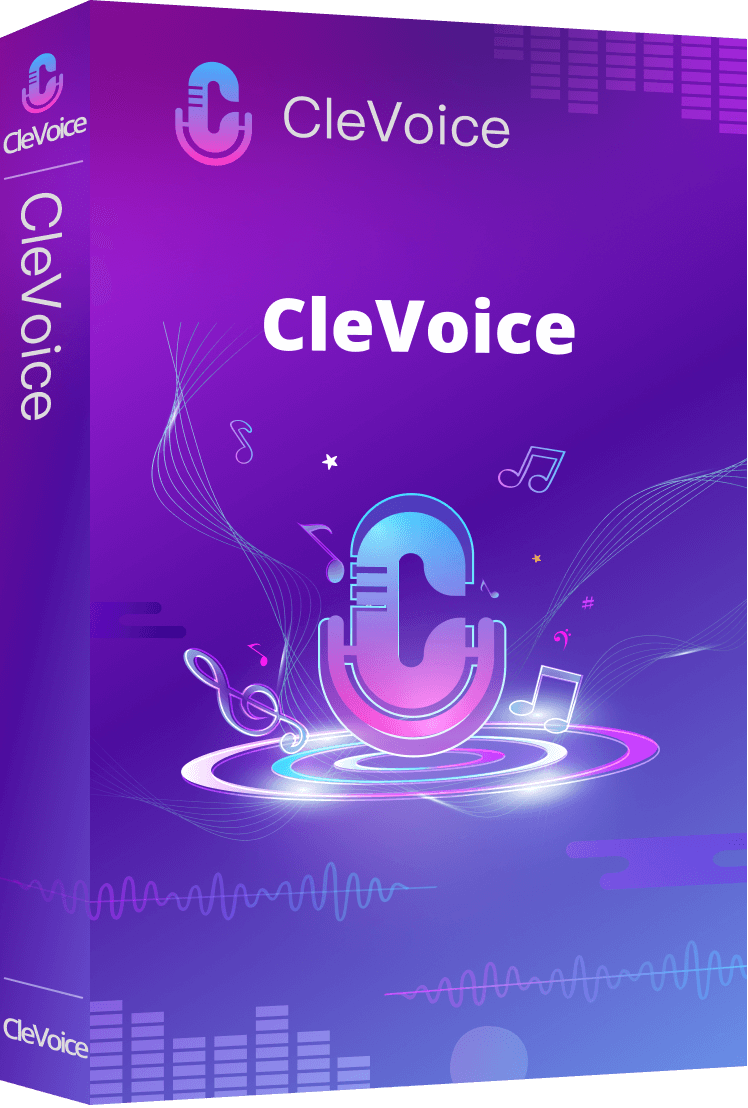 CleVoice: Top Real- Time Ghostface Voice Changer
Provide more than 125+ voice filters, including all the scream voice like monsters, demon, ghostface, Vecna and more.
Offer various free voice filters every day for all users.
Enable to DIY every voice effects and voice memes.
Customized settings is available, allowing users to customize the pitch and modulation settings so that users can create a unique and personalized voice output.
Easy to use, user-friendly interface.
Allow to change your voice in various programs including stream, games like Fortnite, Space Marine and more.
How do I change my voice like ghostface via CleVoice voice changer for ghostface?
Step 1: Install and Launch CleVoice Voice Changer on Your PC
Download for WindowsDownload for Mac
Step 2: Select the Output and Input Devices
Please select the Headphones as the output device and select your real microphone as the input device.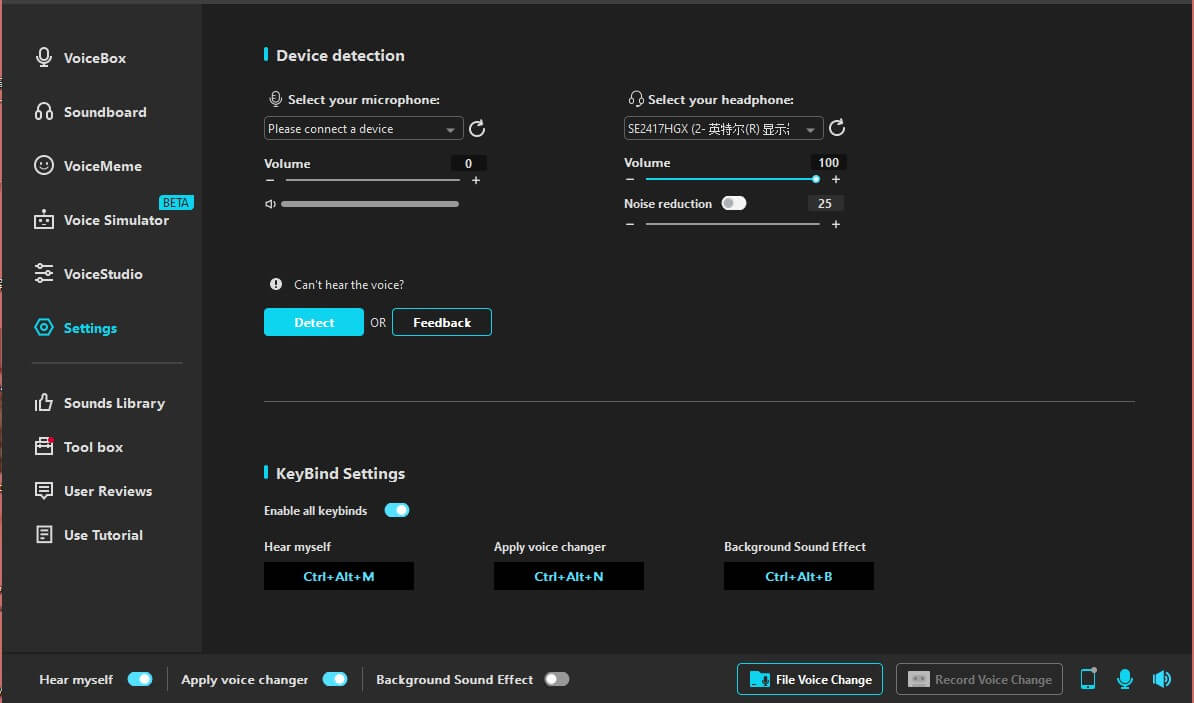 Step 3: Select Ghostface Voice Filter
Go to VoiceBox, click Horror option,then choose Ghostface voice filter. Just speak to your microphone, you can get your won ghostface voice.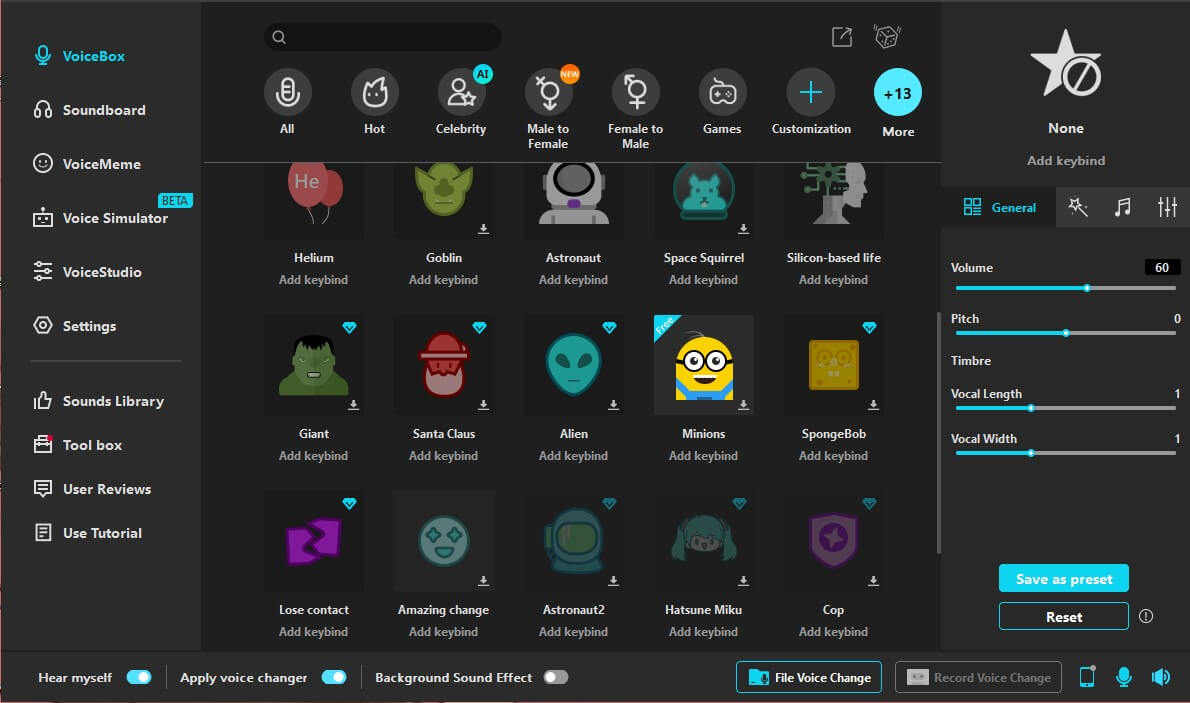 Lots of voice changers for ghostface online is just available for Window device, but CleVoice voice changer for ghostface supports for both Window and Mac, so that it enjoys an increasing popularity from users from around the world.
2. VoiceMod
VoiceMod is also one of the most popular voice changer for ghostface/scream in the world. With the ghostface voice changer effect in Voicemod, users can modify their voices to sound like ghosts or other spectral entities. The effect typically includes adjustments to the pitch, reverb, and other audio parameters to create an eerie and haunting sound.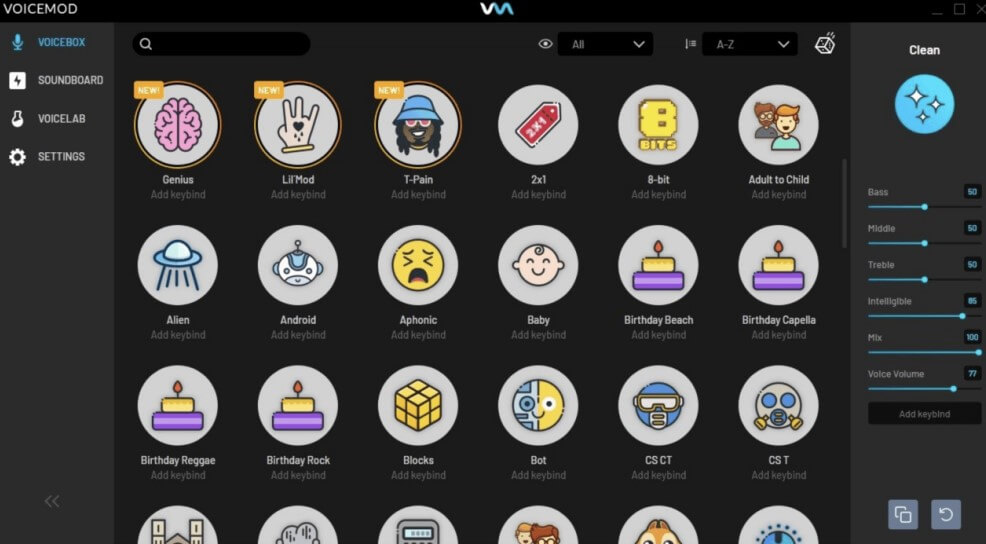 Features:

Has 100+ voice filters.
Provides free voice filters to give users a free try.
Share many powerful soundboard, which can be used in chatd and communications.
Cons

Complex to use
VoiceMod may mess up audio drivers and result in the headset or microphone not working.
3. Clownfish
Clownfish is an available ghostface voice changer online, which is not available for Win or Mac. If you want to change your voice to a Ghostface on your phone device, you can choose Clownfish voice changer, available for Android and iPhone devices.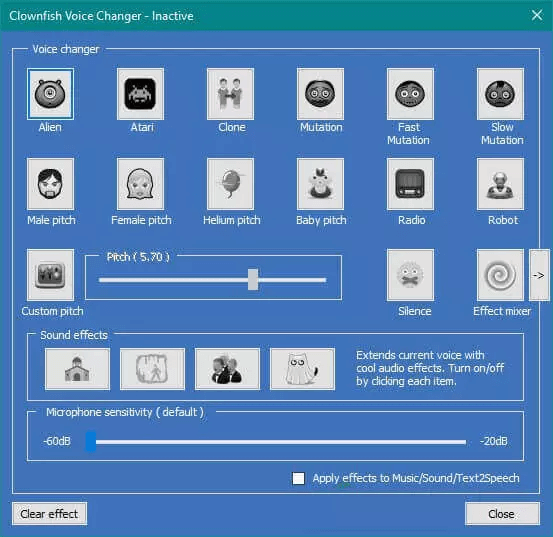 Features:

Offer different kinds of voice filters, such as ghostface, alien, clone and so on.
Make your voice deeper.
Free to use.
Cons

Not a real-time voice changer.
Not available for Win or Mac Limited voice filters.
Lack of gaming voice fitlers.
Some installation error Custome sound not adding.
4. Voice Changer Plus
Voice Changer Plus is an app and PC voice changer on phone device. This is also an available ghost face voice changer online, available for iOS and Mac devices. Voice Changer Plus has a shining function that you can play your won voice backward.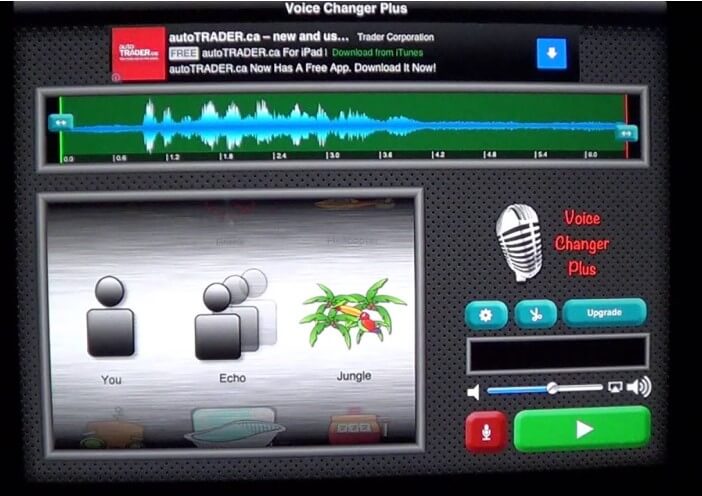 Features:

Offer 50+ voice filters including Ghostface voice.
Features Allow users to trim the audio.
Support some pre-recorded audio files, so that users can load the files into the app and add the voice effects on their own.
Cons

It's not available for Android and Window devices.
Limited voice filters.
5. MorphVOX Pro
MorphVox Pro is also an excellent Ghostface voice changer, allowing you to change your voice like ghostface in horror movies. This tool provide plenty of scary voice filters such as ghostface, scream voice and so on.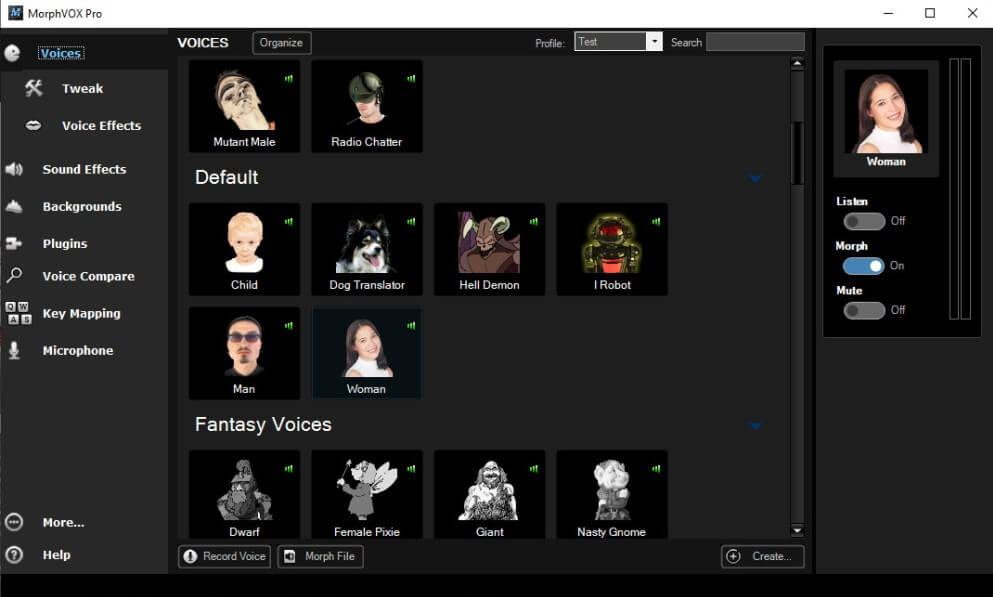 Features:

Provide free voice filters for all users.
Customized voice effects and memes.
Features: Allow users change their voice in other program like games.
Cons

Just available for Window, not compatible for Mac.
Low microphone levels.
6. SoundBot
Though SoundBot is a new ghostface voice changer online, it provides 100+ voice filters, allowing to change your voice to many voice filters you like. It provides a horror theme with huge various horrible voice filters and scary sound effect .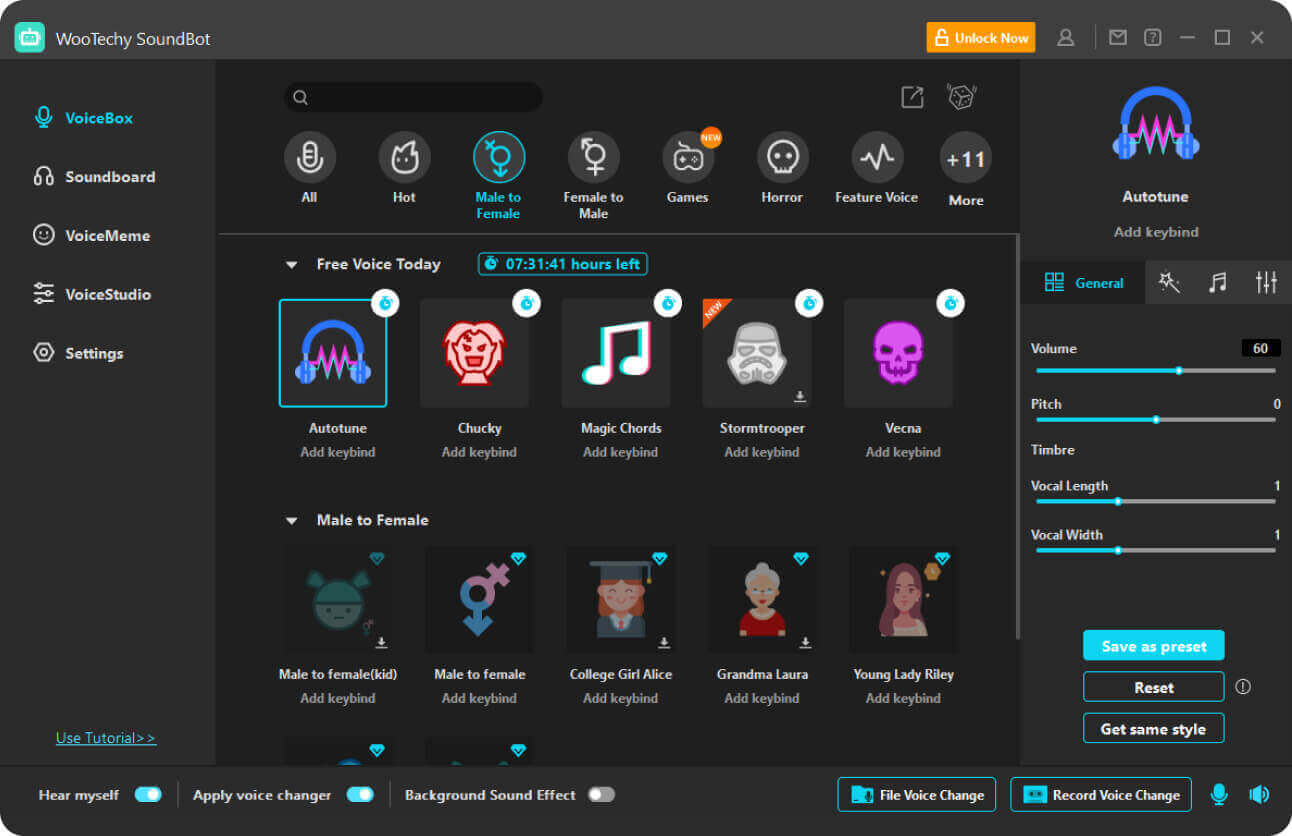 Features:

Offer a few free voice filters each day.
Enable to change your voice in games, stream and other platform.
Easy to use.
Cons

Only available for Window.
Unstable installation for its new running system.
Why Do People Use Ghostface Voice Changers?
People like to use ghostface voice changers to change their voices to sound like ghosts in scream movies for several reasons:
Entertainment and Fun: Transforming your voice into a ghostly sound can be a fun and entertaining activity. It allows individuals to engage in creative play and explore their imagination. It's particularly popular during Halloween or other spooky-themed events where people want to enhance the atmosphere and create a sense of mystery.
Role-Playing and Storytelling: Ghostface voice changers can be used in role-playing games, theatrical performances, or storytelling sessions to bring characters to life. By altering their voices to sound like ghosts, or celebrity voice like Donald Trump voice, individuals can add an extra layer of depth and authenticity to their performances, immersing the audience in the story and creating a more memorable experience.
Audio Productions: Ghostface voice changers are often used in audio productions such as podcasts, videos, or radio shows. They can help create a spooky ambiance or add a supernatural element to fictional narratives. By modifying their voices, content creators can enhance the storytelling aspect and engage their audience in a more captivating way.
Pranks and Jokes: Ghostface voice changers can be used for pranks and practical jokes. Changing your voice to sound like a ghost can be a surprising and amusing way to startle or entertain others. Or change your voice from male to female voice, which will be much funnier.
Personal Expression: Some individuals simply enjoy the ability to transform their voices and explore different characters or personas. Using a ghost voice changer allows them to express their creativity and experiment with unique vocal effects, giving them a sense of self-expression and enjoyment.
In summary, people use ghostface voice changers for entertainment, role-playing, storytelling, audio production, pranks, and personal expression. It provides them with a fun and creative way to alter their voices and add a ghostly, supernatural touch to various situations.
Conclusion
If you are a streamer or influencer, a good voice changer can be your great helper. These article has outlined top 6 ghostface voice changers online, which can help to make your voice sound like a ghost. In this way, you can make fun and joys with your audience in a better level.
If you ask which one is the best ghostface voice changer, as for me, it must be CleVoice voice changer. Since this tool not only provides free voice filters, but also enables to change your voice in different programs in real-time. Just try using CleVoice voice changer for ghostface, you will love it.