Before We Start
Has your kid become addicted to Fortnite? Is he wasting his valuable time playing the game in your absence? Are you worried that Fortnite's graphics and chats are not suitable for your kid?
If your response to these questions is positive, you have to exercise Fortnite parental controls so that your kid gets limited exposure to Fortnite dangers and stops wasting his valuable time.
Fortnite is rated T for teens which means it is not suitable for kids under 13 years of age. That is why Fortnite comes with parental control settings to filter mature language, control voice chats as well as text chats, get weekly playtime reports and much more.
In this article, we will illustrate how to set Fortnite parental controls. We will also illustrate an alternative way to provide full protection on Fortnite for your child.
Can You Put Parental Controls on Fortnite?
You do not have to be a tech-savvy person to set parental controls on Fortnite. Setting parental control on Fortnite is as simple as changing some settings on social media apps. For the convenience of the parents, Fortnite has simplified the steps for parental control.
You can set parental controls directly on Fortnite as well as on Epic Games Store and even on gaming platforms like PlayStation and Xbox.
However, if you turn on parental control on Fortnite, those same settings will be reflected if your kid plays Fortnite on multiple platforms. Therefore, do not worry about setting parental controls and focus more on the steps which we will explain in the next section.
How to Set Fortnite Parental Control?
Here are the steps to follow to set parental control Fortnite on the device where your kid plays it. If your kid plays Fortnite on multiple devices but from the same account, in that case, you can set the parental control from any one of those devices, and the effect will be visible on all devices.
Step 1: Launch Fortnite on the device.
Step 2: Enter a lobby of your choice.
Step 3: Once you are in a lobby, open the main menu by clicking on the three-line icon located at the upper-right corner of the screen.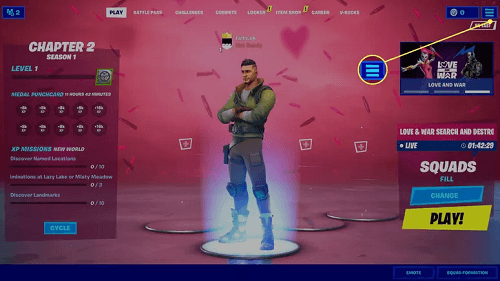 Step 4: From the menu, select Parental Controls option.
Step 5: On the next screen, click on Set Up Parental Controls option.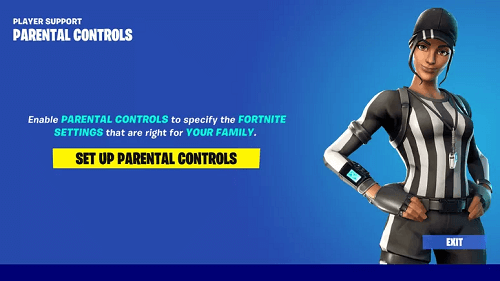 Step 6: You will be asked if you want to change the email address linked with this Fortnite account. If your kid has set it up with his own email address, you have the chance to change it to your email address.
If you want to change it, click on Change Email option and follow on-screen instructions. Otherwise, click on Next button.
Step 7: You will be asked to enter a unique PIN so that only you know it and your kid cannot change the settings. It has to be a 6-digit PIN number and after entering it, click on Next button.
Step 8: On the next screen, you will see all the Parental Controls and you can turn them on or off as per your preference. For more options, click on more Settings options. Once you are done, click on Save button.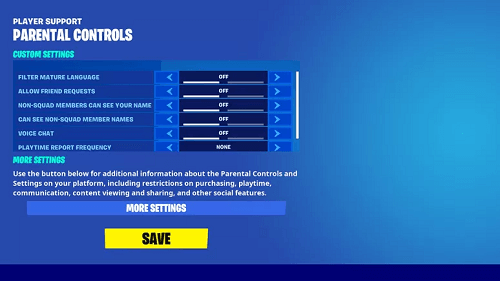 What Does the Fortnite Parental Controls Do?
Here are the filters you can set on Fortnite Parental Controls and you should know what these filters do when you turn them on.
Filter Mature Language: When you turn off "Mature Language" filter, the text messages containing mature language will be replaced by heart symbols. This is how you can block inappropriate words that are often shared through text chats.
Hide Name from Non-Squad Members: When you turn off "Non-Squad Members Can See Your Name" filter, your kid's display name will be shown as "Anonymous" to all non-squad members. That is how you protect your kid's identity and prevent bullying and personal attacks.
Hide Non-Squad Member Names: When you turn off "Can See Non-Squad Member Names" filter, the display names of all the players who are not in the square will be shown as "Player" to your kid. That is also going to stop any verbal attack on others from your kid's side as well as squad members.
Turn Voice Chat On and Off: When you turn off voice chat, your kid cannot talk to his teammates. In fact, he will not be able to listen to his teammate's voice chatting with one another. It is often seen that teammates use foul language and abuse one other when they fail to perform as expected. This is how you can prevent your kid from getting bullied and agitated.
Enable and Disable Text Chat: Along with voice chat, you should turn off text chat. You should not let your kid do any additional communication other than playing the game. Any additional communication leads to verbal abuse, bullying, use of foul language and whatnot.
Receive Weekly Playtime Reports: You should set the "Playtime Report Frequency" to weekly so that the weekly report is generated. You can check the report to understand your kid's activity on Fortnite and take strict actions if your kid is not obeying the rules you have set for him.
Is Enough to Protect Kids By Only Setting Fortnite Parental Control?
Even though there are various options and filters available on parental controls on Fortnite, but in reality, these settings are not enough.
First of all, there is no setting available to limit the screen time so that your kid plays the game for a limited time only. Besides, by blocking voice chats and text chats, you cannot stop your kid from communicating with his teammates. This is because they can arrange a conference call and talk among themselves.
That is why you need some external help to protect your kid completed on Fortnite and various such apps and websites.
How to Provide a Full Round Protection on Fortnite?
You need a proper parental control app so that you can get full-round protection on Fortnite when your kid is playing Fortnite on his smartphone.
Among various parental control apps, we recommend you opt for the KidsGuard app. You can not only limit the screen time on Fortnite but also on any other app.
Let us find out all the features the KidsGuard app offers to protect your kid in the best possible way.
Key Features of KidsGuard
Block Apps

If you want your kid to stop playing Fortnite, only uninstalling the app on your kid's phone is not going to be enough. This is because he can reinstall it in your absence and keep playing.

KidsGuard app lets you block Fortnite app so that your kid cannot open the app. In the same way, you can block any install app as per requirements.

Filter Inappropriate Webs

Just like you can block mature language in text chats on Fortnite, you can block websites with mature language and inappropriate content.

There are inbuilt filters available on KidsGuard that you can turn on so that the websites with such mature content are blocked automatically. You can also block any website explicitly.

Track Kid's Real-Time Location

When you block Fortnite app on your kid's phone and computer, he may go outside to his friend's home or cyber café and play Fortnite there.

That is why it is important that you track your kid's location in real-time remotely so that he is going exactly where he is supposed to be. You can also check his location history when you have time to check where he has been in the past.

Geo-Fencing

It is not possible to track your kid's real-time location all the time. That is when you can set a Geo-fence on KidsGuard app so that when your kid leaves the fence, you get alerts instantly.

Accordingly, you can call up your kid and ask why he is there and take steps promptly.

Capture/Lock Screen

If you have not set a screen time for Fortnite and trust your kid to do the right time himself, you should check his phone screen from time to time in real-time.

If he is not obeying the rules, you can lock the phone screen so that he cannot use the phone for anything.

Call Filter

We have already stated that parental control Fortnite lets you stop voice chat and text chat. But you need to block calls as well while playing games which you can do with the call filter on KidsGuard. You can restrict the contacts from which your kid can call or receive calls.

App Report

Most importantly, KidsGuard app provides daily, weekly, and monthly reports for parents to review their kid's phone and online activities. Based on these reports, parents can take decisions to control and restrict activities going forward.
How to Protect Your Kids with KidsGuard?
Here are the steps you have to take to install KidsGuard app and start monitoring and controlling your kid's phone remotely.
Step 1. Install KidsGuard App On Parent Device
KidsGuard app is available on Play Store as well as App Store. You can click the "Google Play" and "App Store" button below to directly download KidsGuard on your phone.
Step 2. Create An Account
After installing the app, launch KidsGuard app and create an account with your email address, username, and password.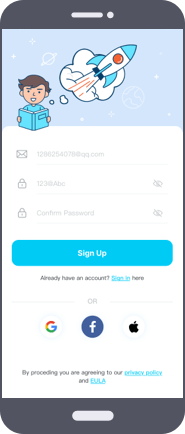 Step 3. Install KidsGuard Jr App On Parent Device
Follow the instruction on parent's phone and then install KidsGuard Jr App on your kid's phone.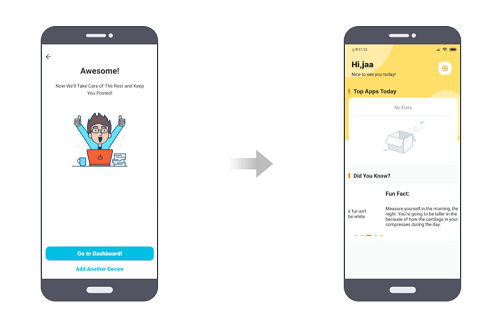 Step 4. Start Monitoring Your Kid's Phone
Come back to your phone and you can see your kid's device name. You will see all the options starting from Web and App Block to Lock Screen and Geofence. As per your requirements, take steps to control and monitor your kid's device.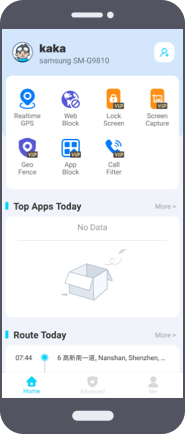 Why You Should Set Parental Controls on Fortnite?
You already know how to turn on and how to turn off parental controls on Fortnite. But the main question is if you should set parental controls on Fortnite.
Fortnite is rated for teens, and if your kid is under 13 years of age, you should not allow your kid. Here are some of the reasons to ponder.
Chatting With Strangers – You do not want your kid to use Fortnite to interact with strangers through text messages and voice chats. Strangers can be of any age, and they can have a bad influence on your kid, starting from foul language usage to mental state.
Bullying and Abuse – Every gamer plays Fortnite with intensity as a team, and that is why they cannot tolerate when their teammates are not playing as good as them. That is when there is verbal abuse and bullying the weak players, and your kid could be on the receiving end.
Wasting Valuable Time – You can check the reports generated on Fortnite to ensure that your kid is not wasting his valuable time and getting addicted to Fortnite.
Conclusion
The answer to the question "Can you put parental controls on Fortnite?" is yes. You can set various parental controls that are inbuilt within the game.
However, those parental controls are not enough to provide your kid full protection on Fortnite. That is why we recommend you opt for KidsGuard which is a complete parental control app. You can restrict your kid's phone and online activities and safeguard your kid completely.