"Can someone track my phone without me knowing?"
Most of the people who ask such a question are individuals who have a lot of sensitive information stored on their phones which they would want to protect from the hackers. Among them are the business enterprise owners who worry that their competitors may hack into their phones and access several sensitive things about their company. Other people who have this concern include the individuals who are fighting with extramarital affairs.
The answer is absolutely a big yes. These days, the cell phone spyware has rapidly increased in availability and decreased in cost, which makes it easily accessible for anyone. Except for these spy apps, there are several other ways which can be used to get this job done. This article details all such possible ways in which you can spy on a phone without access to it.
Fact 1: Remote Spy Apps Can Get This Job Done
Wondering can you spy on a phone without access to it? The best way in which you can spy on someone's phone is by installing a spy app. Other methods are either technically difficult or not cost-effective for the average users. However, to make these spy apps to work, you would need to access the target device at least once for installing the apps, after which you can spy on the target device remotely without any hassle.
1.1 How the Spy Apps Work
First of all, one thing to note is that don't believe those apps which claims to spy on someone's phone without touching it at all. As we've discussed above, one-time access is required to get the spy app installed and configured. Once you have the chance to get the target device, you can install these spy apps easily.
After being installed, these spy apps will work in incognito mode and record all the activities on the target device. These activities can then be viewed by you remotely through an online dashboard featured by such apps. All you would have to do is sign in to this online dashboard using any other device.
One of the best apps for remote cell phone monitoring is KidsGuard Pro. This app has been specifically developed to make spying on other's phone simple and hassle-free. It is jam-packed with several attractive monitoring features. In the following part, we will talk about can someone spy on my phone without touching it in detail and how this can be done if using KidsGuard Pro.
1.2 How to Use KidsGuard Pro to Spy on Someone's Phone
With just three simple steps, you can install and use KidsGuard Pro to spy on someone else's cell phone activities. The installation takes only 3-5 minutes. Besides, it doesn't involve any complicated operations like rooting the target devices. Now, if you are ready, check the steps below and know how to spy on a phone without access to it.
Step 1: Create a valid KidsGuard Pro account and purchase a premium plan in order to unlock all the advanced features. Then download KidsGuard Pro to the cell phone you want to monitor by visiting www.clevguard.net.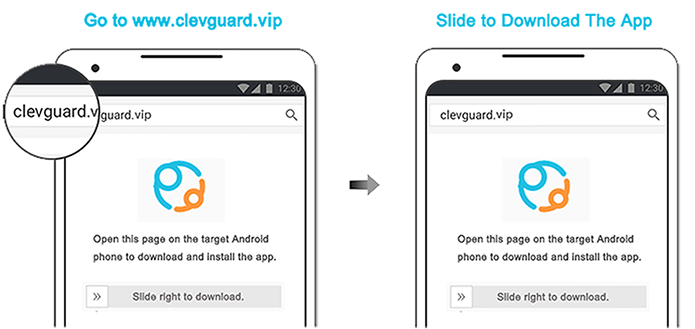 Step 2: Install KidsGuard Pro assistant on the target phone and log into your account. Now follow the app instructions to enable/disable all the necessary settings.

Step 3: After completing the setup process, you can use any other device to sign in to the online dashboard of KidsGuard and remotely monitor the target device.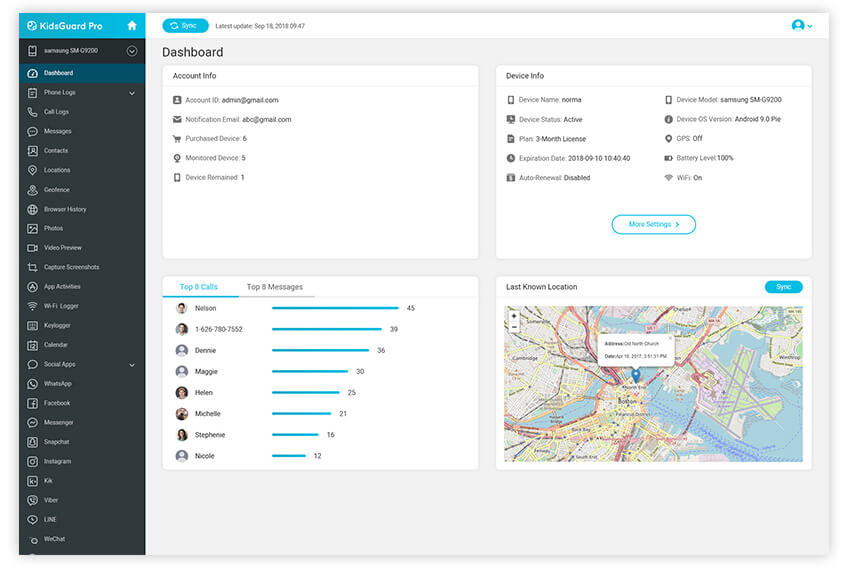 1.3 Why to Choose KidsGuard Pro
In the following part, we have listed a few reasons why KidsGuard Pro should be the first choice when looking for a cell phone monitoring app.
This app is very easy to install and use.

100% accurate and real-time information gets displayed on the dashboard.

All the data stored on the target device including calls, contacts, photos, social media apps, current locations, etc, can be checked.

The app is completely invisible on the target device.

You can remotely spy on a phone via its online dashboard without having it nearby.

KidsGuard Pro is trusted by thousands of users and dozens of technology websites.

This should answer your question of can you spy on someone's phone using the spying apps. Before making your choice of purchase, you might as well try the free demo. This is the most likely way for Android users to succeed.
Fact 2: iPhone Can Be Easily Spied via iCloud Account
If you are wondering how to spy on someone's phone without touching it, there are other ways to do it too. One such way is by using iCloud. iCloud is a space where all the data of an iPhone gets backed up. You can easily get access to all this stored data without even having to physically access the target iPhone.
For this, you would need to somehow get to know the iCloud password and username of the target device user. Once this is known, the following data can be accessed by you.
App data on iPhone.

Linked device's data like Apple Watch.

iPhone device settings.

App and home screen organization.

Configuration of HomeKit.

SMS, MMS and iMessage.

Videos, photos and other media files on iPhone.

Purchase history of the target device user.
In order to spy on an iPhone using such a method, you need to know the iCloud password and also make sure that the iCloud backup is enabled on the target iPhone. Once you have ensured this, you can follow the steps below to access the data mentioned above on the target iPhone.
Step 1: Download the iCloud app on your device or navigate to www.icloud.com from any web browser.
Step 2: Sign in using the iCloud account details.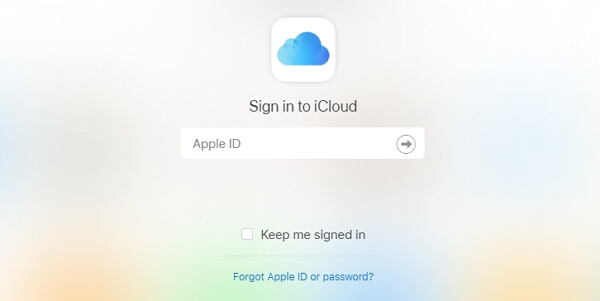 Step 3: If in case the target device user has turned on two-factor authentication, you may need to access the target iPhone to get the verification code.
Step 4: Once this is done, you can access the backed iCloud data of the target iPhone.

This is a good way to hack into someone's iPhone but the major drawback is that you need to know the target device user's iCloud sign in details for this, so this method only applies to your close friends or relatives.
Fact 3: Tech-Savvy Professionals Have More Options
When the hacker is a professional, some advanced methods can be tried by them like using IMSI catcher, stingray, webview exploit and Javascript.
An issue of privilege escalation is made use of by the javascript and webview exploit hack. This is done by lowering the vulnerability component of webview that allows the execution of untrusted Javascript code through webview. Some browser apps on Android have "addJavascriptInterface" which makes it vulnerable to remote execution. This way, a hacker can send the target device user a malicious link and make use of the target device user's vulnerability to get a reverse shell back and then eventually hack the Android phone.
The Stingray, GSM interceptors and IMSI catchers are equipment which can be used by professional hackers to gather a wide range of data from the target device. They can also be used to perform the denial-of-service attacks on the target device through which the conversations on the phone can be intercepted. These equipments are not available to hackers legally but they are generally bought from the black markets or the deep web by the hackers.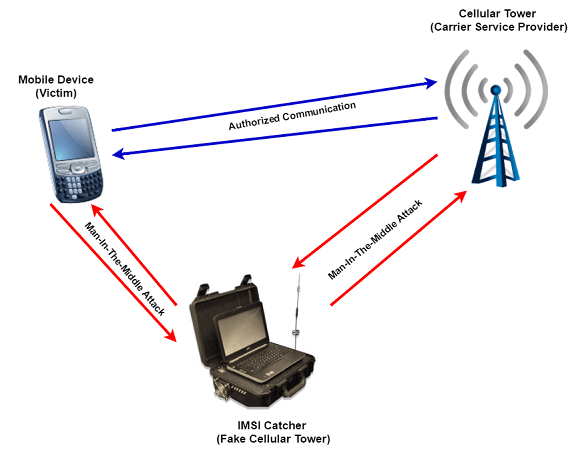 Write in the End
Thinking whether is it possible to spy on someone's phone? Now you know that it is indeed possible to hack a phone without having access to it. Hackers can make use of several different ways to hack into someone's phone for a variety of reasons. However, the most feasible and easiest way using which even a novice user can hack into a cell phone is KidsGuard Pro. This app makes remote spying possible and hence is highly recommended.