Question:
Have you noticed that your spouse is hiding his cell phone from you?
If yes, then it could be a sign that your partner is cheating on you; he may be involved with someone else.
One sign of cheating is that your partner will behave differently, but everyone needs Proof. So you should check their online activity, especially you should check their text message or conversations. Usually, people delete messages when a conversation ends. That's why you need a special app to see current and deleted conversations.
In this article we enlisted the best 5 text tracking apps for phone monitoring, our honest review will help to choose the best text tracking app.
Best 5 Text Tracking Apps
The 5 best text tracking apps are mentioned below:
Top 1. KidsGuard Pro Text Tracking
KidsGuard Pro is an intelligent application that works in stealth mode and helps in monitoring. This advanced text monitoring app allows people to spy on their Mobile phones. Most people use it as a text tracking app. The KidsGuard Pro includes various features such as:
Track text messages of the target phone
The best feature of KidsGuard Pro is tracking someone's messages. This feature helps the people to know about your spouse's or kids online activity. You do not just see the recent message; you can also recover the deleted messages too.
Additionally, you can see all incoming and outgoing messages. This is the best tracking app for those parents who always ask how can I monitor my child's text messages on iPhone.
View social media app's activities
When a person doubts that his partner is dating someone else, he tries to check the partner's social media accounts activity. The KidsGuard Pro smart app aids the person to check their partner social apps activity.
You can check social media chats, incoming calls, and other activities like the connection with other users. You can see their Feeds, posts, and status, etc.
Check browser history
The best way to monitor a partner's and kid's activity is to check their browser history. Because browser history includes all history like what they searched, what they watched, and what websites they visited. So you can quickly know what they are looking for and what they are watching all day etc.
Using Steps of KidsGuard Pro
Installation of KidsGuard Pro doesn't need any effort because it takes a maximum of 5 minutes to install it in the targeted phone.
Step 1. Click button below and skip to KidsGuard Pro's website, use a valid address to sign up an account.
Step 2. login to your account and then go to My Products page, click on Setup Guide button, according to target phone, choose KidsGuard Pro for Android or KidsGuard Pro for iOS for usage, and then follow the instruction to finish installation. This step only needs to take 5 minutes.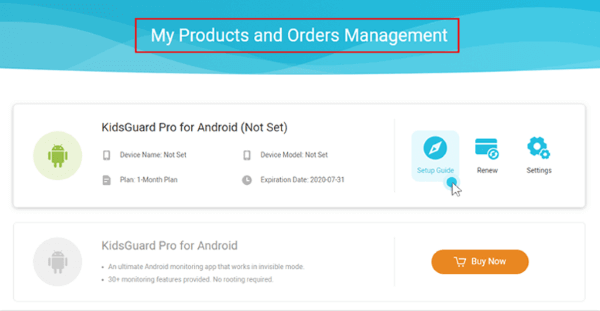 Step 3. After setting, you can simple go to the online dashboard and see your spouse's all phone activities.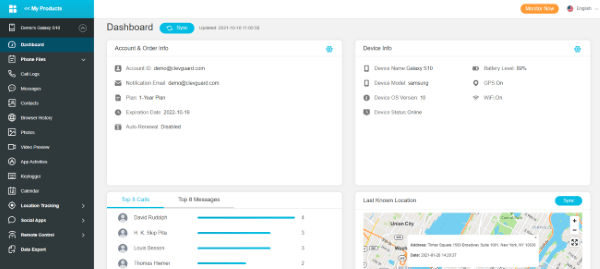 Top 2. Panspy App
Panspy app is a well-known text monitoring app. A person can easily read the incoming and outgoing messages of the targeted phone. If you want to access your partner's phone without touching it, download the panspy app.
Moreover, it just takes a few seconds because it is easy and quick to download. People can monitor text messages easily.
In addition, it also has other monitoring features like call recording, location tracking, social media apps monitoring. Additionally, a user can block specific sites or apps, and it has a keylogger that sends a notification after detecting specific inapPropriate words. It is compatible with all Android devices.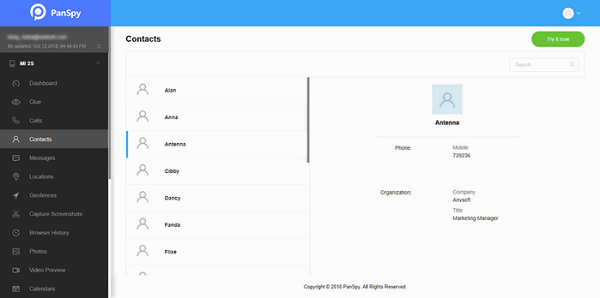 Pros
Easy to install.
Interphase is user friendly.
The premium version is affordable.
Offers a free trial.
Monitors up to 20 apps.
Cons
Just supports android phone.
Top 3. iKeymonitor
How to monitor kids text messages via iKeymonitor? iKeymonitor is one of the fantastic message monitoring apps because it helps the user to read out all messages.
It shows the conversation of all social media accounts like IM chats, messages, and other social media accounts' chatting history.
In addition, this app has other incredible features, like it gives access to website history, app usage, snap chat, WhatsApp, etc.
The best thing about iKeymonitor is that it is compatible with iPhone and Android phones. Its plans are not costly, for one month you have to pay just 49 dollars. If you want a one-year subscription, pay 299 dollars.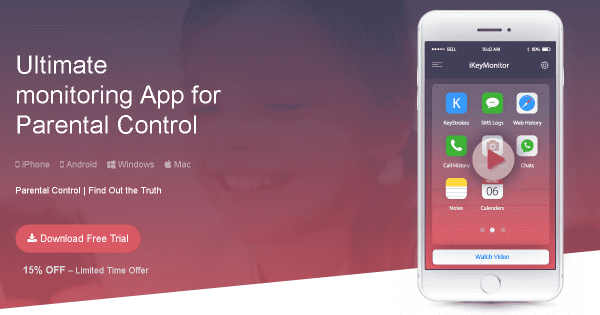 Pros
Easy to use.
Users can take screenshots easily.
Keylogger option is available.
To Provide message history of inbox and other social media accounts.
Cons
Premium account is a little expensive.
The Free trial option offers a few features.
It doesn't work online.
customer response service isn't good.
Top 4. XNspy
XNspy is a well-designed text tracking app that gives you the power to read your partner's incoming and outgoing messages. This app provides you access to your inbox and gives you complete data like message sending and receiving date and time.
You can also know the sender's details. This app works remotely so you can track the message remotely without touching your partner's phone.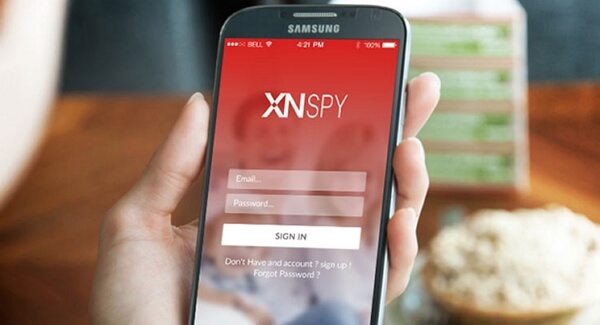 Pros
Remotely control app.
This is a user-friendly app; people of any age can use this app.
This app can recover the deleted conversations.
Cons
expensive as compared to other monitoring apps.
many features just work on rooted devices.
doesn't Provide real-time GPS location etc.
Related Read: How Can I See Deleted Texts on My Husband's Phone?
Top 5. Fonemonitor
Fonemonitor is one of the best message tracking applications. It is the most influential text message spying app because it has multiple advanced features.
It makes it possible to track someone's messages, call, live location, call recording, and many other things. This app is the best option for those who wants to know how to track calls and texts from another phone in a few seconds?
It works smoothly on Android and iOS devices. This app has both weekly and monthly subscription plans you can choose from according to your need.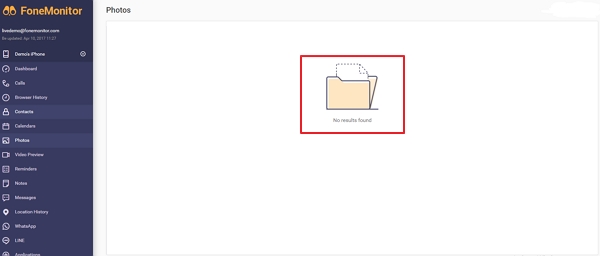 Pros
This app is easy to use; no specific skill or experience needed for it.
Works remotely.
You can access someone's private chat without physically accessing the targeted phone.
Works on both ios and Android devices.
Cons
many smart features work on the ultimate version, which is too expensive.
FAQs about KidsGuard Pro
Q1. Will the target know I am tracking and monitoring their cell phone usage?
No, the owner of the targeted phone can't detect that you are spying on him via the KidsGuard Pro app. Because the KidsGuard Pro is a well-designed monitoring app that works in stealth mode, so no one can detect.
Q2. Do I need to root the target device before using KidsGuard Pro?
No, KidsGuard Pro doesn't want the phone to be rooted. That's a point that makes the KidsGuard Pro app different from other apps.
Q3. How many devices can I monitor at the same time?
You can only Monitor a single device with a KidsGuard Pro account. if you are interested in monitoring multiple android devices, go to the ClevGuard website and order again for other monitoring of other devices.
Final Thoughts
Spying on someone's messages is not ethical, but you can do it if necessary. If you think your partner is cheating on you, then you can confirm by spying on their text messages.
Multiple text tracking apps are available at different costs, such as Fonemonitor, XNspy, iKeymonitor, PanSpy app, and KidsGuard Pro. The KidsGuard Pro is the most used and highly recommended text message tracking app. If you are thinking of buying the best text message tracker, purchase KidsGuard Pro.