Question: Can I spy on someone's text messages remotely?
Here is good news for you if you want to read someone's text messages without touching their phone because various apps made it possible; you can easily access someone's inbox without letting them know.
Usually, parents desire to read incoming and outgoing messages on their kid's phones.
So here are multiple apps that give relief to parents because they can know what's going on in their kid's life.
1. KidsGuard Pro
KidsGuard Pro is the best monitoring app for users because it is easy to use and has multiple monitoring features for both Android and iPhone users, which help the person to keep an eye on the online activities of their loved ones.
It works smoothly on Android and iPhone devices and is compatible with even the latest version Android version 13 and iOS 16, and it is not detectable.
How to track someone's text messages with KidsGuard Pro?
How to track calls and texts from another phone? It is not difficult to track others Text message if you have KidsGuard Pro.
Here is an easy Process to access someone messages with KidsGuard Pro.
Step 1.
Create your KidsGuard Pro account with a verified email address by click Monitor Now button below, and then select your desired subscription plan.
Step 2.
Skip to My Product page to download KidsGuard Pro onto the targeted phone to clone message.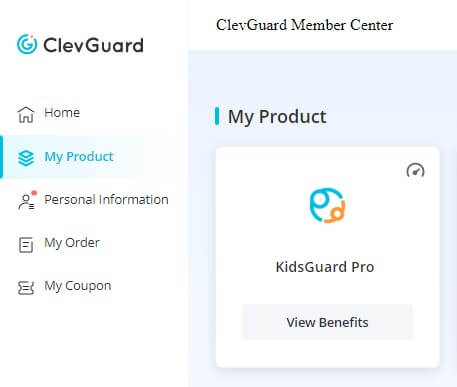 Step 3.
After the installation, go back to your KidsGuard Pro dashboard. Now you can access the messages and other data of the targeted phone.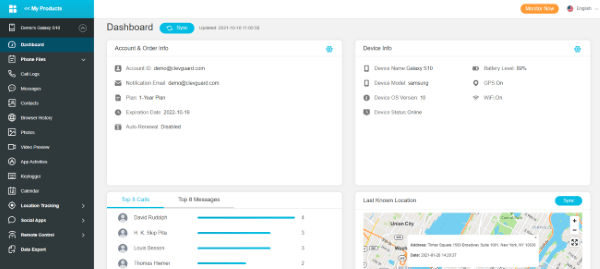 More features of KidsGuard Pro
KidsGuard Pro can monitor 30 plus applications such as WhatsApp, Instagram, Facebook, tinder, and many other social apps.
It also gives access to media files to watch videos, pictures, and it also gives access to the private inbox of the targeted phone. This amazing application Provides the complete report of these apps.
Additionally, it provides the real-time location of the targeted phone, and it also has the Geofencing feature. The best thing about the KidsGuard Pro is that it works stealthily.
Pros of KidsGuard Pro
Easy to download, just take 5 minutes.

Work on both Android and iOS devise.

It needs no jailbreaking or device to be rotted.

Real-time Location history and geo-fencing.

SMS, and call recording.

24 hours customer support.

30- days money-back guarantee.
More compatibility option - KidsGuard Pro for iOS
If the target user that you want to monitor is using iOS device, don't worry! KidsGuard Pro also has version to support iPhone/iPad – KidsGuard Pro for iOS.
The best thing about the KidsGuard Pro for iOS is that it does not need jailbreaking.

Additionally, it also can monitor popular social media apps, messages, calls, safari history and provide a comprehensive report of them.

It is a highly recommended monitoring app for iOS devices.

NOTE:

Don't miss! Click View Demo button to check what you can monitor by using KidsGuard Pro for iOS.

2. iKeyMonitor

ikeyMonitor is a very famous monitoring app specially designed for iPhones and Androids. It allows its users to view chats, text messages, and all other apps being used on the device.

It helps in recording keystrokes, calls, SMS, chat messages, and various other websites as well. In short it is a good mobile phone text message tracker.

Compatibility

It is compatible both for iPhone and Androids.

Cost

$49.99 per month.

Pros

Keylogger is its important feature which makes it comparable with all other tools.

Screenshots can be taken easily.

Cons

It is expensive and allows only limited features to be used in a clinical trial.

Works only when the internet is available.

3. Xnspy

Xnspy is an absolutely amazing text tracking app. It makes it possible to read all the sent or received text messages along with time, date, and contact stamps without even touching their cell phones.

You can also check the names and numbers of senders and various other details like time and date stamps and geotags.

Compatibility

It is compatible both for iPhone and Androids.

Cost

$49.99 per month.

Pros

It is very user-friendly. You don't need extra skills to use this app.

Messages can be viewed in instant messaging applications.

Allows reading deleted messages and other information as well.

Cons

It is very expensive and not suitable for a lot of users.

4. Webwatcher

Webwatcher is a monitoring app that helps to monitor the SMS, calls, and other online activity of kids.

Additionally, it helps to monitors various social apps such as Instagram, WhatsApp, Snapchat, etc.

If you want to find a user-friendly way to keep a check on your children's activities, then Webwatcher is a very great option.

Compatibility

The web watcher is compatible with both Android and iOS.

Cost

$10.83 per month.

Pros

View activity remotely.

View from Android app or web UI.

Cons

It does not work with antivirus applications.

Make the phone lag.

Its interface is a little tricky.

Premium version is expensive.

5. Cocospy

Cocospy is also a text message spy. It can track all the activities of a device you want to spy on.

After tracking all the information, it sends it to the online web portal. You can keep an eye on your children and can know timely either they are in any danger or not.

You will have to buy a license to the app; after that, download the app file, and then you have to install it on the target Android device. For iPhone, iCloud login is required.

Compatibility

It is compatible with Android and iOS.

Price

$39.30 per month.

Pros

It has so many modern features.

The signup is quite simple to do.

It can track the location of the targeted device too.

Cons

To track some apps like messenger and Snapchat, the root is required. So it is not that simple.

Free trial is not available.

Which One is the Best Text Messages Tracker?

No doubt there are hundreds of tracking apps available are allow spy on text messages free trail but when it comes to picking the best tracking app, the KidsGuard Pro is the best of all.

If you want to monitor every little activity of your kids or partner, KidsGuard Pro is the best option because it has unlimited, and beatable features as below.

Monitor sent and received messages

Nowadays, people text to communicate with each other, so KidsGuard Pro works as a good text message tracker.

Moreover, KidsGuard Pro Provides full access to the targeted phone, like it gives full control of default inbox and outbox, which means you can check incoming and outgoing messages.

With this amazing option, you can easily check if your child is safe or not.

Read deleted text messages

KidsGuard Pro is the top message tracking app because it also has the option to restore or recover old deleted messages.

Usually, kids delete the conversation which they want to hide from their parents, so they delete it immediately.

Sometimes they delete threatened messages and blackmailing messages because of fear. But parents can read the deleted to ensure their kids are safe.

Clean user-interface

KidsGuard Pro is easy to use, and its interface is user-friendly. Because it doesn't show any additional notification or understory pop-up.

Parents can easily install it and can monitor kids' activities on the online dashboard. They don't need any kind of training for using this app.

Customer support

KidsGuard customer support option is available 24 hours. KidsGuard Pro allows their users to contact them at any time if they are facing any kind of issues.

If they are unable to download or install the app on the targeted phone, they can contact a member of the customer support team.

They will guide them on how to install the KidsGuard Pro on the phone and how to use this app.

Conclusion

No doubt, text tracking apps help us to keep our family safe from any kind of danger. Now a day's cybercrime rate is increasing, so tracking has become a necessity.

Therefore, multiple text tracking apps are available in markets such as web watcher, Xnspy, and KidsGuard Pro.

All these apps have different monitoring features, but KidsGuard Pro is the best text message tracker among all these apps because it gives extra features and is compatible with both iOS and Android.

KidsGuard Pro is unnoticeable device so you can say that it is hidden text message tracker app.