After the launch of Pokemon Go, several enthusiasts set out to make interactive maps and trackers to help the community find everything in-game. Raids and rare Pokemon spawns became more accessible.
Niantic had to make changes to make trackers and maps not work due to cheating concerns. Most of these sites shut down, though a handful remained. This article will cover the top 5 Pokemon Go trackers.
What is a Pokemon Go tracker?
Pokemon Go tracking can direct players to important items and save them time. These maps direct players to nests and show what Pokemon spawn there. The trackers can also lead players directly to raid battles, clusters of gyms, and PokeStops.
One of the main benefits is being able to keep track of rare Pokemon spawns. The use of trackers is considered cheating by some players, though the tools can provide guidance and save players lots of time.
Review: The Best 5 Pokemon GO Map Trackers
1.Singapore: SGPokeMap
SGPokeMap is a good Pokemon Go tracking map in Singapore. It lists PokeStops and gyms as well as Pokemon spawns. Their current system currently doesn't support precise despawn time.
They have set a 20-minute timer to refresh the map for convenience. SGPokeMap has a 'weather boost' feature that records the stats for Pokemon to show the user the stats and level of the Pokemon according to the weather.
Weather affects the Pokemon's stats randomly. This tracker covers most of Singapore and is very reliable for players in the region.

2.New York: NYCPokeMap
NYCPokeMap works well for players in New York. The tracker provides the player with valuable information such as despawn times and Pokemon spawns in a nest. Additional information such as spaces remaining in a gym and the location of raids are available to the player in New York.
Quests and legendary Pokemon spawns are one click away. The filter can help you scout for any particular Pokemon and items.
The focus is on meta-relevant and rare monsters to provide an optimized experience for most trainers.

3.London:PogoMap
LondonPogoMap is a complete map tracker for Pokemon Go that including all nearby gyms, PokeStops, and Nests in London. Pokemon Go players are now able to differentiate between regular Gyms and Gyms handing out EX Raid Passes on LondonPogoMap.
This map also shows the Pokemon spawning in a particular nest, field research tasks in PokeStops, and when Team Go Rocket invades a PokeStop. This tool comes in handy in areas with many active Pokemon Go players.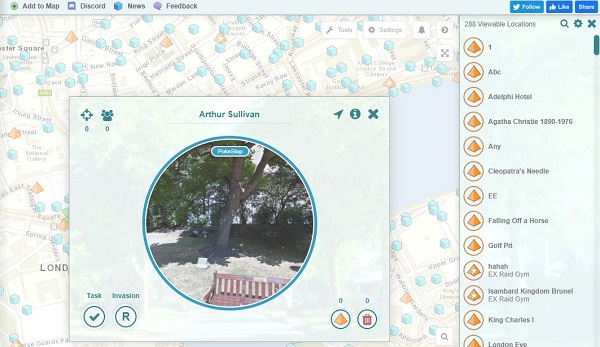 4.Various Cities in the USA: PokeHunter for Pokemon Go
PokeHunter is a tracker that supports various cities in the USA. Some of the locations supported by PokeHunter include:
California- Cupertino
Pasadena
Los Banos
Downtown Campbell
Mountain View
North San Jose
Santa Clara
Gresham
Burnsville
Prior Lake
South Minneapolis
Lakeville
Sunnyvale
Minnesota- Saint Paul
Minneapolis
Burnsville
Apple Valley
Eagan
Savage
Washington- Vancouver
Oregon- Portland
Happy Valley
Hillsboro
The tracker shows information such as available slots in a gym, which team controls it at the moment, and where raids are happening. It is a fantastic tracker for Pokemon Go but only works in a few select areas.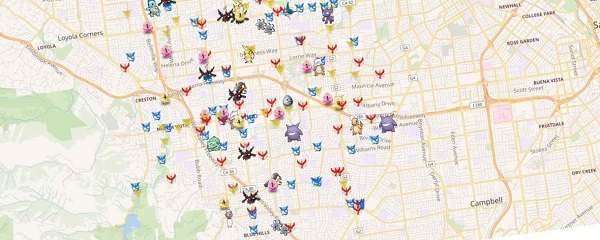 5.Various Cities: Thesilphroad
Thesilphroad is available in different cities for Pokemon Go players. A player in Moletai and Panevezys can use Thesilphroad to access detailed information on various in-game details.
The tracker lets players see the number of spaces available in a gym, and which team controls it at the moment. Pokemon Go players can also see where raids are happening. Thesilphroad is a fantastic tracker for Pokemon GO but is limited to a few select areas.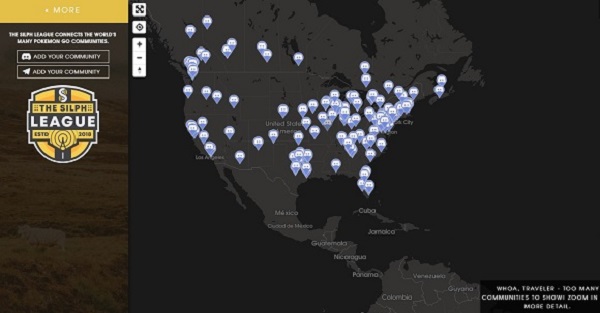 These trackers make you find Pokemon easier. But If you have spotted Pokemon in a distant city, there are a few things you could try to catch them. You can try to move there physically. This might be tedious and a bit impractical but it's the first solution that comes to mind. However, if you are unable to make the trip, here is a simple trick. You can use a Pokemon Go location spoofer.
Tip: How to Catch Pokemon Around the World
It seems almost impossible to travel the globe in search of Pokemon. A good location spoofer will make this so effortless. You will be able to virtually travel the world and catch distant pokemon that would have otherwise been inaccessible to you. You will need a good GPS location spoofer to achieve this.
ClevGuard ClevGo is a geolocation spoofer that allows you to virtually teleport your device's location to any point in the world. It also allows you to simulate GPS movement with much flexibility as well.
It enables Pokemon Go players to set a route, a loop, or any movement at custom speeds and intervals. This article will guide you through spoofing your Pokemon Go location using ClevGo.
How to Download ClevGo and Spoof your location in Pokemon Go
Step 1: Download ClevGuard ClevGo and run it on your PC to get started.
Step 2: Connect Your Device to the computer via a USB cable and leave it unlocked. Click on 'trust' when prompted and type your passcode to connect. You will be able to connect through wifi after the first connection.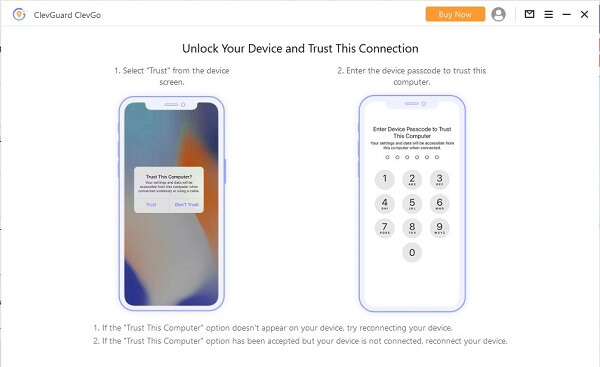 Step 3: Load the map, and find your current location on it to begin the spoofing process. Choose one of the transport modes and enter the destination to spoof.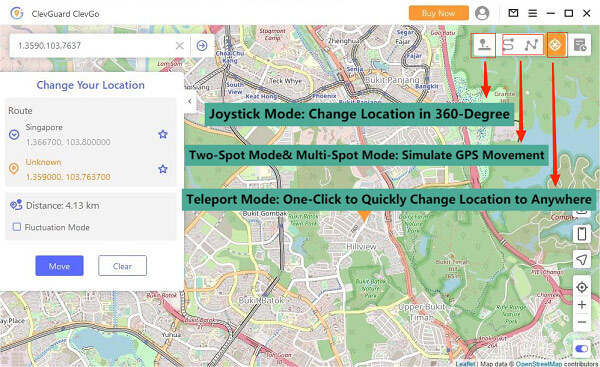 When it comes the transport modes, ClevGo has 4 modes to choose.
Teleport Mode
Teleport mode is the fourth option on the top right corner of the dashboard. Enter the address or coordinates to search your desired location and instantly change to it.
After choosing the location, click 'Move' and your device's location will instantly change. This will allow you to instantly spoof your location in Pokemon Go.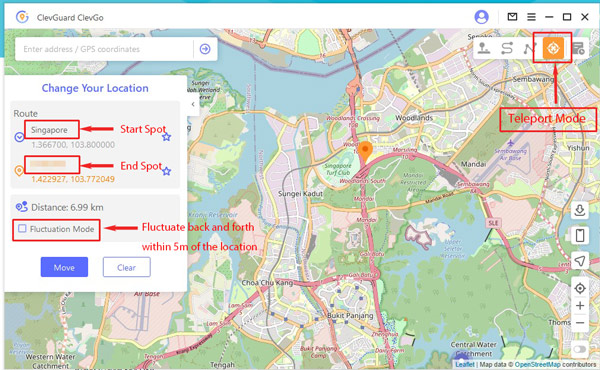 Two-Spot Mode
The two-spot mode is the second option on the dashboard. It allows you to simulate GPS movement between two locations. You can insert the addresses and coordinates of the best Pokemon Go spoofing locations, or simply pin the locations on the map. You can set the number and speed of the movement speed. After setting everything up, just click on 'Move'. This will start the simulation of the GPS movement.
Multi-Spot Mode
Multi-spot mode is the third option on the dashboard. It allows you to simulate GPS movement across multiple points. You can select up to 100 spots on the map to pass by when simulating the movement. Just enter the addresses, or coordinates on the search map or pin the locations on the map. Select the number of moving times and click 'Move' to start.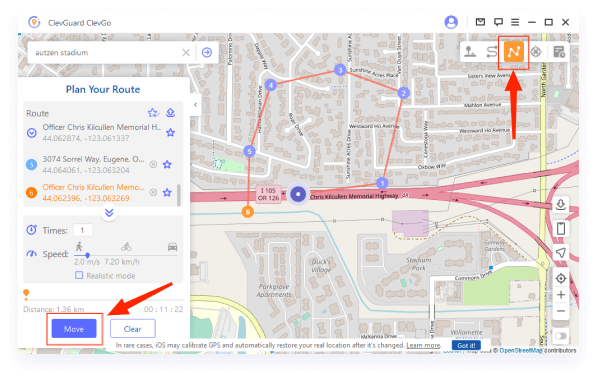 Joystick Mode
Joystick mode is the first option on the dashboard. It allows you to simulate your movement freely, 360 degrees in any direction. Just click on 'Move' to get started.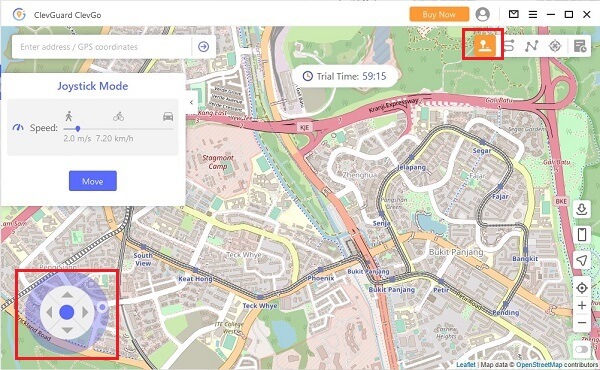 After identifying your destination and selecting your ideal mode, launch Pokemon Go and quickly capture Pokemon. ClevGo works well with Pokémon Go trackers and is a necessary tool for Pokemon Go players. You will be able to catch more Pokemon and access locations that are far or inaccessible to you.
ClevGo is compatible with all devices and does not require rooting or jailbreaking. Get ClevGo and enhance your Pokemon Go experience.