Are you wondering how to get Sylveon in Pokemon Go? It's a desire of every Pokémon Go player to get Sylveon on their team. But Sylveon is not considered an "easy" Pokémon to get in Pokémon Go as it requires specific requirements to be met in order to evolve from Eevee. But how can a Pokemon Go player get sylveon?
If you are looking for an answer keep reading this article, here I shared easy ways to get sylveon in pokemon Go.
Part 1: What is Sylveon in Pokemon Go?
Sylveon is a Fairy-type Pokémon that is characterized by its long, flowy ribbons and cute appearance. In the game, it is a powerful Pokémon with high Special Attack and Special Defense stats, making it useful in a variety of battle scenarios.
Additionally, it is the evolution of Eevee and famous for its ability to use its ribbons to create powerful Fairy-type moves. Everybody wants Sylveon because It has a special ability, Cute Charm, which has a 30% chance of causing opposing Pokémon of the opposite gender to become infatuated with it when hit by a move.
Part 2: How to Get Sylveon in Pokemon Go with a Secret Name Trick?
How to evolve sylveon in pokemon go with a scret name trick? The renaming technique is the easiest way to get sylveon in Pokemon Go. In this method, you do not need to make any extra efforts, the users just have to change the name of your Eevee to Kira, and you need only 25 Eevee candy to evolve. This method is the fastest and most guaranteed, so you can easily get sylveon. But You can apply this technique only one time.
If you are a beginner in Pokémon Go, you can check some Pokemon Go Beginner Guides first. Here is a step-by-step guide to get sylveon in Pokemon Go.
Before evulution first of all you have to Catch an Eevee.
Now Give the Eevee the nickname of "Kira."
Make sure you have at least 25 Eevee candies before evulution.
Now Select the Eevee you want to evolve and tap the "Evolve" button.
After tapping on Evolve , you will get sylveon in your team.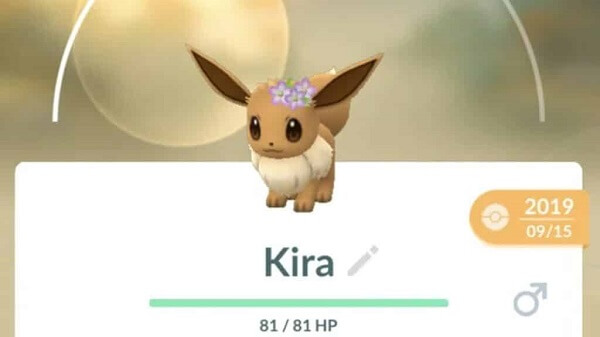 Part 3: How to Get a Sylveon in Pokemon Go with Buddy Hearts?
The second simplest and fastest way to get sylveon in Pokemon Go is using buddy hearts method. This method involves having the player's Eevee walk 10 Km with the player as its "buddy" in Pokemon Go, then evolving it.
Before evaluating You have to collect your 70 hearts, and the fastest way to select a heart is to feed Eevee poffin. The best thing about this method is that you can use this method unlimited.
To obtain a Sylveon in Pokemon Go using Buddy Hearts, you need to follow these steps:
Choose an Eevee as your Buddy Pokémon.
Walk with your Buddy Eevee for a total of 10 km.
Now Collect at least 25 Eevee candies.
Use the 25 Eevee candies to evolve your Buddy Eevee.
Now you are done, sylveon is succesfully added in your list.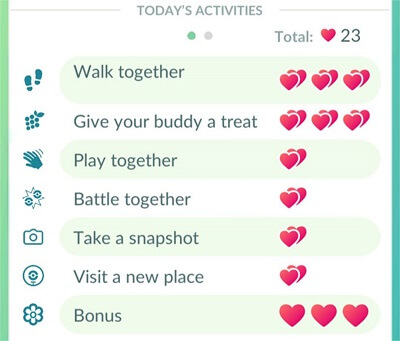 Part 4: How to Evolve Eevee into Sylveon in Pokémon Go?
The one easy way to evolve Eevee into Sylveon in Pokémon Go is to teach your Eevee at least a fairy-type move. No doubt this method is easy, but it takes time, and you can not do it in one click only.
How to evolve eevee into sylveon in pokemon go? if you are interested in the evolution of Eevee into sylveon, follow these below-mentioned steps
Catch Eevee

The first step of this method is to catch your Eevee if you have no Eevee at this time. But if you already have Eevee, you don't need to catch it again.

Teach your Eevee a fairy-type move.

After catching the Eevee, next, you have to teach your Eevee a fairy-type move. Eevee's Fairy-type move is "Baby-Doll Eyes." This move lowers the target's Attack stat, making it easier for Eevee to win battles. The Eevee learns fairy-type moves by leveling up, like on level 9; it gets baby doll eyes and a charm at level 29.

Gain affection hearts

If your Eevee has learned fairy type move, go and get a minimum of two affection hearts.

Level it up

After getting two affection hearts and learning fairy type move, level the Pokemon up. After doing this, it will evolve your Eevee into a sylveon.

Part 5: The Tips to Get more Pokemon in Pokemon Go

Introduction of ClevGo

ClevGo is a top-tier location spoofing tool that enables its users to alter their GPS location. With advanced features, it stands out as a highly functional application in the world of location spoofing, making it user-friendly for those seeking to change their location. ClevGo allows you to manipulate your device's GPS location, making it appear as though you are situated in a different location. This can be useful for using and spoofing location-based apps, concealing your location, or bypassing location restrictions for accessing specific content.

Features of ClevGo

Multiple modes

ClevGo offers several modes for you to choose from, including GPS Joystick, which allows you to manually control your device's location, and Teleport Mode, which allows you to change your location instantly.

360-degree mode

The joystick mode offers a 360-degree feature, in which the app controls the full movement of the device."

Import and Export GPX Files

ClevGo also enables you to import GPX files, and you can also export files from it."

History Records

One of the standout features of ClevGo is the history records. This feature allows you to keep track of places you've visited in the past, and you can easily revisit these locations in the future.

Compatibility

The app is compatible with many location-based apps and different devices.

Privacy protection

ClevGo uses advanced encryption techniques to protect your privacy and secure your personal information.

Steps to Catch More Pokemon with ClevGo

Follow this easy step by step guide to catch maximum pokemon.

Step 1. To play Pokémon Go and catch the maximum Pokemon, first get ClevGo from the ClevGuard website and install it on your PC.

Download for WindowsDownload for Mac

Step 2. Connect the PC to your phone using a USB cable and pick the media sharing protocol. Enable gaming mode and begin playing the Pokémon Go game.

Step 3. Now Navigate to the map, choose a mode and set a preferred location. For example, click "Multi-Port Mode", select different spots to simulation the GPS. Then, press the "move" button, and catch all Pokemon easily on the Pokemon go application.

Conclusion

Eevee evolution to a sylveon in Pokemon Go effort taking process because, for this, players have to do a lot of things, but a few easy methods are available that let you get sylveon easily, like name changing method, like adding the nickname of Eevee as Kira. Another method is using the buddy heart technique, and his methods have special requirements.

Additionally, the evolution of Eevee is possible with fairy type moves, but the best way to pick all Pokemon in Pokémon Go is by spoofing location via the ClevGo spoofing tool.

If you want it to win every battle and aim to catch all rare Pokemon of Pokemon Go install ClevGuard ClevGo on your device.