Pokemon GO is one of the most popular Augmented Reality games booming in the gaming industry. This Niantics game allows its players to walk around, socialize, make friends and interact with real-world locations virtually.
Pokémon Go demands a steady connection to the internet and GPS access to run smoothly. But many players are facing the 'GPS signal not found' error and in this article, we shall cover the potential causes and fixes to this issue.
Part 1: Why is the GPS Signal Not Found in Pokemon GO?
Here are some of the reasons the GPS signal error appears in Pokemon GO, which is also known as Pokemon GO Error 11. The app can be frustrating for players when it is not working correctly. Below are a few reasons why it could be misbehaving:
The GPS on your device might not be functioning properly or might be turned off.
Your phone could be lacking an internet connection.
The Pokemon GO application could not have been granted permission to use your device's location.
The application or your phone might not have loaded or launched correctly.
You could be running an outdated version of Pokemon GO.
Firmware-related issues could be causing the problem causing incompatibility issues.
Part 2: Pokemon GO Troubleshooting Guide
Try the following fixes if the app is not working well on your device:
Ensure your Pokemon GO application is updated to the latest version by simply updating from your Android or iOS stores.
Check your internet connection. You will need a reliable connection to play. If you are having trouble with WiFi, try switching to a 4G network for a strong connection.
If the problem persists, clear your game data and launch the app again. This may clear up several gameplay issues you may be experiencing.
Set your device to use automatic system time from your device's time and date settings.
Clear the Pokemon GO cache to resolve temporary issues with the app.
Ensure there are no background data restrictions and turn off your data or battery saver to improve the connection quality and general performance of the app.
Remove your Google account and log in again if you use it to sign in to Pokemon Go.
Supported Device
You will also need to ensure that your device is supported. The requirements for Pokemon GO are as follows.
Android
Android 7 and above
Recommended screen resolution of 720x1280 pixels
At least 2GB of RAM
Non-Rooted device
iOS
iPhone 6s and above
iOS 14 and above
Jailbroken devices are not supported for Pokemon GO
Testing the signal strength
Use online ping tests to check the strength of your connection. Using both WIFI and mobile data may cause an inconsistent connection. This can cause freezing, lagging, delays in Pokemon attacks, or difficulty in swapping Pokemon during battle.
Part 3: How to fix the Pokemon GO Signal issue?
Here are a few tips and tricks to fix the Pokemon GO signal issue:
Turn on Airplane mode for a moment, then turn it back off as this will reset all your device's connections.
If you are indoors, you should try stepping outside for a brief while until the error disappears and the game resumes. This allows the GPS satellite to better locate your phone and sync you back into the game world.
If you are outdoors and still cannot find a stable GPS connection, turn on wifi even without any connection as some devices use WiFi mapping as part of the location service.
1.Enable the 'Precise Location' Settings for iOS Devices
The precise location will improve your GPS connection and improve the accuracy of the GPS to enable you to share your specific location instead of an approximate location.
Follow these steps to turn on the precise location on your iOS device. Apple uses WiFi mapping as well to help determine your approximate location.
Go to settings on your phone.
Select the 'Privacy & Security' option and choose Location Services.
Select the Pokemon Go application and turn on Precise Location.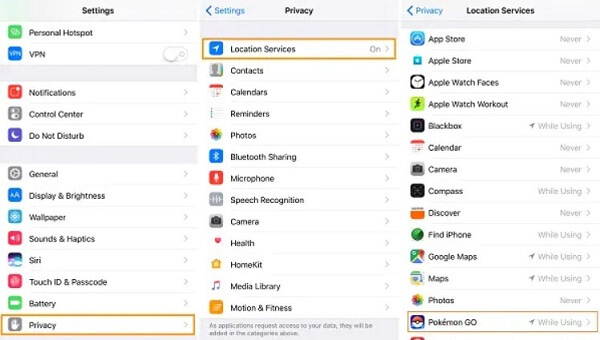 2.Enable 'Improve Location Accuracy' in Settings for Android Devices
Google's Location Services uses satellites to determine your location up to around 20 meters and can be inaccurate sometimes when you are underground or inside buildings.
The location of nearby WiFi networks helps to determine your location through WiFi mapping. Cell towers are used to determine your location within a few thousand meters. Follow these steps to turn on high accuracy mode on your device:
Open the settings app on your Android device.
Select location settings. Turn on the location service at the top of your screen.
Select mode and set it to high accuracy. You can also use Maps to calibrate your device.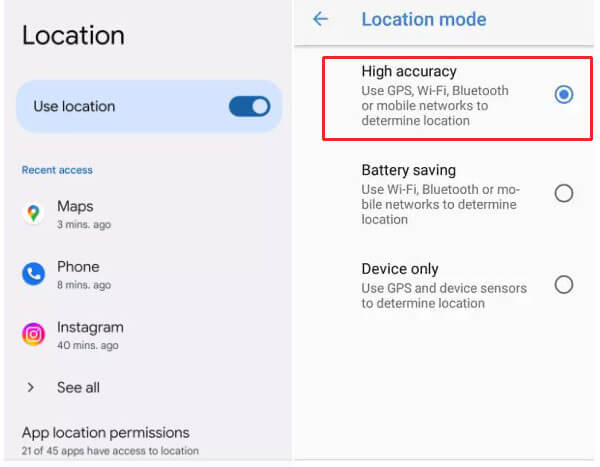 3.Restart Your Device and Re-login to Your Pokemon Account
Restart your iOS or Android device by holding the power button until the power options appear. You can also hold the power button for 10 seconds on most devices to force a restart.
A restart is recommended because shutting down creates a deep hibernation folder for a faster startup. Restarting completely clears the RAM, kills all processes, and also clears the processor cache.
You can log into Pokemon Go using a Facebook, Google, or Apple account. Log out of the account and log in again if you are experiencing problems with the game. You may need to remove the account from your device's accounts settings.
Related Read: How to Catch Rare Pokemon in Pokemon Go?
Part 4: Still Getting a GPS Error? Set your GPS manually using ClevGO
ClevGuard ClevGo is a service that allows you to spoof your Android or iOS device's location to any part of the world. The platform gives you the ability to simulate natural GPS movement as well, allowing you to customize the route and speed of the GPS.
ClevGo will help you manually set up your GPS location on Pokemon GO and deal with the 'GPS signal not found' error.
How to Manually Set your GPS location to play Pokemon GO?
To manually set up your GPS location, you will need to first install ClevGuard ClevGo. This article will guide you on how to install the Pokemon GO location spoofer and teleport to your desired location to play Pokemon GO without any GPS signal issues.
This is the main advantage over using the normal GPS as the location is steady and fixed by you. Follow these steps to install ClevGuard ClevGO on your Android or iOS devices for Pokemon GO change location:
Set GPS on iOS devices
Step 1: Download the ClevGO application on your PC and install it.

Download for WindowsDownload for Mac

Step 2: Connect your iPhone via a USB cable, unlock your device and click on 'trust'.

Step 3: Enter your passcode to finish the setup process. This process is done only once and from then you can connect via WiFi the next time.
Step 4: Load the Map and find your current location on the screen.

Step 5: Choose a Mode from the 4 modes in the upper right corner and enter the location you would like to choose.

Step 6: After faking GPS for Pokemon GO, launch the Pokemon application and enjoy your game without any issues with the GPS signal.
Set GPS on Android devices
Step 1: Connect your Android device via a USB cable and select your device from the prompt on your PC screen.
Step 2: Ensure your USB connection mode is set to Media Transfer Protocol or Picture Transfer Protocol on some devices.
Step 3: Turn on and enable USB debugging. If the USB debugging prompt is not shown on your phone, click on 'show again' on the PC screen.

Step 4: Select Gaming Mode to play the Augmented Reality game, in this case, it is Pokemon GO. Wait for the map to load, confirm and grant the necessary permissions.

Step 5: Select one mode like connecting iOS devices above and choose the desired location.
Step 6: You can now launch Pokemon GO and start enjoying the game.

Tips

Using ClevGO, you can simulate GPS movement and play without actually moving. You can do this by selecting the two-spot mode, multi-spot GPS movement mode, or Joystick mode.

Two-spot Mode or Multi-spot Mode

The multi-spot mode enables you to choose up to 100 spots on the map to pass by when simulating the GPS movement. It supports turns and loops, adding more options to the simulation of your GPS movement and location. You are free to set the numbers of moving times and the speed by moving the slider.

Joystick Mode (360 degree)

Once everything is set, you can click on 'Move' to start. The joystick mode lets you move your location manually using a joystick in any direction as well. Just click on 'Move' to change location automatically. You can change the location in 360-degree, and move in any direction you want to.

ClevGo does not require you to root or jailbreak your phone as well. It supports 14 languages and is very easy to use. The compatibility with almost any device also makes ClevGo very accessible and is a necessary tool for Pokemon GO players especially those in areas with low activity. Also, you can even play Pokemon GO without moving.

Wrapping It Up

In conclusion, the article has been a complete guide on how to fix GPS signal issues on Pokemon GO for Android and iOS users. You can use ClevGo to play other Pokemon players from any part of the world without physically being there as well as without any GPS issues and from the comfort of your house.

Your GPS location or poor signals should not prevent you from enjoying your favorite game. Get ClevGuard ClevGo and have a good time playing Pokemon GO like never before.