In the world of Pokémon Go, finding the best GPX routes is key to catching rare and powerful creatures. GPX routes are GPS-based tracks that can help you to efficiently travel to different locations in your quest to catch 'em all. This article will provide an overview of some of the best GPX routes for Pokemon GO, as well as tips on how to use them to maximize your Pokémon Go experience.
Part 1: What Are the GPX Files?
GPX (GPS Exchange Format) files are a type of digital data that contains geographical information, including coordinates, routes, and tracks. These files can be used by GPS devices, mapping software such as GPX viewer, and other applications that work with location data. In the world of Pokémon Go, GPX files are particularly useful for players as they allow them to create custom routes to find specific Pokémon, as well as to visit various landmarks, such as Poké Stops and gyms. GPX files can be created and shared online, allowing players to access and download pre-made routes to optimize their Pokémon Go experience.
Part 2: How to Import/Export GPX Routes for Pokémon Go?
3.1 ClevGo Overview
ClevGuard's ClevGo is a third-party GPS location spoofing application available on Windows and Mac OS and supports devices running iOS and Android. GPS spoofing apps such as ClevGo are able to change your devices GPS location to anywhere in the globe, as well as simulating GPS movement naturally, without the need to jailbreak or route your device. For Pokémon Go, ClevGo can even be used alongside a GPX file.
3.2 How to Import or Export Pokémon Go GPX Routes using ClevGo?
To begin importing/exporting Pokémon Go best GPX routes using ClevGo:
Step 1-Download and install ClevGo on your computer and click Get Started.
Download for WindowsDownload for Mac
Step 2-Connect your smartphone to the computer via a USB cable. Unlock the device, and then click Trust when prompted.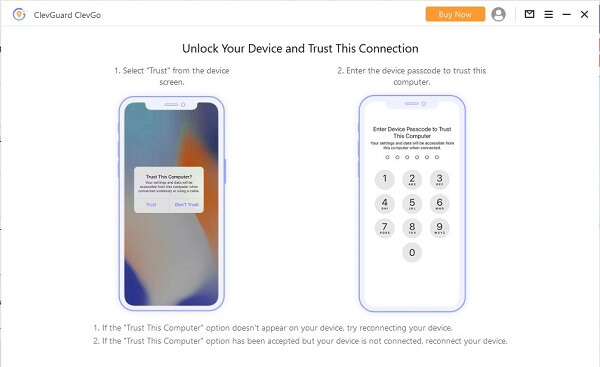 Step 3-Select your connected device on the ClevGo desktop application.
You now will have connected the ClevGo desktop app to your smartphone.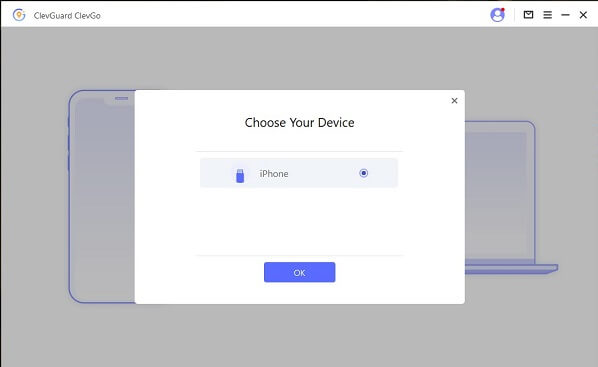 Step 4-Once the map has loaded, navigate to the Plan Your Route area of the ClevGo desktop app.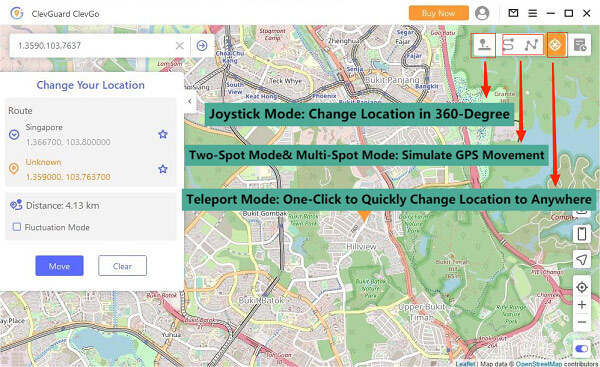 Step 5-From this screen, you should see an Import button where you can import a GPX file.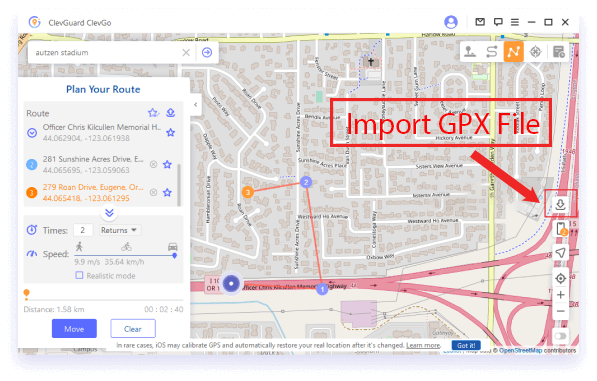 Step 6-Similarly, there should be a Download button where you can export a GPX file for the designated route.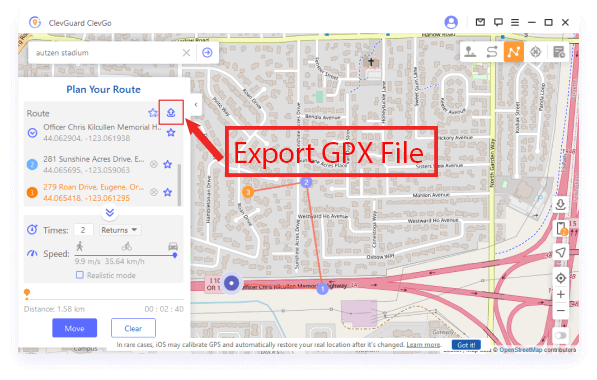 What Else Can ClevGo Do?
As well as using allowing you to experience the Pokémon Go best GPX routes or custom route for Pokemon GO, ClevGo has a lot more features that you can make use of. These features include:
Instantly Change Your GPS Location: You can instantly 'teleport' anywhere in the globe using ClevGo by using a complete map of the globe. You can enter an address or coordinates of where you want your device to think you are.
Simulate GPS Movements: You can set two or more spots within the map to simulate movement. This can be helpful for apps like Pokémon Go. Within that, you can also make the GPS movement returns or loops randomly to maximum the reality.
Joystick GPS Movement Simulation: There is an option to use an onscreen touch joystick so you can control your GPS location manually, as if you were controlling a character in a video game.
Spoof Your Location Using WiFi: Best of all, ClevGo's software doesn't require a jailbroken or routed device. Everything is handled via WiFi.
Part 3: The Top 10 Pokémon Go Best GPX Routes
Here are the best 10 places to play Pokmon GO as well as the GPX file to free download.
1.Central Park, New York: The infamous GPX Pokémon Go Central Park route boasts a massive area filled with Pokémon and tonnes of Poké Stops. Great for Snorlax, Lapras, Charizard, and Squirtle spawns.
2.San Francisco, Pier 39: An awesome route through San Francisco in California where you can find yourself Dragonair, Psyduck, Golduck, Electabuzz and even Bulbasaur Pokémon spawns.
GPX Download for San Francisco
3.Barcelona, Spain: Barcelona boasts amazing Pokémon spawns featuring Pikachu, Mankey, Vulpix, and tonnes of Eevees. Great places to look include the Barcelona Zoo and Port Vell.
4.Chicago, Illinois: Chicago's 'Windy City' is a great place for trainers to find Sandshrew, Squirtle, Staryu, Growlithe, Bulbasaur, Tangela, and Meowth spawns all over the city.
5.Paris Mall, Paris: A huge hotspot for spoofers, as it includes legendary Pokémon amongst Jigglypuffs, Pikachus, and even Mewtwo spawns.
6.Madrid, Spain: A great place for Generation II Pokémon, as the region includes Mr Mime, Volbeat, Lunatone, Zangoose, Sawk, Heatmor, and Tropius spawns.
7.Tokyo, Japan: The best place to find tonnes of Poké Stops as well as Jigglypuff, Koffing, Grimer, Electabuzz and Tangela spawns amongst tonnes more of great Pokémon.
8.London, United Kingdom: A great city to find lots of amazing Pokemon including Tentacool, Dratini, Electabuzz, Hitmonlee, Kabuto, Mankey, Snorlax, Mr. Mime and even the occasional Dragonite spawns.
9.Boston, Massachusetts: There are lots of places in Boston that spawn some great Pokemon including Dragonair, Horsea, Dratini, Vulpix, Jigglypuff, Goldeen.
10.Amsterdam, Netherlands: In Amsterdam players can expect to find Tauros, Mr Mime, Kangaskhan, Farfetch'd, and even occasionally a Dragonite, making it a great place to spoof.
Part 4: The Frequent Questions about Pokemon GO GPX File
1. Where Can You Get GPX Route Files for Pokémon Go?
You can find GPX files for the best Pokémon Go routes, such as those outlined above, all over the internet. Popular areas to look include various Pokémon Go spoofing forums, such as reddit, arspoofing or Discord channels.
These are just some of the places you can find GPX route files, however there are tonnes more websites and forums where players share their favourite routes.
2. How To Convert Maps To GPX Files?
There are several ways to convert maps to GPX files, depending on the type of map and the tools you have available. Here are a few common methods:
Online conversion tools that allow you to convert maps to GPX files.
GPS device software, such as ClevGo.
If you have access to GIS (Geographic Information System) software, such as QGIS, you can use it to convert maps to GPX files.
If you have a hand-drawn map, you can use a GPS device or GPS app to record the coordinates of each location.
3. How To Open GPX Files?
GPX files can be opened by specific apps that are able to read the GPX file and edit its contents. These sort of apps are usually those that are related to GPS coordinates or mapping in some shape or form, such as Google Maps. Additionally, however, apps like ClevGo can be used to edit or read GPX files for Pokémon Go spoofing.
4. Why Can't I Open GPX Files?
GPX files may not open due to incorrect file association, outdated software, corrupted or damaged files, or missing software. To resolve this issue, ensure you have the latest software version, try a different software or device, or reach out to the manufacturer for assistance. If the GPX file is damaged or corrupted, try opening it with a different software or device.
5. What Is the Difference Between a GPX Track and Route?
GPX tracks and routes are two types of data stored in GPX files, with different purposes. GPX tracks record a path taken and include time, date, and GPS coordinates of each point. GPX routes define a specific journey with start and end points, and intermediate stops. GPX tracks record a path, while GPX routes plan a journey.
Conclusion
In conclusion, GPX routes in Pokémon Go are essential for players to efficiently travel and catch rare and powerful creatures. These GPX files contain geographical information, including coordinates, routes, and tracks, which can be created and shared online.
ClevGo, a third-party GPS location spoofing application, offers the ability to import and export GPX routes for Pokémon Go and has additional features such as simulating GPS movements and changing GPS location instantly. Some of the best GPX routes in the world include Central Park in New York, San Francisco Pier 39, Barcelona, Spain, and Paris Mall. With GPX files and ClevGo, players can maximize their Pokémon Go experience and catch 'em all.