How to custom route for Pokémon Go? Undoubtedly Pokémon Go is an exciting game to play, but it's not easy to win if you are not available to go outside. People try different tricks to catch maximum Pokémon and rewards. One of the best ways to win Pokémon Go is to customize the route for Pokémon Go. Are you wondering how to create a custom route for Pokémon Go? If yes, here is good news for you. In this article, we compiled different methods to add a custom Pokémon route. keep reading.
Part 1 What's the Point of Customizing Pokemon Route?
People customize the route of Pokemon Go to create a more efficient and effective path for catching Pokemon or to reach specific landmarks or Pokestops. By customizing the route, players can save time and energy while maximizing their chances of encountering rare or desired Pokemon. Additionally, customizing routes can make the game more enjoyable and challenging, as players can create unique challenges for themselves or compete with others to see who can complete the route the fastest.
Part 2 How to Create a Route in Pokemon Go?
To customize the route for Pokemon Go, you can choose some different spots on the map to simulate a route or create a GPX file so that the GPS will move to proceed along with the GPX setting. For this, the simplest way is to get the help of some Pokemon GO spoofing tools. Here we give ClevGo as an example.
The ClevGo is a well-designed application developed by ClevGuard that helps you fake GPS for Pokemon go and stimulate the GPS movement. The best thing about ClevGo is that it offers multiple modes that users can use and enjoy streaming content or games without waking up or going outside of the home. Additionally, you can add customized speeds for a route that make the movement more realistic.
Some Tips about How to Customize Pokemon Go Routes with ClevGo
1. Before creating a Pokemon Go Route:
A: Download ClevGo GPS Simulator
First of all, go to the official website of Clevguard and download ClevGo GPS simulator on your PC. After downloading, install the application on your Windows or your Mac.
Download for WindowsDownload for Mac
B: Connect Your Android /iOS with ClevGo
When the installation process gets completed, take a USB cable and put one end of the cable into your Android or iPhone or any other end of the cable into PC and connect both devices.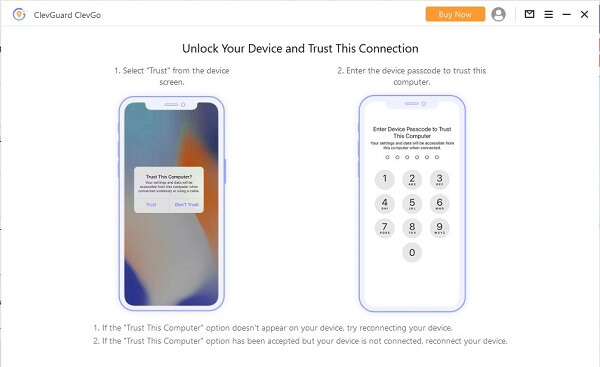 2. Simulate GPS Movement with ClevGo
After connecting both devices and loading the map, you can stimulate the GPS movement easily. GPS simulation is possible with two different modes of ClevGo, two-spot mode, and multi-spot mode.
A: Simulate GPS movement with two spot modes.
For using the stimulation with the two-spot mode of the ClevGo application, simply tap the second option, which allows you to add the initial and final location. After that, it works automatically. Additionally, here you can add a number of moving times or set a fluctuation to make the fake location back and forth with 5 m, which makes it a more realistic movement.
B: Stimulate the movement with multi-spot mode
The multi-spot mode in the third icon lets its users stimulate the GPS movement without limitation of the spots. In this mode, the user can add multiple spots to create a route, and it makes the movement more real, and no GPS games or applications can detect it.
Also, you can stop, pause, and continue moving quickly. When you reach your final destination, you will get a notification.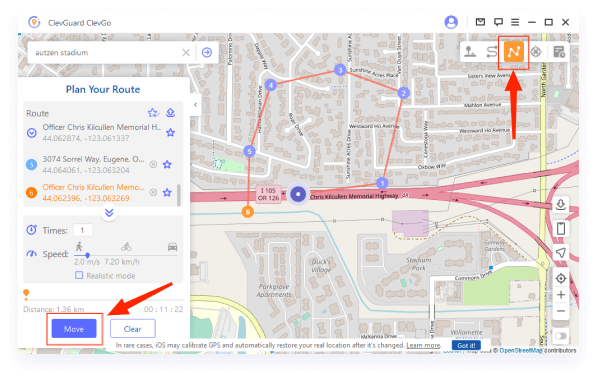 3. Customize the Pokemon go GPX Routes by ClevGo
GPX files are a type of file format used to store GPS data, such as waypoints, tracks, and routes. They contain information about latitude and longitude. GPX files can be used to share GPS data between different GPS devices, software applications, and online services.
In the Pokemon Go app, GPX files can be used to simulate movement and spoof GPS location, allowing players to catch Pokemon, spin Pokestops, and battle in gyms without physically moving. Players can load a GPX file containing a pre-recorded route, and the app will follow that route as if the player is moving in real time. It is useful for players who are unable to travel physically to a location.
A: Import the GPX file
For importing the GPX file, go to the ClevGo dashboard, look at the right corner and click on the first option, choose your file, and import it.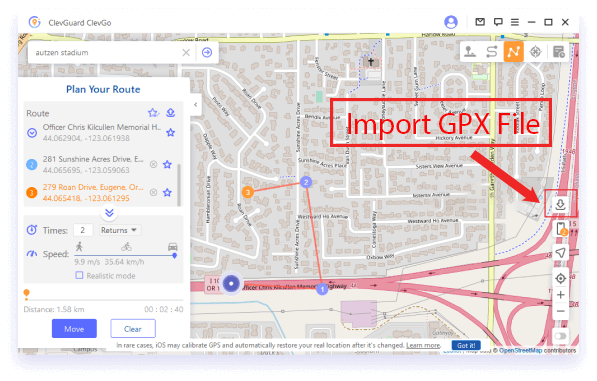 B: Export the GPX file
Go to the ClevGo dashboard, click on the download icon, which is present on the left side, and download your GPX file.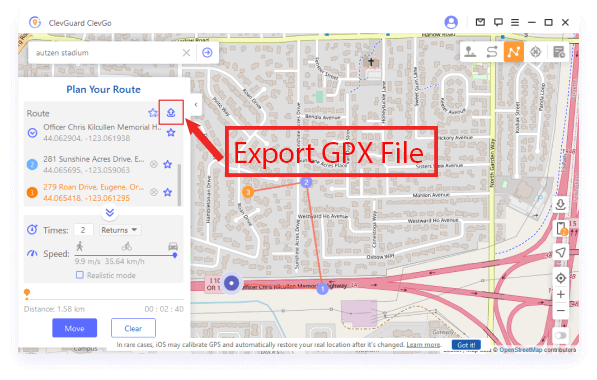 4. Control Your Route Movement with Joystick
In joystick mode, the user can spoof Pokemon GO with Joystick and control the movement in 360 degrees, and you can move forward and backwards by using the direction button. The ClevGo user is allowed to use the keyboard to control movement in different directions. For example, if you want to go up, click on W on the keyboard, type S to move down, click on A to move left, and type D to move right.
Additionally, it offers an auto-marching feature that allows the movement in the direction of the arrow.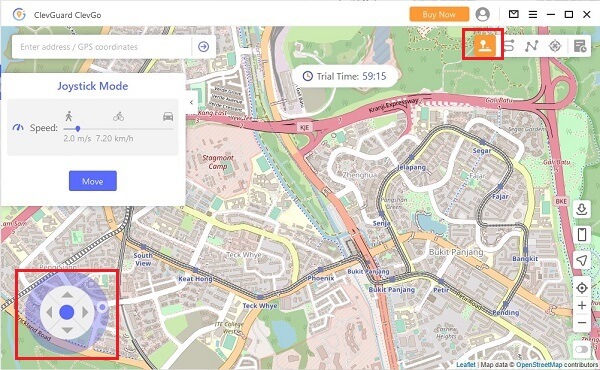 Tip:
If you want to change location instantly, then choose a teleport mode. It's a fourth option on the ClevGo dashboard; click on it, put your desired location, and tap on the move. Your device location will be changed instantly. You can use this mode when you are in a hurry.
More Advantages of ClevGo
Support 14 different languages.
Can connect up to 10 devices at once.
Fully support iOS (up to iOS 16) and Android (Up to Android 13).
Both available for Windows and Macs users.
May interest you: How to Catch Ditto in Pokémon Go?
Part 3: Other Tools to Spoof Route for Pokemon
1. FGL PRO
The FGL PRO is a spoofing application that is available for Android users. People use this application to change the location and to catch rare Pokemon. It has multiple features, but these are not available free of cost.
This app lets you choose a location manually. You can even share the route with friends and family. This app also works with other social apps like dating applications, Snapchat, etc. But it contains annoying Ads.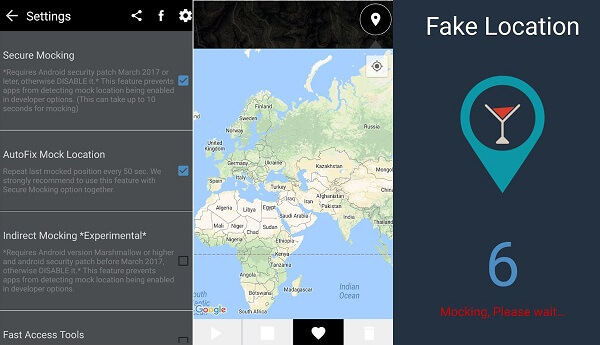 2. PGSharp
PGSharp is a GPS simulator application dedicated to Android devices that is used for spoofing the location of Pokemon Go. with the help of this application, you can change the location of your device. This application has various features such as joystick mode, teleport mode, Pokemon go auto walk, etc. It can also automatically chooses the best location for your device, and you can save the last location too. This application's free and paid version is available, but its free version has limited features. If you want to enjoy this application's advanced features, you must purchase a premium subscription.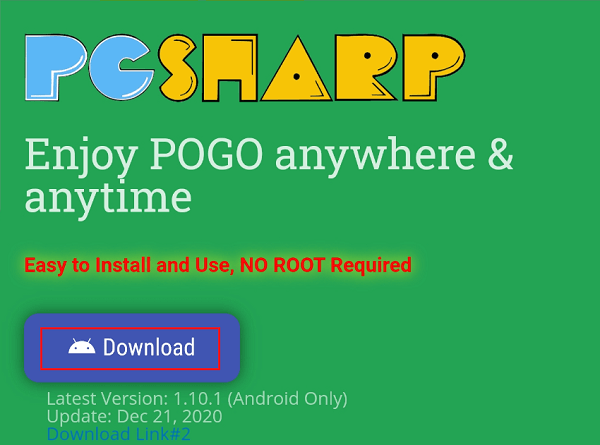 Conclusion
It is a fact that only some people can win Pokemon Go without making the extra effort. If you want to be the winner of Pokemon Go, you have to catch more rare Pokemon Go, but covering that much distance is not easy. So here is an easy way to catch all Pokemon and reward by customizing Pokemon GO routes.
Multiple applications help to customize the Pokemon Go route, but one best applications is ClevGo, which lets you customize the location. So install ClevGo on your device right now.