Do you want to capture more Pokemon that are not near you? Is VPN a good option for spoofing Pokémon Go locations to catch maximum Pokemon? And if you wanna teleport to another place via VPN, what is the best?
Well, if you are facing the trouble catching Pokemon in Pokémon Go, you are the right place. In this article, we will provide you with the best Pokémon go VPN for spoofing Pokémon Go in 2023, with real review and comparison. Also, how to spoof Pokemon GO locations without VPN.
Part 1 Before Starting: How to Spoof Pokemon Go without VPN?
Before introducing what is the best VPN for Pokemon Go, let discuss how to spoof Pokémon Go without VPN service? Well, the simplest way is use some location spoofer. Here , we pick ClevGo spoofing app as a example.
1. Introduction of ClevGo
The ClevGo is a very useful utility you can use to spoof your device location quickly, which works on both Android and iOS devices and no jailbreaking is needed.
ClevGo works all of the location-based application. For AR Game like Pokemon Go, you can teleport to anywhere in Pokemon Go without actual moving. And, you can simulate the GPS movement to completed mock your location route and make your account safe. Even more, your can control your direction with Joystick.
For social platform, it lets you stream banned content, block geo-restricted games, etc., without changing your actual location.
When spoofing location, ClevGo provides 4 different modes for faking GPS. For more details, keep reading.
2. ClevGo's features
Teleport mode: Change the location quickly by adding coordinates or entering the address.
360 degree: Control the fake location movement in all directions with Joystick, arrows or keyboard.
Auto marching: Can set to move forth or back along the faking location in a certain speed to make it more realistic.
History records: Keep the history of all added locations from your side. Can check these location history and use these the next time.
Import and export GPX files: Help to create the route by GPX file.
3.The full guide to spoof Pokémon Go with ClevGo
Step 1: Visit the official website of ClevGuard and Download ClevGo. After downloading the application, install it on your PC.
Download for WindowsDownload for Mac
Step 2: Take a USB cable, and use it to connect your PC and mobile phone.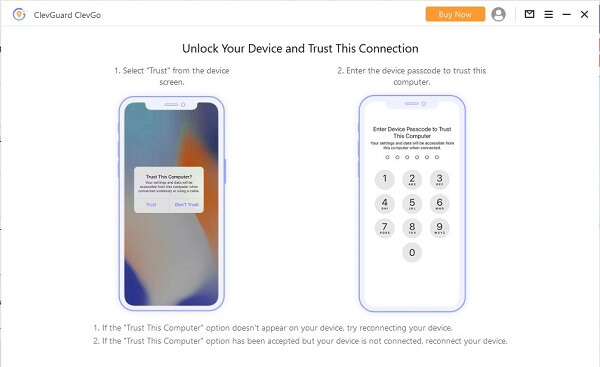 Step 3: After connecting both devices now, select a mode first. Then, enter your destination or customize the route that you wanna fake the location to.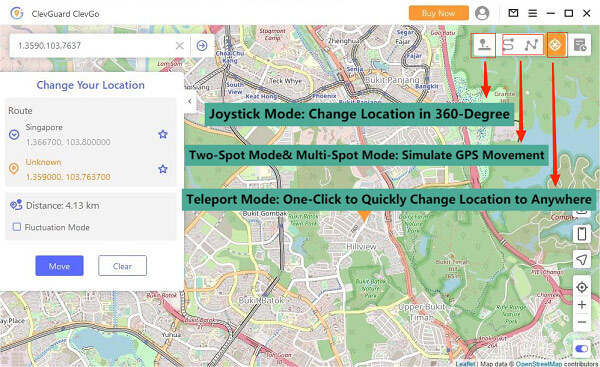 Step 4: Once done, tap the "Move" and start to change the location. You can also check the table of "Realistic Mode" in the "Move" option, in which your GPS movement will randomly fluctuate with 30% of your customized speed.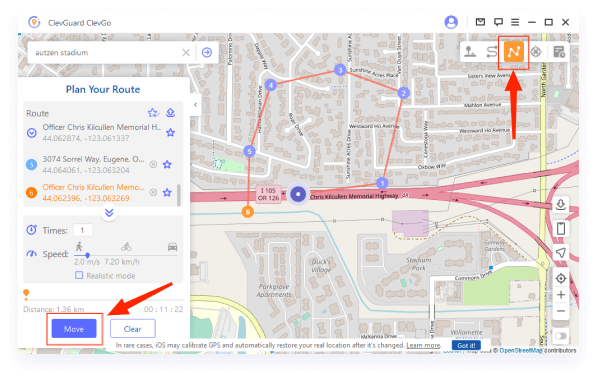 Step 5: Next, open the Pokémon Go game on your device, your character will proceed follow your fake track even if in fact that you are not in that location spot.
Introduction
This is the tutorial about how to change location without VPN for Pokemon Go by GPS Faker. Next, we will focus on the principle of Pokemon Go VPN and what are the best VPNs to cheat Pokemon Go with VPN.
Part 2 How a VPN Can Help Spoof Pokemon Go Location?
VPN, Virtual Private Location, exists as a protected network connection when you are using the network, which can encrypt your internet activity. You can hide your mobile device location, also, change your GPS to another place through a server located in a different location. It allows the device to appear as if it is located in the same location as the server, in this way you can fake the location for Pokémon Go and you can collect all pokemon from different locations.
Part 3 The Best 3 VPNs for Pokemon Go
There are 3 best VPNs for pokemon Go in 2023
1. Nord VPN
Nord VPN is one of the top-rated VPNS with 50 million downloads. It is also a free VPN for Pokemon Go. The reason for the popularity of this VPN is that it is easy to use and compatible with different platforms and devices. This VPN is fantastic for spoofing Pokémon Go because it has more than 5000 servers in 58 countries.
This VPN includes all advanced features which change your location without trouble. When you connect to a Nord VPN server in a specific country, your device will appear to have a different IP address and let you play GPS-based games like Pokémon Go without geographical restrictions.
Support the connection of 6 devices at the same time.
It has no log policy.
Automatic kill switch to prevent privacy compromise.
Support streaming's next generation encryption.
Dak web monitor.
Top-notch privacy and security.
Fast and stable speed.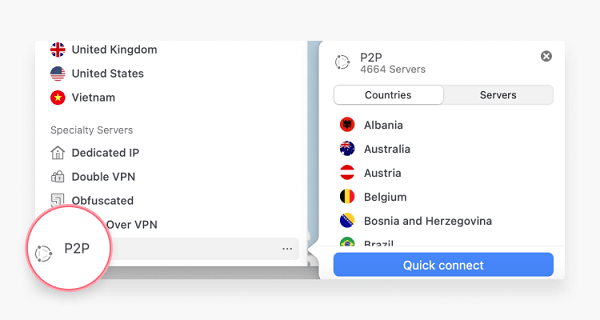 2. PrivateVPN
PrivateVPN is a well-known VPN for changing location and getting access to the geo-restricted content and games like Pokémon Go. Around 500k plus users are using the privateVPN app to fake their location. It offers 200 plus servers in 63 different countries. It is the best tool for changing location for Pokémon Go. It makes the game system believe that you are moving to different places.
In addition, PrivateVPN is famous for its extraordinarily fast speed and customizable encryption. This VPN comes with a 7-day free trial. This VPN for games offers features that can assess your safety and make you play geo-restricted games.
In addition, PrivateVPN is famous for its extraordinarily fast speed and customizable encryption. This VPN comes with a 7-day free trial; This VPN for games offers features that can assess your safety and make you play geo-restricted games.
Related Read: 10 Best Places to Spoof Pokémon Go and Catch Rare Pokémon
Here are some amazing features of privateVPN mentioned
Support 10 devices simultaneously.
Encryption with AES-256.
Unlimited bandwidth and speed.
No logging needed.
Support numerous platforms.
7-day free trial and money-back guarantee.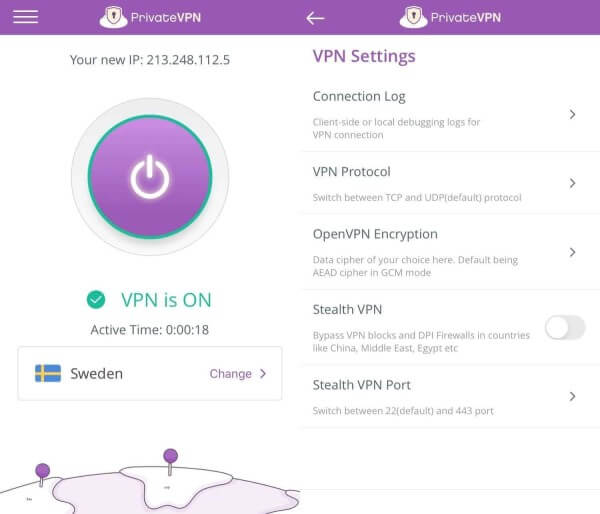 3. Hotspot Shield VPN
The hotspot shield VPN is a popular VPN with 100 million active users. This tool provides 3200 servers in 80 different countries. The hotspot shield VPN automatically changes your location after the connection. That's why it is considered the best VPN for spoofing Pokemon Go locations. Besides this, it helps you to get access to your blocked content, surf the website anonymously, and stream geo-blocked video content.
This game VPN is easy to use because its interface is quite simple. It easily hides your IP address and a fake location. In this VPN, you can easily set any customized location in one click only.
Boost strong security.
Quick connection.
Advance encryption technology.
No log policy.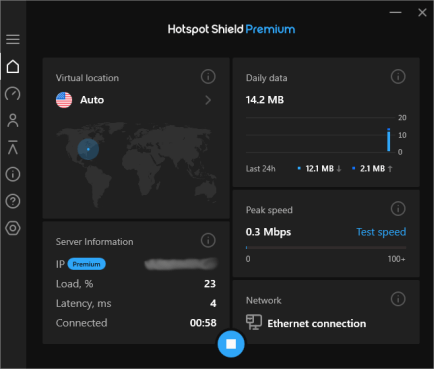 Part 4 Is it Safe to Spoof Pokemon Go with VPN
No free VPNs are not safe to use. The major drawback of free VPN is that they are infected with malware that causes serious issues in your devices. VPNs mostly steal users' data and share it with third parties.
Additionally, some of these VPNs don't work properly for Pokémon Go. Pokémon Go application easily detects these VPNs and blocks your account or permanently bans you from playing the game.
Conclusion
As you know, sometimes spoofing Pokémon Go becomes necessary because this game can only be enjoyed when you are moving or visiting different places, which is not possible for everybody.
Luckily, there are many ways to fake Pokemon Go location, for example, using VPN. But if you wanna make your Pokemon Go account more secure, it is highly recommend to use some tool like ClevGo that it can simulate the real GPS movement without being detected.