Are you finding a way to capture Pokemon from home without moving? It is a fact that to play Pokémon Go a lot of movement is needed. Players have to search for Pokemon in the real world, but people don't want to do hardwork. So the question is, how can people catch Pokemon from home without moving in 2023? Keep reading. We will give you tips on how to play Pokemon Go without Walking.
Part 1 How to Catch A Pokemon in Pokemon Go?
There are numerous common ways to catch Pokemon in Pokémon Go, such as using a lucky egg to evolve, visiting nearby Pokestop, getting more and more polls, boosting up yelp, going to crowded areas, using a map or app.
You can use lures and incense to catch more Pokemon, and you should keep your bag clean and make space in it. Moreover, earn more candies, coins, and complete and complete oaks' quest to capture Pokemon in Pokémon Go.
In addition, use the curve, boost your fighting strength, challenge the gym late at night, and use the ingress map to capture a Pokemon in Pokémon Go.
Part 2: How to Catch Pokemon from Home without Walking?
How to catch Pokemon without walking? People love to play Pokémon Go but hate to walk to capture Pokemon because, in these games, you have to walk and walk. But here are tips for people who don't want to walk to collect Pokemon.
Method 1: Using ClevGo Pokemon Go Cheats
It might be surprising for you, but yes, you can capture Pokémon without walking by using ClevGo.
1.Introduce ClevGo
Pokémon Go is a trustworthy application that lets you change the location to cheat location-based games. This fantastic application interface is simple, and it is easy to use.
The ClevGo application lets you add any fake location globally to make the people and applications believe that you are at that place, and you can stream any content or pay for any GPS-based game with ClevGo.
The advantage of ClevGo is that it has all advanced features that can help you set any customized location.
2.What Can ClevGo Do When Playing Pokemon Go?
A: The ClevGo application makes your Pokémon Go experience better because this app lets you change location according to your need.
B: It makes it easy to play Pokémon Go because it has smart features like marching mode that lets Pokémon Go application that you are moving on the roadway at moderate speed.
C: The two-spot or multi-spot feature also helps you play the Pokémon Go application because you add a customized route. Its joystick mode also allows you to manage GPS movement on the map with your desired direction and speed.
3. How to Play Pokemon Go without Moving with ClevGo?
Follow the easy step-by-step guide for you to play Pokémon without moving.
Step 1.
First of all, download the Pokémon Go app on your phone and download the ClevGo application on your PC.
Download for WindowsDownload for Mac
Step 2.
Now connect your PC and phone via a USB cable, and you will get a pop-up on your mobile phone; tap on trust this computer; it will start loading the map on your device.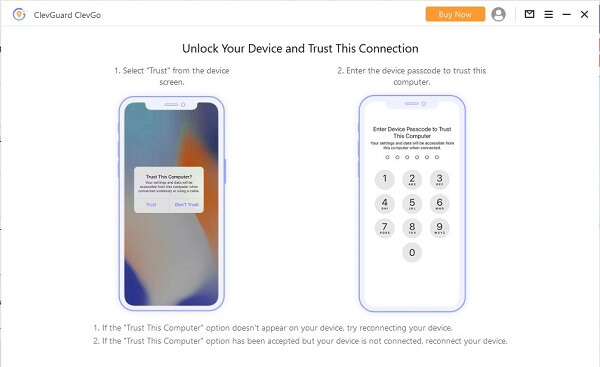 Step 3.
After loading the map choose Multi-Spot mode or Joystick Mode because they let you simulate the GPS movement and customize your location naturally on Pokémon Go without being detected.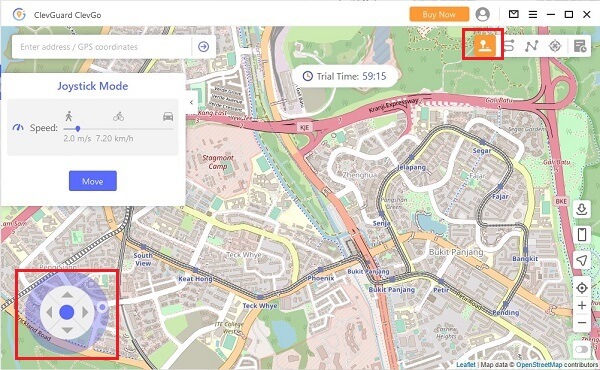 Step 4.
You can choose the realistic mode to make the Pokémon Go think you are moving. Here you can set the speed at which you want to add and enjoy Pokémon without moving.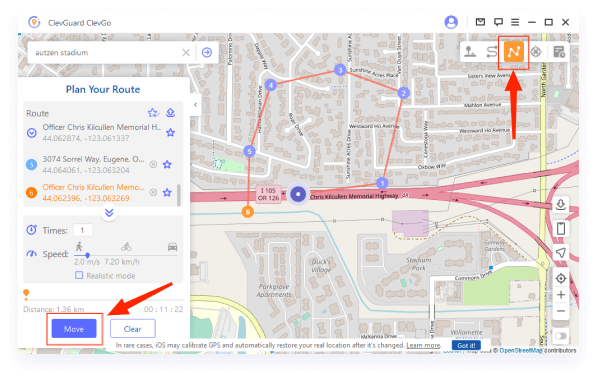 Method 2: Using a Fitness App
Another way to play Pokémon Go without moving is by using a fitness application like DeFit.
1.Introduce of DeFit
DeFit is a popular fitness Application that lets you track your fitness like your activity, your food, how many calories you eat, etc., but the best thing is that it lets its users add running time, speed, time, and covered distance manually. That means a user of this application can add these moving details quickly, and it makes the Pokémon Go believe that they have covered that much distance in a day and you can get more and more Pokemon, and level up fast in Pokemon Go. The Pokémon Go player who doesn't love to walk can use the DeFit application to Pokemon Go walk without moving.
2. How to Use DeFit in Pokemon Go?
Step 1. Download and install the Defit app from the Google play store.
Step 2. After its installation, download Google fit on your device, use your Gmail account to login in DeFit, now enable DeFit sync, set a speed.
Step 3. login into Google fit by using the same Gmail that you have used in the Defit app for creating an account.
Step 4. Now hatch eggs buddy candy 100km Adv and enjoy Pokémon without waking.
But note that pay more attention to the speed when using this app to spoof Pokemon Go location. As the excessed speed may get you dictected and put your account at risks.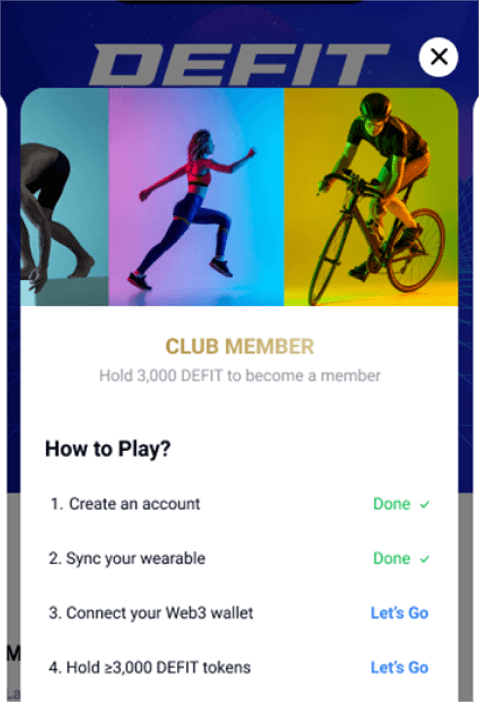 Method 3: Using iOS GPS Spoofer
Spooferpro is a helpful application for playing Pokémon Go without moving. This smart application comes with a lot of smart features such as fast catch modified throws, IV preview, etc. these features help the Pokémon Go player to enjoy the game without moving.
Additionally, its teleport mode helps you in finding a different location on the map by using the inbuilt list of hotspot.
Its virtual Go plus feature lets you take a rest and automatically change your location to make the Pokémon Go feel that you are moving. In joystick mode, you can change the moving speed, etc., and the huge map feature lets you know the Pokémon location, gyms, raids, the events around you, etc.
Reminder: Jailbreak is required
Spooferpro is not recommended so much because it only works if your mobile phone is jailbroken. If your device is jailbroken, you can get benefits from this application; otherwise, this method is not for you.
additionally it users complains that this application is unstable now. Sometimes it stops working.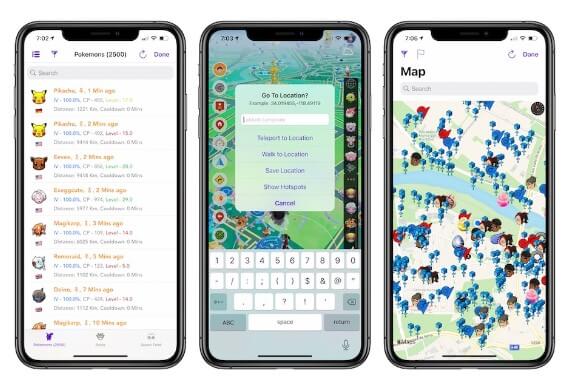 Part 3: Bonus: Pokemon Go Type Chart
Here is the Pokémon Go chart for you.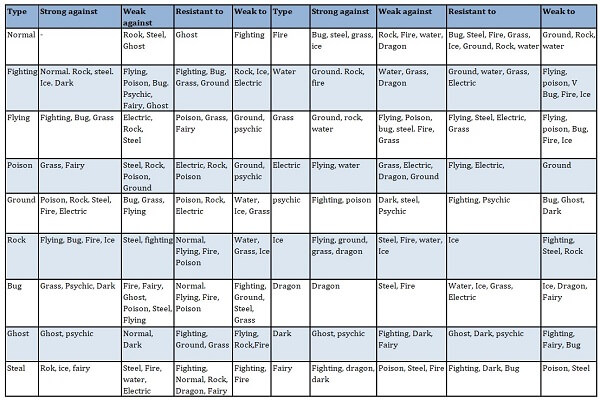 Part 4: Hot Questions about Catching Pokemon
1.Why can't I catch a Pokémon in Pokemon Go?
If you are unable to catch Pokemon in Pokémon Go, there could be a different reason for it, but the common reason is a soft ban; yes, if your Pokémon Go account has a soft ban then you cannot attack Pokemon until this ban is removed. Additionally, you cannot get prizes, rewards and medals in a soft ban.
2.How do you catch a specific Pokémon in Pokemon Go?
There are different ways to catch a specific Pokemon in Pokémon Go such as Using the Nearby Screen because the nearby screen can help you show which Pokemon you can capture in the wild or at the gym. The second way is Considering Environmental Conditions because it depends on environmental conditions.
3.What is the rarest Pokémon to catch in Pokemon Go?
The rarest Pokemon is Galarian Articuno which is really difficult to capture. Its catch rate is only 0.3 percent, and the flee rate is about 90 percent. Use incense Streak to capture Pokémon this means you have to cover the maximum distance in 15 minutes on the ground. This is Pokemon you can capture by using Daily Adventure Incense.
4.How do you increase your chances of catching a Pokémon?
You can increase your chance of catching Pokemon in Pokémon Go in many ways, such as by going after more Pokemon, using the vest ball while capturing, turning off AR while playing, walking whenever pokestops and the gym, and boosting your level.
5. Does pressing buttons help catch Pokémon?
Yes, pressing the buttons helps to catch Pokemon in Pokémon Go. When you press button A while encountering Pokemon, it helps to capture it successfully. Additionally, when you hold down on the D-pad and B buttons, it lets you capture the Pokemon successfully because it leaves a low chance of escaping Pokemon.
Conclusion
As you know, capturing Pokemon in Pokémon Go while sitting at home is difficult, but there are a few ways that make it possible to capture Pokemon. But the easiest and most reliable way to capture Pokemon without moving is the use of the spoofer application ClevGo.
The ClevGo location-changing software will let you capture all Pokemon without moving because it will add a fake location so you can easily capture all Pokemon.