GPS spoofing applications and software are apps that can make your phone believe you are in a different location than where you really are. This is very useful for GPS-based games like Pokémon Go, as it allows players to travel across the globe in-game, without leaving their house! If you are on the lookout for the best iOS 16 location spoofer, then continue reading as we explain the three best ios 16 location spoofer for Pokémon Go.
Part 1: Can You Still Catch Pokémon on iOS 16 After Using Location Spoofer?
The simple answer to this question is yes. Using Pokemon GO spoofer iOS, you can spoof your iOS device's location to wherever you want. Games that take use of your phone's GPS location, such as Pokémon Go, will not recognize that the location is spoofed. This can give players an extreme advantage, as they can travel anywhere they want to take part in far-away events or catch Pokémon from places they can't otherwise get to. In the world of Pokémon, where you have to catch 'em all, this is very useful.
Part 2: What Are the Best 3 Pokemon Go Spoofers for iOS?
One of the best GPS spoofing software available for iOS 16 that can help you spoof your location in Pokémon Go is ClevGuard's ClevGo software. It is a very lightweight and easy-to-use software that doesn't require a jailbroken device and can spoof your location over a WiFi connection. You just need to have a computer and of course, your Apple device running iOS 16 to start using it. It is packed full of features, that we will discuss, that is very useful for Pokémon Go.
1.1 Advantages of Using ClevGo for Pokémon Go Spoofing:
ClevGuard ClevGo has many advantages and features that other spoofing software do not have, which makes it a surefire choice for usage in Pokémon Go GPS spoofing. These features include:
Teleport to Anywhere: Complete GPS spoofing to locations all across the globe using a map, so that you can simply place your player's GPS location anywhere you want. ClevGo also has more advanced map usage, such as using specific coordinates for any location on the planet.
Movement spoofing: You can set routes and select from various speeds, such as walking and driving so that your device thinks you are on the move.
Supports GPX files: GPX files are often shared on Pokémon Go forums for some of the best Pokémon catching locations on the globe, and ClevGo supports these completely. You can even export routes yourself using the software.
Realitic Mode: checked this mode, your fake location movement will randomly returns or loops when proceeding, which will spoofing your location in the maximum extent.
1.2 How to Spoof Your Pokémon Go Location Using ClevGo?
Step 1: To begin spoofing your Pokémon Go location using ClevGo, you first need to install the ClevGuard's ClevGo application on your computer.
Download for WindowsDownload for Mac
Step 2: Connect your iOS device to your computer using a USB cable.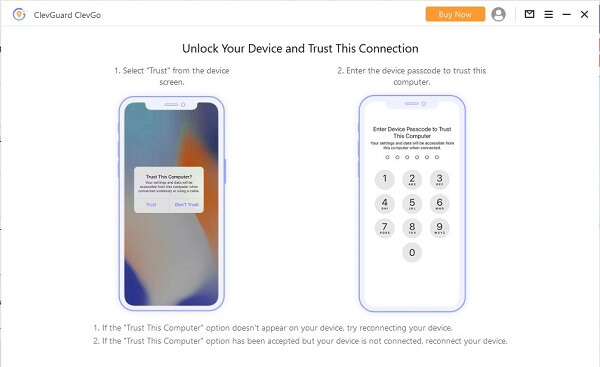 Step 3: Load the map on the ClevGo desktop application. Using the map on the desktop application, select the spoofing mode you want to use.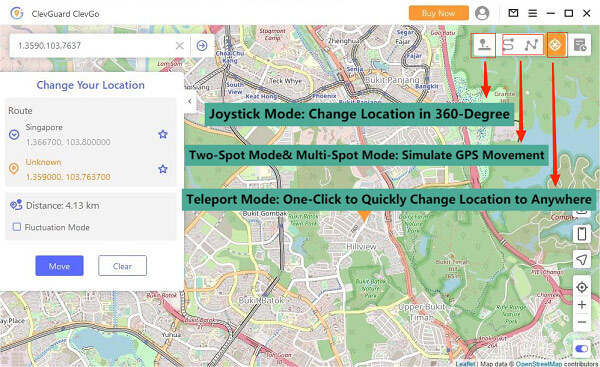 Step 4:You have access to instant GPS teleportation, movement simulation including pathing and joystick modes, and even GPX imports so that you can use some of the best Pokémon Go locations on the planet.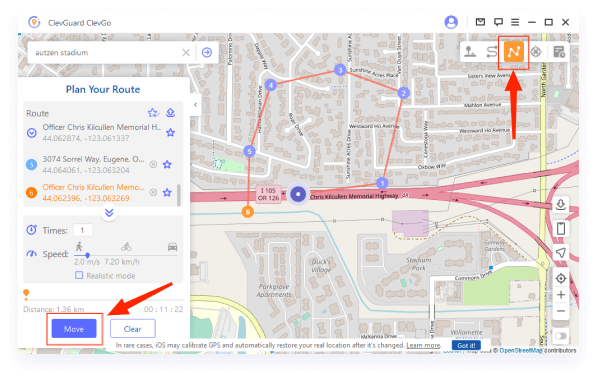 Tip:
Begin using ClevGo's features. ClevGo manages to spoof your GPS location using WiFi and does not require a jailbroken device.
1.3 Pros and Cons of ClevGo
One of the biggest pros of the application is that you don't need a jailbroken device. This is very beneficial, as most GPS spoofing these days requires a jailbroken device to get around the iOS 16.1 GPS issues. ClevGo is also packed with features that many similar apps do not have, such as GPX file usage.
A con of using ClevGo is that you require a computer to begin spoofing your location to use the ClevGo desktop application.
Related Read: 10 Best Places to Spoof Pokémon Go and Catch Rare Pokémon
Another great application for users trying to find out how to change location on iOS 16 is Easeus's MobiAnyGo. Just like ClevGo, this alternative spoofing software allows full GPS location spoofing using a simple click and a map, as well as including pathing routes including multiple points on a map. There are also speed options just like ClevGo so that you can simulate running, walking, or even driving. I tested and found that It is compatible with iOS 16 devices, even thought it's official says the App works on up to iOS 15.
2.1 Pros and Cons of MobiAnyGo
MobiAnyGo has many great features, just like ClevGo which makes it a great application to use to spoof your location. The GPS functionality that it provides to users makes it very advantageous to Pokémon Go players. However, MobiAnyGo is not quite as good as ClevGo. This app does not support Android, whereas ClevGo does. It also lacks much of the functionality that ClevGo has, such as joystick usage, and GPX file usage, and furthermore, it does not support Mac computers. Actually, MobiAnyGo also doesn't officially support iOS 16, so players may face iOS 16.1 GPS issues when using this software over ClevGo.But if you are not very strit about this kind of issue, or your device's version is under iOS 16, it would be a great choice for Pokemon GO spoofing.
2.3 How to Change Location for Pokémon Go with MobiAnyGo
To begin changing your location using MobiAnyGo, you first need to install the Easeus MobiAnyGo desktop application on your Windows machine. Then:
Step 1: Connect your iOS 16 device to your computer using a USB cable.
Step 2: Fix the Program when it pop up the notification of "There is a problem with Apple Mobile Device Service.
Step 3: Load up the software and begin searching for or choosing a location on the app's map.
Step 4: You can then use the teleport functionality to spoof your location, as well as implement custom routes with multiple nodes.
Step 5: You will now be spoofing your iOS 16 location successfully using the MobiAnyGo software.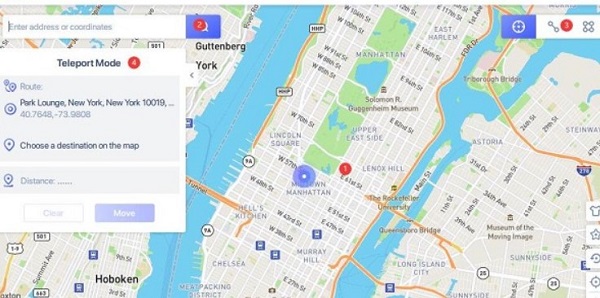 Another application you can use to spoof your Pokémon Go location on iOS 16 is Mobitrix's MagicGo software. MagicGo is a great application for Pokemon Go spoofing that includes basic GPS spoofing features such as simulated GPS movement with customized speed settings to mimic walking, running, or driving, as well as full GPS joystick controls, unlike MobiAnyGo. You can also spoof up to five devices at once, and it works for many GPS-based apps such as Pokémon Go. It also works with Mac and Windows-based devices, unlike MobiAnyGo.
3.1 Pros and Cons of Mobitrix's MagicGo
Some of the pros of using MagicGo include the many features that the software offers. The GPS functionality and ease of use make this a great app to use to spoof your Pokemon Go location. It is also available on both Windows and Mac devices, unlike MobiAnyGo, which makes it very useable for most users.
However, MagicGo lacks many features of above two tools mentioned such as that it doesn't support Android, it does not support GPX exporting and importing, and it does not support realistic GPS mimic mode or pathing. This makes it a very basic GPS spoofing software that isn't on par with the competition.
3.2 How to Use MagicGo to Change Location on iPhone
To start using MagicGo, first install the desktop application on Windows or Mac. Next:
Step 1: Donload the App on the PC. Purchase a license with your registered email and log into the desktop.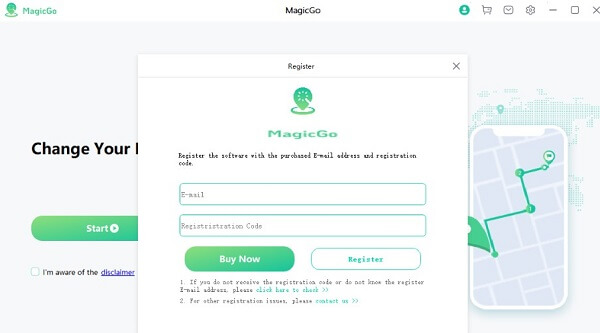 Step 2: Connect your device to your computer using a USB cable.
Step 3: Load up the MagicGo map.
Step 4: Start using the major features of the app. This includes two-spot GPS movement, multi-spot mode, and joystick mode.
Step 5: Enter the location and start to spoof.
[Conclusion]
In conclusion, as you can see from this article there are some good options for users wanting to spoof their iOS 16 location on iPhone for usage in GPS-based games such as Pokémon Go. However, I think ClevGuard's ClevGo shines brighter. It has the best features and is available for both Android and iOS devices, as well as being available on both Windows and Mac devices; unlike the competition. So, if you are trying to catch 'em all in Pokémon Go, be sure to give ClevGuard's ClevGo a try as it really is the best GPS spoofing software on the market!