How to Change My Location on iPhone?
Apple's recent release of iO16 earned it a strong reputation for updates, but it also brought a few problems. The inability to spoof the location of the device was a prominent issue. Users who are cautious about sharing their locations across multiple applications found this to be a huge hit. This was primarily due to the fact that well-known location spoofers do not support the most recent iOS version. Therefore, we have provided the ideal solution to this issue. You will learn what is the best iOS location spoofer and how to change your location on iOS 16 in this article.
Part 1: What are the Senses of Changing Location on an iPhone?
In contrast to VPNs, location-changing has developed into a powerful method of concealing your current location. Because a VPN changes your IP address, even if you use one, you can still be tracked. However, creating a fictitious GPS location is an easy way to set things up. The use of cutting-edge technology to change where your phone, tablet, or other device is located is known as "location spoofing."
Better privacy, the ability to play Pokemon Go around the world, online TV shows, content with specific geographical privacies, and the ability to connect with more people through dating apps are all advantages of spoofing locations. One of the best social media platforms in recent times is Snapchat, where you can view the live locations of your Snapchat friends. If a person decides to switch friends, this could land them in hot water.
Therefore, the safest course of action would be to spoof his location and move around without stress. There are times when applications release new updates to their applications, but some users are unable to access them due to their location. Users can quickly access those features with location changes. Location Spoofers such as ClevGuard's ClevGo allow you to change your location and switch to anywhere around the world digitally.
Part 2: The Best iOS 16 Location Spoofer?
iPhone 16 users have an excellent means of spoofing location in the form of ClevGo by ClevGuard. It allows you to spoof your device. ClevGuard ClevGo is a Windows and Mac PC GPS location spoofer! You can use the ClevGo software to spoof your GPS location so that other people think you are in certain places when you are not. You could also hide your location to keep your privacy and avoid being tracked. You can change your device's GPS location to anywhere in the world.
2.1 Hightlights of ClevGo
Customization of Speed and Route of GPS: Users can set the initial and final GPS location. You can move to locations in real time by customizing the speed of moving. You can set the route by placing pins on the screen. Also, ClevGo allows users to design a circle route if required.
ClevGo's Joystick for flexibility: Joystick mode allows you to move in all directions. Users can control their movements with the help of it. ClevGo comes with the feature of controlling moves with the help of a keyboard and mouse as well. Along with it, you can enable the mode of auto-marching.
Compatibility: It works immediately on all location-based applications and allows the simulation of natural GPS movement. It supports Windows 11/10 and all iOS and Android devices (up to iOS 16 and Android 13).
2.2 How to Change iPhone Location with ClevGo?
Step 1: The first step is the installation of ClevGo to your Windows and Mac and the connection of your iOS 16 device to the PC.
Download for WindowsDownload for Mac
Step 2: Next, pick one mode from the following: Teleport Mode (for quickly faking GPS), Two-Spot Mode, Multi-Spot Mode (for simulating GPS movement) and Joystick Mode (for Joystick direction control).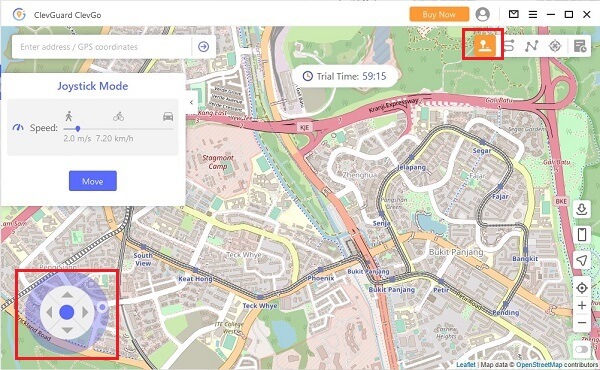 Step 3: Select the route by setting the speed and coordinates. You can also directly type the address or select a spot on the Map.
Step 4: Tap on "Move". You are ready to spoof the location of your iOS 16.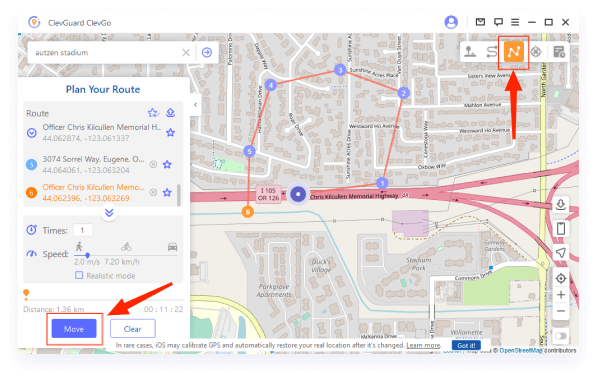 Part 3: Any Risks for Faking Location on iOS 16
Privacy has always been a concern for anyone with technological influence. Not only do some websites track IP addresses, but they also track users' real-time GPS locations to send them a lot of ads. Websites can be stopped from collecting this data by using a location spoofer. The tiny antennas in your iPhone tell the satellite where you are exactly. GPS spoofing simply alters the global location of the device at the user's discretion by manipulating these antennas or modules receiving signals to lie to the system. Simply tricking the satellite is all that is required.
The user's device's settings can be altered by apps designed to fake GPS on an iPhone. Due to their blatant attempts to gain access to the data of users based on their geographical location, a number of malicious websites have been placed on the embargo. In addition, it doesn't matter how long you pretend to be where you are; if your secret location is discovered by your friends, it shouldn't come as a surprise that people will stop trusting you. A person's self-esteem may significantly decline as a result.
Part 4: Hot FAQs about iPhone Location Change.
1. How to change location on iPhone without a computer?
Fake GPS application allows you to change location on an iPhone without a computer.
2. Does VPN work on fake locations on iOS 16?
Although VPN works on fake locations on iOS 16 there are chances of being tracked.
3. How accurate is the iPhone location?
Although VPN works on fake locations on iOS 16 there are chances of being tracked.
4. How to change the location on the iPhone to another device?
To change location on iPhone to another device, follow these steps.
Go to 'Settings'.
Click on your name.
Click "Find My"
Click Use this as my Location. It will set the selected device to change your location.
5. How do I know if someone can see my location on my iPhone?
In the Find My app and tap the "People" tab to see who can track your location. This list will include both individuals with whom you have shared your location and those with whom you have shared yours. "Can see your location" will indicate a person who can see your location.
Bottom Line
To conclude we can say that users can successfully spoof the location of their iPhone 16 devices. You can pretend to be anywhere in the world with complete flexibility. ClevGuard ClevGo is an excellent way of spoofing your devices. It comes with numerous features to spoof your location even while playing games like Pokemon Go.