Are you looking for alternatives to the iAnyGo location changer? Few years ago, this tool was the most used tool to change location, but now, for different reasons, people want to replace the iAnyGo application with any other location changer. It isn't easy to find a perfect alternative to iAnyGo, but to make it easy for you. We enlisted 5 alternatives to the iAnyGo app in 2023. So keep reading.
Part 1: iAnyGo Review
1.What is iAnyGo
iAnyGo is a powerful tool for changing the location of iOS devices. This online tool helps you to pretend that you are somewhere else. You can choose any customized location with its smart features, such as single-spot and multispot modes. The plus point of the iAnyGo application is that you don't need to jailbreak the iOS device to change location.
2. Why are people looking for iAnyGo Alternatives?
People wish to find the best alternative to the iAnyGo application because of various reasons. Most people don't want to use iAnyGo for location changing because it is only available for iOS. And sometimes when they use it for GPS games, these games easily detect it. That's why people want to use any other applications other than iAnyGo.
Part 2: The Best Location Tools for Alternative to iAnyGo
Spoofers to Fake Location
1.ClevGo Location Changer-Android and iOS
The best alternative to the iAnyGo Application is ClevGo because it has all the advanced features. This location spoofer works for both of Android and iOS, which helps you to show any fake location for your device. After adding any fake location, you can make a fool of any GPS-based social application and game and use them without any hurdle.
You can stream any kind of content online in your area, it doesn't matter if this content is allowed or not in your area.
1.1 The key features of ClevGo
The ClevGo spoofer is loaded with innovative features that help you to get benefits from its all advanced features. Its features let the users perform a lot of customized functions such as fake gps location. It has features like two-spot mode and multiple spots. These features allow you to fix the initial and final location, and multi-spot mode allows you to set different fake locations, also, customize your speed and route. Its joystick mode lets you set location flexibility.
Moreover, the ClevGo Application has an auto-marching option and keyboard control feature. Besides this, the ClevGo 360-degree remote control panel lets you control the movement in all directions.
1.2 The tutorials to spoof location by ClevGo
The interface of ClevGo is quite easy. You don't need to be professional to use ClevGo Application. Follow the below simple steps to get ClevGo.
Step 1:Install ClevGo on your PC. You can download and install the program's free version on its main website.
Step 2:You can connect your iOS device to your computer using a USB or lightning cable.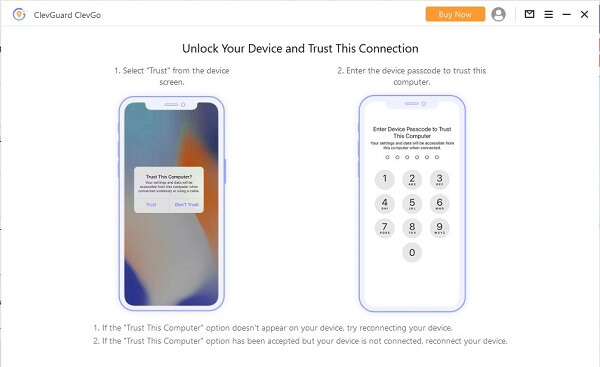 Step 3:Now go to ClevGo. It will recognize the connected iOS device.
Step 4:In the upper right corner, there will be different operational modes. If you select teleport mode, then you can use the address to search the location you want to set. Tap on "Move" button to change your location.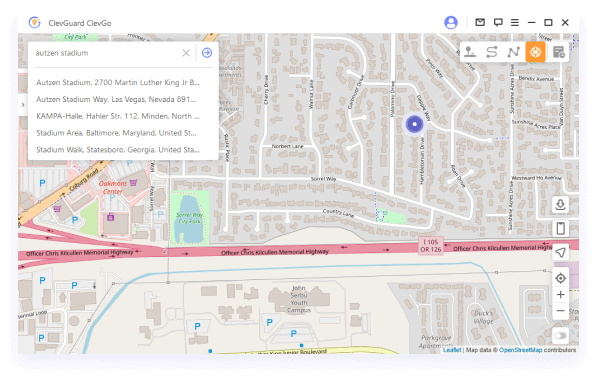 Step 5:If you want to Choose the custom speed at which you want to move, then choose Two/Multi-Spot Mode or Joystick Mode, then, choose a start point and an end point to select your route. Once down, tap on the move here to initiate the location simulation and play geo restricted games and banned content.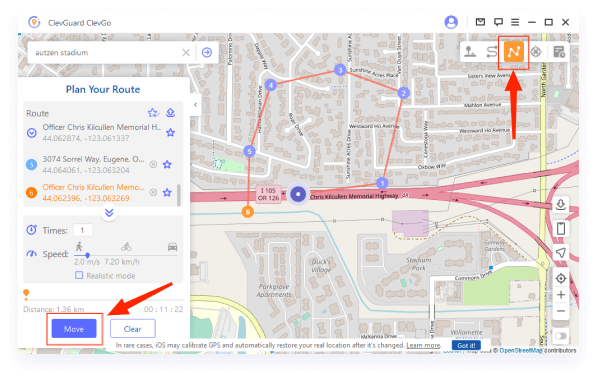 1.3 Pros and Cons
Pros

Different Modes to choose
Works smoothly and not detectable
Available in faking route and speed
Fake the location of up to 10 device
simultaneously
Cons

Need to Computer access required
2. iToolab AnyGo-iOS
If you are looking for a quick and easy-to-use app to change your location on iPhone, then iToolab AnyGo is another choice. The best part about it is that it is quite easy to use and enables users to change location or simulate movement in just a few steps.
It has various key features that change the location of iOS devices to anywhere. It can show you moving with a customized speed. Additionally, it does work with other location-based apps like Pokemon Go, google Maps, bumble, Tinder etc. It can handle different mobiles simultaneously.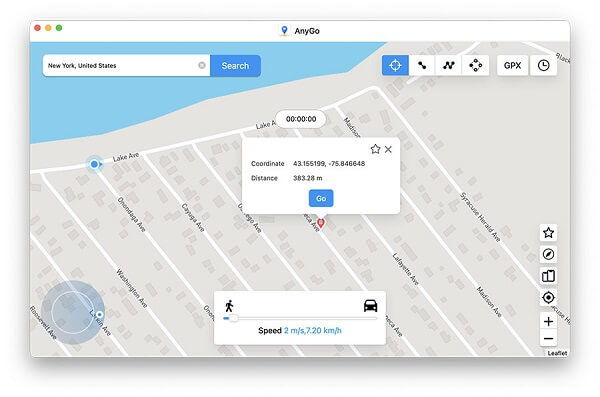 The Steps to mock GPS by iToolab AnyGo
Step 1:Download and install the app on your PC.
Step 2:Connect your PC to your device.
Step 3:Open the app, tap on start in the main window to start. The actual current location of the device will appear.
Step 4:You will see the teleport icon on the top right corner of the window. Tap on the icon. Search the location you want to use. Then, Click "Go."
Pros

Changes location with teleport mode.
Works smoothly for AR games and social media
Cons

Only for iOS version
Disconnect for sometime
Have to access computer
Fake GPS Location Spoofer-Android
The third good alternative to the iAnyGo application is a Fake GPS Location Spoofer. The Fake GPS Location Spoofer is a great location spoofer for Android users. It is feature loaded Application, like joystick mode, GPX imports etc.
Few features are available free of cost, and few are available in a premium package. After using this application, you can access any location easily.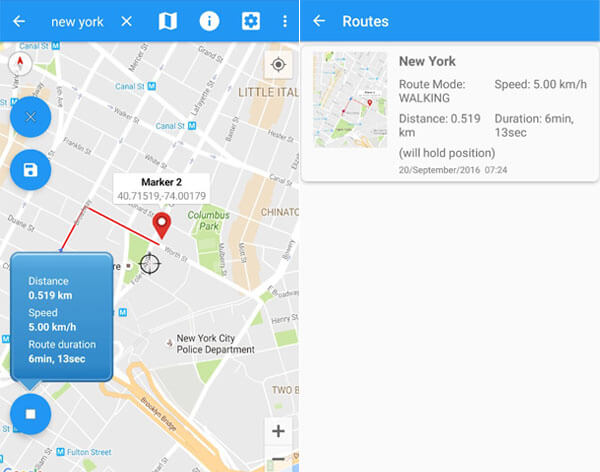 The steps to use Fake GPS Location Spoofer
Step 1:Download Fake GPS Location Spoofer on your Android device and install it.
Step 2:Once the installation is completed, allow the device to spoof by tapping on enable option.
Step 3:After that, go to developer settings, and next, Tap on the mock location app.
Step 4:Run the App and set a route to spoof the location on your Android. Now your phone will show a fake location.
Pros

Easy-to-use application.
Show accurate, precise locations.
Some features are available free of cost.
Cons

The paid version is costly.
It shows lengthy ad videos in the free version.
After the new update, a lot of people are experiencing a glitch.
MockGo-iOS
MockGo is a helpful tool that is effective in changing the GPS location on your iOS device all over the world. You can change your location or mock GPS with a single click. You will have to simply select a location on your Map, and your device will thus show this location.
You can simulate GPS movement with one-stop movement or multi-stop movements. If you select to simulate movement, then the app shows you an option to choose a custom speed. You can choose automatic or manual movement by using the joystick feature.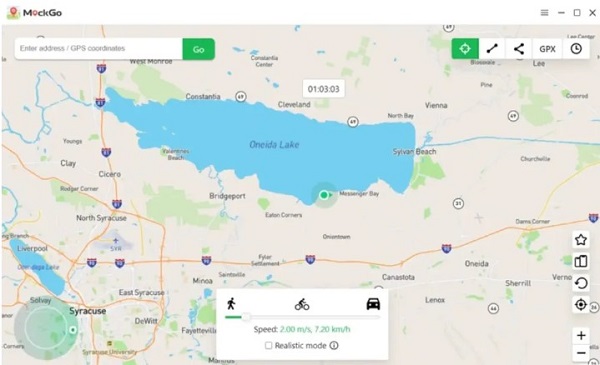 The guide to the fake location by MockGo
Step 1:Download and install MockGo on your device.
Step 2:Pick a USB cable and connect your phone to PC.
Step 3:Next go to the Map and select the location which you want to show.Coordinates of newly searched places will appear. Then, choose destination to fake.
Pros

Enables you to change simulated routes
Fastly change location with teleport mode
Cons

On most devices does not work smoothly
Only for iOS device
Only up to 5 devices simultaneously
Have to connect with computer
5. Fake GPS Location Professional-Android
Fake GPS Location Professional is the fifth best alternative to iAnyGo location changer because it offers joystick mode in the free version. It has an unfussy and clutter-free interface, which makes it easy to use location-changing applications.
In addition, Fake GPS Location Professional applications not just allow you to change location but also allow you to keep saving your favourite fake locations. You can use these locations at any time with quick access.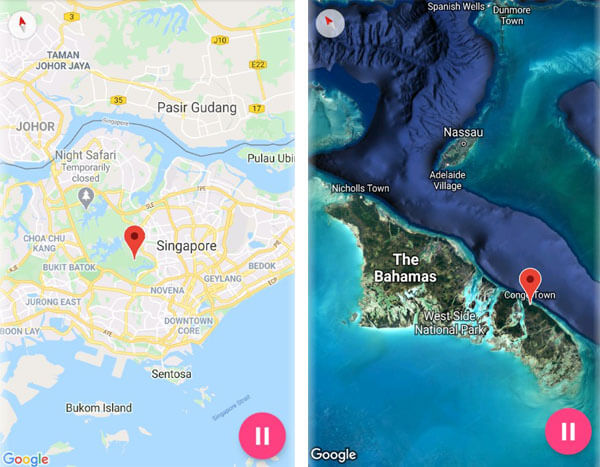 The guide to fake GPS location professional
Here is a step-by-step guide to Fake locations with a Fake GPS Location Professional.
Step 1:Go to the Google play store and download a Fake GPS Location Professional. Install it and open it.
Step 2:Accept its privacy policy. After that, tap on the play button, and follow the instructions.
Step 3:Go to settings and get access to the developer option and next go to mock location app.
Step 4:Choose a Fake GPS Location Professional and enjoy fake location.
Pros

Simple application, hand to use
Consistently hold the location for a longer time
Joystick mode is available free of cost
Cons

Show ads in the free version
Ads free version is costly
Unstable for some time.
Conclusion
No doubt the iAnyGo application has different reliable alternatives. In this article, we have talked about 5 great location spoofers. If you wanna spoof your location on iPhone or Android, ClevGo would be the best. This tool meets almost all needs to fake GPS location whatever change location quickly or simulate the GPS movement. Anyway, hope this article helps you.