In the fast-paced world of social media, Instagram has emerged as a powerhouse platform with over 2 billion monthly active users. Whether you are an individual or a business, building a strong presence on Instagram requires more than just being popular and interesting. Crafting engaging captions is a key lever to pull for increasing your Instagram following. To help you in this endeavor, Instagram caption generators powered by artificial intelligence (AI) have become a valuable tool. In this comprehensive guide, we will explore the top 7 Instagram caption generators, how they work, and how they can save you time while boosting your engagement on Instagram.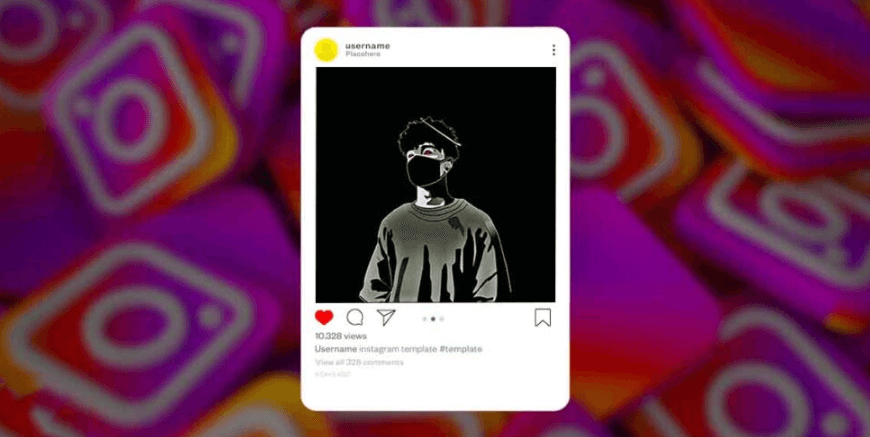 Table of Contents
Part 1: The Power of Instagram Captions
The Importance of Captions: Instagram captions play a crucial role in capturing your audience's attention and driving engagement. A well-crafted caption can enhance the impact of your images or videos, convey your message effectively, and encourage your followers to take action. It provides context, tells a story, triggers emotions, and adds personality to your posts.
The Challenges of Creating Captions: Coming up with compelling captions consistently can be a challenge. It requires creativity, time, and effort. As a content creator or business, you may struggle to find the right words, maintain a consistent tone, or generate fresh ideas. This is where Instagram caption generators come to the rescue.
ion generators come to the rescue.
Part 2: Top Instagram Caption Generators
In this section, we will explore the best Instagram caption generators available, each with its unique features, pros, and cons. These tools can save you time, spark creativity, and help you create engaging captions that resonate with your audience.
1. ChatArt
ChatArt provides you to create up-front ai generated captions for your Instagram posts. It integrates Open AI into its post generator feature perfectly, and it allows users to compose meaningful and coherent content for their social media.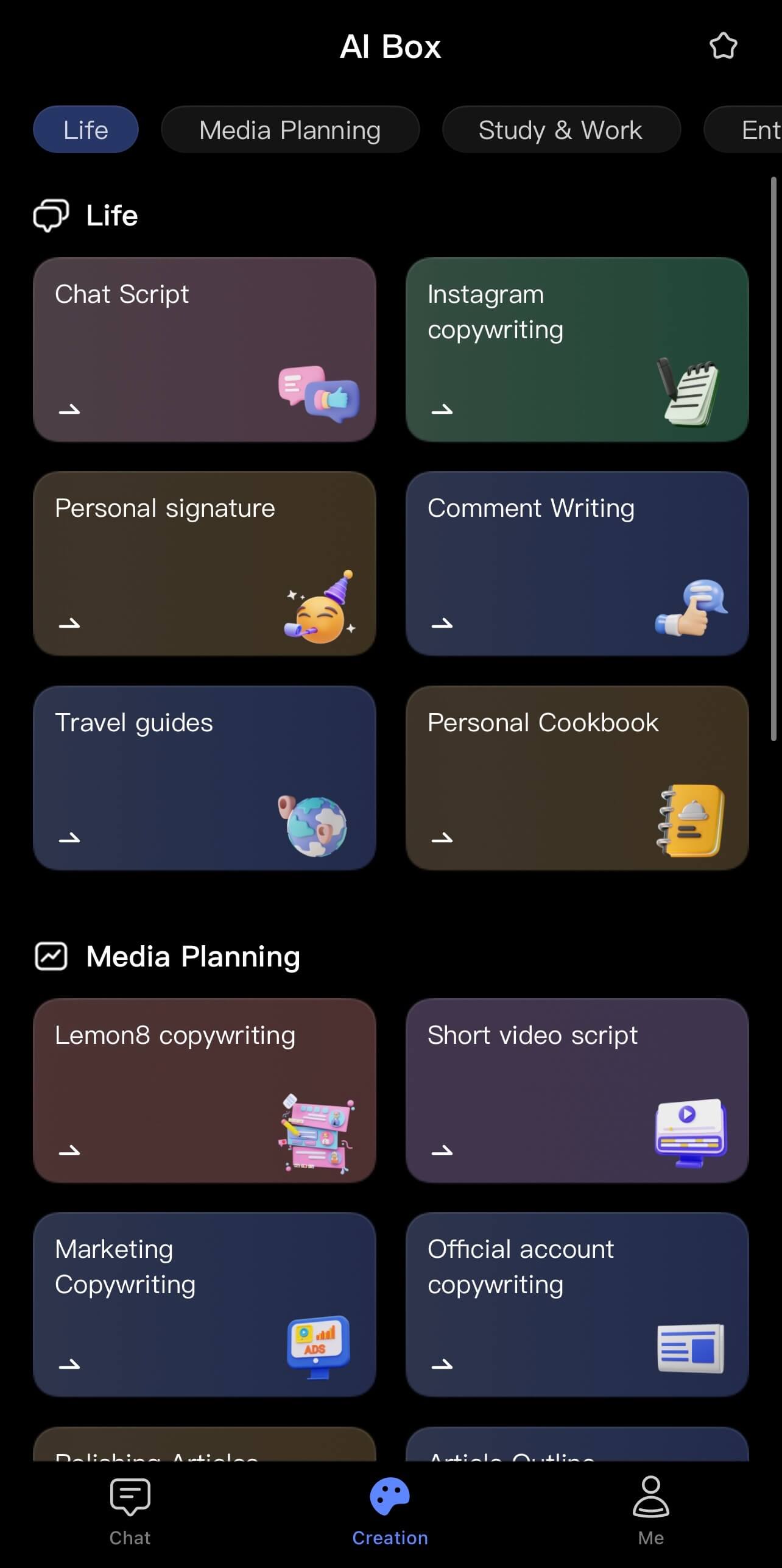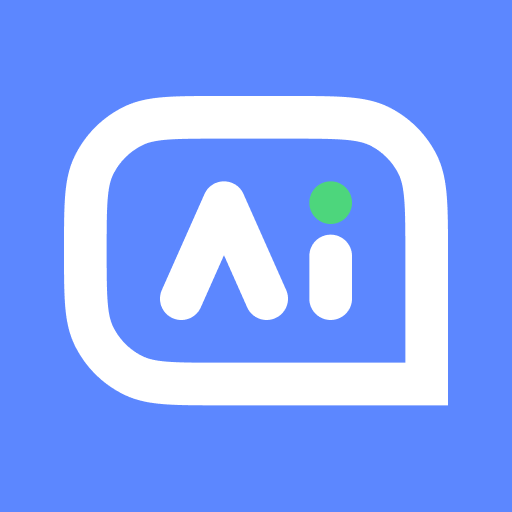 Features of ChatArt:
Offers a range of text creation modules for various scenarios
Harnesses the power of advanced GPT models
Provides a fast and responsive chat experience
Allows saving valuable responses for future use.
Supports voice commands for hands-free use.
Pros

Multiple application scenarios for generating captions of all kinds
Features like bookmarking for saving valuable content and easy sharing
Cons

AI-generated content may require proofreading
2. Captions Now
Captions Now is a free Instagram caption generator tool that creates interactive and engaging captions for your Instagram posts.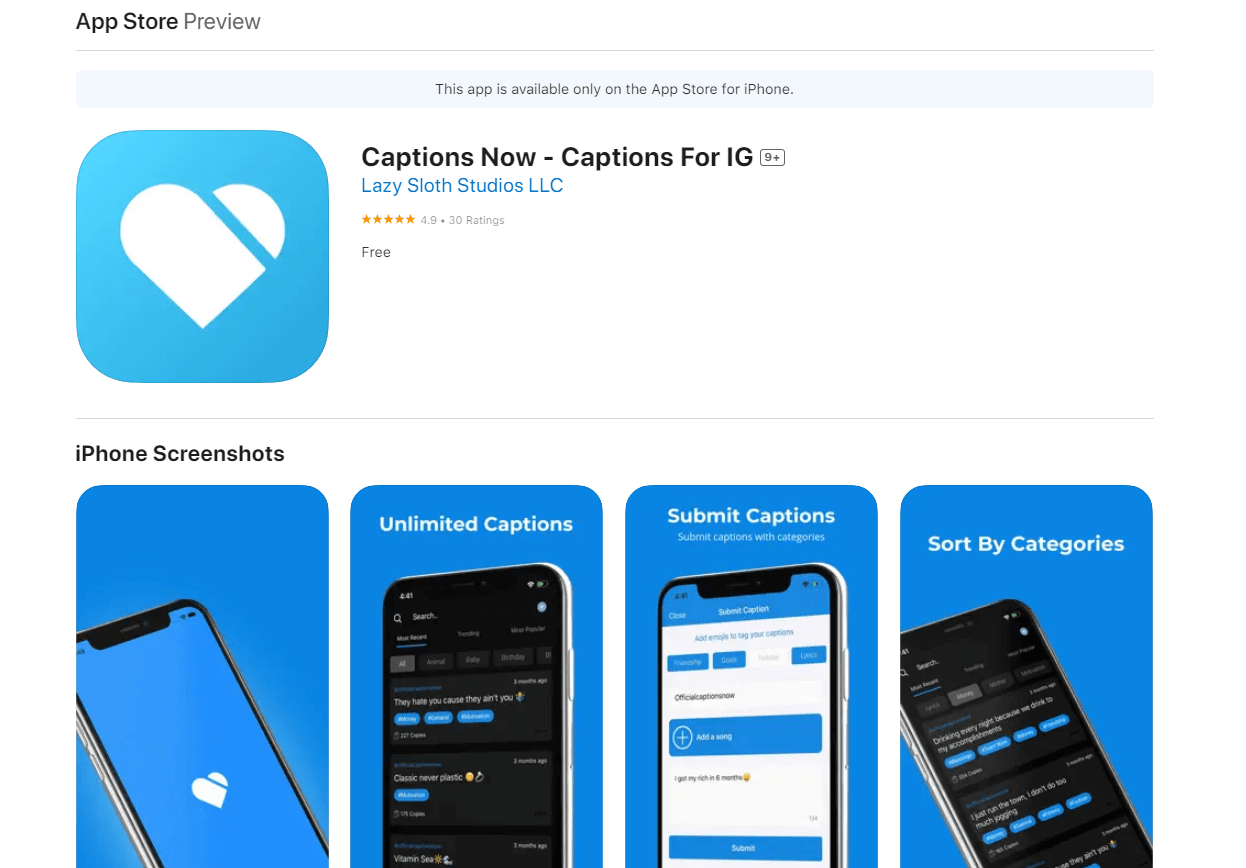 Key Features:
Vast collection of pre-written captions covering a wide range of topics and moods
Customizable captions to fit your specific needs
Relevant hashtag suggestions to maximize post visibility
Pros

Saves time and boosts creativity with a diverse selection of caption options
Increases discoverability of posts with suggested hashtags
Cons

Advanced features for caption customization may be limited
3. Caption Genius
Caption Genius can help you stand out from the rest with its AI-assisted captions in seconds.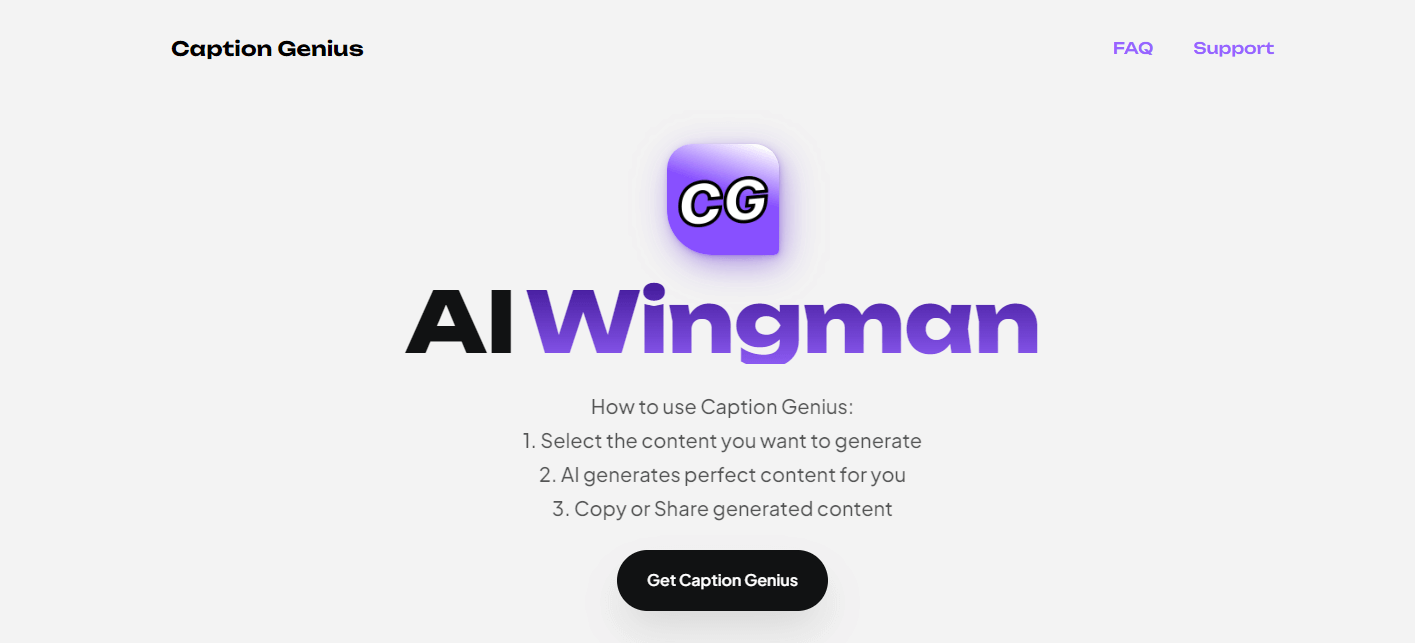 Key Features:
Analyzes photo or video content to generate relevant and engaging captions
Uses advanced natural language processing algorithms
Ensures captions match the tone and context of your posts
Pros

Saves time by automatically generating captions tailored to your content
Inspires fresh ideas and increases audience engagement
Cons

Requires an internet connection for optimal performance
Personalization options may be limited
4. Quote Genius
Quote Genius is a wonderful tool that works wonders for content marketers. It is a set of multiple tools that covers various content generation tasks.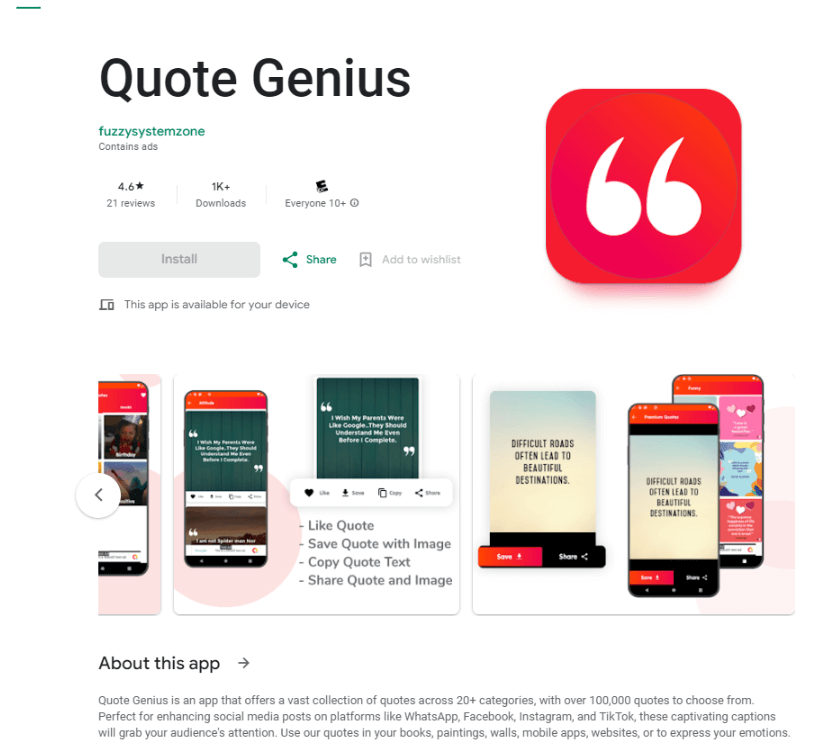 Key Features:
Provides a vast collection of quotes from famous authors and influential figures
Allows searching for quotes by topic or author
Offers customization options to add personal insights or reflections
Pros

Infuses posts with wisdom and inspiration through well-known quotes
Enables personalization to make quotes more authentic and aligned with your brand
Cons

May not offer a wide range of caption styles
5. Grammarly
Grammarly isn't just your average Instagram caption generator; it's a renowned and extensively used tool. Beyond creating captions, it serves as a comprehensive writing assistant, guaranteeing grammatical correctness and polish for your captions.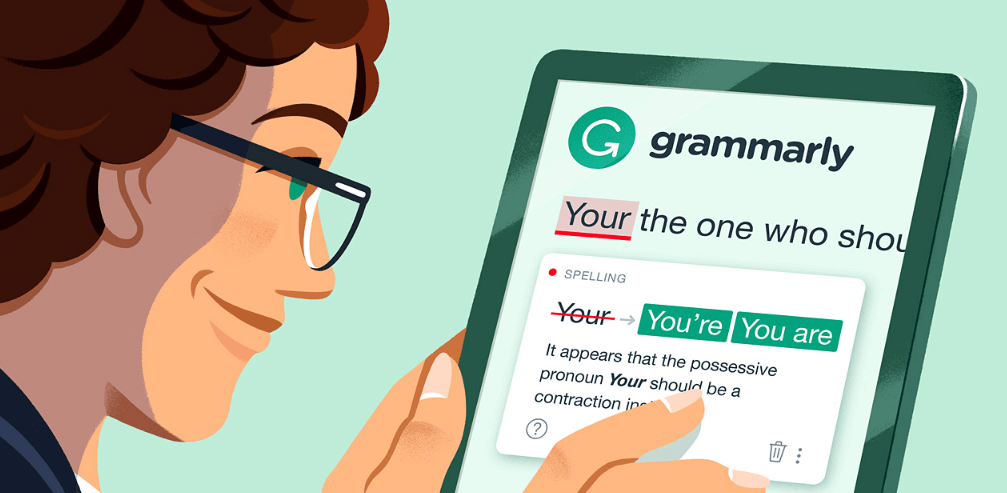 Key Features:
Ensures captions are grammatically correct and polished
Provides real-time suggestions for improving sentence structure, word choice, and punctuation
Offers insights into readability and tone
Pros

Enhances the overall professionalism and readability of captions
Accessible across various platforms for convenience
Cons

Focuses more on grammar and writing suggestions rather than generating creative content
May require supplementation with other caption generators for specific needs
6. Copy.ai
With Copy.ai, bid farewell to the strenuous task of crafting engaging Instagram captions.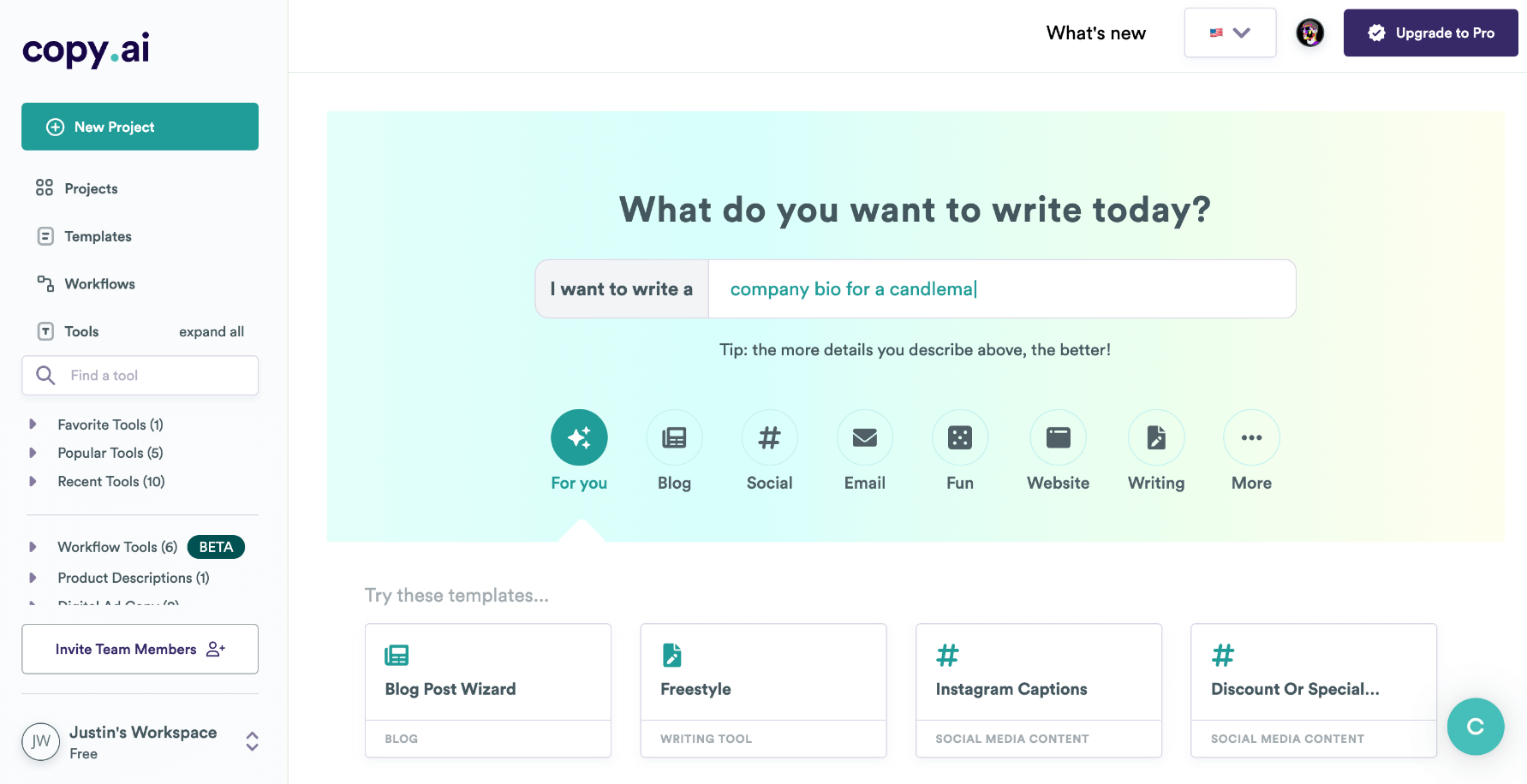 Key Features:
Leverages advanced language models to generate high-quality captions
User-friendly interface with customization options
Creates captions tailored to your specific needs and brand
Pros

Offers a seamless and efficient way to generate engaging captions
AI-powered algorithms ensure well-crafted captions
Cons

May not have extensive customization options or specialized features
Additional resources or tools may be needed for specific or niche caption generation
7. Captions Plus
Captions Plus offers a wide array of Instagram caption styles to cater to various content themes and engagement objectives, making it a versatile Caption Generator.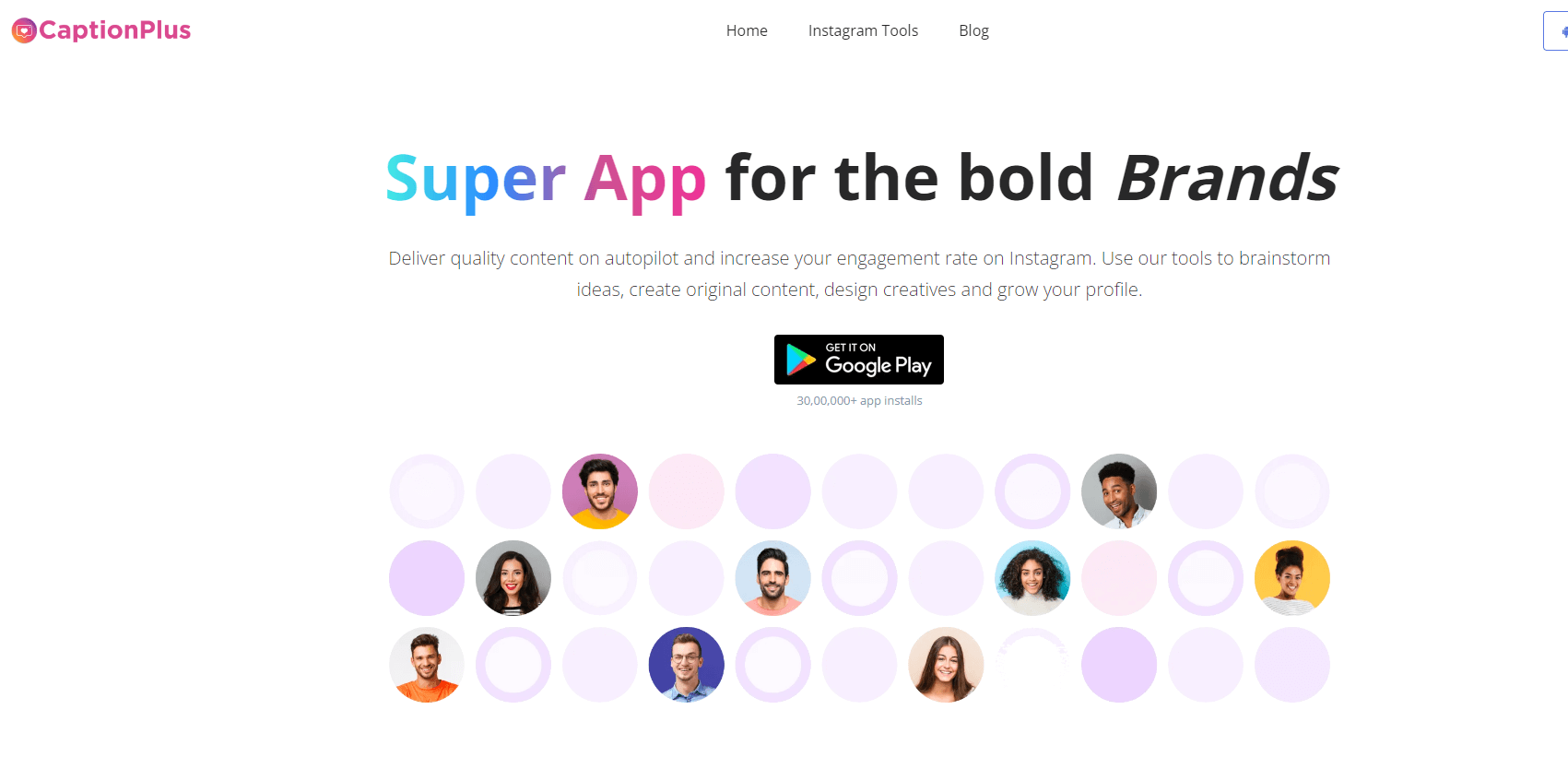 Key Features:
Vast library of caption templates covering various categories
Simplifies the process of finding the right captions for your posts
Customization options to make captions feel authentic and tailored to your brand
Pros

Saves time and effort with a diverse range of caption options
Enhances engagement with captions that resonate with your audience
Cons

May not have advanced features or AI capabilities compared to other generators
Alternative options may be needed for more specialized or advanced caption generation
Part 3: How Instagram Caption Generators Work
The Role of Artificial Intelligence (AI)
Instagram caption generators leverage the power of AI to automate the process of generating captions. AI algorithms analyze vast amounts of data, including existing captions, trending phrases, and user engagement patterns. By understanding the context of your photos and mimicking human-like writing styles, AI-powered caption generators can produce unique and engaging captions tailored to your content and target audience.
Learning from Data
Caption generators learn from existing captions and user engagement to identify recurring themes, popular phrases, and successful structures. This data-driven approach enables the AI to understand what makes captions engaging and adapt its learning to create captions that resonate with your audience.
Generating Unique Captions
Once the AI has absorbed the nuances of effective captions, it combines different parts of existing captions and crafts new text based on its learned knowledge. This process ensures that the generated captions maintain a level of originality and authenticity. Some caption generators also offer the ability to select from various caption styles, such as humorous, poetic, or witty, to match your content and personal style.
Part 4: Choosing the Right Instagram Caption Generator
When choosing an Instagram caption generator, consider your specific needs and preferences. Evaluate each tool's features, pros, and cons to find the one that aligns with your content goals and audience engagement strategies. Remember that while AI-powered caption generators can save you time and spark creativity, adding your personal touch and style is essential for creating unique and authentic captions.
Conclusion
Crafting engaging captions is an essential aspect of building a strong presence on Instagram. Instagram caption generators powered by AI offer a valuable solution to save time and boost your engagement on the platform. By leveraging the power of AI, these tools can generate unique and captivating captions tailored to your content and target audience.
One standout tool that deserves special recognition is ChatArt. Whether you prefer a tool that offers a wide range of caption styles or one that focuses on grammar and writing checks, there is an Instagram caption generator to suit your needs. Experiment with different tools, unleash your creativity, and watch your Instagram following grow as you create compelling captions that resonate with your audience.